If you're interested in building a deck and surfacing it with vinyl, one of the main concerns you'll probably have will be in regard to the vinyl decking cost in Snohomish, WA.
Vinyl decking is a great material that will save you from a lot of maintenance. It is, however, a bit pricier than wood and even pricier than some composite brands.
In this guide, we'll talk about the vinyl decking cost in and around Snohomish, WA, and what it is that you need to be aware of before purchasing this decking material.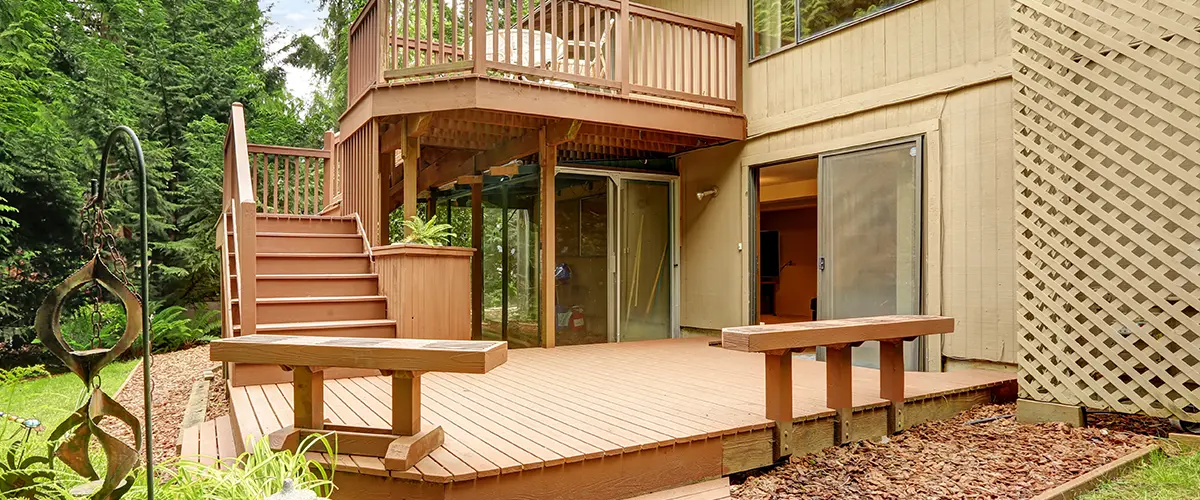 Vinyl decking was a popular alternative to classic wood and composite decks some two decades ago. Built with 100% PVC (polyvinyl chloride), these vinyl boards were hollow but had an internal structure of "ribs" that allowed them to bear weight.
In any case, the fact that these boards were hollowed and looked nothing like real wood made them less and less popular among homeowners.
When composite decking boards started to be capped with protective shells on their surfaces, vinyl decking lost most of its admirers.
Pros And Cons Of Vinyl Decking
Let's discuss some pros and cons of vinyl decking.
Generally, vinyl decking expenses encompass both the cost of materials and installment fees, resulting in an estimated average between $9.5 to $15 per square foot.
Now better known as PVC decking, the material is overall much better than a few years back.
Brands like AZEK offer a superior product that's even more resistant than composite decking. They also offer lifetime and 50-year warranties.
Other Decking Alternatives?
Without trying to bash vinyl decking or drag it down, there are some other decking options out there that are worth considering. Some will look better, others will be more affordable, and others will last longer.
Wood decks are an ever-popular choice for homeowners looking to add a natural look and feel to their outdoor living space. Wood decks offer the warmth, texture, and beauty of real wood grains combined with unmatched durability and excellent resistance to elements like rain, snow, and sunlight.
Additionally, wood decks can be easily customized to fit any shape or size you need and can match any design tastes.
Wood decks also offer a wide range of options when it comes to pricing, depending on whether you are looking for pressure-treated wood or exotic hardwoods like teak or mahogany. With proper maintenance and care, wooden decks should last anywhere from 10-30 years before needing to be replaced.
Here at Burgess, our favorite types of wood decks are cedar. This material lasts for a long time and it looks gorgeous. We're also using hardwoods like mahogany, teak, ipe, and tigerwood for more upscale projects.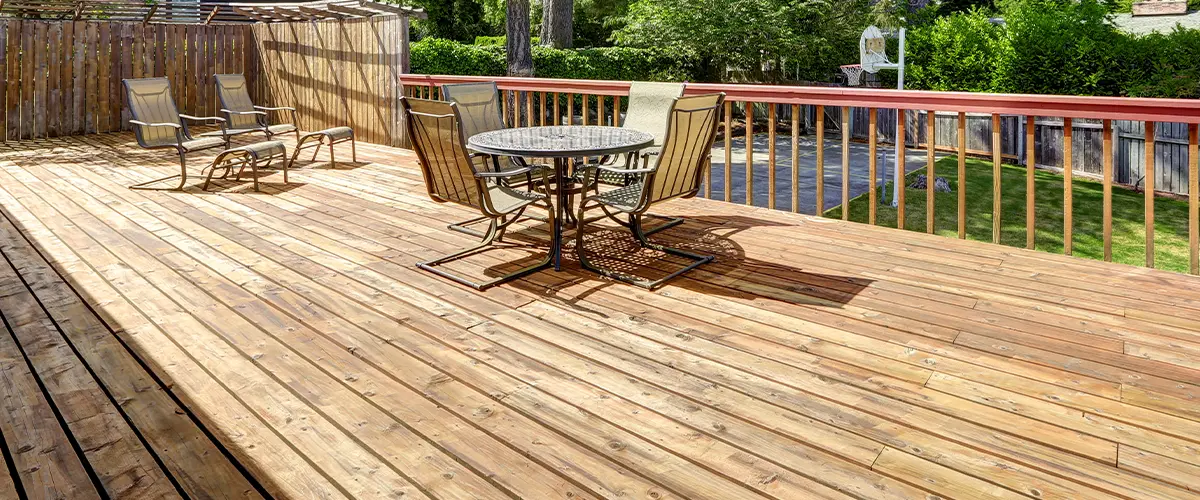 Composite decks are a great alternative to wood since they are more durable, low maintenance, and don't require nearly as much upkeep as wooden decks do. Composite material is made of 100% recycled plastic and wood fibers, making it an eco-friendly option that's also resistant to moisture, mold, and rot.
Composite decks come in various colors and styles, so you can find the perfect option for your outdoor space.
Like wood decks, composite decks are also customizable and offer many different looks, from traditional wood grains to more modern designs. The cost of a composite deck typically ranges between $9-15 per square foot, depending on the grade of material used. Composite decks also require less maintenance than wood and should last up to 25 years or more with proper care.
Here at Burgess Construction, we're using mainly two tipes of composite decking: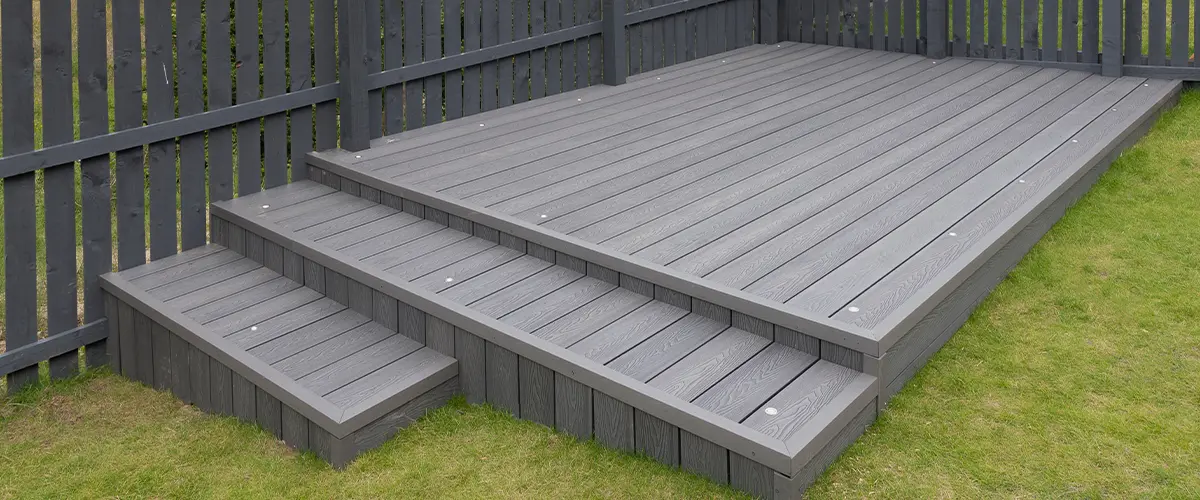 So, the vinyl decking cost is between $9.5 to $15 per square foot, but vinyl might not be the best material out there.
Read our article "Best Deck Material Options For 2023" and discover some of the best decking materials that you can get.
Hint: your decking material needs to be extremely water-resistant to withstand the humidity here in Snohomish, WA. We recommend sealing and staining wood decks every 2 – 3 years, but if you want to avoid that, composite decking is the better solution.
You're one step away from your dream deck. Request a free quote, and we'll get back to you ASAP. If you can't wait, give us a call at (425) 791-5281 now.