The Best Deck Refinishing Services In WA
Bring your deck back to life with top-tier deck refinishing services in Snohomish, North Creek, Bothell, Everett, and more of WA.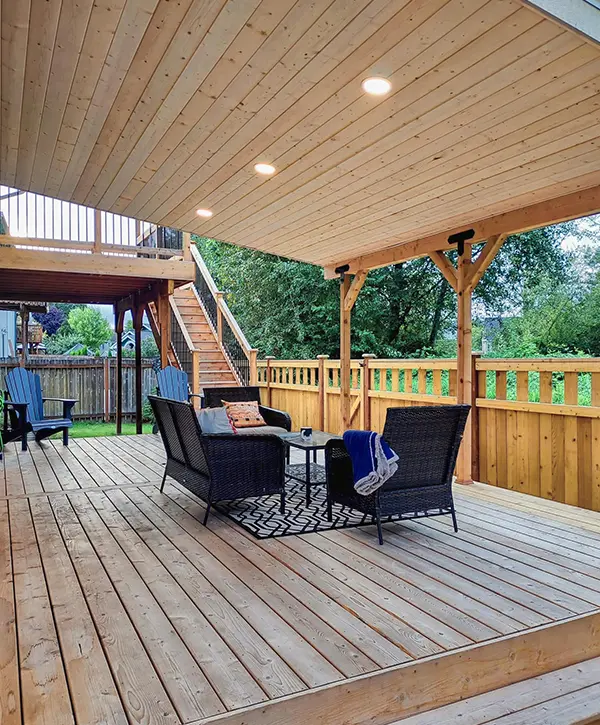 As much as we protect our decks, there comes a time when the outdoor elements take their toll. Refinishing a deck is a much cheaper alternative to tearing it down and building it back up, but it's tedious and time-consuming, and you need professional tools to make it work.
At Burgess Construction, we value your time and understand you want to have a beautiful deck again without putting in the effort. That's where we come in.
With our complete deck refinishing and repair services, we can breathe life back into your deck, so you can have more free time to do the things you love.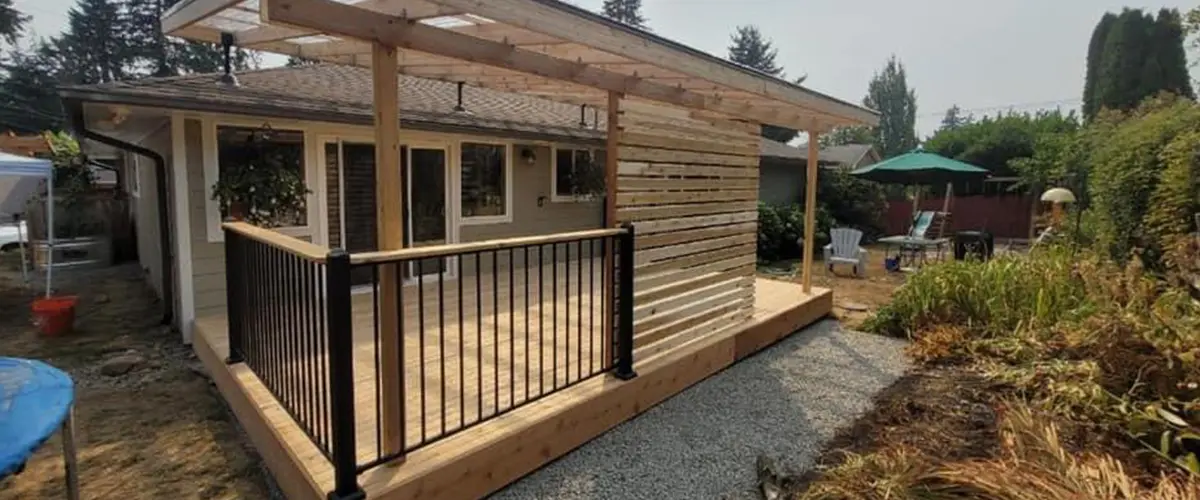 Understanding Deck Refinishing
Deck refinishing is like giving your deck a refreshing makeover, restoring its beauty, and protecting it from the elements.
Let's talk more about deck refinishing, so you can fully understand the benefits of choosing this solution over completely tearing down your deck.
Over time, your deck boards can suffer from wear and tear. They will become weathered and faded and develop cracks and splinters. This is where deck refinishing comes to the rescue.
Refinishing involves a thorough rejuvenation process that brings back your deck boards' charm and original color. By sanding, cleaning, and applying a fresh coat of stain or sealant, you can breathe new life into your deck, making it look like it did when it was first installed.
Deck refinishing is a more complex process that involves making your entire deck look brand new. It encompasses the entire deck surface, including railings, stairs, and other wooden features.
Refinishing the entire deck surface ensures a cohesive look, giving your outdoor space a unified and aesthetically pleasing appearance.
A key benefit of deck refinishing is its protection for your wood deck. Mother Nature can be harsh, subjecting your deck to the sun, rain, snow, and fluctuating temperatures. Your deck is vulnerable to cracking, warping, and rotting without proper protection.
One of the goals of deck refinishing is to protect it against nature's elements. The fresh coat of stain or sealant shields the wood from UV rays, moisture, and general wear, preventing premature deterioration and extending the life of your deck.
The main deck surface is where you and your loved ones spend countless hours making memories. It's the heart of your outdoor living space. So, it's essential to pay special attention to the main deck surface during the refinishing process.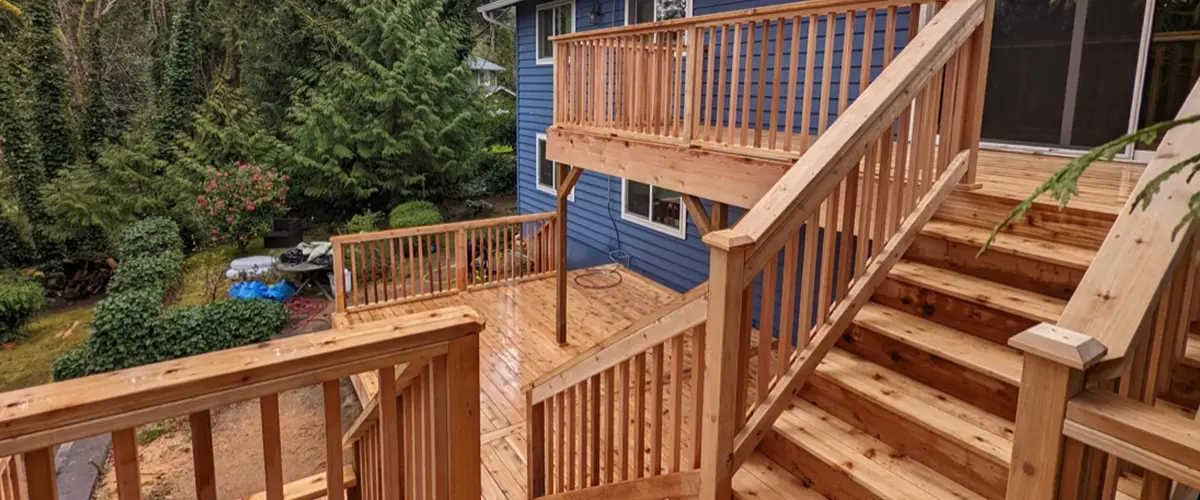 At Burgess Construction, we:
Signs Your Deck Needs Refinishing
Recognizing the signs that your deck needs refinishing is the first step in making it safer and better-looking. Here are the most common signs that your deck needs tender loving care.
Over time, exposure to sunlight and the elements can cause your deck's vibrant colors to fade away. If you notice a dull, washed-out appearance, it's a clear sign that your deck needs refinishing.
The sun's UV rays can be harsh on the wood, leading to discoloration and making your once-inviting deck look tired and worn out.
Peeling, Cracking, or Splintering
Peeling, cracking, or splintering wood are red flags that indicate your deck's protective finish has worn down, leaving the wood vulnerable to moisture, rot, and other forms of damage.
Not only does this compromise the structural integrity of your deck, but it can also pose safety risks for you, your family, and your guests.
The most common signs of water damage are warped or sagging boards, soft spots, or the presence of mold and mildew. Moisture can seep into the wood, causing it to rot and weaken over time.
We address water damage promptly, ensuring your deck doesn't get damaged further, saving you costly repair expenses.
Decks exposed to damp or shady areas are susceptible to mold and mildew growth. Not only do these fungi detract from your deck's aesthetics, but they can also pose health risks, especially for individuals with allergies or respiratory issues.
Look for black or green patches on your deck, accompanied by a musty odor. They are a sign that your deck needs refinishing.
A Word From Our Past Customers
Love the quality of craftsmanship with our brand new deck Blaine and his crew just built for us.
They were on time and hardworking even with such rainy weather. Highly recommend!! Also, really loved working with Stephanie. Super responsive and professional.
Looking forward to our next project to be completed for our fence.
Burgess Construction replaced my front porch with composite decking. I am very pleased with the results.
The porch is beautiful and really added to my curb appeal. The crew was super nice and professional.
Great company and I will use them again when I decide to replace my backyard deck.
Benefits of Deck Refinishing
Deck refinishing goes beyond the aesthetics of your deck. You want your deck to be welcoming in terms of looks AND personal safety. Let's look at what benefits deck refinishing brings to the table.
Imagine stepping onto your deck and being greeted by a beautiful, vibrant space that instantly uplifts your mood. That's exactly what deck refinishing can do for you.
By removing years of wear and tear, refinishing brings new life into your deck, restoring its natural beauty and making it a welcoming retreat.
Whether you enjoy hosting gatherings or simply relaxing with a book, a refreshed deck sets the stage for countless memorable moments outdoors.
From scorching sun rays to heavy rainfalls, it endures a lot. But with regular refinishing, you provide your deck with a robust shield against these elements.
The protective layers of stain or sealant that come with refinishing act as a barrier, safeguarding the wood from harmful UV rays, water damage, and premature aging. This makes your deck last longer, making it a worthy financial investment.
Decks are a significant investment, and you want them to stand the test of time. That's where deck refinishing truly shines. By proactively maintaining and refinishing your deck, you effectively extend its lifespan.
Refinishing strengthens the wood, prevents rot and decay, and mitigates the impact of regular use and exposure. It's like giving your deck a boost of rejuvenation, enabling it to endure years of enjoyment, season after season.
Deck refinishing can be a game-changer if you're considering selling your home or want to increase its overall value.
A well-maintained, attractive deck adds significant curb appeal and becomes desirable for potential buyers. It creates an inviting outdoor space that adds functionality and extends your living area.
So, when you put your property on the market, a beautifully refinished deck will increase your home's resale value.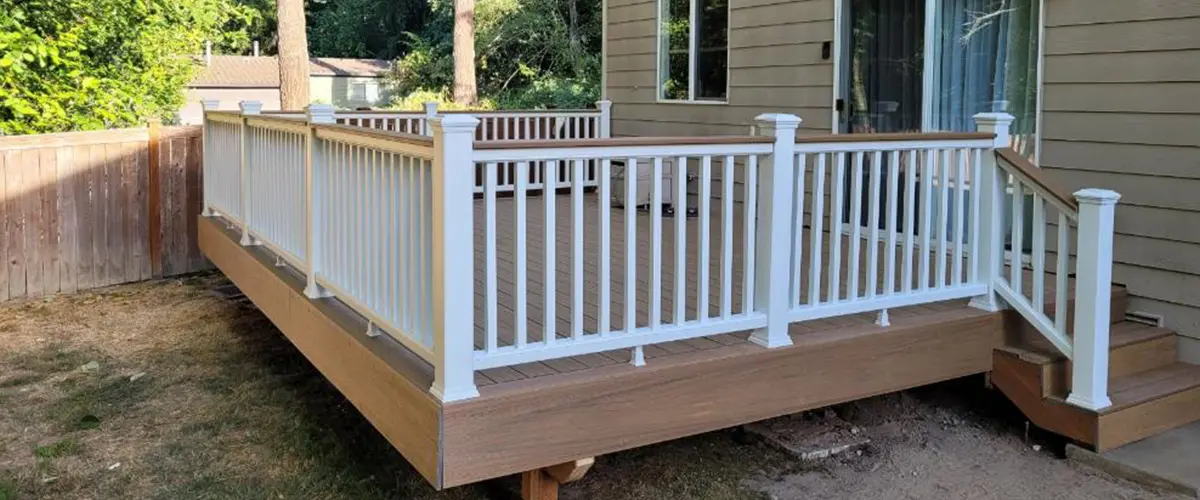 Our Deck Refinishing Process
At Burgess Construction, we understand the importance of a well-executed deck refinishing process. Our goal is to deliver exceptional results and exceed your expectations. When you hire our company for deck refinishing, here's what you can expect from our professional and efficient approach.
Before we begin any work, our team will thoroughly inspect your deck. This step allows us to assess the condition of the wood, identify areas that require repair or replacement, and understand any specific challenges your deck may present.
We ensure a customized and effective refinishing process by tailoring our approach to your deck's unique needs.
All decks require prep work and cleaning before refinishing. We start by meticulously cleaning the deck surface and removing any dead wood fibers, dirt, or mildew that may have accumulated over time.
This helps the new finish adheres properly and provides optimal protection.
Our team uses professional-grade cleaning products and equipment to clean your deck thoroughly.
During the inspection phase, if we identify any structural or cosmetic issues with your deck, we will address them before proceeding with the refinishing process.
Our skilled craftsmen have the expertise to repair or replace damaged deck boards, deck railings, and other components.
We perform sanding and stripping of the old deck finish to achieve a smooth and even finish. This step involves removing the existing wood stain or sealant from the surface.
Removing the previous finish creates a clean canvas to apply the new protective coating. Our team utilizes specialized tools and techniques to achieve a uniform, professional-grade sanding process.
Once the deck surface is prepared correctly, we apply the chosen stain or sealant. Our experts carefully select high-quality products that offer optimal protection and enhance the natural beauty of the wood.
We apply the stain or sealant using precise techniques to ensure even coverage and consistent color. This is how we expand the lifespan of the deck.
After the refinishing process, we conduct a thorough inspection to ensure that every detail meets our high standards. We pay attention to the finer aspects, such as ensuring clean lines, proper application, and a flawless finish.
Once satisfied with the results, we clean up the work area, leaving your deck and its surroundings pristine and ready for you to enjoy.
To completely change how your old deck looks, contact us today to schedule a consultation and let us bring new life to your deck.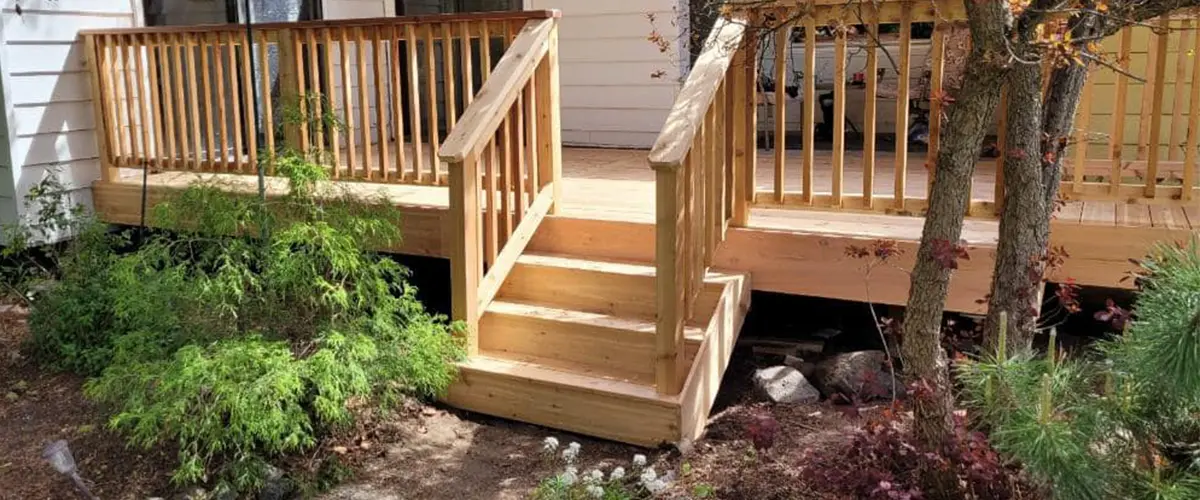 Homeowners Like You Also Want To Know
You should always sand a deck before refinishing it. Sanding removes the old finish, smoothing rough areas and preparing the wood surface for the new stain or sealant. It allows for better adhesion and a more uniform appearance.
While it is technically possible to refinish your own deck, we highly recommend hiring professionals for deck refinishing. Refinishing a wooden deck involves various steps, including cleaning, repairs, sanding, and applying the finish.
Each step requires specific tools (such as a pressure washer or high-grade sanding equipment), techniques, and expertise to ensure a successful outcome. Contact us to discuss how we can make your deck beautiful and safe.
When we refer to refinishing a deck, we mean the process of restoring and renewing the wooden deck's appearance and protection. This typically involves cleaning the deck, making necessary repairs, sanding or stripping the old finish, and applying a new coat of stain or sealant.
Always clean the deck before sanding, as failing to do so can lead to clogged sandpaper and inefficient sanding.
Cleaning the deck with a garden hose, mild detergent, and a deck brush or broom helps remove dirt, debris, and surface contaminants. We use a deck cleaner or a power washer for stubborn stains or discoloration.
Rain will likely harm a freshly-sanded deck. Moisture from rain can seep into the freshly sanded wood grain, potentially causing swelling or warping. To avoid this, checking the weather forecast before starting the refinishing project is crucial. If rain is expected, it's best to postpone the sanding and refinishing until the weather clears up.
With Burgess Construction, you don't have to worry about that. Our experience with deck repairs and refinishing has taught us exactly how to prepare for these potential problems.
Step On A Safe Deck With Professional Deck Refinishing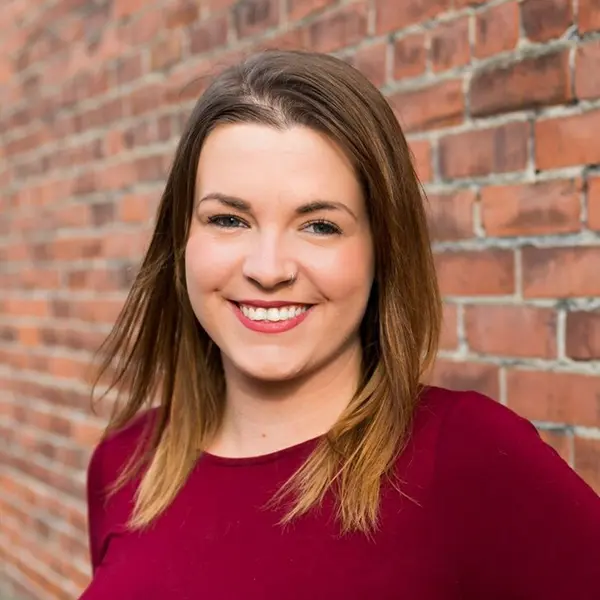 Old decks can pose a real safety hazard for you and your loved ones. Don't postpone fixing cracks, splints, and warped wood boards. Click the button below and guide us through your deck-related problems.
Have our experience and expertise help you out with creating a safer outdoor retreat for you and your family.