Wood decks, whether pressure-treated or cedar, inevitably lose their beauty over time. Even an Ipe hardwood deck will display signs of wear and tear after hosting numerous family gatherings.
To restore your deck's aesthetics, a high-quality painting job is the ideal and cost-effective solution. While deck painting is a project that can be tackled by anyone with a brush or a roller, achieving the same results as professionals is not guaranteed.
Our deck painting service here at Burgess Construction goes the extra mile to ensure your complete satisfaction with the looks and ambiance of your outdoor space, all at a fair and reasonable price.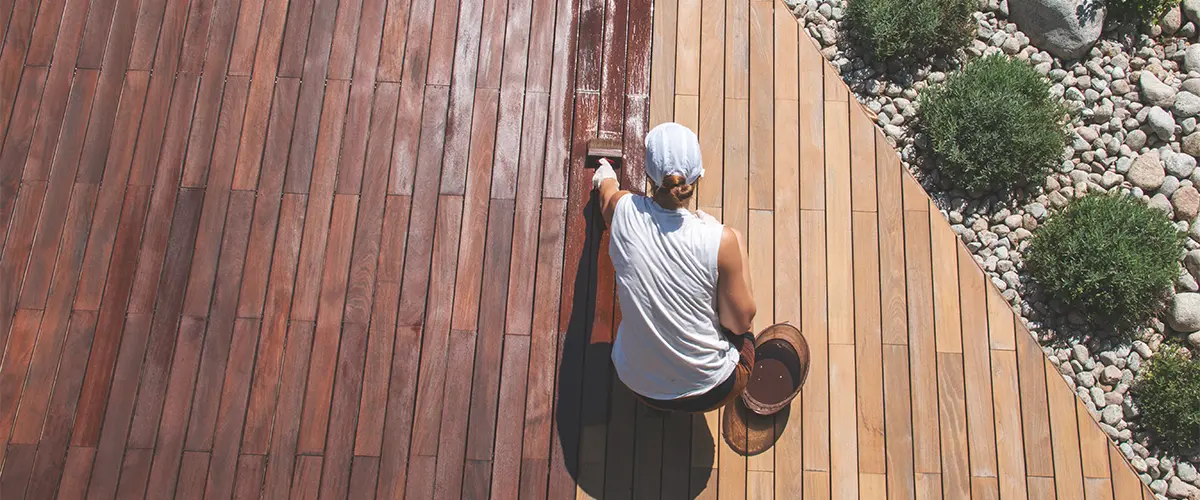 3 Reasons Deck Painting Is Worthwhile
Starting a deck painting project at the right time means you'll have your deck ready to entertain guests sooner. If your outdoor space is still functional and safe, this quick project will uplift its appearance and make it the perfect spot for a barbecue. But there are more benefits to painting your deck. Here are some.
Applying a fresh coat of paint to your deck can breathe new life into its appearance, enhancing its visual appeal. Moreover, a well-painted deck has the potential to augment the overall curb appeal of your home.
Prolongs The Deck's Lifespan
Applying a fresh coat of paint to your deck provides essential protection against the harsh outdoor elements such as UV rays, heavy rain, hail, and snow. The paint acts as a reliable barrier, effectively shielding the wood from moisture infiltration. By doing so, it safeguards your decking surface from potential issues like rot, decay, and warping, ensuring its long-lasting durability.
Investing in deck painting can yield a significant return on investment (ROI) and potentially increase the selling price of your property. A meticulously maintained deck not only enhances the overall appeal of your home but also serves as a testament to the level of care you have invested in it.
By opting for this improvement, you not only enhance the value of your property but also communicate to others that you have taken exceptional pride in maintaining your home.
Best Types Of Deck Paints For Homeowners In Snohomish
We use different types of deck paints, but some are superior in various aspects. When making a choice, we consider drying time, texture, VOC levels, and the type of wood being painted. Here are some top deck paints on the market:
TotalBoat TotalTread Non-Skid Deck Paint
TotalBoat TotalTread Non-Skid Deck Coating creates a rugged, textured surface for decks, patios, and outdoor spaces. It provides a fresh look and long-lasting anti-slip protection, making it superior to other paints.
The manufacturer claims it's tough enough for boat decks and offers a high-traction, low-sheen finish that won't crack or peel, even after years of use!
This particular paint, when applied in two coats, takes approximately 16 hours to fully dry. You have the option to use either a brush or a roller for application. Furthermore, a single gallon of this paint will cover an impressive area of around 300 square feet of decking.
However, it is important to note that this paint does come with a higher price tag, costing approximately $60 per gallon.
INSL-X Sure Step Acrylic Anti-Slip Coating
If you want nonslip properties without the high cost of TotalBoat paint, INSL-X Sure Step Anti-Slip Paint is a more affordable option. Made by Benjamin Moore, this acrylic deck and porch paint offers a high-traction surface at a reasonable price. It comes in a wide range of colors, but keep in mind that the gallon will cover up to 120 square feet of decking.
This particular paint requires approximately 8 hours to fully dry and necessitates a minimum of two coats. It serves as an excellent option if you're working with a more restricted budget, priced at $50 per gallon.
Montage Signature Eco-Friendly Paint
Montage Signature Eco-Friendly Paint resists mold, mildew, and UV rays. However, it is less durable than the other options mentioned. It's not suitable for foot traffic, but it's perfect for railings and benches. This water-based paint is low in VOC fumes and environmentally friendly. The smell may be unpleasant during application, but once dried, it leaves a fresh and beautiful finish.
Montage Signature is available in semi-gloss or low-luster sheens and 18 gray and earth tones. It dries in approximately 4 hours, and for best results, apply a second coat. One gallon covers up to 300 square feet of decking.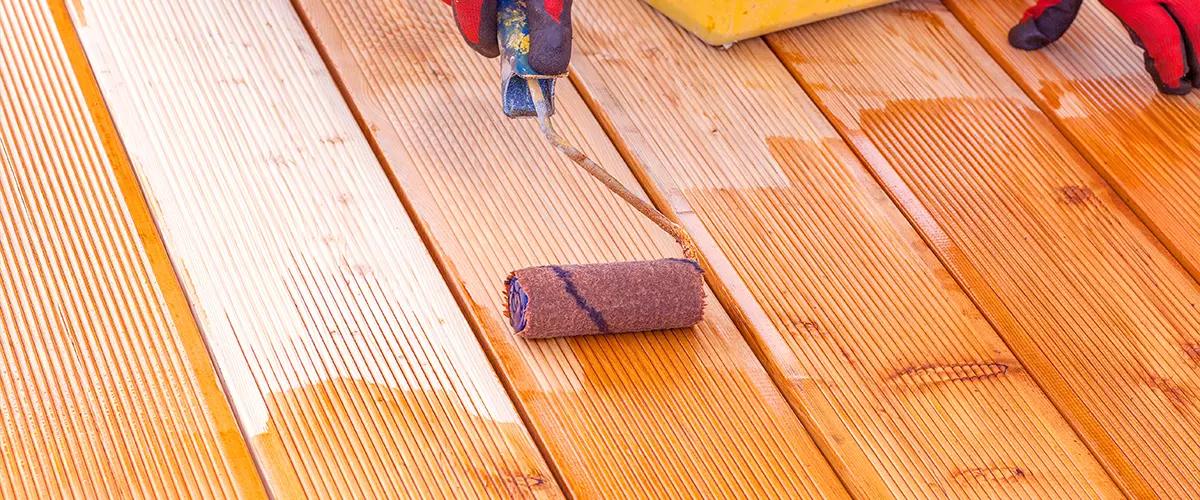 Choosing The Right Product For Your Deck Painting Project
With so many deck paint options available, choosing the right type, finish, and everything in between can be overwhelming. Our experts from Burgess Construction in Snohomish, WA, will guide you in selecting the best paint for your outdoor space.
Let's see what we'll look into:
When choosing paint, it's important to carefully consider the advantages and disadvantages of water-based (acrylic) versus oil-based options. Acrylic paints offer easier application and cleanup, as well as enhanced durability compared to their oil-based counterparts.
However, if you're on a tight budget, opting for an oil-based deck paint is a viable choice. Although it may sacrifice some durability, the cost savings make it a worthwhile alternative.
When planning your outdoor space, it's crucial to consider its usage. If your deck experiences heavy foot traffic, it's important to select a durable option that can withstand the wear and tear. Additionally, keep in mind the weather conditions. Frequent storms, strong winds, and harsh precipitation can potentially damage deck paint.
However, by choosing a highly durable paint, you can ensure it lasts for years and withstands the elements. While a covered deck may not require the most robust paint, an exposed deck will benefit from added protection to maintain its longevity.
There are a variety of finishes available for you to choose from, including matte, semi-gloss, satin, and glossy. Each finish brings its own unique appearance and ambiance, but they also come with some drawbacks. For instance, while glossy finishes can give your space a luxurious sparkle, they may be more prone to showing dirt.
If you prefer a finish with less shine that also does a better job of concealing dirt, especially if you've chosen a lighter color, a flat finish might be the most suitable option for you!
Before purchasing paint, it's important to measure the square footage of your deck to determine the required amount. Typically, one gallon can cover approximately 400 square feet. However, keep in mind that bare wood absorbs more paint, so you may need less than your initial measurement – possibly even less than 250 square feet with a gallon.
Additionally, for optimal results, most paints recommend applying at least two coats. Therefore, it's advisable to purchase extra paint to have it on hand, just in case. This ensures a smooth and well-finished outcome.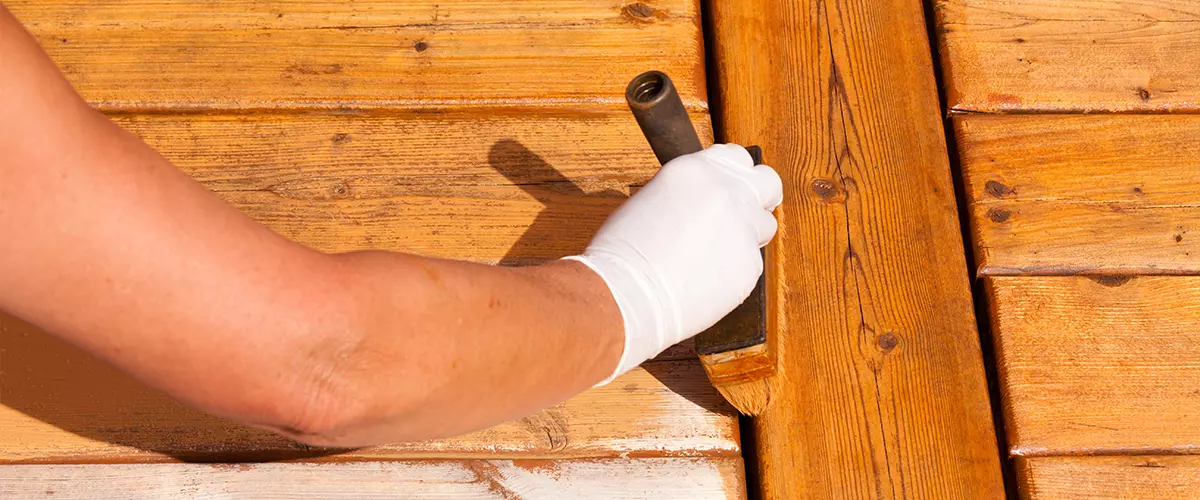 Deck Painting Cost In Snohomish, WA
Deck paint prices range from $30 to $90 per gallon, varying based on the quality, brand, and type. Premium deck paints offer added advantages such as UV resistance, anti-slip texturing, paint-primer blends, and integrated sealants.
| Brand | Price per gallon |
| --- | --- |
| Benjamin Moore | $45 – $75 |
| Sherwin Williams | $50 – $90 |
| Behr | $30 – $40 |
| Rust-Oleum | $30 – $60 |
After you decide on what type of deck paint or stain you want, the biggest thing that will influence your painting cost will be the total square footage of your deck. Here are some averages for the deck painting cost in Snohomish, WA, and surrounding areas.
| Deck size | Square feet | Average cost |
| --- | --- | --- |
| 8'x10' | 80 | $160 – $400 |
| 10'x10' | 100 | $200 – $500 |
| 10'x12' | 120 | $240 – $600 |
| 10'x20' | 200 | $400 – $1,000 |
| 12'x12' | 144 | $290 – $720 |
| 12'x20' | 240 | $480 – $1,200 |
| 16'x16' | 256 | $500 – $1,300 |
| 16'x20' | 320 | $650 – $1,600 |
| 20'x20' | 400 | $800 – $2,000 |
| 24'x24' | 576 | $1,100 – $2,900 |
| 30'x30' | 900 | $1,800 – $4,500 |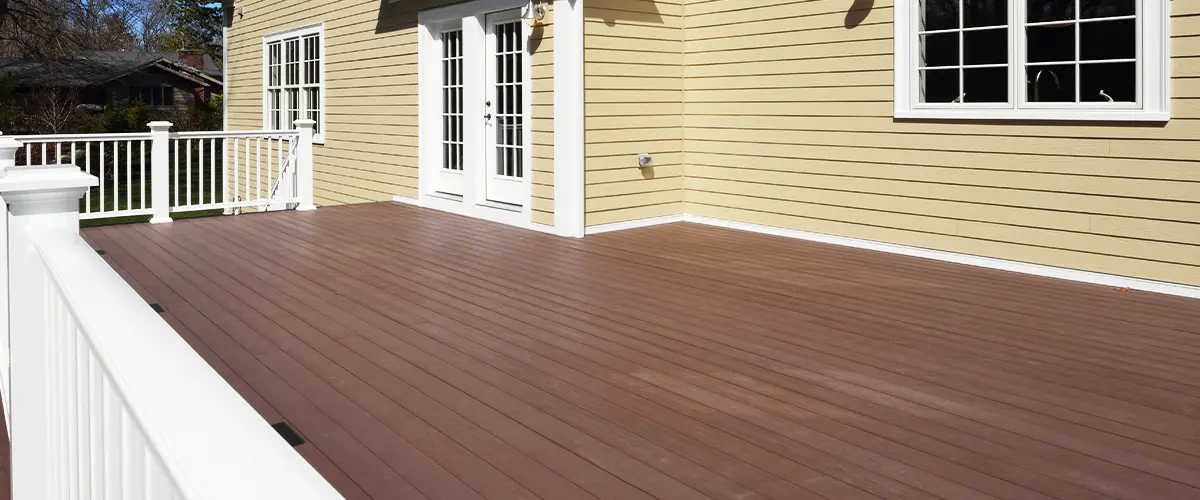 Here at Burgess Construction, we're experts in carpentry and we offer professional deck building and deck repair services for homeowners looking to uplift their outdoors in Snohomish and surrounding areas.
Get Burgess Construction On Your Deck Painting Job
No matter the project, we're never content with delivering the bare minimum. We truly care about your time and investment, so going the extra mile is always in the books for us. With Burgess Construction, you're enjoying all the perks of working with a top-tier deck builder.
Frequently Asked Questions
Deck painting is primarily about enhancing its aesthetic rather than providing extra protection from the elements. If you're aiming to make your deck more resilient, we suggest staining it instead. However, if you're looking to transform the appearance of your deck, painting is the ideal choice. Additionally, sealing the deck can greatly enhance its water resistance.
While it is technically possible to paint over the old deck paint if it is still in good condition, we do not necessarily recommend it. For a more durable and longer-lasting result, we advise peeling or sanding off the existing paint before applying the new coat. If the old paint is showing signs of cracking, peeling, or other damage, there is no doubt that it needs to be removed entirely.
When it comes to painting, priming the surface is an essential and crucial step before applying paint or stain. This is particularly important for deck boards that endure extreme temperatures, moisture, humidity, and frequent foot traffic. By ensuring proper priming, you can achieve an even finish and long-lasting results that will stand the test of time.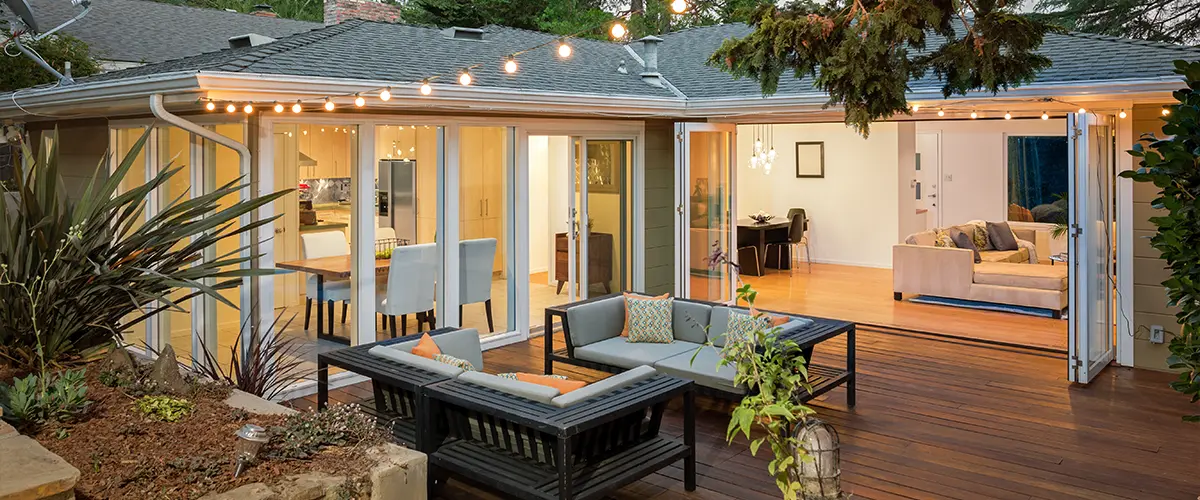 Get Your Deck Painted With A Reliable And Efficient Pro
At some point, deck painting becomes a necessary project, especially if you have a wooden deck that requires regular upkeep. In fact, it is recommended to seal, stain, or paint your deck every 2 – 3 years to safeguard it from the effects of wear and tear.
Painting a deck frequently can easily become a tedious task for homeowners. At Burgess Construction, we often receive requests from our senior clients to paint their decks, and we are delighted to provide our assistance.
We offer homeowners in Snohomish, North Creek, Mill Creek, Bothell, Woodinville, and more of WA the best deck building, deck installation, and deck repair services in the area, together with a thorough and high-quality paint job!
If you're ready to start your deck painting project with a professional, give us a call at (425) 791-5281 or request your free quote now, and we'll circle back as soon as possible!