Deck Lighting In Snohomish, North Creek, Bothell, And More Of Snohomish & King Counties
Get a low-maintenance, high-durability deck for your Snohomish backyard.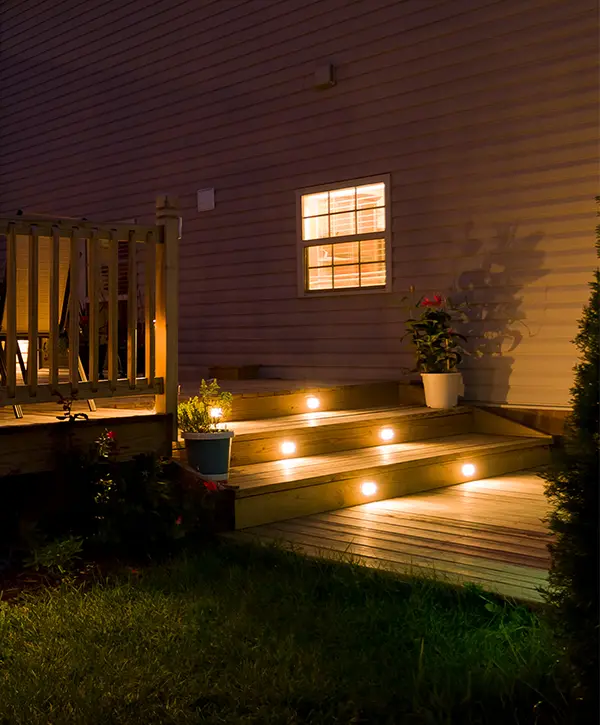 Extend your outdoor living hours with deck lighting that makes your space safer and more enchanting.
Here at Burgess Construction, we view a deck as more than mere wood and nails; it's a platform for crafting enduring memories beneath the open sky. As professionals in outdoor transformations within the Pacific Northwest, we want to teach you everything you need to know about the beauty and functionality of deck lighting.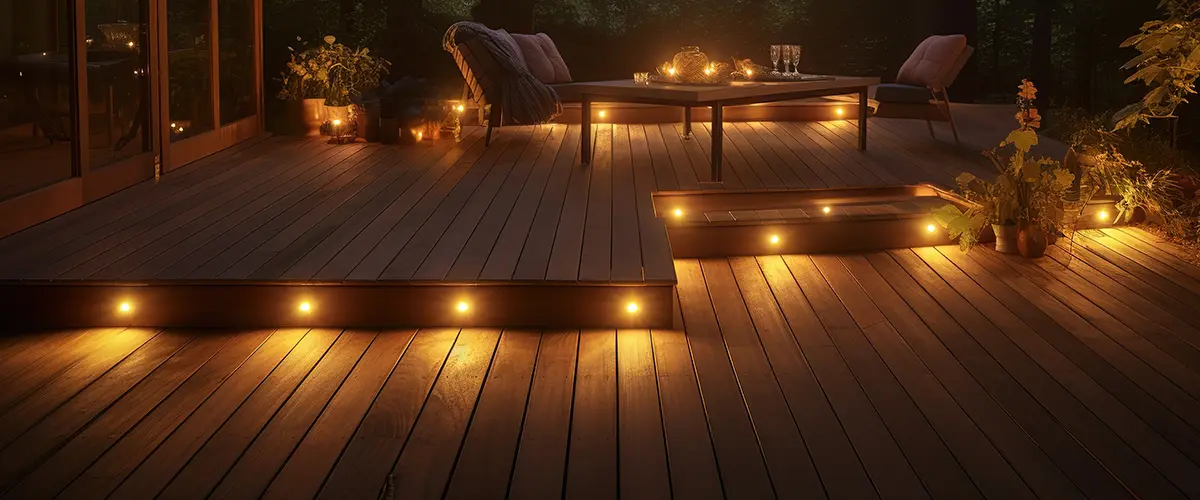 Work with Burgess Construction to unlock:
When it comes to illuminating your outdoor oasis, we offer a range of deck lighting options that not only enhance the beauty of your space but also cater to your specific needs. Imagine your deck as a canvas, waiting to be painted with the perfect strokes of light. Here are four types of deck lighting that will bring your vision to life:
Picture this: a gentle glow guiding your steps as you navigate your deck at night. Pathway and step lights are not just about aesthetics; they're about safety and creating a captivating atmosphere. These discreet fixtures seamlessly integrate into your deck's design, ensuring that every step you take is well-lit and secure. They turn your deck into a magical path, leading you to cozy conversations or starlit reflections.
Your deck's railing is more than just a boundary – it's an opportunity to elevate its elegance and safety. Railing lights are your solution. Not only do they add a touch of sophistication, but they also ensure that your deck remains a safe haven even after sunset. These lights create a stunning ambiance, illuminating your deck's perimeter and offering breathtaking views while you relax with friends and family.
Deck posts are like the pillars of your outdoor retreat, and post cap lights adorn them with a touch of grace. These lights don't just sit atop your posts; they crown them with a warm and inviting glow. Imagine evenings where the decks posts transform into beacons, casting a gentle radiance that sets the perfect mood for unwinding or entertaining.
Create enchantment with overhead and string lights. Imagine the stars coming down to dance above your deck. These lights hang delicately, casting a soft and dreamy illumination that transforms your outdoor space into a fairytale setting. Whether it's a romantic dinner for two or a lively gathering, overhead and string lights add that touch of magic that makes memories more vivid and gatherings more memorable.
Embrace sustainability and efficiency with solar lights. These eco-friendly lights draw energy from the sun during the day, bathing your deck in a soft glow at night. They are perfect for enhancing your deck's ambiance without increasing your energy consumption. Solar lighting not only lights up your space but also adds a touch of environmental consciousness to your outdoor haven.
For those who appreciate a clean and contemporary look, recessed lights are the answer. These fixtures are installed flush with your deck's surface, creating a seamless and modern aesthetic. Recessed lights provide a gentle, diffused illumination that adds an element of sophistication without overpowering your deck's design.
Extend your deck's charm to the surrounding landscape with landscape lighting. These lights don't just accentuate your deck; they also highlight the natural beauty of your outdoor space. Illuminate nearby trees, shrubs, or other landscape elements to create a harmonious blend of light and nature.
Ambient lights offer a soft and inviting glow that creates the perfect atmosphere for any occasion. Whether you're unwinding with a book, hosting a casual gathering, or enjoying a romantic dinner, ambient lights provide that warm and welcoming aura. They're the finishing touch that transforms your deck into a haven of relaxation and connection.
At Burgess Construction, we offer complete deck building services that include deck lighting to make your outdoor space safer while adding a magical touch for evenings spent outdoors.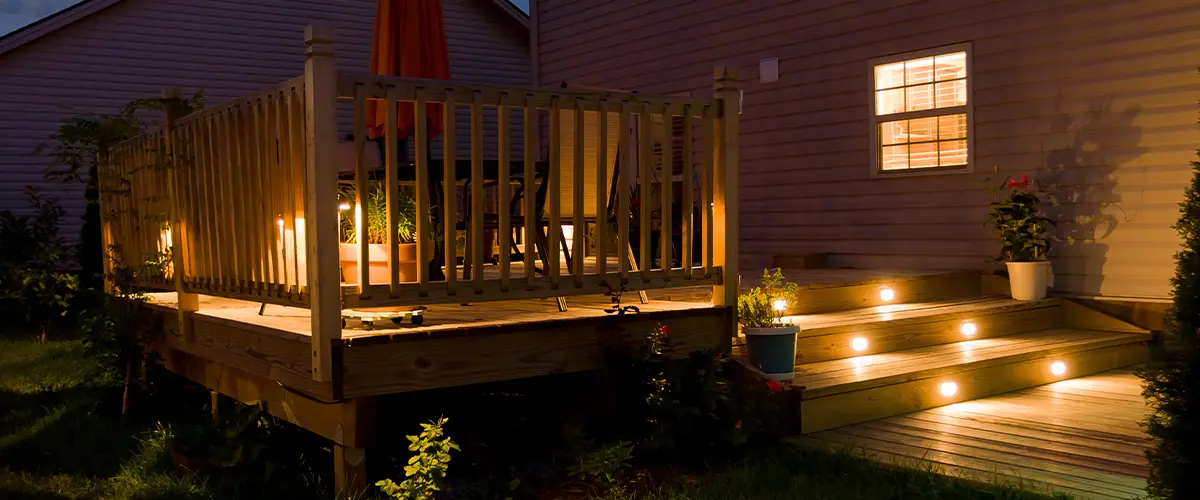 Hear What Our Past Clients Have to Say
Discover the stories and experiences of our valued clients who have entrusted us with bringing their outdoor dreams to life.
Burgess built a new fence for our backyard which previously wasn't fenced.
They built a 14' swinging gate and a 10' swinging gate to accommodate our drive around driveway as well.
They were such a pleasure to work with! They were very professional, showed up on time, and I could tell they really cared about our project.
I can't wait to have them back out to build a covered deck!
I'll add, the fencable space for our yard was oddly shaped, and they did an amazing job. We're SO happy!
Blaine and his team replaced 120lf of old fence. We had a tight window for the work 2 days start to finish. Blaine was very accommodating communicative and made sure we got the fence we wanted we are beyond happy! Also competitive on price.
Benefits Of Deck Lighting
Deck lighting isn't just about brightening up your outdoor space; it's about enhancing your entire outdoor living experience. From creating an inviting ambiance to increasing safety, the right deck lighting can have a profound impact on how you enjoy your deck after the sun sets. Here are four compelling benefits that make investing in deck lighting a bright idea:
As the day turns into night, your deck can transform into a captivating haven with the flick of a switch. Deck lighting extends the usability of your outdoor space well beyond sunset. Whether you're relaxing with a book, savoring a meal, or engaging in lively conversations, well-placed lights keep the good times rolling, letting you make the most of your deck's square footage even after dark.
A well-lit deck is a safer deck. Properly illuminated pathways, steps, and railings help prevent trips and falls, ensuring that your deck remains a safe environment for you, your family, and your guests. In addition, adequate lighting deters unwanted visitors by reducing dark corners that might attract them. Enjoy your outdoor space with peace of mind, knowing that your deck is well-protected with the glow of strategically placed lights.
Imagine stepping onto your deck, and a warm, gentle glow surrounds you, instantly setting a soothing and inviting atmosphere. Deck lighting is the secret ingredient that allows you to curate the ambiance you desire. From intimate gatherings to festive celebrations, the right lighting creates a backdrop that amplifies the mood you're aiming for, turning your deck into the perfect stage for memorable moments.
Your deck is a canvas of architectural elements, and deck lighting is the brush that highlights its beauty. Post cap lights elegantly crown your deck's posts, while recessed lights emphasize the textures and patterns of your deck's surface. By night, your deck takes on a new dimension, showcasing its intricate design and creating a breathtaking visual spectacle that complements your outdoor living space.
Contact us to talk to our team of experts and learn more about how deck lighting will encourage you to spend more time outdoors.
Choosing the Perfect Deck Lighting
When it comes to selecting the perfect deck lighting, it's not just about brightening up your space; it's about crafting an atmosphere that resonates with your style and needs. Whether you're looking to create a cozy retreat, a lively entertainment area, or something in between, here's what to consider when choosing deck lighting that truly shines.
Set the Mood with Color Temperature
The color temperature of your lighting plays a crucial role in setting the mood of your outdoor space. Warm white lights (around 2700-3000K) emit a soft and inviting glow, perfect for creating a relaxing atmosphere.
If you're aiming for a more modern and vibrant ambiance, cool white lights (around 4000-5000K) offer a brighter, crisper illumination. Consider the emotions you want your deck to evoke and choose the color temperature that aligns with your vision.
Define Your Desired Ambiance
Think about the activities you'll be enjoying on your deck. Are you hosting lively gatherings, intimate dinners, or peaceful solitary moments? Different lighting arrangements contribute to varying ambiances.
For example, if you want to create a romantic setting, consider string lights delicately draped overhead. If your goal is to highlight architectural elements, like post caps or railings, opt for accent lighting to draw attention to these features.
Understand Wiring and Power Sources
Deck lighting can be powered in various ways. Hardwired fixtures require professional installation and a power source. Solar lights, on the other hand, draw energy from the sun and are a more eco-friendly option. Wireless and battery-powered lights offer flexibility but may require periodic battery changes.
Understanding the wiring and power sources needed for your chosen lighting style is crucial for seamless integration into your deck.
Balance Brightness and Comfort
While it's essential to have adequate illumination for safety and functionality, remember that overly bright lights can disrupt the cozy and welcoming atmosphere you're aiming to create. Use a combination of lighting layers, such as ambient, task, and accent lighting, to strike the perfect balance between brightness and comfort. Dimmers and smart controls also provide the flexibility to adjust the lighting according to different occasions.
Enhance Architectural Features
Deck lighting isn't just about illuminating the space; it's also about enhancing the architectural elements that make your deck unique.
For instance, post cap lights can add a touch of elegance to your deck's posts, while recessed lights seamlessly blend into the deck's surface, offering understated sophistication. Consider how each lighting option complements your deck's design and structure.
Professional Guidance and Installation
Choosing the right deck lighting can be a nuanced process. Seeking advice from professionals who specialize in lighting design and installation can make a significant difference. They can guide you through considerations such as placement, wiring, and fixture compatibility, ensuring that your lighting not only looks great but functions flawlessly.
At Burgess Construction, we're here to help you navigate these choices, ensuring your deck lighting aligns perfectly with your vision and enhances your outdoor experience. Contact us today to discover how we can build and enhance your deck to help you enjoy it to the fullest!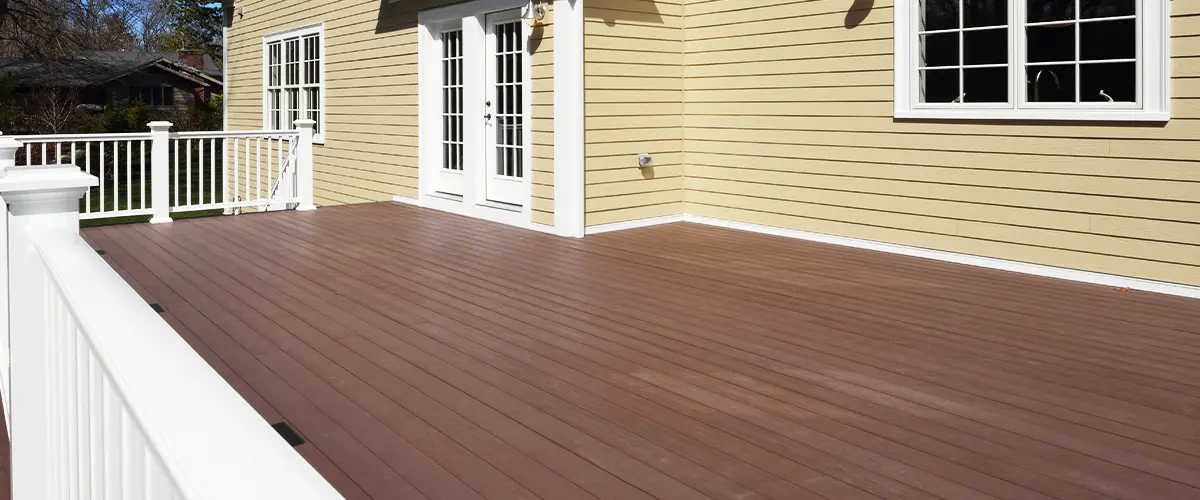 Let's Make Your Deck Safer For Evening Enjoyment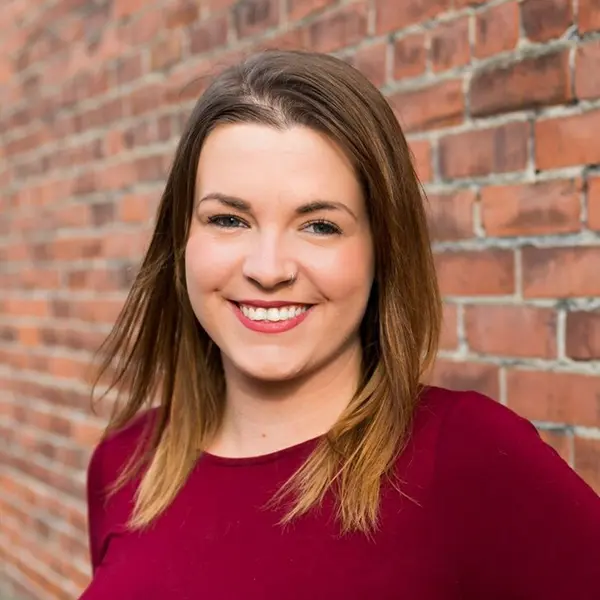 At Burgess Construction, we're passionate about crafting outdoor environments that resonate with your vision, and our expertise in deck lighting is a testament to that commitment.
Reach out to us today at (425) 791-5281 or send us a message. We're eager to hear about your deck-lighting needs and embark on this illuminating journey with you.