The Best Deck Restoration Services In Snohomish, WA
Your top-tier deck restoration experts in Snohomish, North Creek, Bothell, Woodinville, Mill Creek, Everett, and more of WA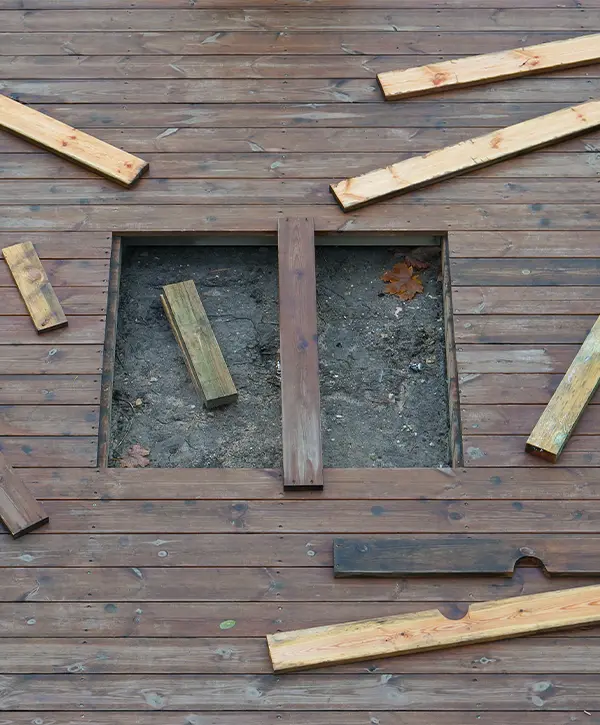 Imagine stepping onto a well-maintained deck with the sun shining down, inviting you to create cherished memories with loved ones. A well-kept deck not only adds value to your home but also provides a comfortable outdoor space for relaxation and enjoyment.
Burgess Construction offers specialized deck restoration services to help you enjoy a beautiful deck that enhances your daily life. 
Our experienced team is dedicated to transforming old and damaged decks into exceptional outdoor living areas where you can spend quality time.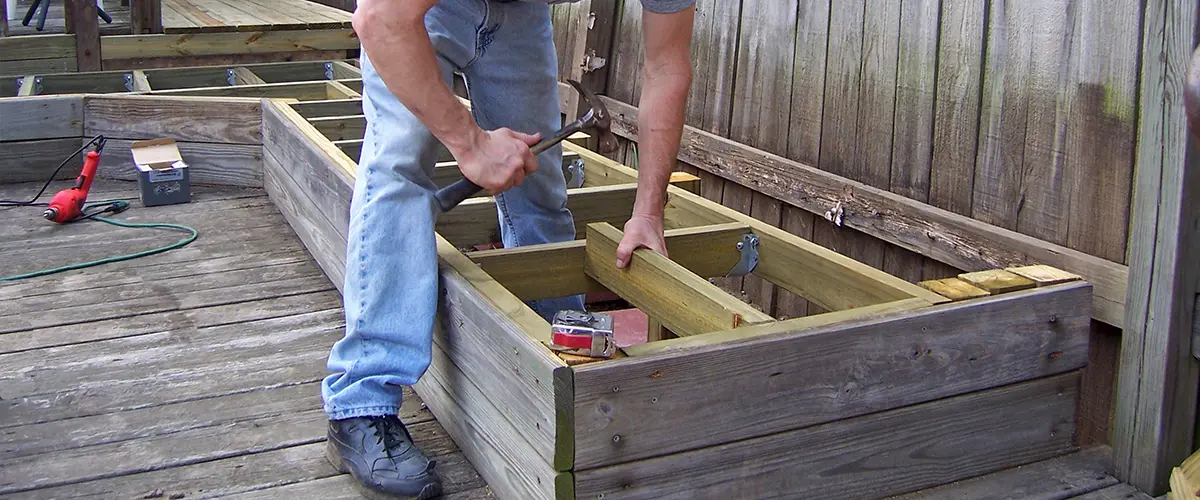 As a homeowner with an outdoor deck, it's crucial to frequently inspect for damages. Suppose you notice any issues like warped, rotted wood or loose railings. In that case, it's recommended to utilize deck restoration services to ensure your family's safety. Don't forget to examine screws and bolts that may get loose over time due to weathering or regular use.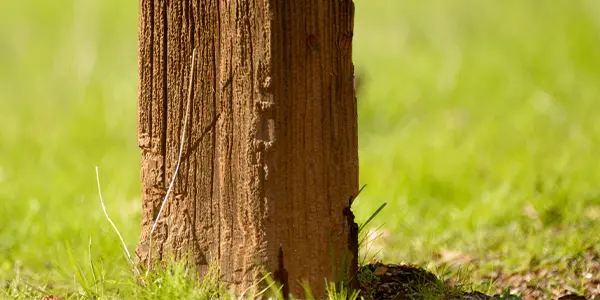 Do you see any parts of your deck boards or support structures that feel soft or spongy? These could mean that moisture has caused decay or rotting. If you don't take action, this could weaken your deck's structure and be dangerous.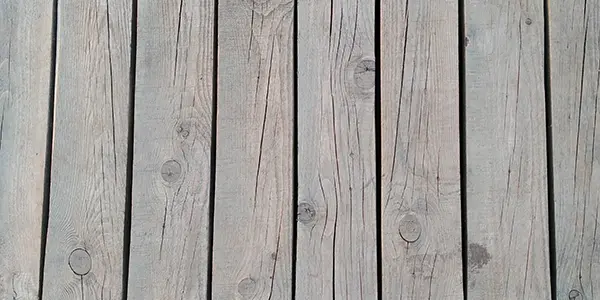 Splintering or Cracked Boards
Have any of the boards on your deck become splintered, cracked, or warped? These problems can occur over time due to exposure to the elements and frequent foot traffic, causing the boards to look unsightly and feel uncomfortable to walk on and pose a safety risk if left unaddressed.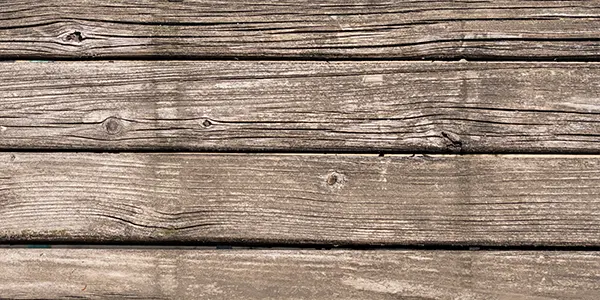 Faded or Discolored Decking
Does your deck look faded or discolored? This can be due to exposure to sunlight, rain, and other environmental factors, and may indicate a lack of protective sealant. We can help restore your deck's appearance by removing the faded color.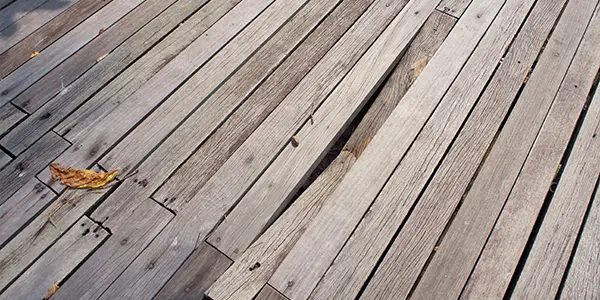 Shaky or Unstable Structure
Does your deck feel wobbly or unsturdy when walking on it? This may indicate underlying structural issues such as loose connections, weakened support posts, or insufficient bracing. Ignoring these warning signs could lead to accidents and additional damage to your deck.
The Dangers Of Deck Damage
It is important to take the risks of deck damage seriously, as even small indications of wear and tear can pose significant safety hazards to your loved ones. This could result in expensive repairs or replacements. Perform regular checks on your outdoor deck to identify any signs of warping, wood rot, loose railings, or other problems that could undermine the deck's overall structural stability.
Damaged decks present substantial safety hazards to you, your family, and your guests. Boards that are loose or rotten, unstable railings, or weakened support structures can cause slips, falls, or even collapses. Neglecting deck damage could turn an enjoyable outdoor gathering into an accident.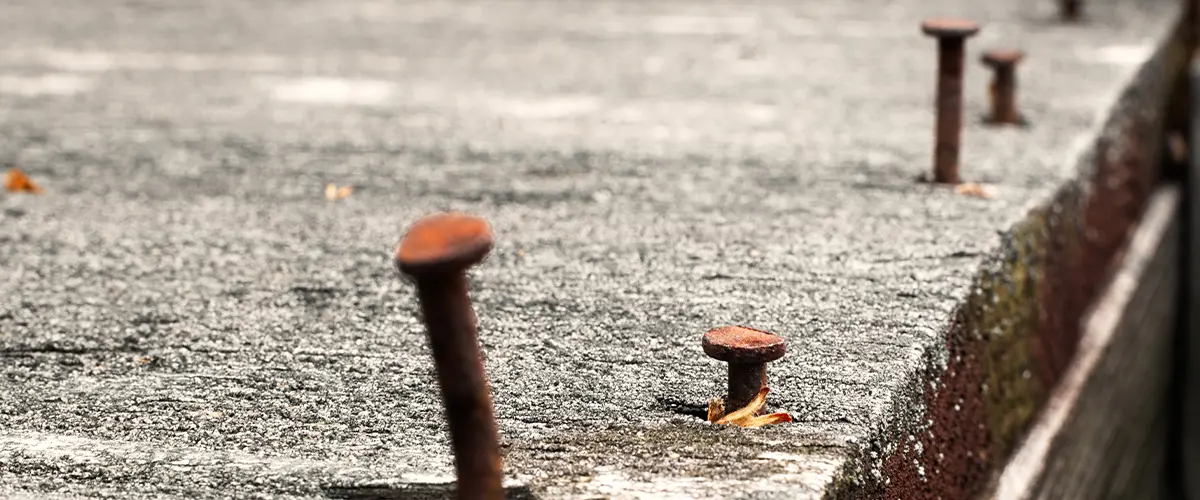 Neglecting deck damage for an extended period can result in damage to the overall structure of the deck. Wood that is decaying, fasteners that are corroded, or beams that are weakened can render the deck unstable and unsafe for use, significantly increasing the risk of a complete deck collapse.
A damaged deck poses a safety hazard and significantly raises the likelihood of accidents and injuries. Splintered or cracked boards can cause painful splinters or create tripping hazards. Loose materials like nails, screws, or other fasteners can catch on bare feet or clothing, leading to puncture wounds or cuts.
Deck damage not only impacts the deck itself but can also cause harm to your property. For example, if a weakened support beam gives way, it can result in the entire deck collapsing, potentially causing damage to other structures or your property.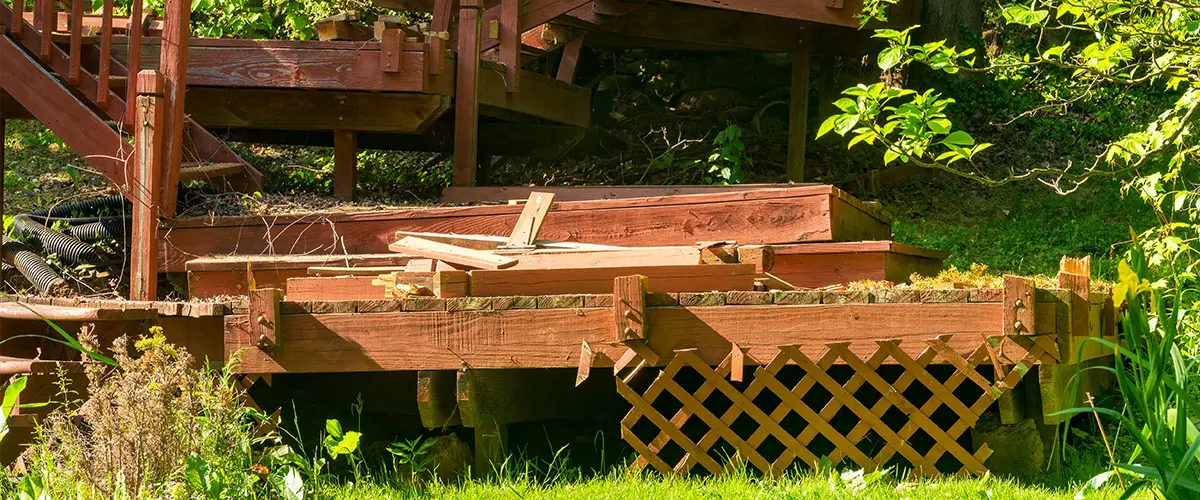 Damaged or decaying wood in your deck can attract pests such as termites, ants, or carpenter bees. This can lead to additional damage to the deck and make it less stable. Furthermore, these pests may also cause harm to wooden structures and furniture inside your home if they find their way in.
Failure to address deck damage can significantly decrease the value of your home. A poorly maintained deck can make your home appear unattractive and raise concerns about the property's overall condition. If you are considering selling your home, a damaged deck could reduce its worth and make potential buyers think twice.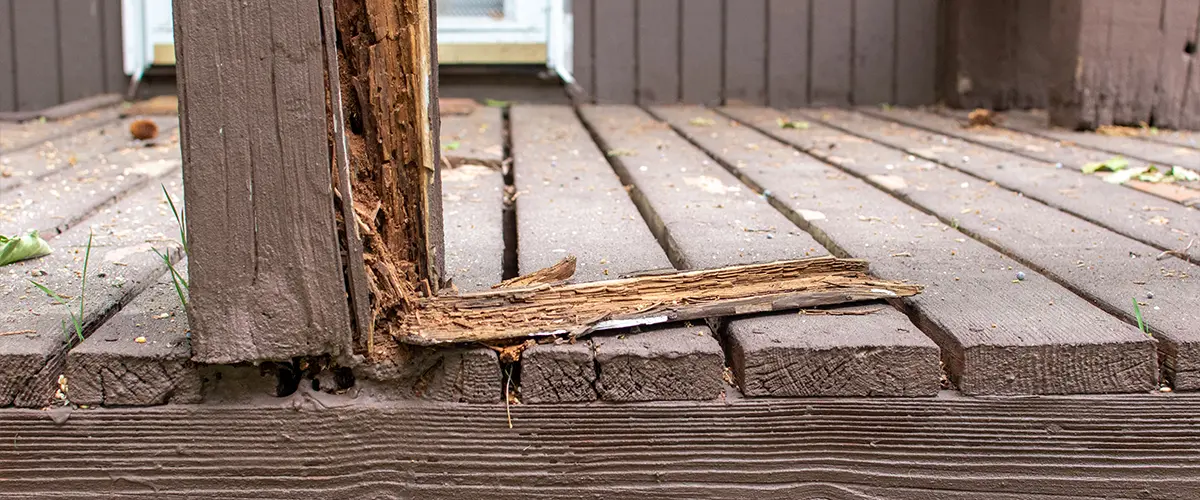 A Word From Our Past Customers
Here's what your neighbors say about working with a top-tier contractor!
Extremely pleased with our fences from Burgess Construction LLC! The crew showed up on time and were friendly and professional during the whole process.
They were very efficient and finished our whole project in two days!
Stephanie and the crew were great at communicating during every step. We are currently getting a quote for our deck, because we would love to work with them again!
Definitely a 5 star experience– would recommend to anyone looking for fence work, and plan to work with them again!
I hired Burgess Construction to put a corrugated roof over my deck. They did a beautiful job. I asked if the wood used could be stained and the outcome with the stained wood looks wonderful.
There was a little mishap with communication…Stephanie and Blaine stepped up and made it right. I am so happy w the outcome. I am very proud of the way my deck looks now. I would recommend Burgess Construction.
Bringing Old Decks Back To Life
Burgess Construction provides deck restoration services that aim to transform and enhance your outdoor living area. Our six-step process is explained below, and we always stick to this approach when working on your project. Rest assured that you can always count on us to deliver excellent results.
#1. Initial Assessment and Consultation:
Upon contacting us, we will schedule an initial meeting to evaluate your deck's condition and restoration objectives. We will inspect the deck boards, wood structure, and surface during this appointment. We will also discuss your desired outcome and address any specific concerns you have about the deteriorated deck.
Before beginning the restoration work, we will thoroughly clean the deck to eliminate dirt, grime, mold, and any old deck stain or finish. Our cleaning process involves using top-quality deck cleaners, and we may use a pressure washer at a suitable level to remove tough stains without causing any damage to the wood.
#3. Repair and Restoration
To ensure the long-term safety and durability of your deck, our skilled craftsmen will replace any damaged deck boards, fix wood rot, and strengthen weakened deck railings to improve the deck's structural integrity.
#4. Sanding and Smoothing
Before we apply the new deck stain, we need to sand the deck's surface to eliminate any rough areas, splinters, or raised wood fibers. This is crucial for enhancing the deck's look and providing a cozy surface that you and your family can enjoy.
We will coat your deck with a wood or deck stain to achieve a more attractive appearance and safeguard it against sun, moisture, and foot traffic. After preparing the deck, our team will administer the stain uniformly to guarantee full coverage and consistency.
We prioritize the protection of your property throughout the restoration process. We cover nearby plants, furniture, and surrounding items with plastic sheeting or similar materials. After the restoration, we will clean up debris and tidy your outdoor space.
Contact us today to schedule a consultation and leave the task of deck restoration to us. As experts in the field, we can transform your old deck into a stunning focal point of your home.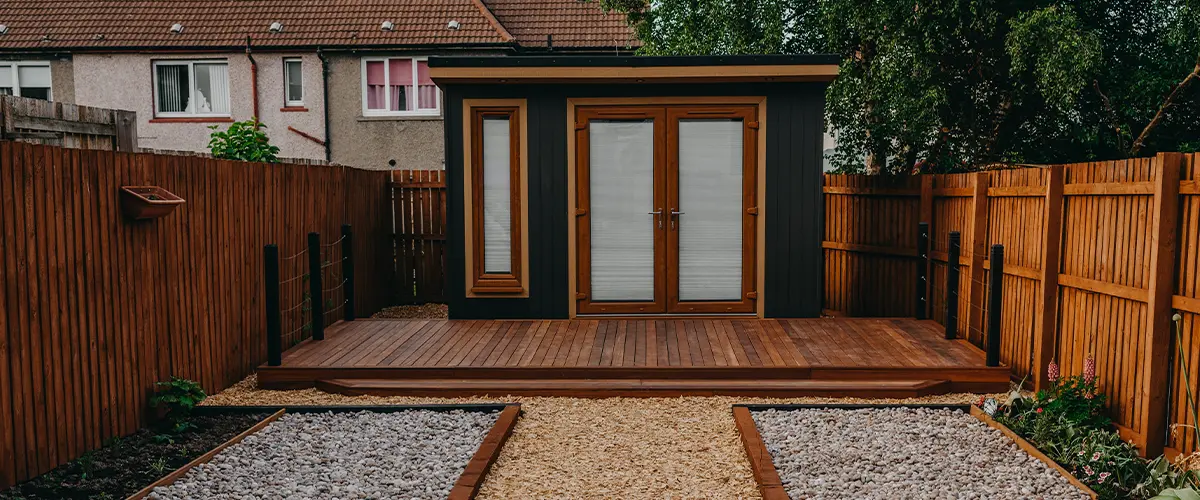 Snohomish's Best Deck Restoration & Deck Building Services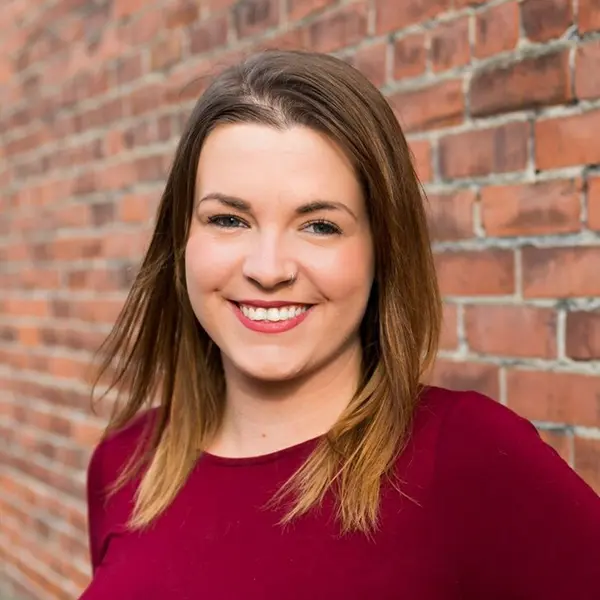 At Burgess Construction, we specialize in deck restoration and deck building services. Our experienced team can help you restore your old deck to its former glory or create a brand-new outdoor living space for your home. 
Call us today at (425) 791-5281 to discuss your project, or click the button below to get your free quote!