Building a deck is a huge investment, but to make sure you're taking full advantage of this amazing home addition, you'll need to use the right decking material.
While pressure-treated wood decks remain the popular choice for many homeowners in Snohomish and the surroundings, there are other, better decking alternatives that you could use.
From PVC decking to hardwood decks made of Mahogany or Ipe, each type of decking material has its own unique benefits and drawbacks, so it's important to do your research before making a decision.
In this article, we'll take a look at some of the best deck material options for 2023 and help you decide which one is right for your deck project.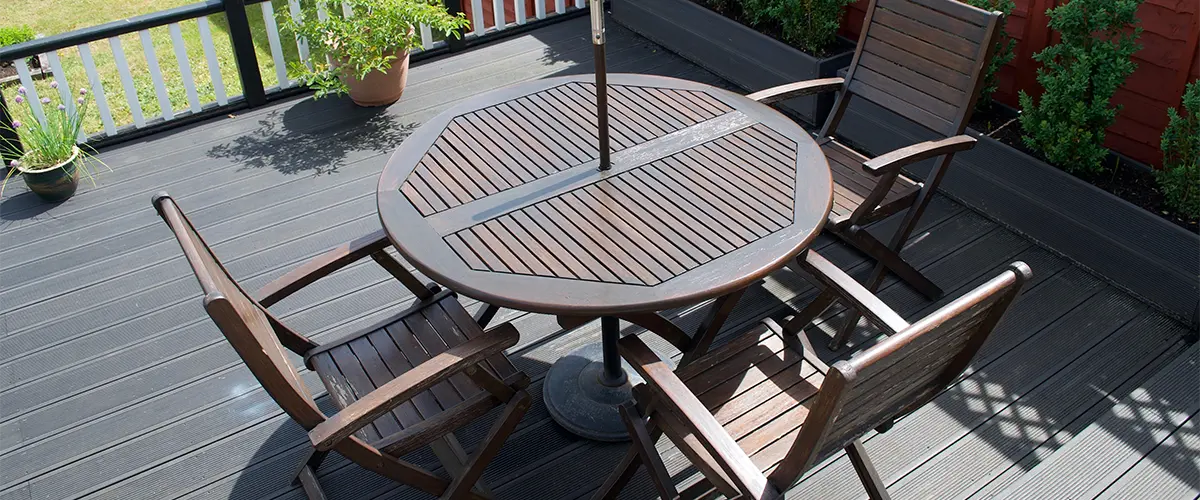 The Benefits of Choosing The Best Deck Materials
When it comes to choosing a decking material, you get what you pay for.
A deck made with high-quality materials will last longer and require less maintenance than a deck made with cheaper materials. Besides, a deck built with better materials will require fewer repairs, saving you more money in the long run.
In a nutshell, the best decking material will stand the test of time and will make having a deck much easier.
There are a few different types of decking materials to choose from, each with its own benefits and drawbacks.
Since composite decking materials are man-made from wood fibers and recycled plastics, they won't warp or splinter like natural wood. They're also resistant to rot and insects, making them a more durable and low-maintenance option.
Although composite decking materials are more expensive than natural wood decking, you're guaranteed to get your money's worth if you purchase from a reputed and high-quality company. If you're looking for something low-maintenance that will last many years, composite deck boards are the way to go.
Some of the best composite brands out there are TimberTech, Trex, Fiberon, and others. On average, you'll find composite decking priced anywhere between $4.50 to $13 per square foot.
Here at Burgess Construction, we love our wood decks, but for any of our customers looking to get composite decks, we recommend TimberTech and Trex all the way.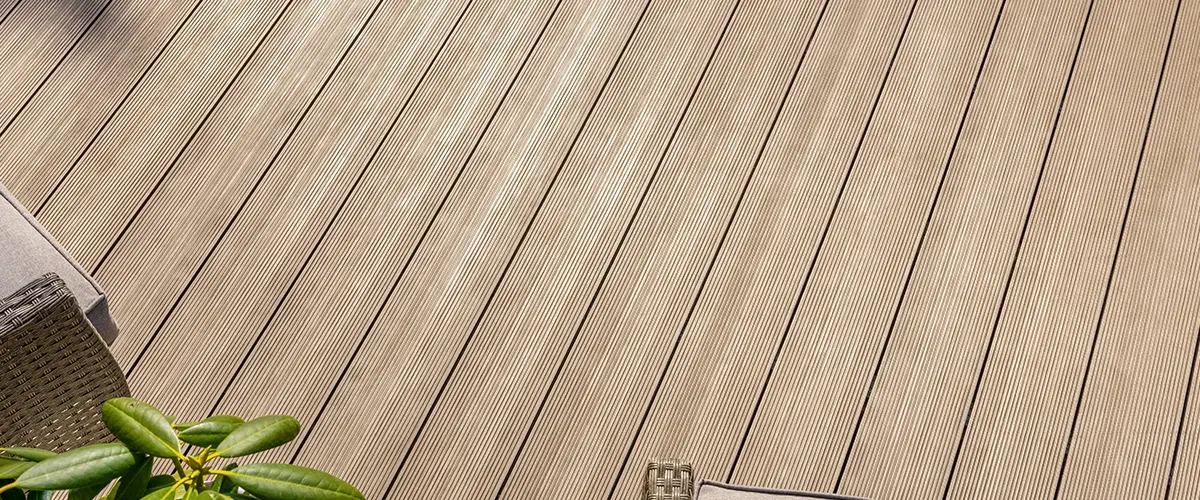 Cedar decks are one of our favorites here at Burgess Construction.
Cedar decks are incredibly popular because of the rich, natural color of the wood. Cedarwood has a beautiful hue that can be found throughout America, and is also very lightweight and strong- perfect for areas with harsh weather conditions!
Cedar is a type of wood that contains tannins and naturally occurring oils, making it more resistant to rotting and insects than other types of wood. However, you can also treat it with a stain and sealer to prevent cracks or splinters.
Although cedar is a little pricey, it's worth the investment because it lasts much longer than other types of wood. You'll get more use out of your deck and won't have to replace it as often. Plus, with the help of a professional contractor, you can actually find some great deals on cedar decking boards.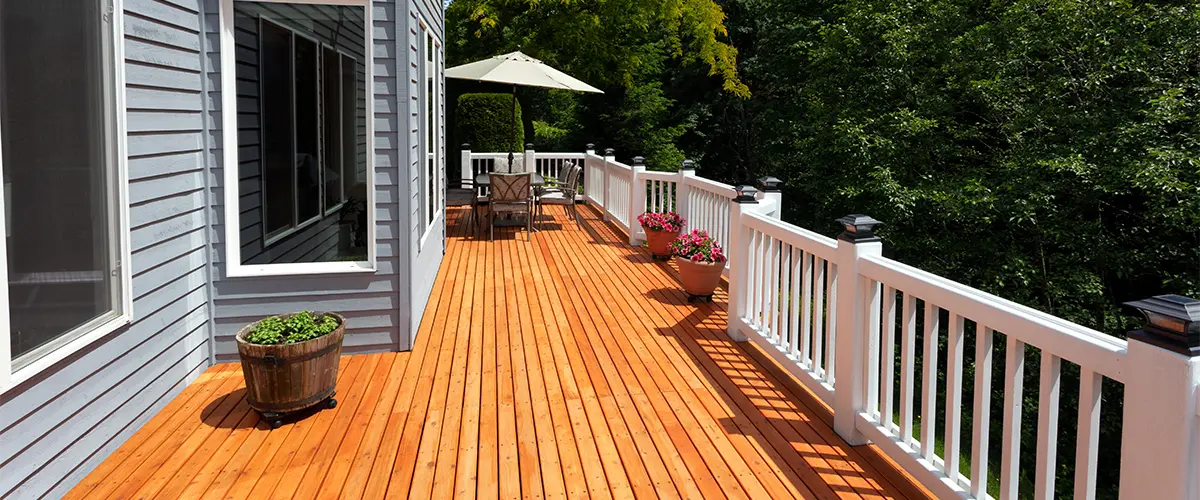 3. Pressure-Treated Wood Deck
Pressure-treated wood is still the traditional wood decking material mostly because of its very affordable price.
The wood is treated with chemicals to withstand rot, mold, and insects, making it a fairly durable option that is also very affordable.
However, with all the treatment and sealing, pressure-treated wood is still a material that can quickly warp or crack over time. It also requires regular maintenance to keep it in good condition, and even so, you're not guaranteed that'll last too long.
While we don't necessarily recommend pressure-treated wood decking, it is still one of the best options for framing the deck.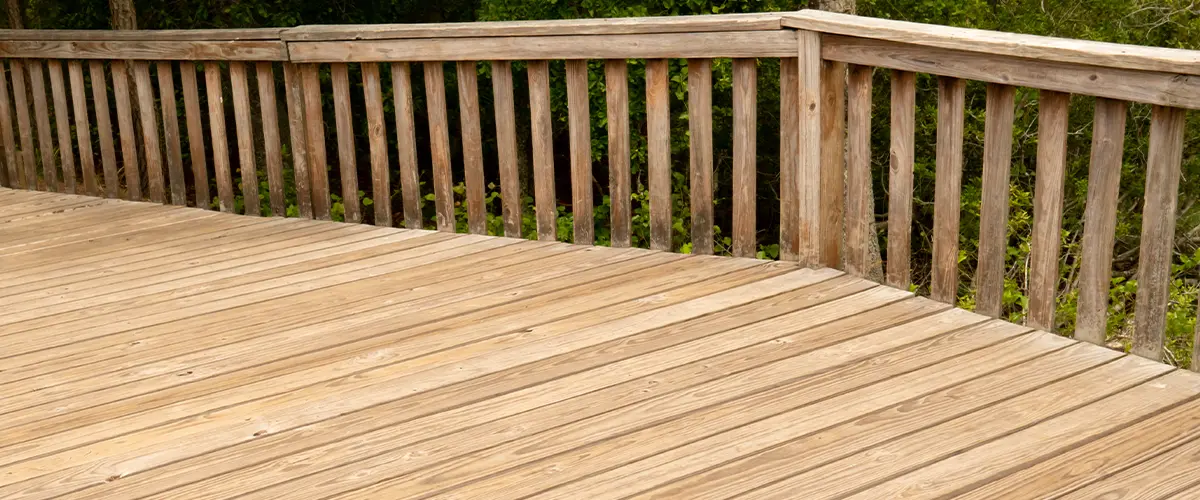 PVC decking is a newer type of synthetic decking materials that are made only from recycled plastics. It is very durable and won't warp, rot, or splinter like natural wood.
What's more, PVC decking is resistant to insects and UV rays, making it a low-maintenance option that will last for many years. Although it is more expensive than other types of decking materials, PVC is a good investment because you won't have to replace it as often.
Some of the best PVC deck brands on the market is TimberTech AZEK. These are more expensive decking boards, but they're 100% worth the investment. They have a 50-year or lifetime warranty, so you'll enjoy your deck for as long as you'll live in your home.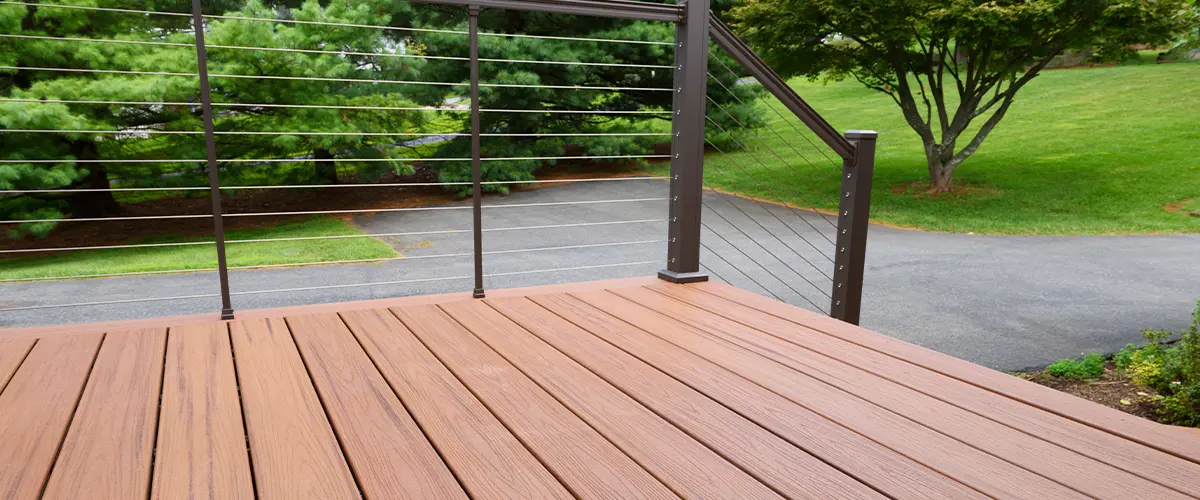 Although hardwood decking is more expensive than other types of decking materials, it's a good investment because it lasts much longer than softwoods. You'll get more use out of your deck and won't have to replace it as often.
Hardwood and tropical hardwoods are available in a variety of different species, each with its own benefits and drawbacks. Some of the most popular hardwood decking options are mahogany, tigerwood, and ipe.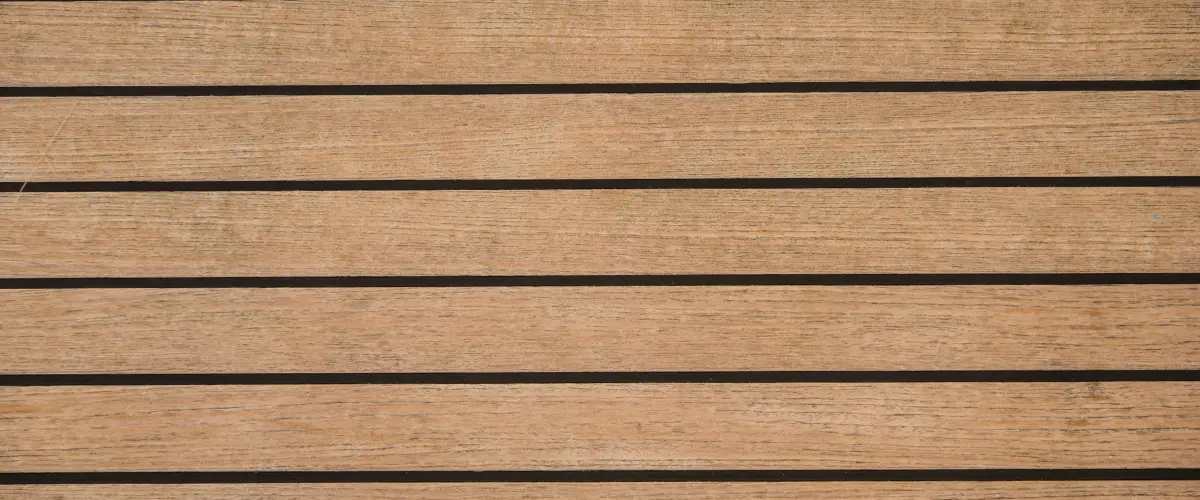 The Best Deck Materials - At The Best Price
Getting metal posts, frames, railways, and composite decking can be quite expensive. In that case, the best way to proceed is to find a good balance between aesthetics and functionality.
Popular decking materials that are also affordable and functional are:
Deck Materials That You Should Avoid
Softwoods like pressure-treated wood and cedar are susceptible to rot and pests damage, the biggest enemies of a wood deck. If in the first few years your cedar wood deck will still look decent, with time, the decking surface will start showing rot, warps, or splinters.
Besides, their color will fade, so you'll need to repaint and stain them once every 2 – 3 years.
What's more, the wood also needs to be sealed against water. Cedar and redwood, for example, can absorb water and start warping or growing mold.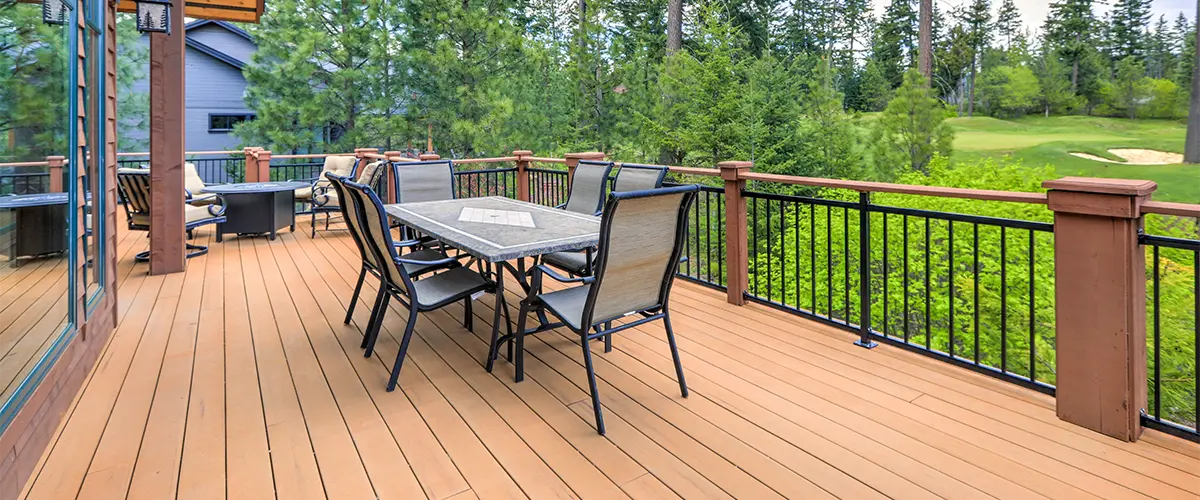 The cost of buying the best deck materials might make you second-guess your choices. However, know that investing in high-quality decking materials will pay off in the long run.
You'll see a lot of money being saved on repairs, maintenance, stains, and sealants.
At Burgess Construction, our goal is to give you the best deck that'll match your needs and preferences, no matter the budget. We'll discover what you really need out of your outdoor space, and we'll do the impossible to make it happen.
You're one step away from your dream deck. Request a free quote, and we'll get back to you ASAP. If you can't wait, give us a call at (425) 791-5281 now.