Composite Deck Installation In Snohomish, North Creek, Bothell, And More Of WA
Get a low-maintenance, high-durability deck for your Snohomish backyard.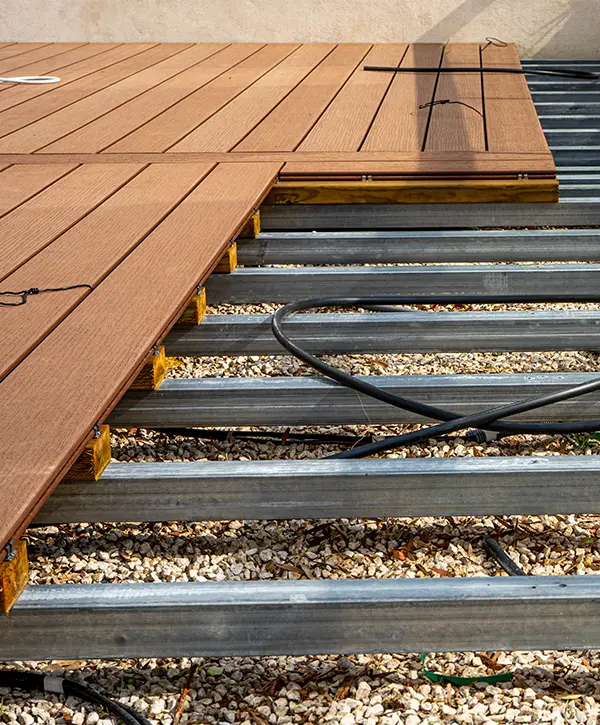 At Burgess Construction, we are passionate about creating outdoor spaces that enhance the beauty and functionality of homes in Snohomish, WA, and surrounding areas. Our composite deck installation service is designed to bring your outdoor oasis to life with elegance, durability, and low-maintenance benefits.
With our expertise in deck building and the superior quality of composite decking materials, we can transform your vision into a reality. Whether you're looking to replace an existing deck or embark on a new deck project, our team is here to guide you every step of the way.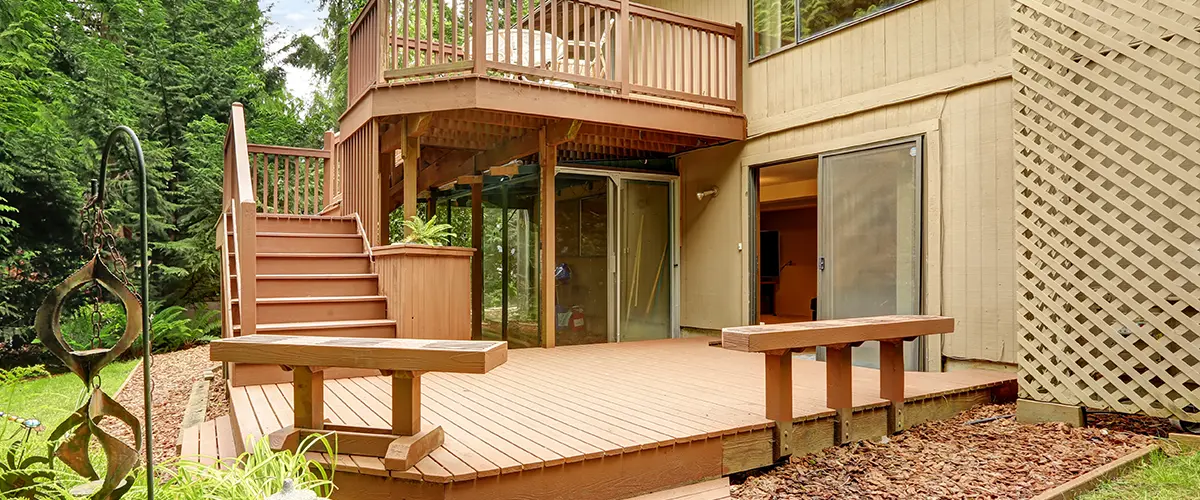 Our deck building team is here to ensure you get:
What Sets Composite Decks Apart?
When it comes to deck installations in Snohomish, WA, you deserve the best. That's why Burgess Construction is proud to offer composite decks as part of our superior deck building services.
Composite decks are a game-changer in the world of outdoor living, and they bring a range of benefits that set them apart from traditional wood decks. Let's dive into what makes composite decks the superior choice for Snohomish homeowners.
Snohomish's climate can be challenging, but composite decks are up to the task. These decks are engineered to withstand the elements and provide long-lasting beauty. Say goodbye to worries about fading, warping, and splintering that often plague traditional wood decks.
With composite decks, you can rest assured that your deck will remain beautiful and structurally sound for years to come, even in the face of Snohomish's moisture and humidity.
As homeowners in Snohomish, we understand that your time is valuable. That's why composite decks are a dream come true. Unlike wood decks that demand regular sanding, staining, and sealing, composite decks require minimal upkeep.
Simply put, you'll spend less time maintaining your deck and more time enjoying it. Cleaning becomes a breeze, and you won't have to worry about regular maintenance tasks that eat up your weekends.
As Snohomish residents, we appreciate the beauty of our natural surroundings. Composite decks offer an eco-friendly alternative to traditional wood decks. By choosing composite, you're making a positive impact on the environment.
Composite decks are made from recycled materials, reducing deforestation and minimizing their overall environmental footprint. You can have a stunning outdoor space while making a sustainable choice.
Composite decks don't just excel in performance—they also excel in aesthetics. Snohomish homeowners deserve outdoor spaces that reflect their style and personality.
With composite decks, you have a wide range of colors, styles, and textures to choose from, ensuring that your deck perfectly complements your home's architecture. Whether you prefer a modern, sleek look or a rustic, traditional feel, composite decks can bring your vision to life.
Take your outdoor living experience to the next level with composite decks. They offer endless possibilities for incorporating innovative features that enhance both functionality and aesthetics.
Imagine built-in seating for entertaining guests, integrated lighting for cozy evenings, or stylish planters to add a touch of greenery. Composite decks allow you to customize your space, creating an outdoor oasis tailored to your unique needs and desires.
No matter the size or layout of your Snohomish yard, composite decks can be designed to maximize space efficiency. Whether you have a small, compact area or a sprawling backyard, composite decks can adapt to your space requirements.
They can seamlessly integrate with challenging slopes and uneven terrain, transforming previously unusable areas into stunning outdoor retreats. Let your imagination soar as you explore the possibilities of composite deck designs.
Ready to enhance your outdoor living space in Snohomish with a team that knows how to install composite decking? Contact us today to discuss your composite deck installation project. Let our expertise and commitment to superior craftsmanship bring your dream deck to life.
Testimonials That Speak for Themselves
Read on to discover how Burgess Construction has transformed outdoor spaces and exceeded expectations for homeowners in Snohomish, WA, and surrounding areas.
Burgess built a new fence for our backyard which previously wasn't fenced.
They built a 14' swinging gate and a 10' swinging gate to accommodate our drive around driveway as well.
They were such a pleasure to work with! They were very professional, showed up on time, and I could tell they really cared about our project.
I can't wait to have them back out to build a covered deck!
I'll add, the fencable space for our yard was oddly shaped, and they did an amazing job. We're SO happy!
Blaine and his team replaced 120lf of old fence. We had a tight window for the work 2 days start to finish. Blaine was very accommodating communicative and made sure we got the fence we wanted we are beyond happy! Also competitive on price.
6 Steps to Flawless Composite Deck Installation
With our meticulous six-step process, Burgess Construction guarantees a flawless composite deck installation for your Snohomish home. We take pride in delivering exceptional craftsmanship and attention to detail, creating a composite deck that exceeds your expectations.
Say goodbye to high-maintenance wood decking and hello to a stunning, low-maintenance composite deck that will enhance your outdoor oasis for years to come.
1. Deck Design and Planning
The first step in any successful composite deck installation is thorough planning. Our team will work closely with you to understand your design preferences, deck size, and functionality requirements.
We'll discuss composite decking materials, railing options, and any additional features you desire, such as built-in seating or deck railings. We'll also take into account local building codes and regulations to ensure compliance. Together, we'll create a custom deck design that perfectly suits your style and needs.
2. Preparation and Demolition
Before installing your new composite deck, we'll ensure that the area is properly prepared. If there is an existing deck, we'll carefully dismantle and remove it, making way for the fresh installation.
Our team will assess the deck's foundation and make any necessary repairs or modifications to ensure a sturdy and long-lasting structure for your new composite deck.
3. Deck Frame Construction
The deck frame serves as the backbone of your composite deck, providing stability and support. Our skilled builders will construct a durable deck frame using pressure-treated wood or composite materials.
We pay meticulous attention to detail, ensuring that each joist and beam is precisely measured, leveled, and securely fastened to create a strong foundation for your deck.
4. Composite Deck Board Installation
Now comes the exciting part—installing the composite deck boards. We'll carefully place each deck board, ensuring a uniform and visually appealing layout. Using hidden deck fasteners or composite decking screws, we securely attach the boards to the deck frame, providing a seamless and clean surface.
Our experienced team meticulously aligns each board, double-checking for proper spacing and ensuring a flawless finish.
5. Deck Railing and Finishing Touches
To complete your composite deck installation, we'll add the finishing touches that enhance both safety and aesthetics. We'll install deck railings that perfectly complement your deck design, offering added security and a touch of elegance. 
Post caps, balusters, and other decorative elements will be meticulously installed to bring your vision to life. Our goal is to create a composite deck that not only impresses with its beauty but also ensures a safe and enjoyable outdoor space.
6. Quality Inspection and Clean-up
Once the composite deck installation is complete, our team conducts a thorough quality inspection. We examine every aspect, from the deck boards and railings to the structural integrity and overall finish. If any adjustments or touch-ups are required, we address them promptly to ensure perfection.
Finally, we clean up the work area, removing any debris and leaving your outdoor space ready to be enjoyed.
Contact Burgess Construction today to discuss your composite deck project. Let our expertise, dedication, and commitment to excellence bring your dream deck to life. Your Snohomish home deserves the best—let us make it a reality!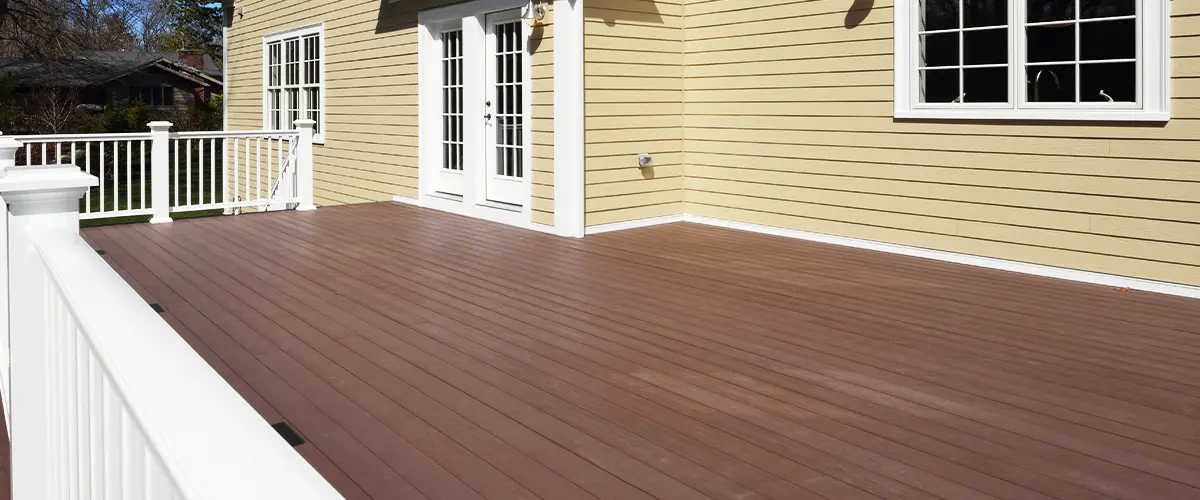 Explore Our Past Composite Deck Installation Projects
Browse through our gallery to see the artistry and expertise that sets Burgess Construction apart as the go-to deck building experts in Snohomish. Let these images ignite your imagination and envision the possibilities for your own composite deck project.
Composite Decking Installation FAQs
Installing a composite deck involves several steps to ensure a sturdy and visually appealing result. The process begins with thorough planning, including deck design, size, and material selection. Once the area is prepared by clearing and leveling the ground, a solid deck frame is installed using pressure-treated wood or composite materials.
The composite deck boards are then attached to the frame using either hidden deck fasteners or composite decking screws. The installation is completed by adding deck railings, post caps, and other finishing touches.
It's crucial to consult with a professional deck builder, like Burgess Construction, to ensure the correct installation and maximize the longevity of your composite deck.
To provide a stable foundation and enhance the performance of your composite decking, it is recommended to install a suitable underlayment. Common options include pressure-treated wood joists, composite deck sleepers, or adjustable deck pedestals.
Pressure-treated wood joists are often used to support the composite deck boards. Composite deck sleepers are special supports designed specifically for composite decking, offering added durability and moisture resistance.
Adjustable deck pedestals allow for precise leveling and provide airflow underneath the decking, preventing moisture buildup. The choice of underlayment depends on the specific requirements of your project and the recommendations of the composite decking manufacturer.
Yes, composite decking can be installed directly on concrete, provided certain conditions are met. The concrete surface should be clean, level, and in good condition, without any major cracks or damage.
To prevent moisture-related issues such as rot or mold, it is crucial to install a moisture barrier or underlayment between the concrete and composite decking. It's also important to check with the composite decking manufacturer for specific instructions and recommended installation methods when installing their product over concrete.
Flawless Composite Deck Installation in Snohomish, WA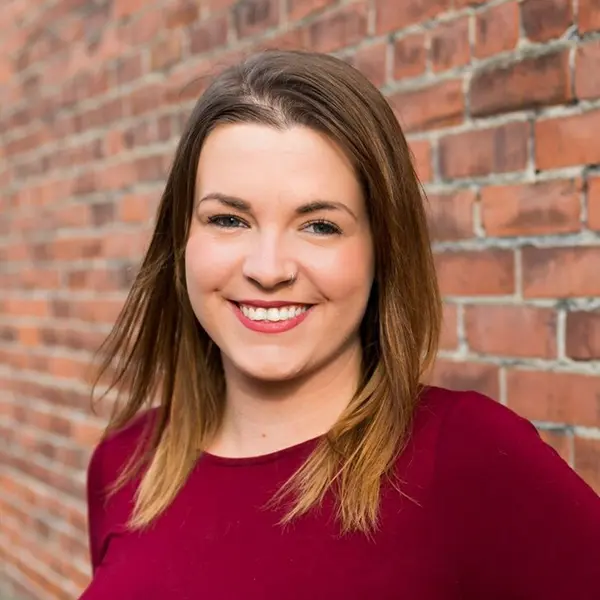 Don't settle for anything less than excellence when it comes to your composite deck installation. 
Contact Burgess Construction today at (425) 791-5281 to discuss your project, request a free estimate, and take the first step toward elevating your Snohomish home with a flawless composite deck.