At Burgess Construction, most of our deck building or fence installation projects are with cedar. This is a beautiful wood species, but as with any soft wood, it has some downsides.
For starters, cedar will need to be regularly sealed and stained, and many of our customers are not exactly happy when they hear this.
In reality, any kind of wood needs to be treated, and treating cedar wood is no different.
In this article, you'll discover how to properly treat a cedar wood surface, whether it's a deck or fence, so that it'll last for many years without losing its beauty and functionality.
Let's begin!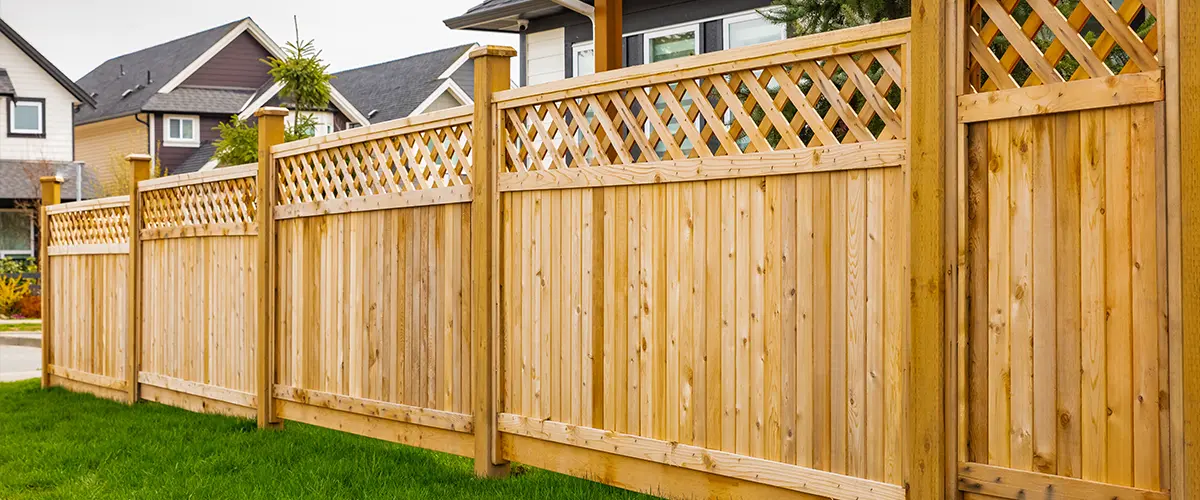 Best Types Of Sealers For Cedar
Sealing a deck means applying a substance that penetrates the wood fibers so that water can't get into them. Sealing is essential if you want to keep the wood away from rot or any water damage.
Here are some of the best sealers on the market for cedar decks or fences.
Seal-Once Marine Premium Wood Sealer
Although sealers are notorious for emitting toxic odors, this one has such a low-VOC that it smells like nothing! The Seal-Once Marine Premium Wood Sealer takes about two coats for optimum results (the second coat is applied after about 40 – 50 minutes). This is a water-based sealer that provides UV and moisture resistance.
You can get this sealer for about $65 from Walmart.
Rust-Oleum Varathane Ultimate Spar Urethane Oil Based
Rust-Oleum's Varathane Ultimate sealer creates a protective layer to safeguard against outdoor exposure while providing a beautiful semi-gloss finish that is sure to impress – all at one of the best prices on the market.
The sealer requires a minimum of three coats applied 4 hours apart (it dries very slow).
Thompson's WaterSeal Transparent Wood Sealer
Thompson's WaterSeal Transparent Wood Sealer has a little bit of color, just enough to enhance the natural wood grain of the cedar. It's a thin, watery sealer that can quickly get messy. This sealer requires two coats, best applied with an airless spray ring. While the second coat is recommended if you want a deeper color, we wouldn't really recommend it for cedar.
What Stain Is Best For Cedar?
If you want to stain cedar wood, there are some things you need to know to ensure you're not ruining the natural look of the wood. While on cedar outdoor furniture you can use whatever you want, things are different on the decking surface or fence.
Semi transparent stains and natural stains are the best options to protect cedar wood. Avoid any wood stain that's solid, as solid color stains will simply break the natural color of the wood.
It's said that cedar is naturally rot resistant, but you'll still need a type of stain or sealant if you want to take full advantage of cedar's benefits. Unlike interior cedar, exterior cedar must be treated against the elements – no matter what.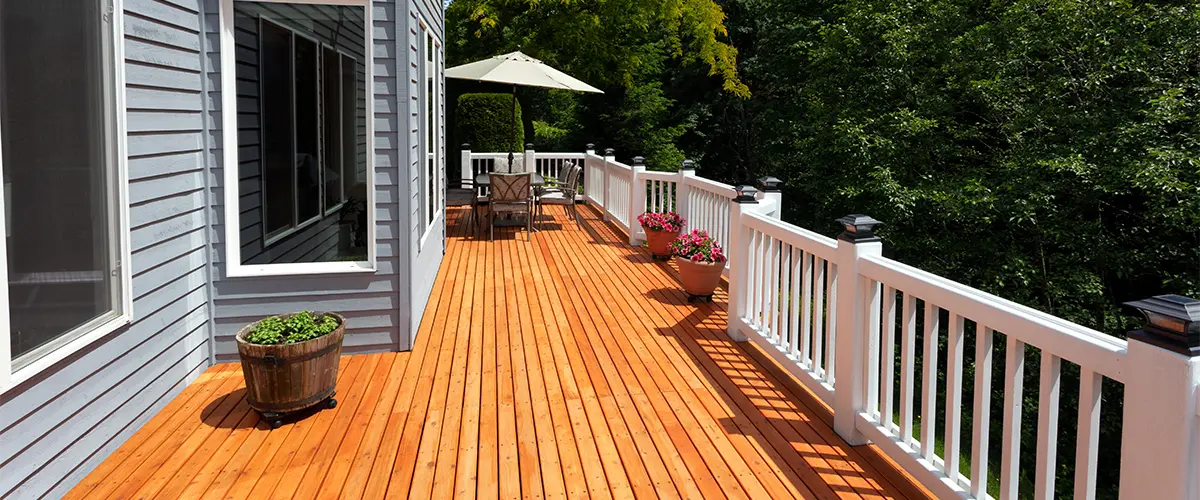 What Other Extra Cautions Can You Take To Maintain Cedar?
Of course, sealing is mandatory, but it's far from enough. Here are some other things you can do to keep your cedar deck or fence looking at its best.
Ensure Your Cedarwood is Preservative-Treated
Cedarwood is a durable and reliable material for several parts of your residence, which makes it an excellent choice. To ensure that the cedarwood remains in good condition and can withstand damage over time, it must be treated with preservatives like para-phenylenediamine or cresol.
If you are looking for an alternative natural solution to preserve your wood, combining wax and oil would do just the trick!
Keep Moisture Away From Your Siding
We know the wet climate here in Washington state might not be ideal for wood decks and fences, but your wood deck or fence should be just fine with the right treatment and maintenance.
Ensuring your cedarwood stays away from moisture is essential to maximize its longevity. If the wood gets wet, mold and mildew may grow on its surface, even if it's sealed!
If you have gutters installed, just ensure there's not much water dropping directly on the deck. For fences, a good sealer and a capping on top of the fence will be great!
Keep Termites Away from Your Siding
Though termites are one variety that could destroy any wood if left untreated, they aren't the only ones.
You can protect the cedar wood by caulking those windy openings with special wood putty or sealing agents like caulk.
Regular maintenance is necessary to ensure your cedarwood lasts for many years. The wood can quickly become filthy and lose its signature scent without it. Cedar is a material that requires extra care compared to other woods.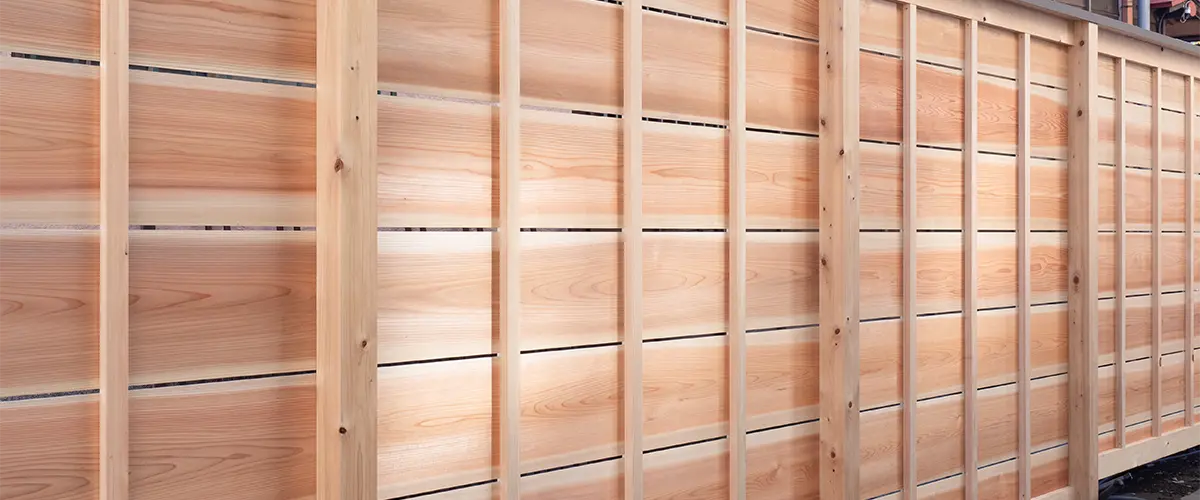 So, cedar is a beautiful wood, great for deck and fence building. The western red cedar is particularly loved by homeowners in Snohomish, WA, because of its incredibly beautiful look.
However, it does require more maintenance than hardwoods.
But this shouldn't stop you from getting your upgrade! With proper maintenance and care, cedar is by far one of the best-looking decking materials on the market. Sure, composite is low maintenance and all, but nothing compares to the natural look of wood in your backyard!
Here at Burgess Construction, we're experts in carpentry, and we offer professional deck building services for homeowners looking to uplift their outdoors in Snohomish and surrounding areas.
If you want to learn more about cedar decking and fencing, give us a ring at (425) 791-5281. If you're ready to start your project, request your free quote right now!