When building your new deck, you'll want to ensure that you use the best composite decking boards available. But which company offers high-quality products, great rewards, and unbeatable prices?
At Burgess Construction, we love a couple of composite decking brands but recognize that sometimes our customers have different preferences. That's why we always strive to offer the best selection of decking options for all types of budgets and tastes.
While Trex and TimberTech will most often be our main recommendations, there are certain cases where a different brand will offer a better deal at that particular time.
Stick with us to find out our top 5 composite deck brands in 2023!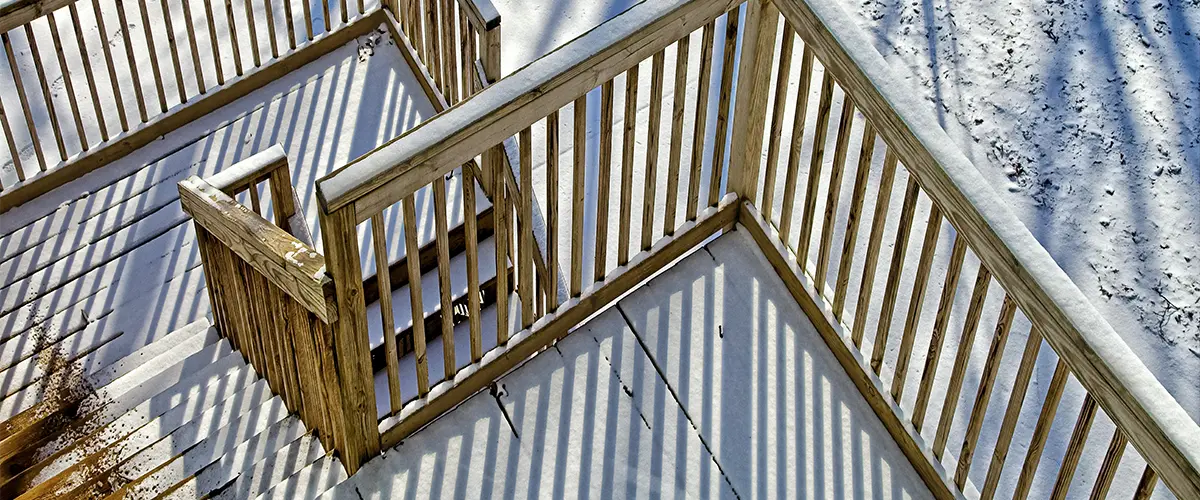 1. TimberTech Composite Decking
We hold TimberTech decking in high regard for various reasons.
When we order materials from them, their timely delivery is always reliable. We rarely had any delays or serious issues with TimberTech.
It is true, however, that TimberTech is priced higher than most other composite decking manufacturers. But for good reasons. They offer a better warranty, better capping on their boards, and a larger selection of colors and materials.
Their composite boards can even resemble the look of real wood decking!
Here at Burgess Construction, TimberTech is one of our favorite composite brands, and we can't think of any reason as to why you shouldn't get these boards.
2. Trex Composite Decking
After being dedicated followers of Trex composite decking for quite a while, we chose to switch to TimberTech decking due to multiple factors.
First, Trex shipments are unreliable and it was hard for us to schedule projects not knowing when our materials will arrive. This was a real issue, as we want our customers to get their decks fast.
Secondly, Trex warranty is just the standard 25-year fading and staining warranty, whereas TimberTech offers a 30-year one. Not just this, but TimberTech AZEK lines offer a lifetime or a 50-year warranty on their PVC decking boards.
To complete the picture, Trex has noticeably weaker capping on its boards than TimberTech. Sure, Trex utilizes composite decking as a form of capping (which is still beneficial), yet TimberTech possesses an advanced polymer cap that gives it much greater strength and scratch resistance.
Despite all these, Trex is still one of the most popular composite decking materials, if not the most popular one. Trex composite decking boards are also more affordable. Trex decking costs range from $5 to $12 per square foot.
Since 2004, Cali-Bamboo has been proudly located in San Diego and produces a wide selection of both interior flooring options and BamDeck and TruOrganics surface decking planks.
When it comes to decking projects, Cali-Bamboo is your go-to one-stop shop! They offer BamDeck composite made with 60% recycled bamboo fibers and 40% recycled materials – and also a plethora of other sustainable options such as fencing, plywood, poles, edging, and flooring.
The TruOrganics product line is crafted from recycled wood fibers and offers prices starting at $15 to a maximum of $75 depending on the item. This comparatively pricier range covers our TruOrganic selection, so you're sure that quality comes with each purchase!
BamDeck offers a warranty of 15 years when it is used in homes, and 10 years in commercial settings. When compared with BamDeck, TruOrganics boasts an even more impressive guarantee of 25 years!
In 2018, Barrette Outdoor Living, a provider of vinyl, aluminum and steel fence & railing; composite decking as well other outdoor products acquired DuraLife Composite Decking.
DuraLife's remarkable product portfolio boasts both Landscape and Hardwood collections of decking planks, offering an array of eight distinct wood grain tones and colors.
All decking and railing products are crafted in Maine, with up to 100% of raw materials procured within 500 miles of the facility. This local sourcing allows us to make a positive impact on our environment by reducing shipping distances.
DuraLife decking consists of 80 to 90 percent post-consumer and post-industrial content. It is also manufactured without any preservatives or toxic chemicals, like formaldehyde.
Depending on the collection, it costs about $18 to $35 for parts and labor per square foot. If you're feeling handy, Barrette also offers installation instructions for do-it-yourselfers.
Since 1997, Fiberon of North Carolina has been crafting ultra-durable decking, railing components and fencing products. Combining a robust PVC "Permatech" outer shell with a wood composite core, these goods are incredibly resistant to fading and staining.
Their product lines range from "good," to "better," and then to "best." Out of their six total, they have two PVCs: Promenade and Paramount; as well as four wood/plastic composites: Concordia, Sanctuary, Good Life, and ArmorGuard.
For the most reliable, fade-resistant woodgrain designs, look no further than Fiberon's substantial selection of 21 colors. The boards can be found in four main color categories – gray, golden brown, classic brown and reddish-brown – each providing their own unique charm to your outdoor setting.
Fiberon's recycled wood boards are a combination of natural and synthetic materials, with 50 percent being composed of sawdust and other discarded wood pieces and 50 percent PVC plastic.
All products carry a 25-year limited warranty and their top-line products are under a 50-year warranty.
The pricing can run between $15 to $22 per square foot for parts and labor.
By investing in composite decking, you're guaranteed to receive exceptional value for your money. The top-notch composite deck brands present superior warranties, high-quality products and a vast array of options to choose from – serving as the perfect choice for any outdoor needs!
With this low-cost material, you can spend more time enjoying your outdoor space and less on upkeep. Forget about the hassle of expensive sealing, staining or repair costs -that's all taken care of!
If you compare composite decking to a natural wood deck, the savings are clear. Not only do you eliminate spending approximately $2k every 2-3 years on maintenance costs, but those funds can be put towards other property investments.
You're one step away from your dream deck. Request a free quote, and we'll get back to you ASAP. If you can't wait, give us a call at (425) 791-5281 now.