The Best Deck Building In Mill Creek
You've come to the right spot if you're looking for a deck design that's both stylish and practical.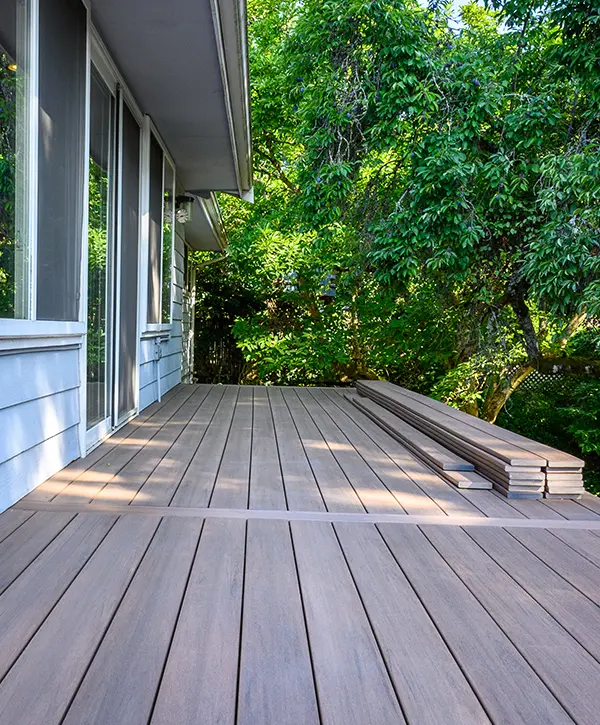 With so many choices out there, it can be difficult to figure out what deck builder will best match your needs and budget. We're making it super easy for you!
If you want an attractive and highly-efficient deck for your Mill Creek home, Burgess Construction is one of the best options you should be looking at. Extensive knowledge in carpentry and decades of experience in building decks made us the go-to builder for homeowners looking to get a premium deck construction.
Start your project with a company that aims to raise the deck building standards!
A Deck Building Like No Other In Mill Creek
From process to communication, deck builders in WA lack in multiple fields. Our goal is to make sure you're getting a complete service that puts you and your family at ease. We're bringing to the table what no other deck builder in Mill Creek does.
Watch Your Dream Deck Come To Life!
We understand that home improvement projects can be stressful, especially when working with the average contractor.
We're dedicated to providing excellent craftsmanship and always paying attention to the smallest details. We'll maintain open communication throughout the entire construction process so your needs and wants will always be listened to.
Our goal is to provide an exceptional product that will amaze you. We work diligently to reduce all stress and anxieties so you can fully enjoy your new addition while you're in full control throughout the process.
Mill Creek Homeowners Love Their New Decks!
We've worked with hundreds of homeowners in Mill Creek and the neighboring areas to build a new deck. Here's what they have to say about our crew!
Burgess Construction is an incredible team from Stephanie's amazing communication, design process, and updates along the way, to the crew that built two decks in just over a week!
Thank you so much for helping see our vision become a reality!
Love the quality of craftsmanship with our brand new deck Blaine and his crew just built for us. 
They were on time and hardworking even with such rainy weather. Highly recommend!! Also, really loved working with Stephanie. 
Super responsive and professional. Looking forward to our next project to be completed for our fence.
Type Of Deck Upgrades And Materials
A number of new technologies and materials have emerged in recent years for building decks. During our conversation, we'll go through all of your options in depth.
For now, here's what goes into a deck and the preferred materials for our customers:
A solid foundation is necessary for any stable structure, and your deck is no exception. You'll want to make sure that your deck's frame is sturdy, long-lasting, and built to last.
Although pressure-treated wood is the most common type of lumber used for framing decks, it can rot and become structurally unsafe over time. In addition, termites can infest and destroy pressure-treated wood from the inside out, causing even more damage.
If you're in the market for a framing material that will last longer and save you money, steel is your best bet. Fortress Building Products offers the strongest steel on the market, meaning it doesn't need to be painted or stained as often wood does.
Not only should your outdoor deck be the focal point of your home, but it should also be long-lasting and fashionable.
Ipe, mahogany, tigewood, or redwood decking are excellent for building a more expensive and high-end deck. These woods require significant investment but also need ongoing care and expenditures.
Use composite decking to extend your enjoyment of your deck – a low-maintenance material that doesn't require staining, painting, or sealing. In fact, all it takes is a pressure wash to keep composite decking clean and looking great.
At Burgess Construction, we always use the highest quality composite decking materials from top companies like Trex, TimberTech, and Fiberon. We're able to get the best prices on these products so that you can have a beautiful new deck without breaking your budget.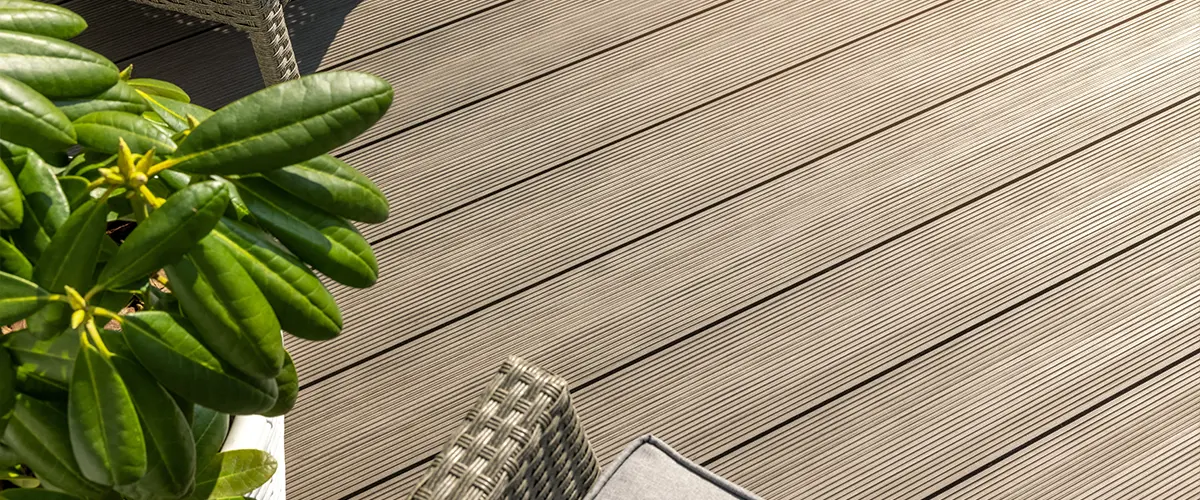 Not only are railings essential for the construction of almost every deck, but they also provide a sense of aesthetic completion to your deck. They give off a feeling of assurance and peace, especially when hosting events or spending time with loved ones.
The most popular choice is hardwood, although we generally advise composite or aluminum. Composite railings outlast wood railings but are even more durable than aluminum railings.
Westbury aluminum railings are not only cost-effective, but they will also make your deck look high-end. In fact, the best composite railing is just as affordable as the best Westbury aluminum railing, making it the better choice overall.
Both for safety and building code requirements, step lights are a must-have on all decks raised off the ground. In addition, they create an improved ambiance.
With us, you'll be in charge of your lighting choices. We only ever propose the most cost-effective options to you. The best kind of lights are comfortable low-voltage ones that last a long time – and this is exactly what we offer at an affordable price.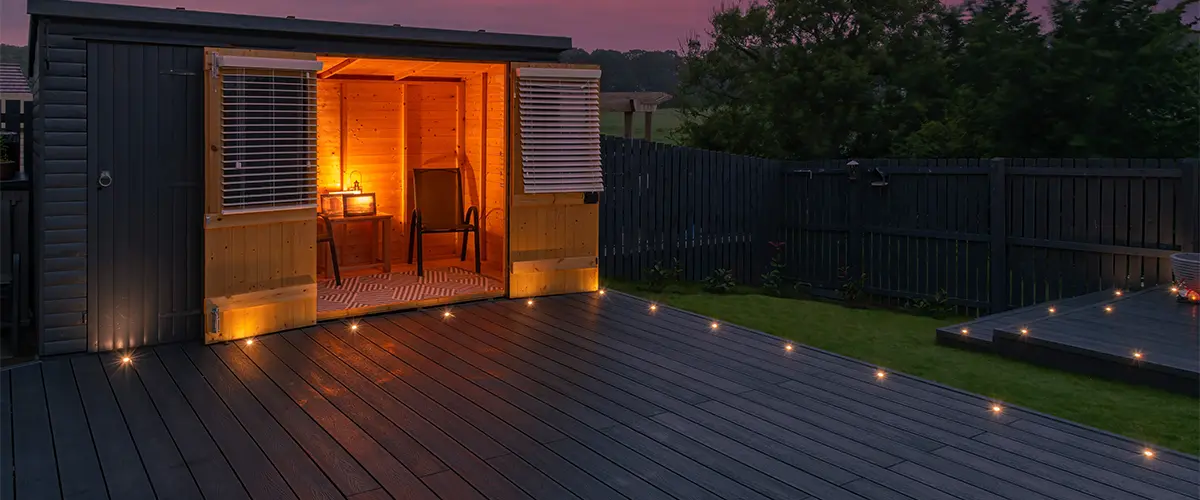 Get Inspiration For Your Next Deck Building Project!
We've built hundreds of decks, so we can tackle any size project with confidence. Our crew is totally dedicated to ensuring that your vision comes to life. Here are just a few of the many projects we've completed:
A Building Process That Focuses On You
We'll tailor our process to your specific needs and comfort level. Your time, home, and comfort are always our top priorities before, during, and after the building phase.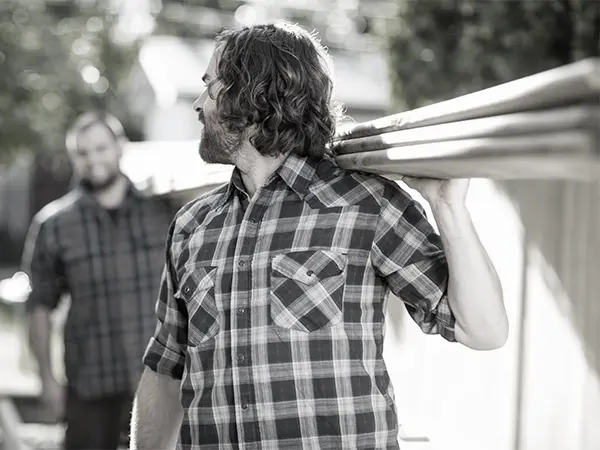 You're already doing this! Get your quote now!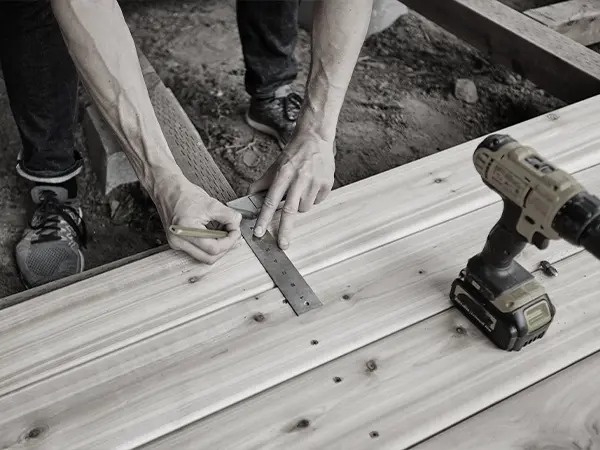 You'll be part of an incredible deck-building journey – yours!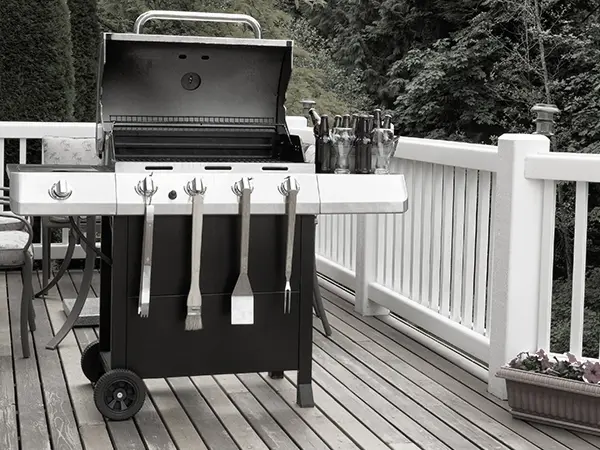 Start planning your next barbecue and invite people over!
Frequently Asked Questions
Deck building cost in Mill Creek, WA is influenced by many things, the biggest being its size.
A 12'x12' ground level cedar deck in a simple design could be close to $14,000, whereas a composite deck has many more options for materials in both decking and railing.
A second story 20'x12' composite deck starts around $25,000. Depending on your needs and budget, we'll come up with the best plan to make your dream deck real.
Most of our decks take 3 days or less to build from start to finish, but this obviously varies depending on the project.
If you're looking to get premium Trex boards that need to be shipped, expect your project's timeline to increase by at least one week. While we want to make sure you get to enjoy your deck as soon as possible, we won't sacrifice its quality to get it done one day sooner.
The only carpenters and deck builders we employ in Mill Creek are those who are skillful, qualified, licensed, insured, and educated on our core ethics of craftsmanship, dedication, and reliability.
We've been building decks for decades, and we know what it takes to build a lovely deck that your family will enjoy for years. We know the deck building codes inside out, so you're ensured the highest quality possible.
When determining the size, layout, and material of your deck, think about how you'll primarily use it. If you frequently have guests over, make sure there's enough room for everyone to relax and that the materials are durable enough to handle a lot of usage.
Something else to ponder is that composite decks don't need much, if any, maintenance while wooden decks require consistent staining.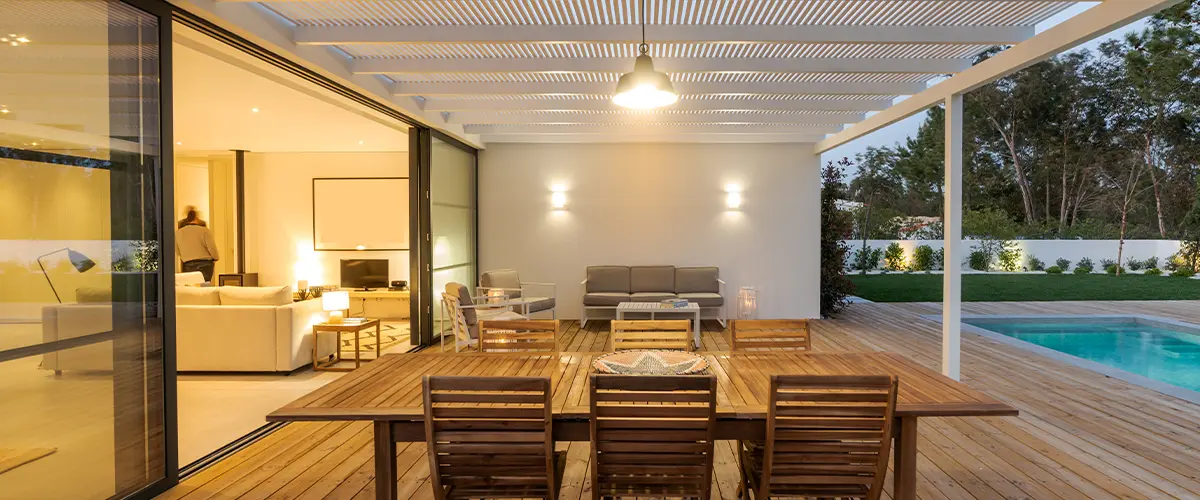 Enjoy A High-Quality Deck That'll Make Your Life Better!
When it comes to deck building in Mill Creek, Burgess Construction is the best deck building company that you can get around here. We're offering a solid deck construction that'll last a lifetime!
Your satisfaction is always our top priority, and we will do whatever it takes to make sure you're happy with the final product. We promise to be there for you every step of the way and make any necessary changes when needed.
In the end, you will have a deck that not only meets but exceeds all of your expectations!
You'll get:
Get The Best Deck In Mill Creek With Burgess!