Scroll to discover window repair options, process, and pricing
The Best Deck Repair In Eastmont, WA
Make sure your existing deck is ready to entertain your guests this season, and get a quality deck repair!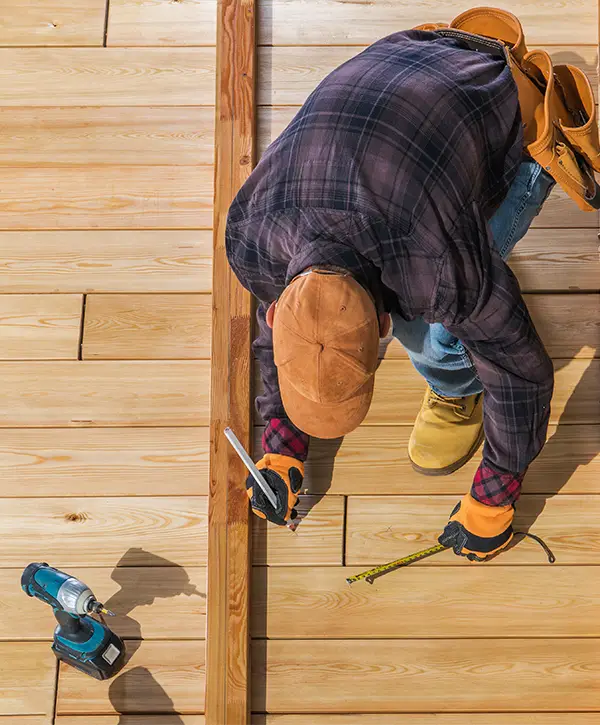 Deck repairing projects are often overlooked as homeowners believe their deck is completely safe when the reality is a little bit different. 
Here at Burgess Construction, we've repaired decks that were about to collapse at any moment, and we've fixed outdoor spaces that were breaking the mood and aesthetics of our clients' backyards. With over 25 years of combined industry experience, we're more than the right fit for your deck repair job in Eastmont, WA!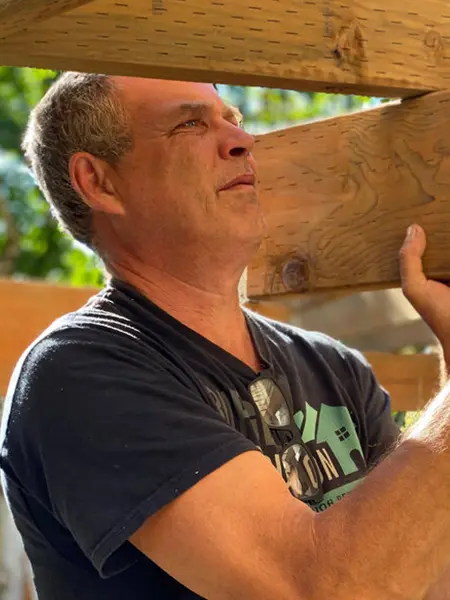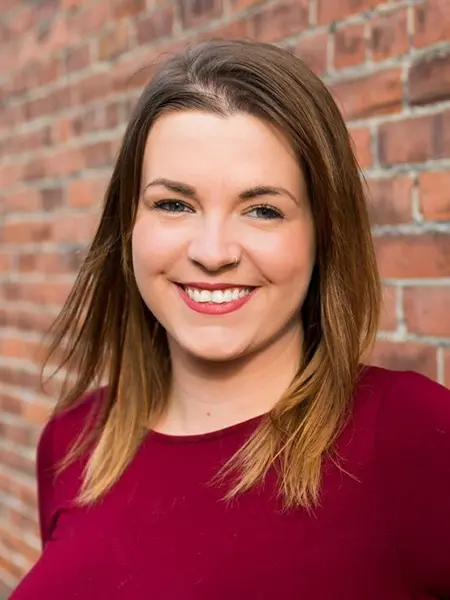 Stephanie and Blaine, Owners of Burgees Construction
Hi, we're Stephanie and Blaine, owners of Burgess Construction. To make you feel valued, understood, and cared for, we've built a team around strong principles.
With decades of industry experience, you can enjoy quality craftsmanship, detail-oriented work, and professional communication on your project. Learn more
Burgess Construction is an incredible team from Stephanie's amazing communication, design process, and updates along the way, to the crew that built two decks in just over a week! Thank you so much for helping see our vision become a reality!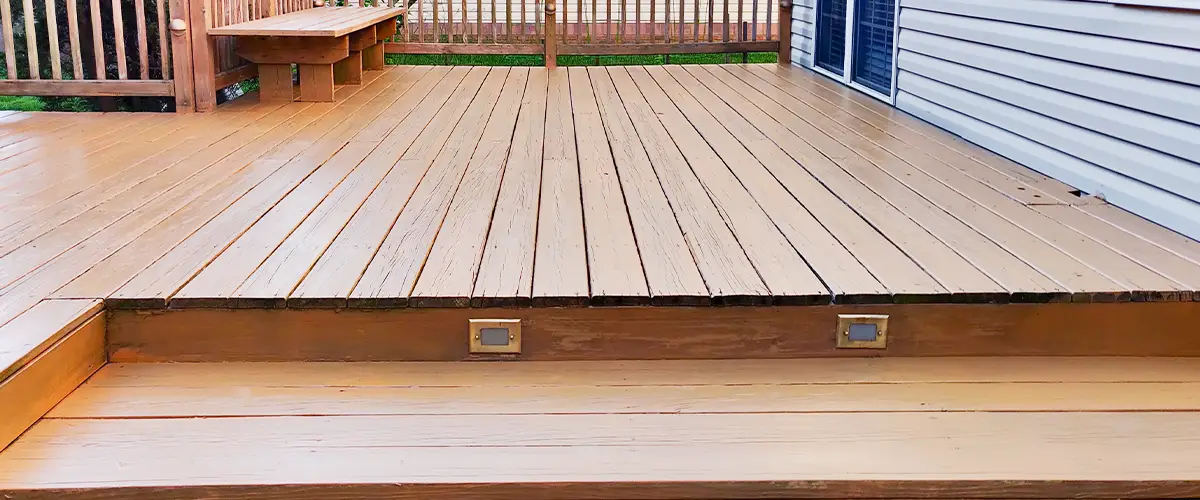 A Deck Repair Service That Takes Your Project A Step Further
Our commitment to you, your home, and your investment goes beyond industry standards. We know you want the highest quality available for your deck, and we're here to deliver. Our deck repair service takes your existing outdoor space to the next level of safety and beauty. Here's what you're getting with us…
Check Out Our Portfolio And Get Some Inspiration!
We're proud to say that many of the decks you see in Eastmont, WA, have been built or repaired by us. We've fixed dozens of decks and transformed them into what our clients wanted them to become, spectacular outdoor spaces that can entertain people without ever posing a hazard. This is what your deck can look like…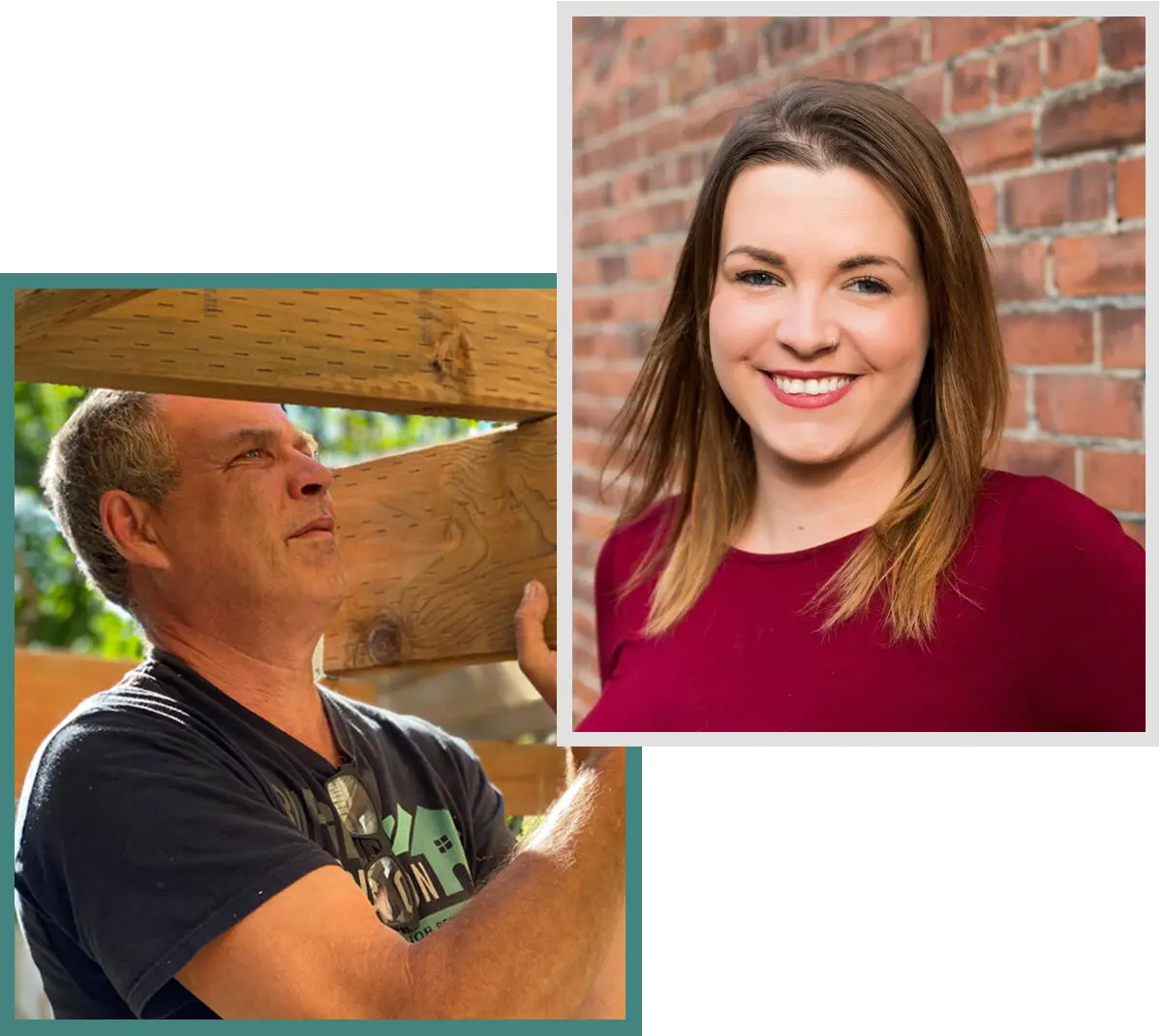 Still not sure whether what you need is a deck repair? Ask us anything you'd like to know about your existing deck, and we'll be more than happy to assist you. Call us at (425) 791-5281 or send us a quick message, and we'll circle back within a business day!
Your Neighbors Loved Working With Professionals
We've lost count of how many households we've helped. Homeowners in Eastmont, WA, love working with us because we make it easy for them to see their vision through. Here's what they say about us…
I would highly Reccomended Blaine and his crew. They did a fantastic job on a project I've been wanting done for years. They are timely, organized and precise about what they do. Great quality work—would recommend!
Burgess Construction did an excellent job working with our complicated landscape to install a gorgeous cedar fence. Blaine was mindful of our established trees and respectful of our neighbors space as well. He was extremely fair in his bid and his workmanship was meticulous. Very satisfied and would highly recommend to friends, family and community.
Average Deck Repair Cost In Eastmont, WA
Deck repair cost really depends on the scope of work and the issues with your deck. A typical deck repair in Eastmont, WA, ranges from $1,500 to $5,000. If we have to replace the decking and repair/replace the framing, railing, or stairs, the price can go up to $8,500 or even more.
What increases deck repair costs:
What lowers deck repair costs:
Before
After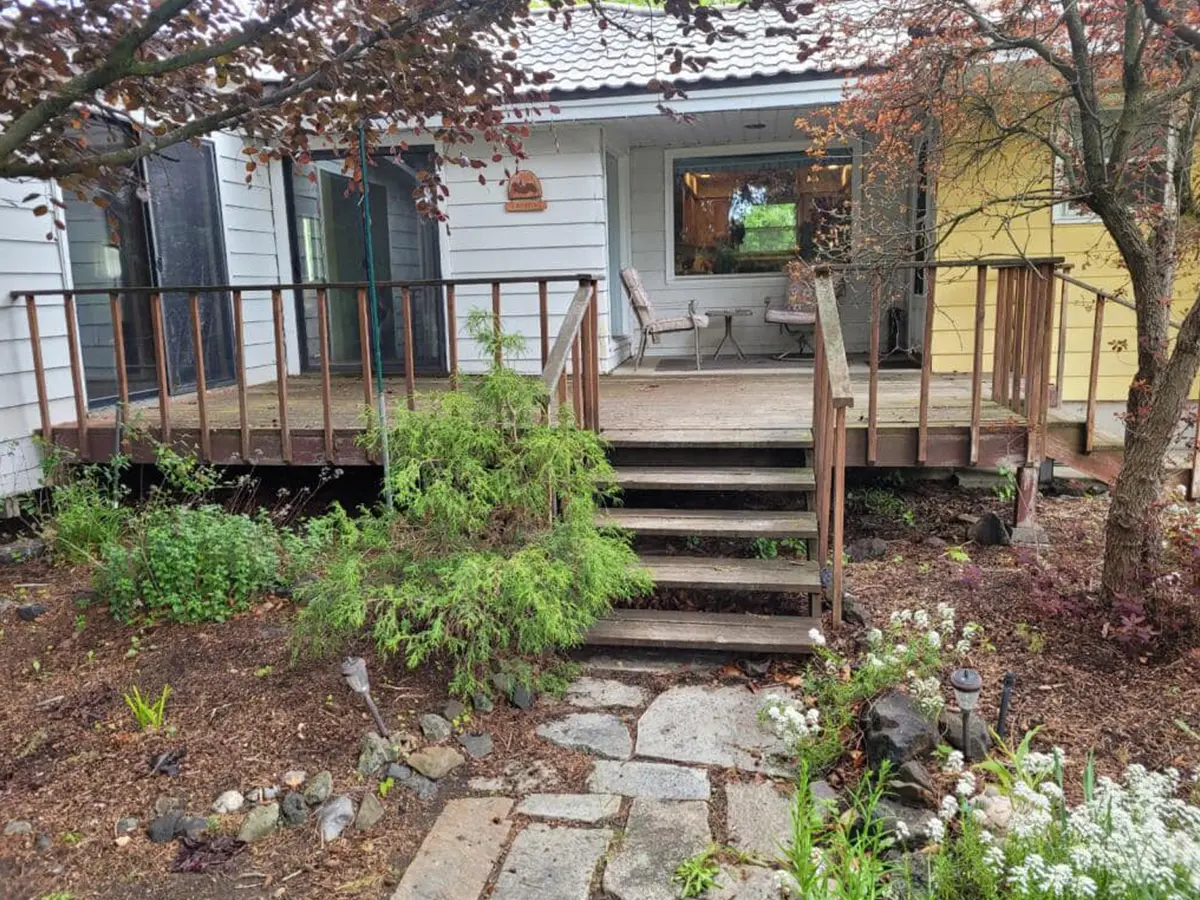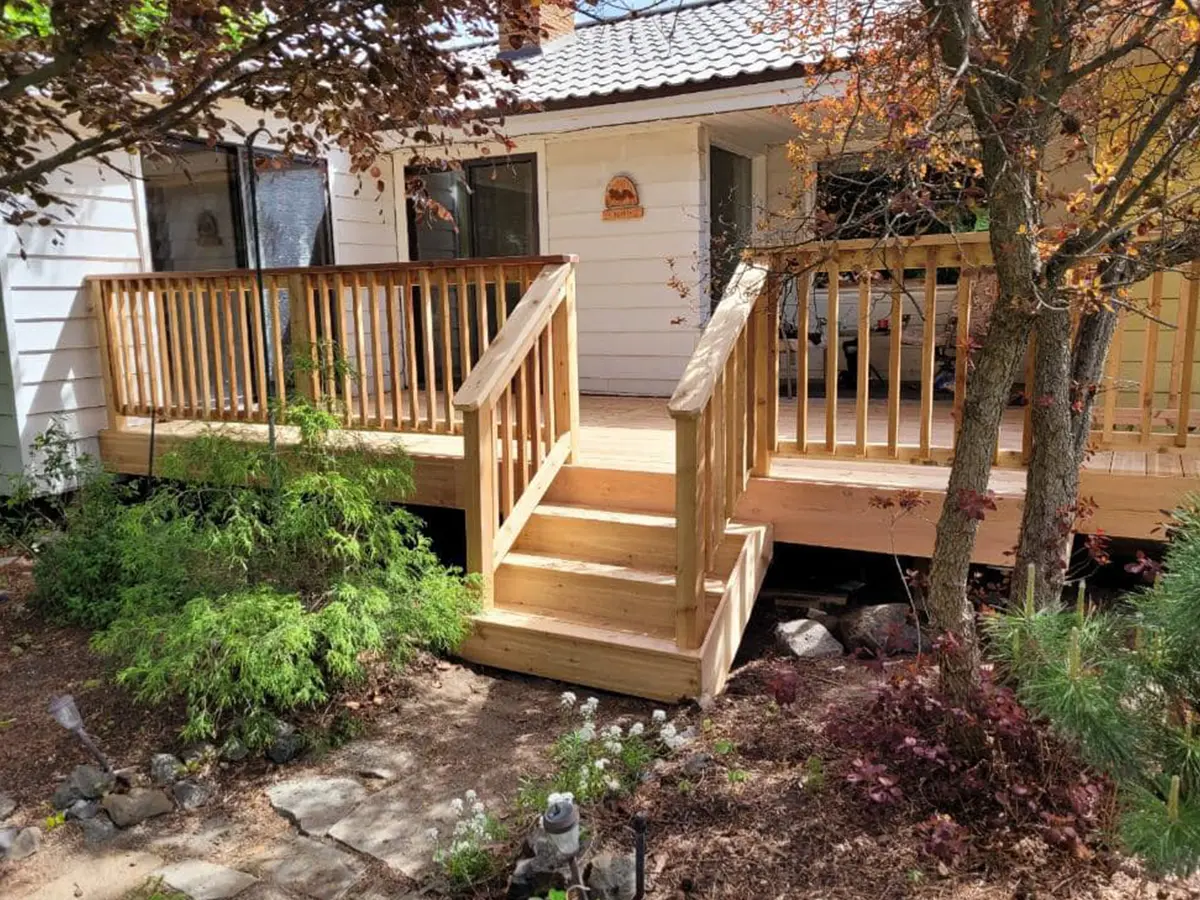 Cedar Deck Repair In Spokane, WA
This 20'x12' cedar deck included:
The project was quoted at $21,200, where the most expensive item was the custom cedar railing, at $4,400.
| Type of Damage | Average Repair Cost |
| --- | --- |
| Broken or damaged board | $10 - $50 per square foot |
| Broken or damaged railing | $30 - $150 per linear foot |
| Pest or termite damage | $500 - $10,000 |
| Mold, mildew, or wood rot damage | $350 - $1,000 |
| Loose or missing screws | $100 - $200 |
| Resurfacing | $1,500 - $5,000 |
| Loose or detached stairs | $100 - $300 |
*These deck repair prices are subject to change due to factors that impact labor or material costs. Contact us for your deck-repair project so we can offer you an accurate pricing quote and find a solution that fits your budget.
Enjoy working with a top-tier contractor and take advantage of all the perks that come with us. You'll get a seamless deck repairing process, a quick and reliable team, and a product that you can be 100% confident in!
We're Taking Care Of Everything For You!
For any deck repair project we've had so far, homeowners were worried about two main things. The cost of the project and how long it'll take to get it done.
You might wonder if deck repair is really what your outdoor space needs and there's no way to say for sure other than scheduling an in-depth consultation of your space. If all your deck needs is a quick uplift, we'll easily make it happen for a fair and honest price. If a repair doesn't cut it, we'll offer you some other cost-effective solutions to make your outdoor space fully functional again.
We are highly respectful of your time and ours, so we do not like wasting any minute on the job site. Our goal is to have your project completed within the timeline we provided so you can start enjoying your new deck and we can go help the next homeowner.
Deck Repair Has Never Been Easier In Eastmont, WA
Our deck repair process covers everything, allowing you to fully enjoy the excitement of this upgrade without any worries.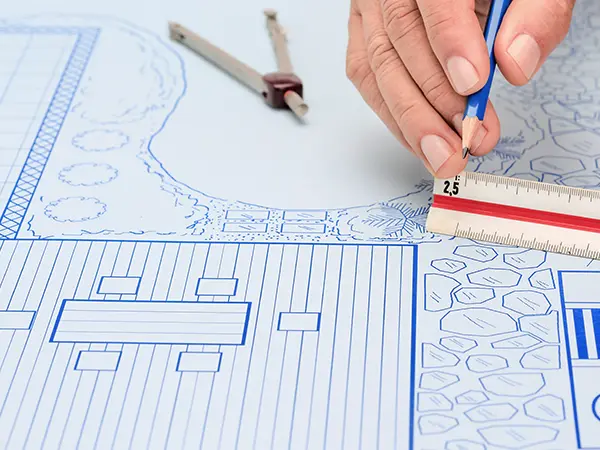 Get in touch and have us for a thorough consultation of your existing deck.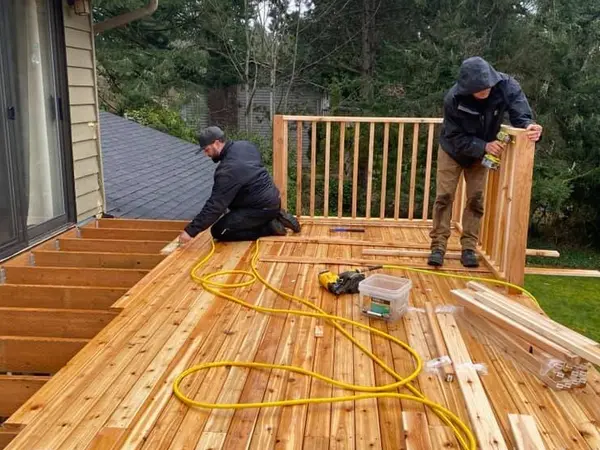 After we discover the underlying issues with your deck, we get to work and fix it.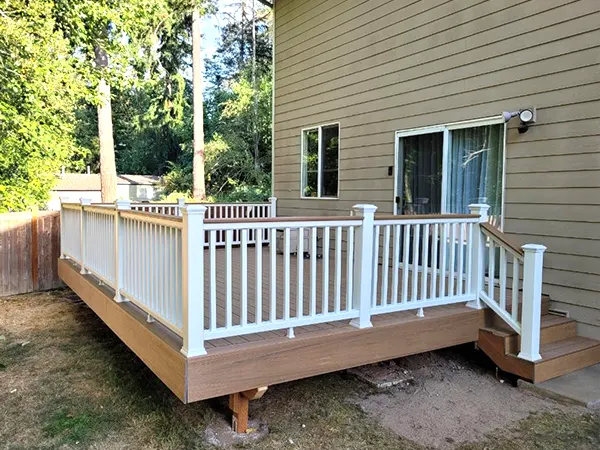 After a quick walkthrough, you can then fire up the grill and call friends over!
Regain Trust In Your Deck Again With A High-Quality Deck Repair In Eastmont, WA
Enjoy professional deck repair services and exceptional craftsmanship in Eastmont, WA, with Burgess Construction! You're one step away from enjoying an enhanced outdoor space, increased property value, and a spectacular space to entertain your guests. 
Most importantly, you'll once again have the peace of mind that your deck is completely safe to bring your loved ones on. Contact us today at (425) 791-5281 to discuss your new deck repair project!
I hired Burgess Construction to put a corrugated roof over my deck. They did a beautiful job. I asked if the wood used could be stained and the outcome with the stained wood looks wonderful. There was a little mishap with communication…Stephanie and Blaine stepped up and made it right. I am so happy w the outcome. I am very proud of the way my deck looks now. I would recommend Burgess Construction.
Stephanie came out and gave us a bid and Blaine and his team came out and did a phenomenal job on our pergola! I wouldn't have anyone else do work on our house but these guys!
Other services you might be interested in...
If you're looking for a beautiful and friendly town in Washington state, Eastmont is a great option. 
You'll be surrounded by stunning nature and can enjoy outdoor activities in a charming small-town atmosphere. Make sure to check out Eastmont Community Park, Wenatchee Riverfront Park, Ohme Gardens, and the nearby Cascade Mountains for hiking trails, skiing, and more.