No matter if your existing deck has some issues or if you're trying to avoid the most common structural problems on your new decking project, sooner or later, you'll have to face some issues with your deck.
In this article, you'll discover the most common structural problems in newer and older decks, what caused them, and what's the best way to go about fixing them.
Let's begin!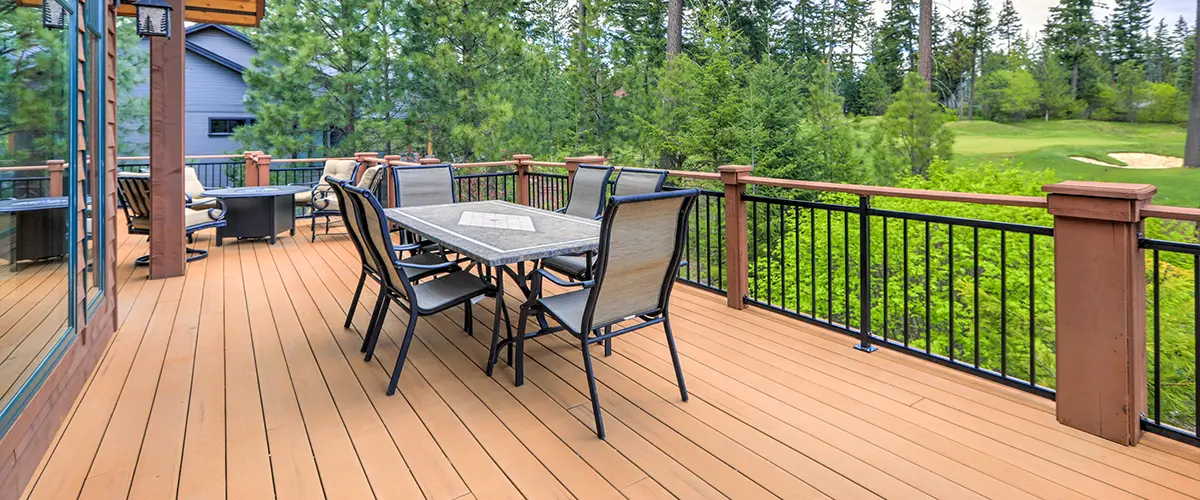 Common Structural Problems In New Decks
We'll begin with newer decks, as these are (supposedly) safer and more durable.
As we said, if you have a deck with a steel frame, good for you! You won't ever have to worry about the structural integrity of such a strong deck.
Perhaps the most serious issue you'll stumble upon is that the steel frame can corrode when exposed to constant humidity and water. However, the frame is under decking boards where water can't really reach.
One of the best steel framing on the market comes from Fortress Building Products. These are kits that we love assembling here at Burgess Construction. They come with everything you'll need, including deck joists, joist hangers, deck screws, and anything else you could think of.
If you have pressure treated wood posts, make sure it's #1 and rated with ground contact, even if it's not buried in the ground. Get concrete footings or quality deck blocks to sustain them, and quality hardware for the framing itself.
Railings can also cause a lot of accidents when they're in a poor state. Wood railings, for example, will rot and weaken much quicker than composite rails. Needless to say that aluminum is immune to rot, so it'll last a whole lot longer.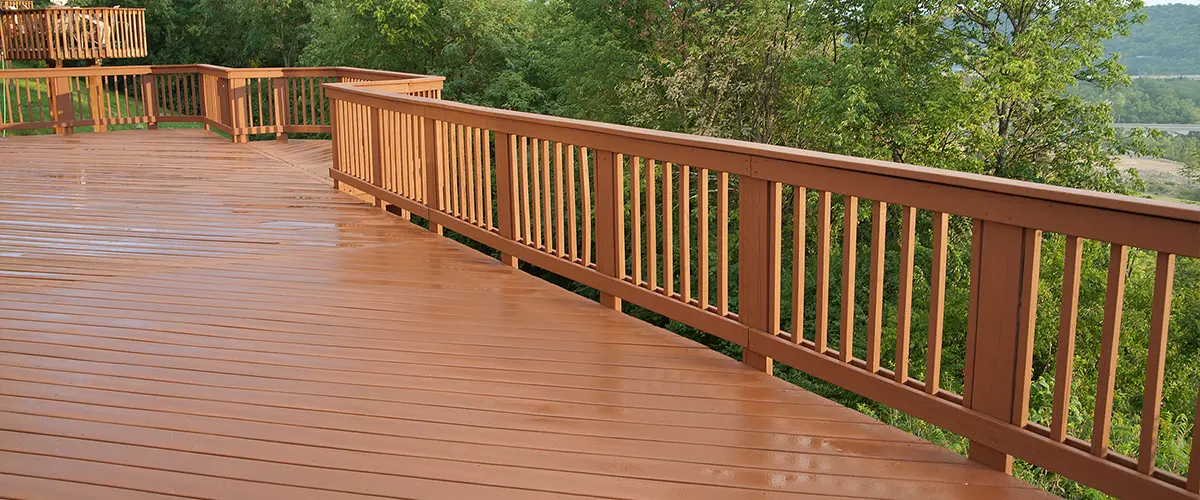 Just like with railings, the deck surface will have the same structural problems. If the decking surface is made of wood, there's a high chance that with time, they'll rot and weaken. One thing you don't want to happen is for a decking board to break under your feet and cause a real accident.
For example, a composite deck board is a much more durable and resistant option than a wood board. And if you think about it, getting composite materials for your deck is simply a much better call. This material requires no on-going maintenance, lasts longer, is more resistant than cedar or pressure treated wood, and it can even resemble the natural wood grain.
Common Structural Problems In Older Decks
Older wood decks are not as structurally sound as new decks. This is because of various reasons, such as:
Let's look at some of the most common structural problems in older decks.
The frame is what keeps the entire structure up, so this is where most structural problems come from. Anything from the deck post to rim joist, floor joists, carriage bolts, and decking screws will impact the integrity of your deck.
By far the most serious issue that needs to be addressed as soon as possible is deck posts buried directly in the ground. This causes the pressure treated wood post to rot at a quicker pace, rendering it almost unusable after a few years. This is especially true in WA where we're getting a lot of rain.
Another common structural issue with older decks framing is that the hardware is corroded until a point where you can simply bend it with your bare hands. And it's the same with old nails and screws. They're simply so old that they're not efficient anymore.
Another common issue that can cause structural damage is that the ledger board is poorly attached to the load bearing walls of your house.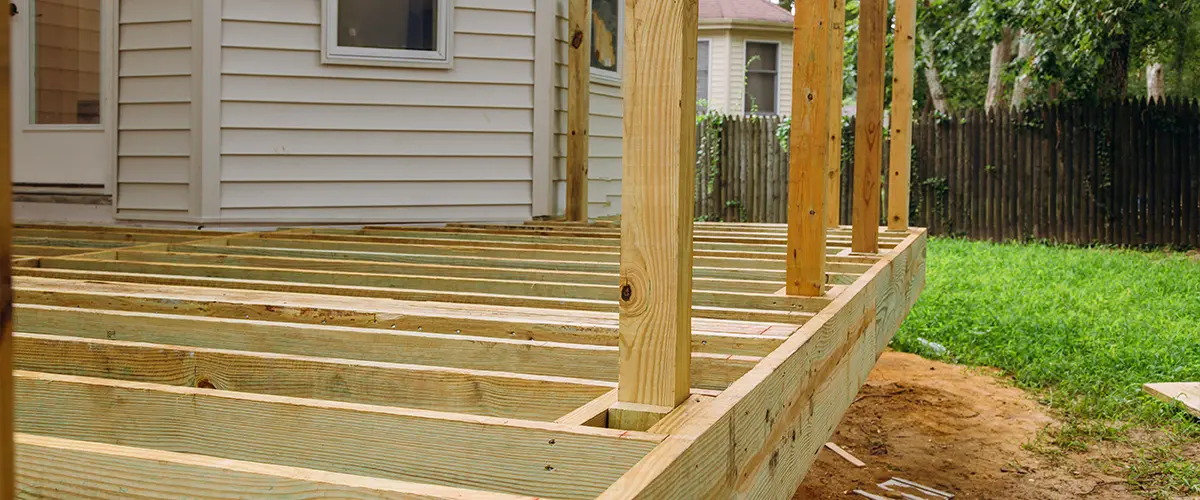 The most common structural issue with railings is that older rails are not very firm. They wobble and move when you put weight on it, and that's mostly because of rot as well.
Water can get through cracks and splits, reach a nail or a fastener, work its way around it and weaken it, causing the railing to move around. We've heard plenty of stories where homeowners tried to put their weight on the railing just to fall with it. An unpleasant accident that can be fatal for older homeowners.
Decking issues are not like foundation issues that cause a real structural problem.
One common problem in older deck boards is that the wooden boards are rotten and the nails may rust, leading to decking boards that are too weak to hold the weight of a person. Additionally, the wood may warp or the paint may peel, which can lead to an unpleasant look of your entire deck.
Another common problem in older decks is that the decking might have been refinished so many times that it became so thin that holding a family gathering on it becomes a huge risk. The thinner the decking boards, the lower is the weight your deck can sustain.
Deck stairs poorly installed are also a serious issue that needs to be addressed.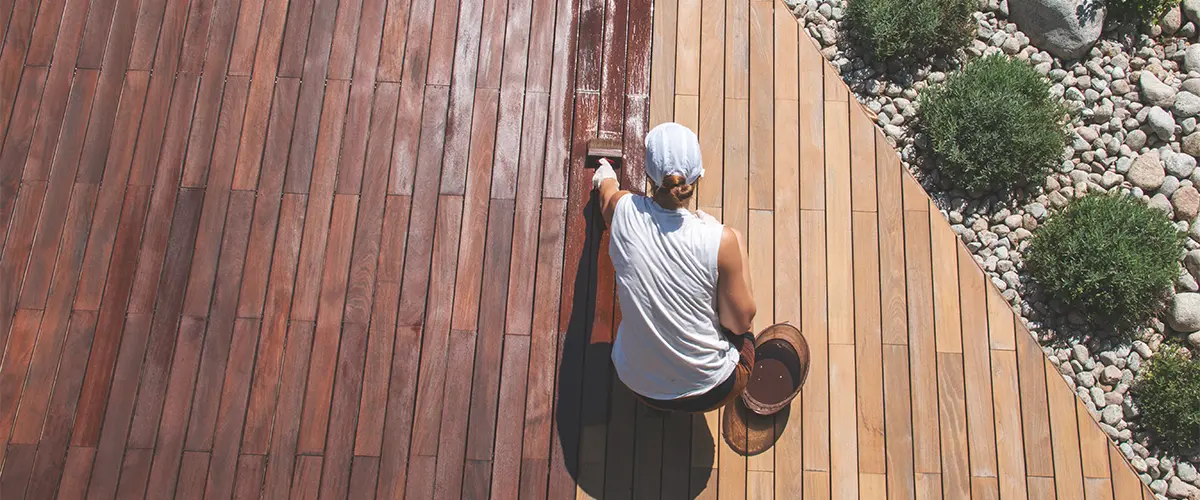 In order to ensure the safety of your deck, it is important to regularly inspect it for any signs of structural issues. If you notice any problems, it is important to address them as soon as possible in order to prevent further damage.
Out of all these deck structural problems, you'll need to be extra careful when it comes to wood rot. Rot can develop inside of the wood, so it can be invisible until it becomes too late.
We know trusting a contractor with such an important addition is sometimes a gamble. We have our own deck architect, structural engineer, and deck designers, and we're fully dedicated to giving you our blueprint for success and see you entirely satisfied with your new deck.
If you're ready to get a long-lasting deck addition or get a premium deck repair service, give us a call today at (425) 791-5281 or request your free quote!