Want a deck that perfectly matches your home? Get a unique deck design from a seasoned professional!
Many of the deck designs out on the market are simple, lackluster decks that might not fit just any property. Sure, there's nothing wrong with having a standard deck design – they're more affordable and easier to build. But if you own a beautiful house, you'll want a deck that can raise to the same standard of beauty. Whether it's a large deck on multiple levels, a deck designed to go around that beautiful Red Cedar or Douglas Fir in your backyard, or a deck that goes around the entire home, our deck design service can get the perfect outcome for your investment.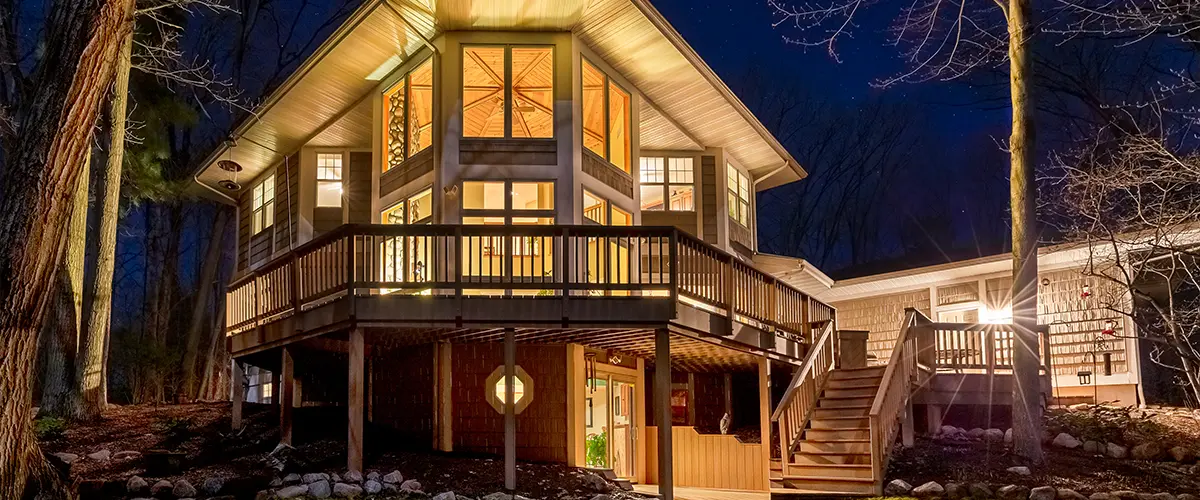 Is A Deck Design The Right Choice?
It might as well be. But first, how do you know it's not right? Well, you don't really need a unique deck design if you're on a tight budget or if you don't want your deck to be anything special. On the other hand, there are a lot of reasons why getting your own deck design would be a much better choice, namely…
You'll Get A Deck That Perfectly Matches Your Lifestyle
For the avid entertainers, a large deck with built-in seating and a dedicated area for grilling ensures there's room for everyone. If you have a pool or hot tub, you can get a deck design to seamlessly integrate these features.
A deck designed exclusively for your home complements your home's architecture and allows you to fully enjoy the outdoors without sacrificing any possibility your deck gives you. You can build it around a tree house, around a screened-in porch, and add as many features to it as you'd like.
It Can Be As Big As You Want It
Whether you're dreaming of a spacious deck that spans the entire back of your house or a multi-tiered affair that descends elegantly into your garden, a bespoke deck design can turn your dream into a reality.
You could envision different sections of the deck for various purposes – a dining area, a lounging zone, a play area for the kids, or even a serene corner for yoga. A professional deck designer will take into account your space, your needs, and your budget to craft a deck that's just the right size for you.
A tailored deck design can substantially boost the property value of your home. By incorporating certain features, the aesthetic and functional appeal of your outdoor space is significantly enhanced, making it desirable for potential buyers.
These features not only make your deck more attractive and versatile but also present a positive impression of your home, leading to an increase in its market value.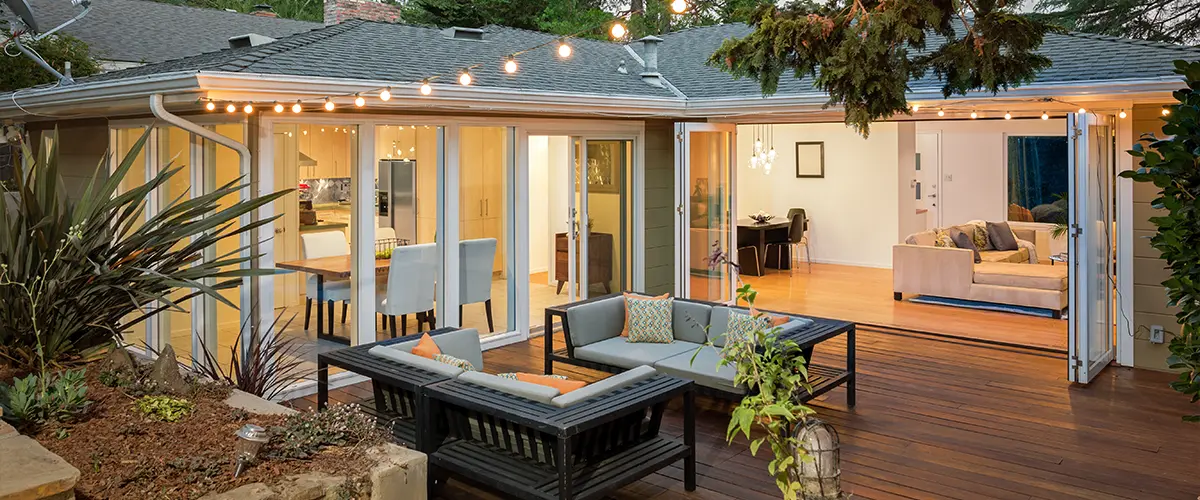 Different Deck Designs You Could Get
Here are 3 of the most common requests of our clients when we're building them a custom deck design.
Allow your pool to be the shining star of your backyard by surrounding it with a deck that offers style, safety, and convenience. A Poolside Oasis Deck can provide a smooth transition from your home to the pool. With options for built-in seating, shaded areas, and even an outdoor kitchen or bar, it's perfect for those summer pool parties or quiet nights under the stars.
Ideal for properties graced with majestic trees, an Arbor Embrace Deck is designed to incorporate these natural wonders into its structure, literally built to embrace trees. The deck can be designed to surround a solitary tree or multiple trees, allowing you to relish the shade and beauty they provide. This design creates a unique focal point and a natural integration with the environment.
Multi-Level Garden View Deck
If your property slopes or if you want to create distinct zones for various purposes, a Multi-Level Garden View Deck can be the perfect solution. This design allows different activities to take place simultaneously without interference. One level could serve as a dining area, another as a play zone, and a third as a quiet relaxation spot. Plus, the different levels can offer unique viewpoints of your garden, making each level a special place to be.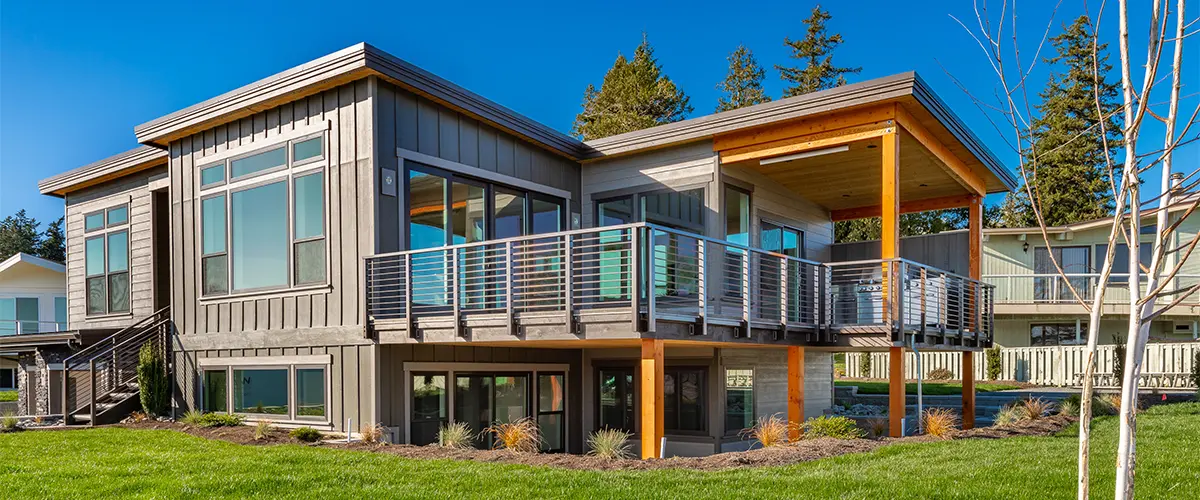 Deck Design Cost In Snohomish, WA
The cost of a deck design in Snohomish, WA can vary greatly depending on several factors.
A simple, straightforward design will cost less than a multi-level or customized layout.
Traditional wood decks are generally cheaper, while composite decks, which offer greater durability and require less maintenance, are more expensive.
The size of the deck is another crucial determinant – the larger the deck, the higher the cost.
Here's a rough cost estimate for deck designs:
A Quality And Beautiful Deck Design With Burgess Construction
Choosing Burgess Construction for your deck design project is a wise decision that guarantees you exceptional service and unmatched quality. Our team of professionals are highly experienced, with a deep understanding of both aesthetics and functionality, ensuring your deck is not only beautiful but also practical.
Here are three key benefits you'll enjoy when you hire a pro like us:
Frequently Deck Design Questions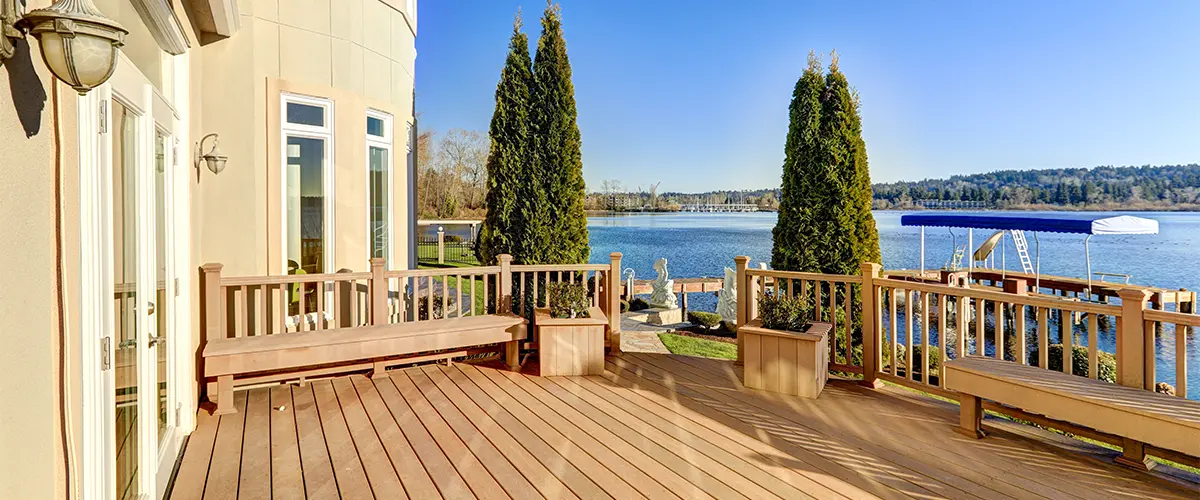 Ready To Get A Fully Custom Deck On Your Property?
Telling your already-amazed guests that your deck is actually custom-made will fill you with pride. It means you value your property, and you want what's best for it and for your family. It's a universal truth that having anything custom-made will just fit your needs better. Whether you want to emphasize a particularity of your home or you want a deck that's shaped differently, our deck design service can make that happen.
Request a free quote, and let's build you the best deck your entire neighborhood has ever seen. Give us a ring at (425) 791-5281, or click the button below to get started!