The Best Fence Installation Cost In Mill Creek, WA
Want to get an accurate pricing quote? Click the button below and talk to us!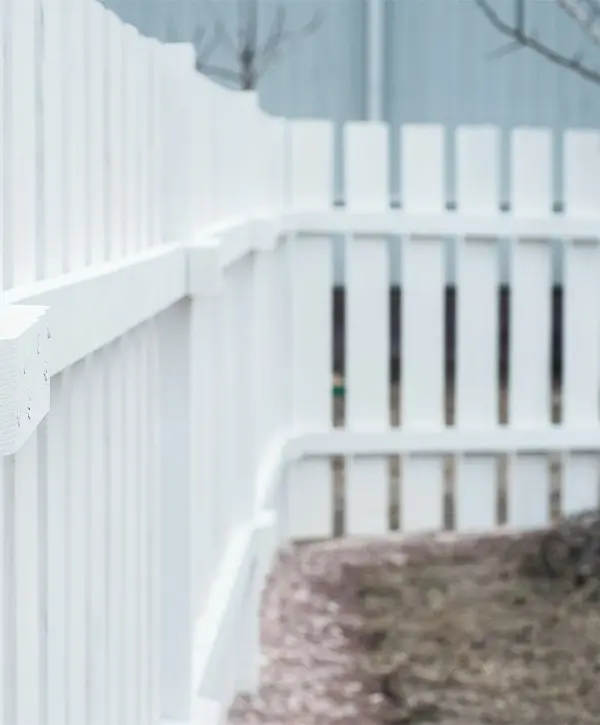 If you're wondering what's the fence installation cost in Mill Creek, WA, we've got you covered!
Burgess Construction offers cost-effective fencing solutions and world-class craftsmanship for all homeowners looking to boost the safety and privacy of their backyards.
You'll receive an honest and transparent pricing quote, regardless of the scope of work. But we're not stopping anywhere near this. We go above what other contractors offer, and we're making sure you'll love working with us!
Advantageous Pricing On High-Quality Fencing
With us, you'll gain access to the highest-grade quality and enjoy additional advantages that only top-tier contractors in this industry provide! We have yet to find a contractor who offers all these perks!
Typical Fence Installation Cost In Mill Creek, WA
Size (length and height) will be the biggest factor in the final cost. In addition, the material you select can impact price – for example, wrought iron is usually more expensive than pressure-treated wood. Consider your options carefully to get the best value.
Let's look at the average cost to build a 100 linear feet cedar fence.
| | Basic | Better | Best |
| --- | --- | --- | --- |
| Cedar Fence Materials | $1850.00 - $2190.00 | $2240.00 - $2490.00 | $2835.00 - $3500.00 |
| Cedar Fence Installation | $700.00 - $750.00 | $800.00 - $900.00 | $950.00 - $1200.00 |
| Total | $2550.00 - $2940.00 | $3040.00 - $3390.00 | $3785.00 - $4700.00 |
| Average Cost Per Linear Ft. | $27.45 | $32.15 | $42.42 |
Mill Creek Homeowners Love Their New Fences!
Hundreds of families in and around Mill Creek now have peace of mind, knowing that their backyards are safe and secure thanks to the work done by Burgess! Take a look at what they had to say about working with our professional team:
The Burgess team recently installed deck stairs and a hog wire fence in our back yard and they did a great job. 
 It took a solid week to get them done and the work turned out great. 
 They communicated with us regularly and keep us apprized of the work throughout the job. 
 We would highly recommend this team.
We are extremely pleased with our fences from Burgess Construction LLC. 
The crew showed up on time, was very friendly, efficient and professional. Stephanie and the crew were great at communicating throughout the whole process. 
Overall it was a 5 star experience- I would recommend them to anyone and plan on working with them again for a new deck!
Cost Of Different Fence Materials
Your fencing project will depend not only on the size of your fence but also on the material you're using. Let's discuss how much different materials can cost and how they might impact your timeline.
When deciding on the best wood species for your outdoor space, consider all of your needs: color, texture, maintenance, and cost. 
Pressure-treated wood may be the most budget-friendly option, but tropical hardwoods can add a luxurious ambiance to any yard, albeit at an elevated price point.
Regarding lumber, each kind has different prices and advantages/disadvantages. Here is an overview of the most popular woods with their associated costs (including materials and installation).
| Type Of Wood | Cost Per Linear Foot |
| --- | --- |
| Spruce | $25 |
| Pine | $28 |
| Cedar | $33 |
| Western Red Cedar | $33 |
| Redwood | $48 |
| Tropical Hardwoods | $50 |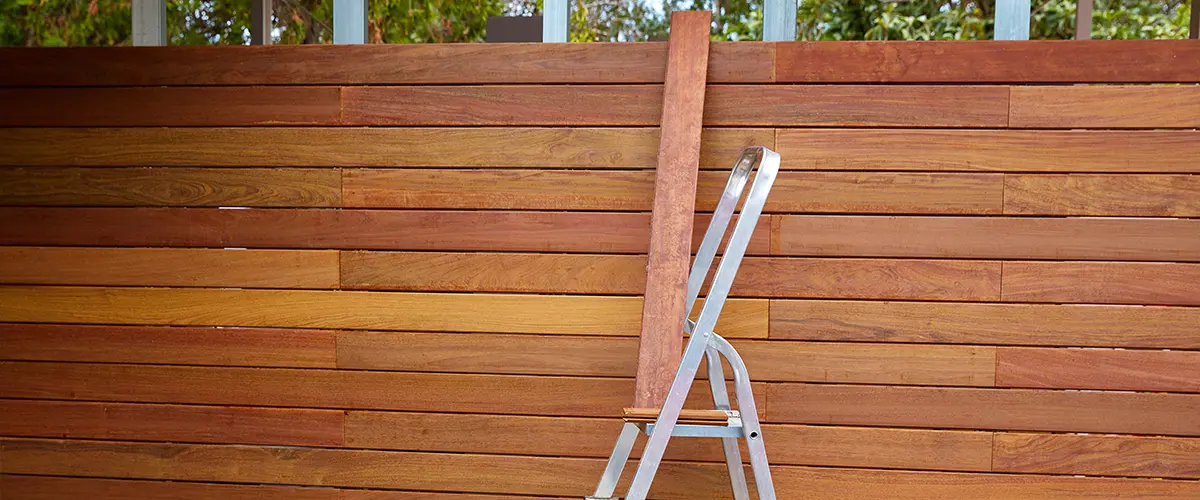 Vinyl fence panels are the ideal choice for homeowners looking to enhance their property with a timeless design. Not only do they offer remarkable durability and longevity, but these low-maintenance fences come in various styles that provide an attractive aesthetic for any outdoor space.
Although it carries a heftier initial price tag than other materials, its low upkeep makes investing in man-made material well worth the cost. By choosing this option, you'll save more money over time!
On average, homeowners pay about $17 to $38 per linear foot for different styles of vinyl fence. For 150 linear feet of vinyl fence and an average of $30 per linear feet, you'll have to budget around $4,500 for your project.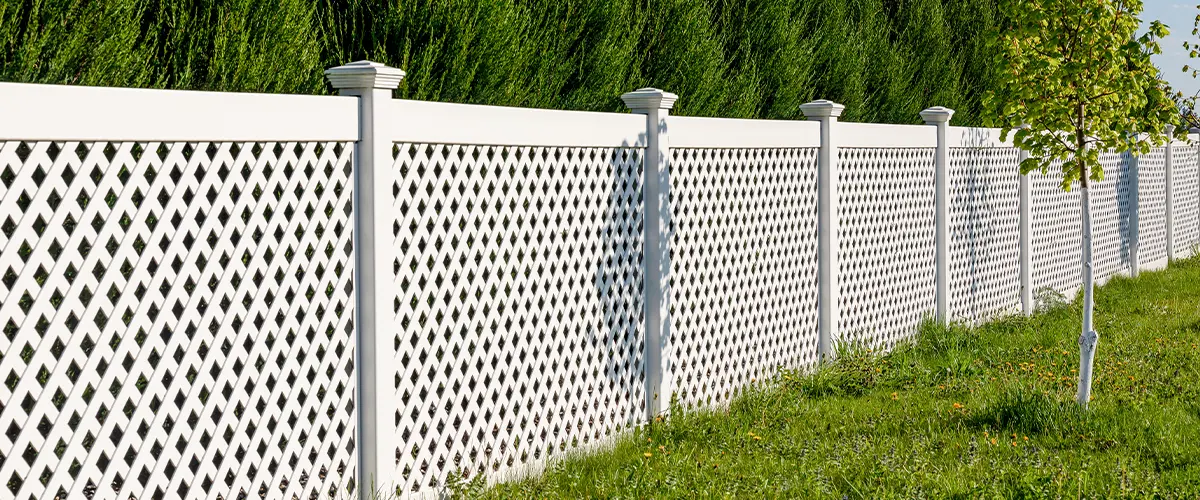 Chain link fences may not be the most aesthetically pleasing option; however, they offer an array of benefits that should not go unnoticed. 
They are a cost-effective fencing solution and can easily secure large estates such as schools, parks, and other public spaces.
Fences are often spotted surrounding basketball and tennis courts, animal enclosures, and larger areas like estates or farms.
The chain link fence cost would be around $1,587 for a small backyard of 500 square feet, about $3,105 for a mid-sized yard of 2,000 square feet, and about $4,140 for 3,500 square feet.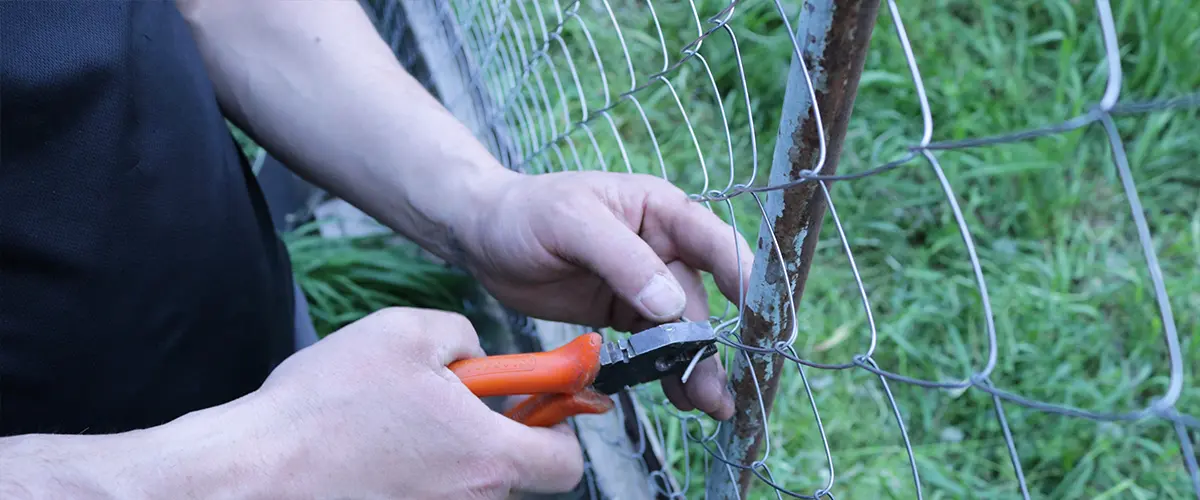 Metal fences are an excellent choice if budget isn't much of a concern. Whether constructed from wrought iron or aluminum (or any other type of metal), these fencing options provide great value and durability.
Yes, they'll cost more than wood or vinyl fences, but the vibe they bring to your backyard is impressive. They're also fairly low-maintenance, as they won't need staining, painting, or resealing.
Metal Fence Installation - by linear foot for a 4-foot tall fence
| Material | Unit Cost |
| --- | --- |
| Aluminum | $8 - $12 per linear foot |
| Steel | $7 - $10 per linear foot |
| Wrought Iron | $25 - $30 per linear foot |
Metal Fence Installation - 200 linear foot for a 4-foot tall fence
| Item | Unit Cost | Quantity | Line cost |
| --- | --- | --- | --- |
| Fencing material: aluminum | $8 - $12 per linear foot | 200 | $1,600 - $2,400 |
| Gate | $150 - $700 per unit | 1 | $150 - $700 |
| Fence posts installed in concrete | $2 - $4 per linear foot | 200 | $400 - $800 |
| Material Cost | $10.75 - $19.50 per linear foot | 200 | $2,150 - $3,900 |
| Labor Cost | $20 - $25 per linear foot | 200 | $4,000 - $5,000 |
| Total Cost | $30.75 - $44.50 | 200 | $6,150 - $8,900 |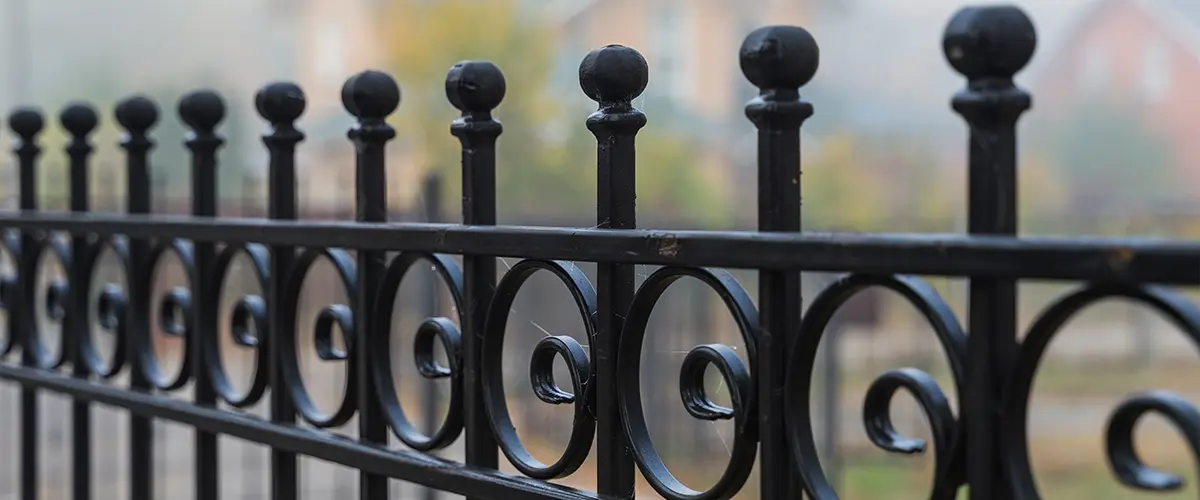 Combine metal and masonry, and you're getting a one-of-a-kind fence that will impress everyone passing by your home.
Although more expensive than wood or vinyl, masonry fences offer a luxurious look and unmatched durability. Installation is no easy feat, so it's best to leave the job to an expert if you want your fence done right.
Investing in this type of fencing will be worth every penny as they provide a timeless aesthetic that not everyone can afford.
Generally speaking, construction costs can range from $10-$45 per square foot – however, this may differ based on your chosen type of brickwork.
| Type of Brick Material | Cost Range Per Square Foot |
| --- | --- |
| Traditional Brick | $35 |
| Hallow Brick | $20 - $30 |
| Brick Veneer | $10 – $30 |
| Thin Brick Veneer/Mini Brick Veneer Strips | $5 – $15 |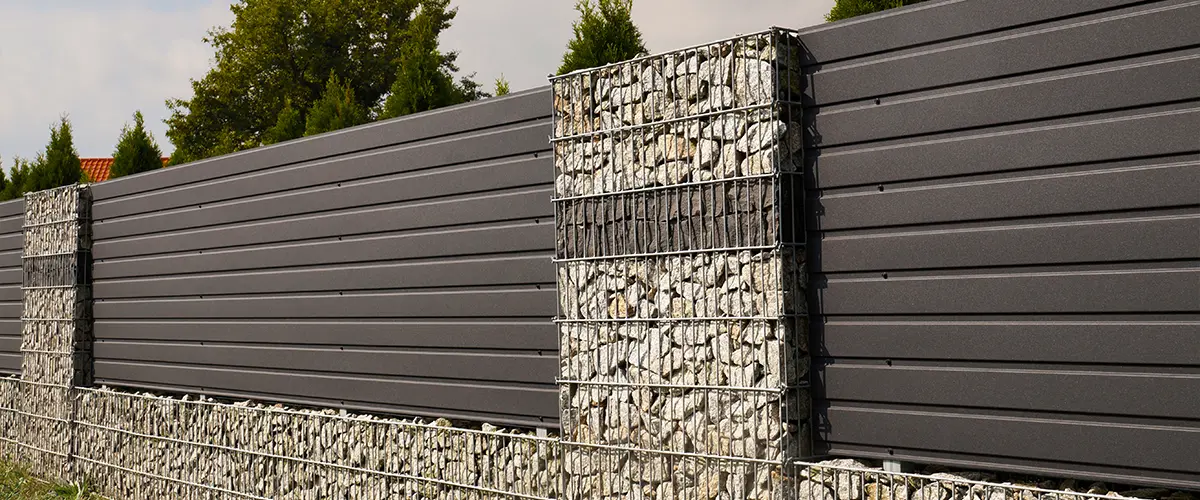 Factors That Will Impact Your Fence Installation Cost
Various fencing materials and styles are available, each designed to cater to a particular need. Your choice of fence style will determine the installation method used, which ultimately affects your final cost.
The rain fence costs between $11 to $29, the picket fence is around $12 and $48, and the privacy fence costs between $20 to $45.
To determine the amount of timber you will need for your fencing project, consider its height; while 6 feet is a common size, fences can also measure 4 and 8 feet.
For an 8-foot fence, add 20% – 30% to your budget for additional lumber. Subtract 20% – 30% for a 4-foot fence.
Installing a gate is essential if you plan to create an exit route from your backyard. Professional gates installation can range between $175 and $1,200 in additional expenses. To make sure everything looks cohesive, it's best to use the same material for both the fence and the gate.
Demolition Or Removal Services
Our customers often request that we clear the land for their new fence installation, which extends to uprooting rocks, trees, bushes, and even boulders. We suggest budgeting an additional $500 for tree removal services and roughly $3-5 per linear foot of fencing removal. Save time and money by having us take care of it all!
You Can't Say No To Reasonable Prices And High-Quality Work!
Fence installation is an inexpensive way to enhance your lifestyle's comfort and increase your home's value. You don't have to worry about feeling overwhelmed or stressed with a simple project like this!
Your safety and security are invaluable. At Burgess Construction, we guarantee to offer a price tag that is clear-cut and affordable to provide exceptional service.
Don't let your financial constraints prevent you from creating a safe space for yourself and those around you – invest in Burgess Construction today!
You're getting:
Ready To Get The Best Fencing Deal In Town?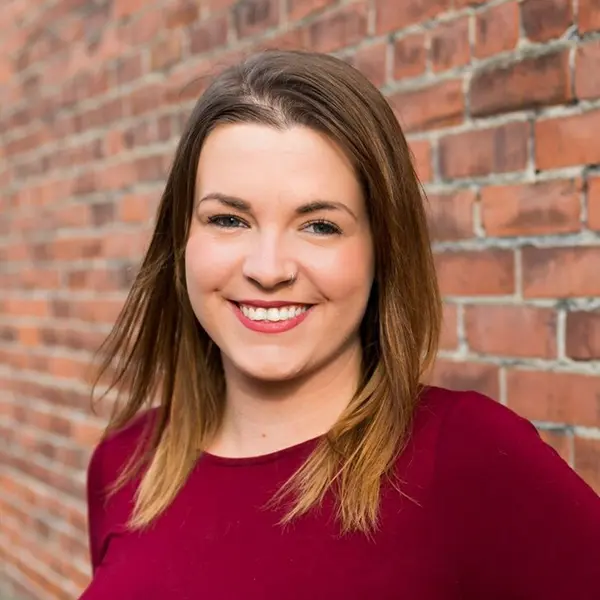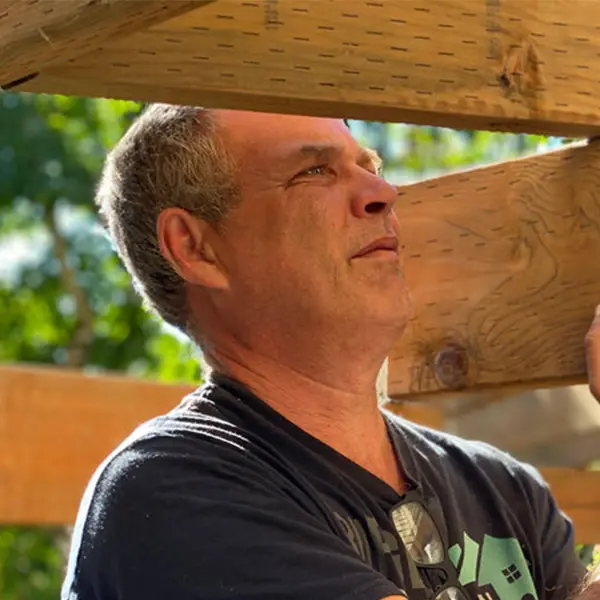 Request a free quote and let's discuss your fence installation cost in Mill Creek! Or talk directly with Stephanie and Blaine, the owners of Burgess Construction, at (425) 791-5281 and see if we're the right fit.