Deck Repair Cost In Mill Creek, WA
No time to read this guideline? Get accurate pricing on your upcoming project right now!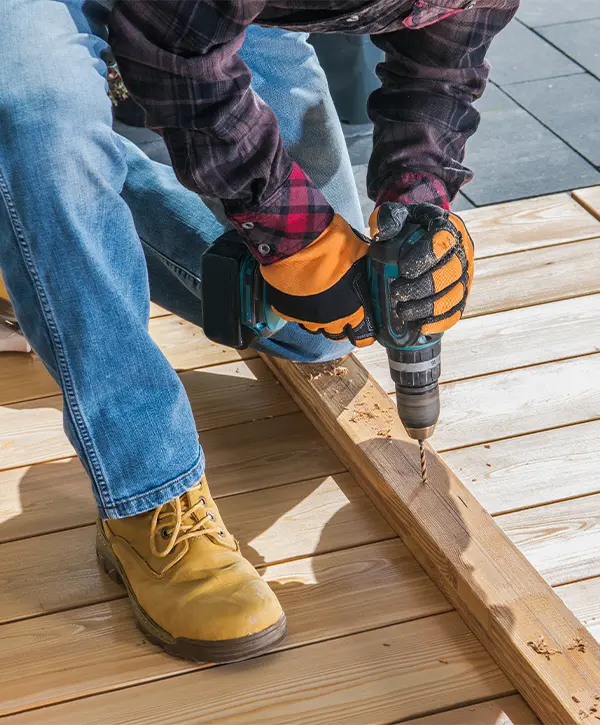 As contractors continue to provide exorbitant quotes, homeowners are becoming more skeptical of them and their services.
Burgess Construction is shaking up the deck repair industry in Mill Creek, WA, with top-notch services at an affordable cost. We pledge to be open and honest so that homeowners can achieve their desired results without breaking their budget!
Our deck repair cost in Mill Creek reflects high-quality and a complete service that takes care of everything without you moving a finger. We're going the extra mile with our service because we know you deserve the best.
A Deck Repair Cost That Makes You Start Your Project Today
Our commitment to quality and attention to detail means we'll take no shortcuts. We promise you the highest standards of excellence in deck repair and will do the impossible to deliver. Rest assured, your project is in great hands.
Quality Deck Repairs - Now At A Fair And Reasonable Price
At Burgess Construction, we know decks must be safe and secure for you and your family. The moment this structure starts moving is the moment you need to close the gates and fix it.
Working with us guarantees a repair job that's both efficient and aesthetically pleasing. You'll go through a simple, custom-made process that suits your particular needs and concerns so you can fully enjoy the excitement of getting this repair and get back on your deck again.
We value your time, property, and investment, so we can guarantee you won't feel pressured into doing anything, and you can sit back, relax, and enjoy the ride.
Here at Burgess Construction, we offer professional deck repair services for all homeowners in Mill Creek, WA. Check out our offer and get the best deal in town!
Mill Creek Homeowners Loved Having Us On Their Repair Project
Check out what our customers say about working with us for their deck repair projects!
We hired Burgess again for our deck rebuild. The crew did an amazing job, again!
They showed up on time and completed the tear down and complete rebuild of our deck in 4 days.
It looks beautiful and we can't wait to enjoy it this summer. 5/5 would recommend for any fence and/or deck projects.
Blaine and his crew replaced my deck and fence this week and they did a fantastic job!
They were on time, in budget, and super communicative.
I will use Burgess for all my deck & fence needs in the future, and recommend to any who ask.
I wish I had this experience with every contractor I worked with thank you for everything, Blaine!
Typical Deck Repair Cost In Mill Creek, WA
When it comes to deck repair cost in Mill Creek, it'll mainly depend on how much damage there is and what needs to be done for repairs.
Generally, replacing wooden deck boards with composite costs around $12k. Replacing the railings with metal ones, strengthening the stairs, and adding a new handrail can increase the cost up to $18k or more.
Let's examine some of the most frequent deck repairs and how much they'll cost.
Resurfacing A Wood Deck With Composite
Resurfacing a wood deck with composite means tearing off the old deck and installing composite decking boards. This project will cost around $15,000.
Many homeowners choose medium-to-high-quality Trex products that cost $60-$70 per square foot, but there are other, more economical solutions as well.
It's also possible to resurface an old pressure-treated deck with another type of wood. Here are some average prices for different species of wood.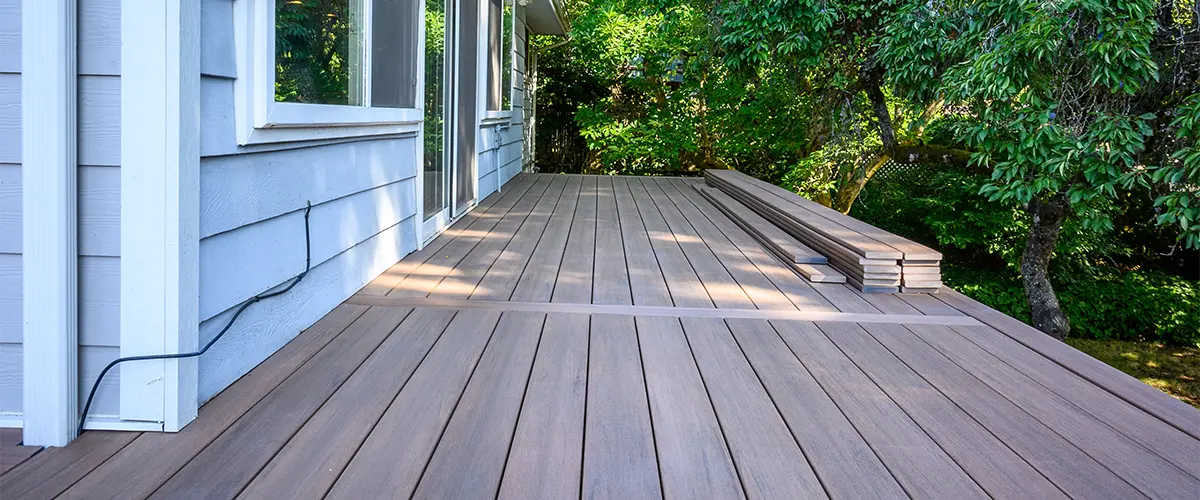 Over time, the elements can cause significant harm to your outdoor deck's wood railings, making them both dangerous and outdated. To ensure that you have a secure space for enjoyment all year long without risking injury or having unsightly features detracting from it, new railing systems are key!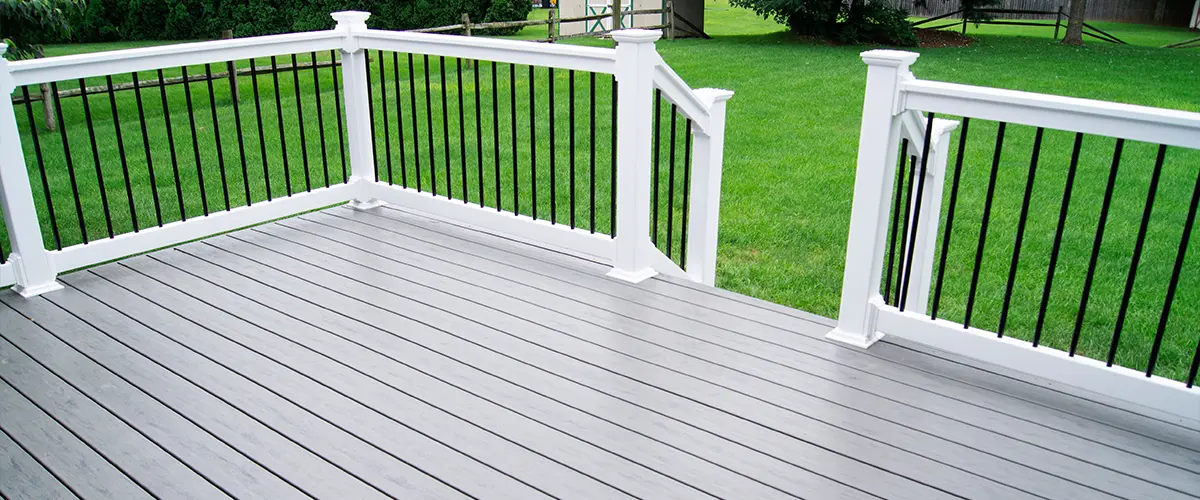 It's not uncommon to see wooden deck posts placed in the ground, but this can lead to significant deterioration. Pressure-treated wood is known for its resistance to decay and pests, yet it cannot survive when buried beneath the soil.
Depending on the size, shape, and quality of post materials you choose, replacing posts & pouring concrete footings can run anywhere from $200-$400 per post. Posts alone normally cost between $100-$250. Whatever your design requires – with an investment in new posts now you'll be admiring a beautiful upgraded deck for years to come!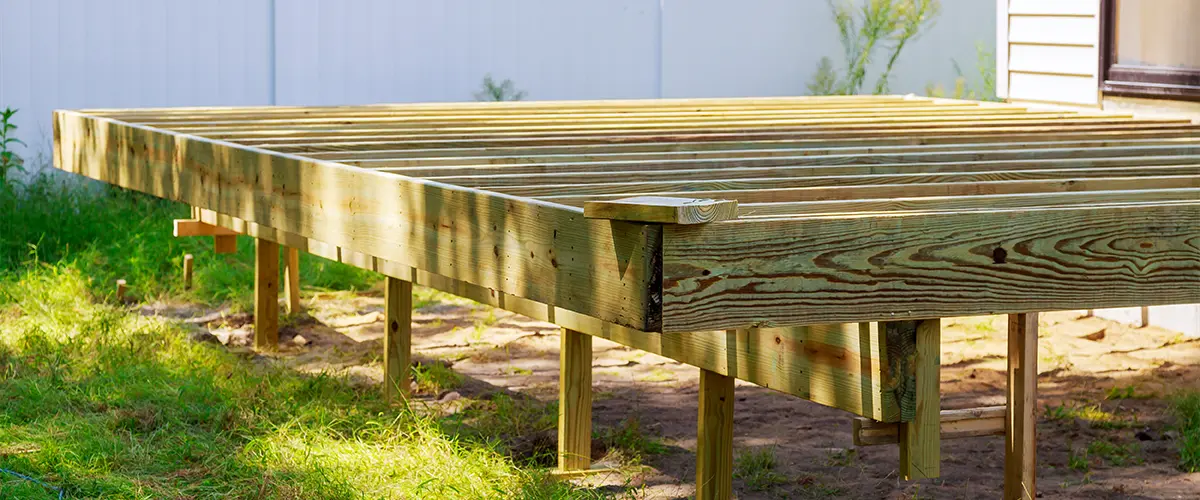 Handrails and wheelchair ramps not only provide helpful aid for those with mobility limitations, but they also ensure that stairways are secure, providing a secure space for everyone to enjoy.
If you're dealing with a shaky staircase or banister, it's essential to act fast. Replacement expenditures vary according to the type of material used; usually repairs cost anywhere from $500 and up for an entire set averaging at least $2,350 and beyond.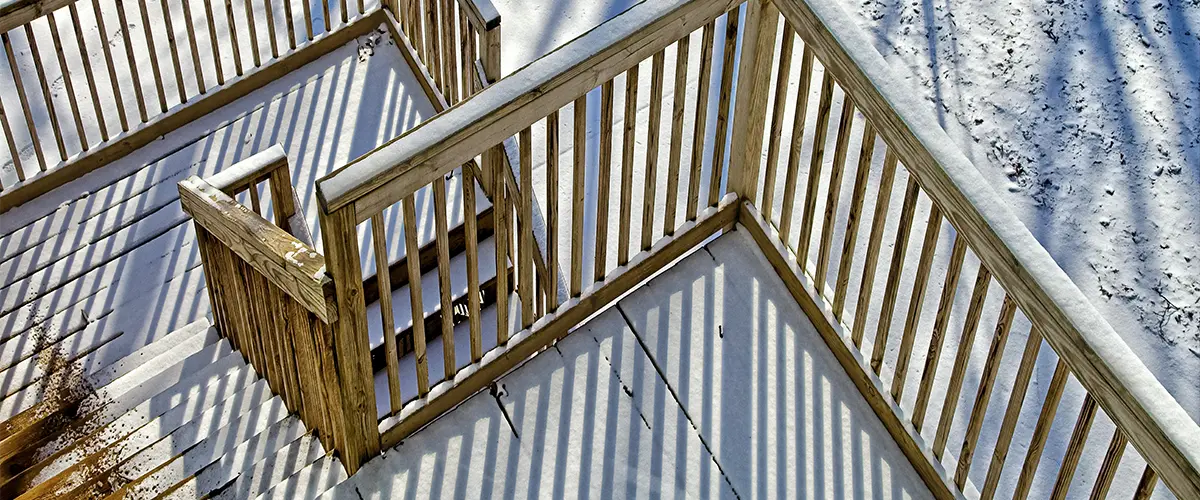 Repairs Of Extra Features
Regularly inspecting your outdoor fixtures, such as awnings and pergolas, is vital for the maintenance of their optimal condition. Wooden structures are particularly vulnerable to weather fluctuations throughout the year, making it essential that they be carefully examined on a regular basis in order to extend their longevity.
The cost of repairing a wood pergola can vary drastically, with some extensive damage costing you up to $2,000. However, if the only repairs necessary are related to replacing deck lights, this might just set you back a few hundred dollars.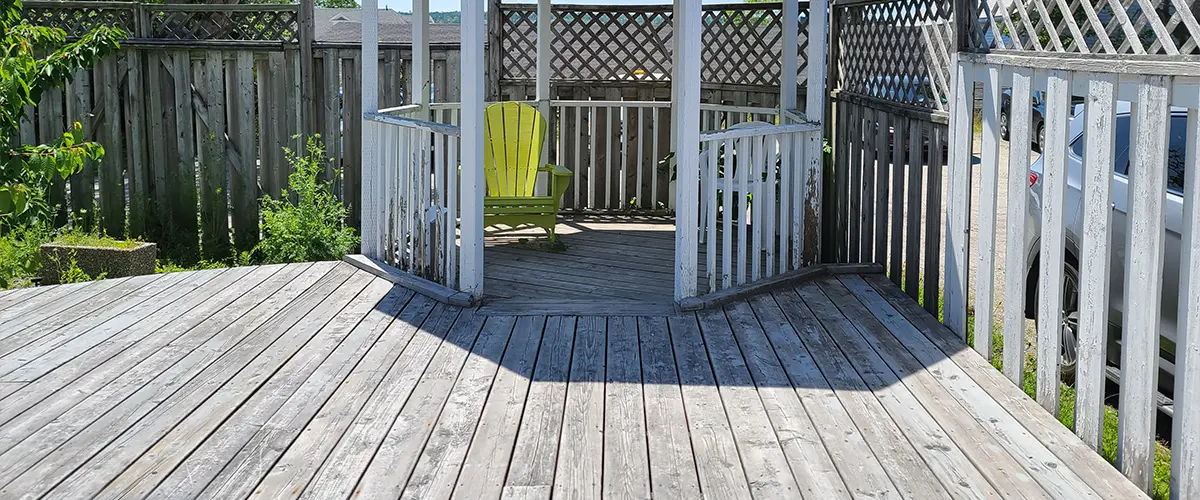 Tips To Follow When Budgeting For Your Deck Repair Cost In Mill Creek
Be Thorough With Your Repair
When it comes to the smaller repairs necessary for your deck, customers may find themselves in a tricky situation. Minor damage might not be an immediate concern, yet a decayed and unsteady frame can signify a potential disaster. Although looks are nice, safety should always remain paramount when choosing which repairs to make on your deck.
If you wish to achieve the perfect deck, it is essential that you discuss your expectations with your contractor in depth. Doing this will guarantee they apprehend precisely what result you have in mind and make them aware of how significant a successful conclusion is for everyone involved. Asking questions not only benefits all parties associated with this endeavor but also demonstrates just how devoted and committed you are to obtaining an ideal final product.
Prepare yourself for the unforeseen, as there could still be issues—like discovering that railings have deteriorated or concrete blocks have sunken. Perhaps you now prefer another type of decking material? It's always wise to budget an extra buffer in order to protect your project against any unexpected problems that may arise down the line.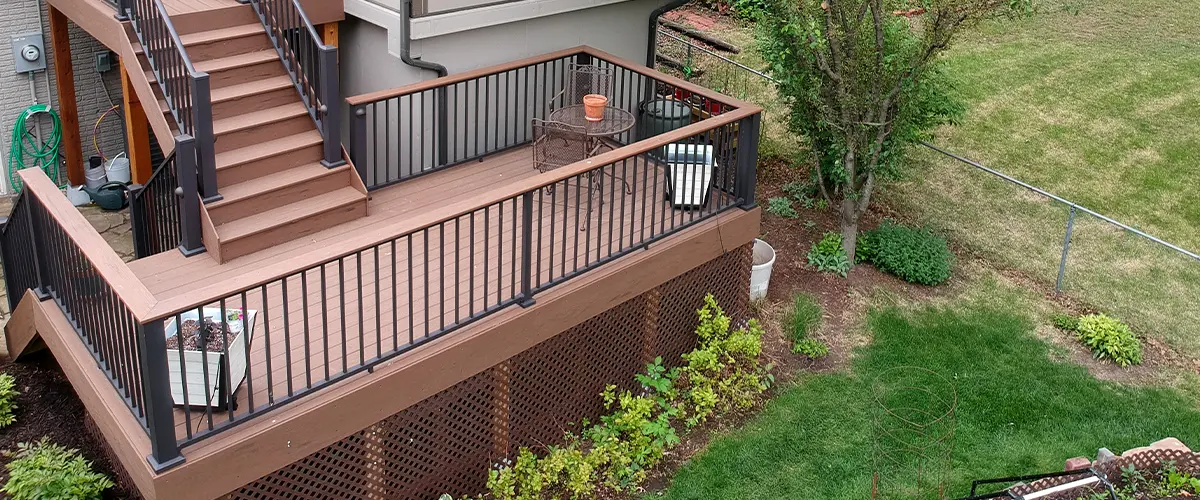 Get Full Transparency On Your Deck Repair Cost In Mill Creek!
Homeowners often lack the proper information, making it difficult for contractors to convey pricing in an easily comprehensible manner.
At Burgess Construction, we make it our mission to provide exceptional service throughout your entire building experience. Our team is committed to keeping you informed and reassured while handling every last detail!
For such a budget-friendly price in Mill Creek, our deck repair service is straightforward and efficient. Plus, we offer a range of extra benefits:
Get The Most Advantageous Deck Repair Cost In Mill Creek!