The Best Fence Installation In Bothell, WA
Starting your fence building project soon? Get your free quote with Burgess Construction!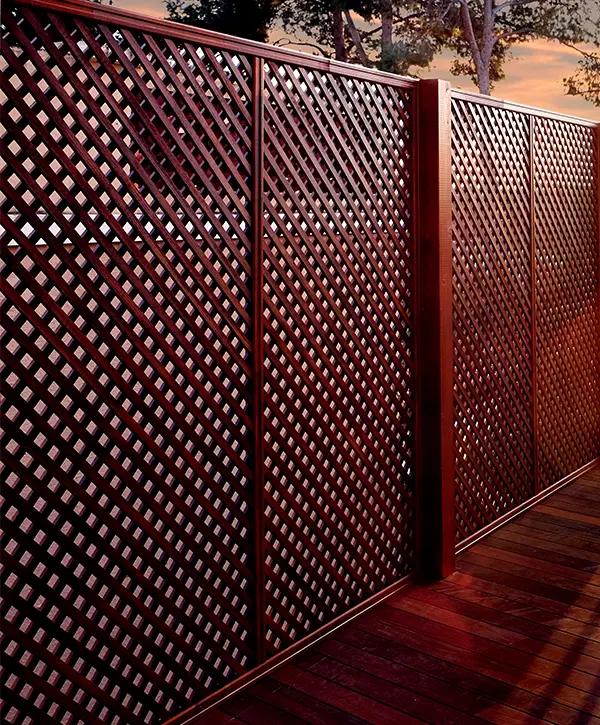 Planning to install a fence that will last for years and improve both the safety and the privacy of your backyard? Burgess Construction has got you covered!
We have fencing solutions to fit every budget, need, or preference!
We're professional fence builders and we've come to be one of the most trusted local contractors for many homeowners in Bothell. With us, you'll get a stunning and durable fence that makes all your neighbors talk about it!
We pride ourselves on being efficient and finishing our projects ahead of schedule, without sacrificing anything from their quality or beauty.
A Fence Installation As Simple As 1-2-3
A combination of premium materials, quality craftsmanship, and an efficient team will ensure you're getting the best fencing company you can find in Bothell. We're bringing more than anyone else to the table!
Quality And Beautiful Fences In Bothell, WA
Although fences might seem like a basic home improvement, there are many details that need to be considered if you want your fence to last for years and remain attractive throughout its life.
At Burgess Construction, we offer our complete services at the best prices on the market because your satisfaction is our number one priority. We want to see you happy with your new fence, and we'll do whatever it takes to make it happen.
Our top-notch fence, combined with an easy three-step process, will make your journey a breeze. We're upfront, honest, and dedicated to seeing your vision through.
Your Neighbors In Bothell Love Their New Fences!
Having a fence not only makes your backyard more private but also keeps you and your family safe. We've helped hundreds of homeowners get their fence installation upgrade, and we're ready to help you too!
We are extremely pleased with our fences from Burgess Construction LLC. 
The crew showed up on time, was very friendly, efficient, and professional. Stephanie and the crew were great at communicating throughout the whole process. 
Overall it was a 5-star experience- I would recommend them to anyone and plan on working with them again for a new deck!
The Burgess team recently installed deck stairs and a hog wire fence in our back yard and they did a great job. 
It took a solid week to get them done and the work turned out great. They communicated with us regularly and keep us apprised of the work throughout the job. 
We would highly recommend this team.
Here at Burgess Construction, we pride ourselves on being able to build any type of fence you can think of. If you're not quite sure what kind of fence you want, our staff members will walk you through all the different types of fences and help you decide which one is right for you.
For now, check out our extensive fence installation offer below.
Although Cedar fences are lovely because they boast a natural wood look. However, there are some drawbacks customers should be aware of before making their purchase.
Although cedar is naturally rot-resistant, over time it will still succumb to the elements and start rotting. Once that occurs, other problems will quickly follow suit.
There's a reason why vinyl fence panels are becoming more and more popular: they're dependable, last long, and most importantly – they look good.
Made from durable PVC, this plastic-based material is low-maintenance (i.e., it won't crack, splinter, or fade) and doesn't require refinishing. It also comes in various colors and styles to suit any garden aesthetic—from picket fences to privacy fences.
But, keep in mind that there are some cons to vinyl fencing as well.
Because it is not organic, its initial price is higher than other materials (but you'll save more later because it doesn't require continual upkeep). Additionally, it can develop mold and mildew.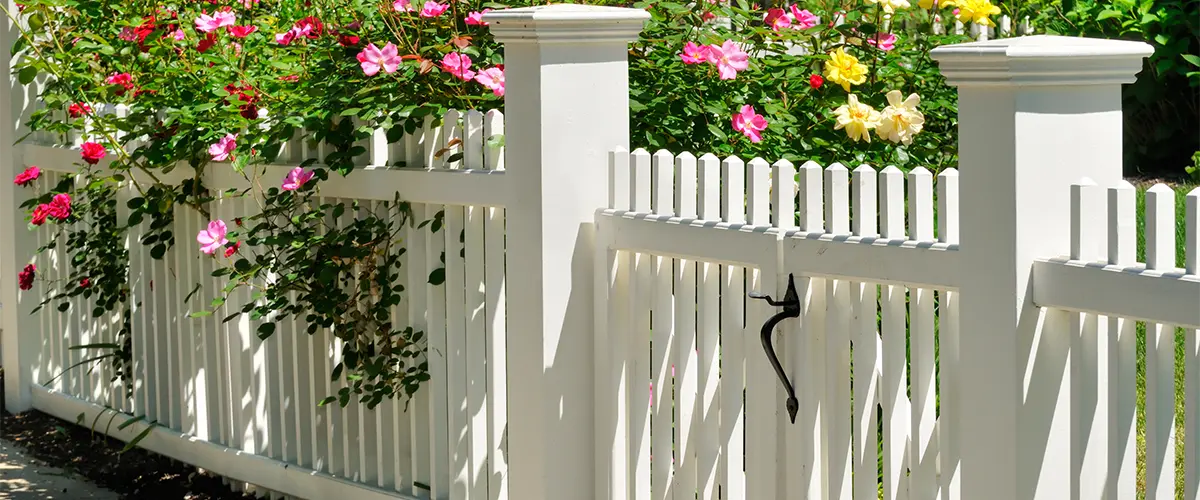 Though chain link fences are cheap, they aren't often used in people's homes because they aren't attractive. Or, rather, they're not as attractive as a wood fence.
Though they might not be the most aesthetically pleasing, chain-link fences serve a number of other purposes.
They're used around schools, parks, and other public areas, and you'll see them acting as security or perimeter fences. They can also be found enclosing basketball or tennis courts, animal pens, and larger properties like estates, or farms.
From a quality standpoint, composite fences are somewhere in the middle of cedar and metal fences.
Composite fence boards are similar to composite decking boards in that they're both made of recycled plastic and wood fibers. Composite fence boards are built to withstand extreme weather conditions and longer periods of time outdoors. They can't be refinished, but they have a great fading warranty so you won't even have to worry about it.
Composite fences provide the look of wood without its upkeep or maintenance requirements but keep in mind that they are more expensive than cedar fences.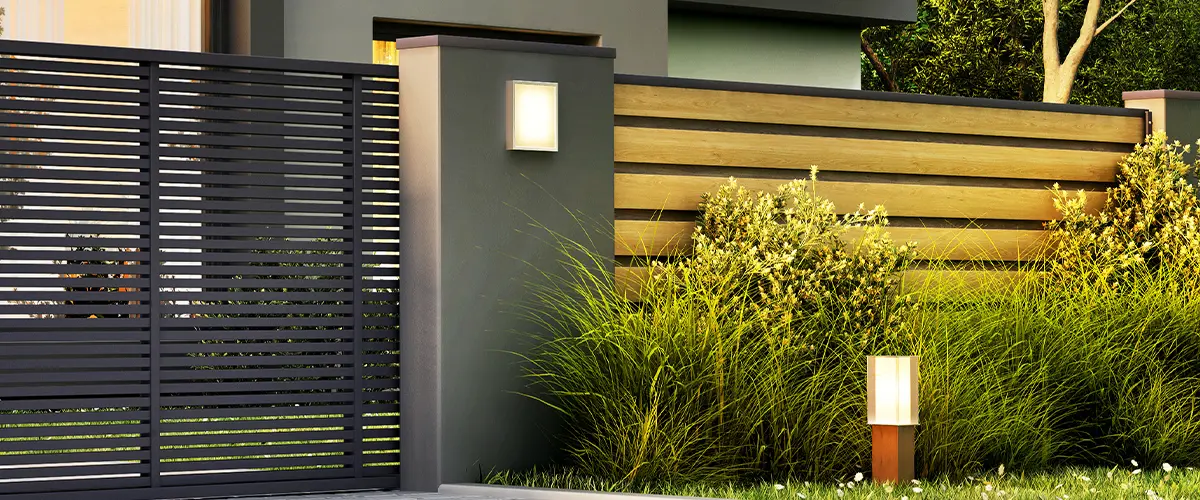 Whether made of wrought iron or aluminum, these fences won't rot, so they'll retain their strength for decades.
In addition to being durable, metal fences also give your property a luxurious vibe.
However, keep in mind that metal fences are usually more expensive than other types of fencing, and they don't provide the same privacy as cedar or vinyl options would.
Create a fence with metal posts and composite or cedar fencing boards for the strength of metal combined with extra privacy and security.
No doubt, masonry fences are excellent choices to make your property look more expensive. Add in some metal details, and you get an amazing fence that will catch anyone's attention.
Obviously, this type of fence is much more expensive than a cedar fence, but if you have the extra funds laying around, it's worth it for the upscale atmosphere it will bring to your property.
The downside of this fence is, obviously, its cost, but also the fact that building it will take longer than a vinyl or cedar fence.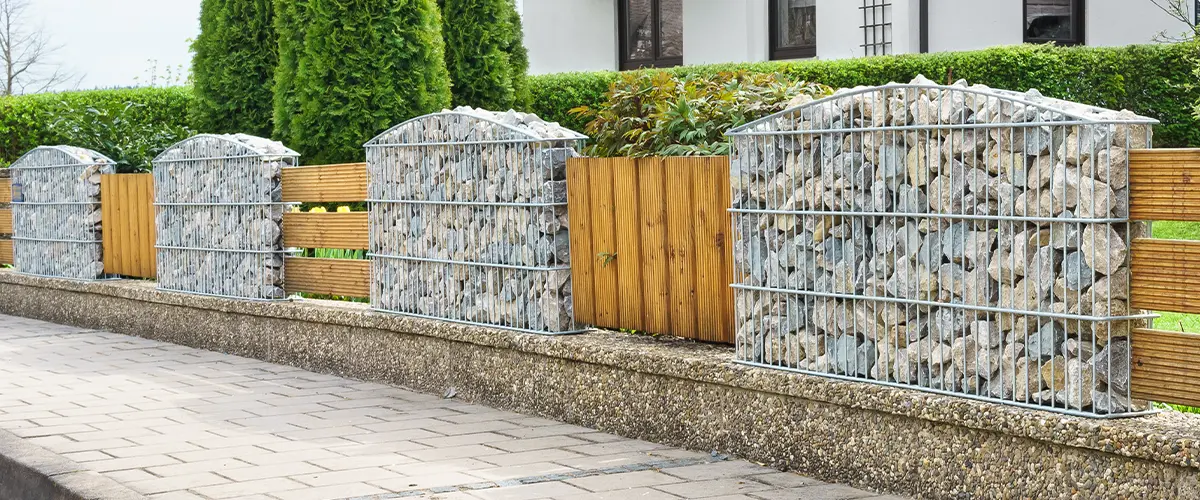 Crazy Beautiful Fences - A Display Of Our Talent
The passion we put into our projects is clear when you see the results. Quality craftsmanship and our dedication are guaranteed the moment you sign with us. This is what your fencing project can turn out like!
Your Fencing Project Just Got 10x Easier!
At Burgess, we have made the process of fence installation quick and easy! With no hidden fees or stress, you can sit back and enjoy your beautiful new fence worry-free!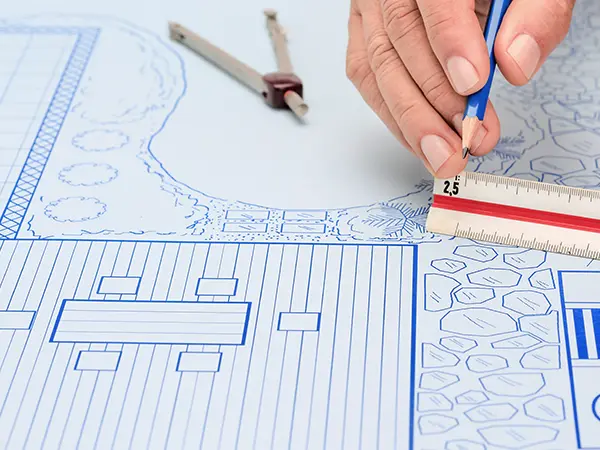 Contact us and let's discuss your project!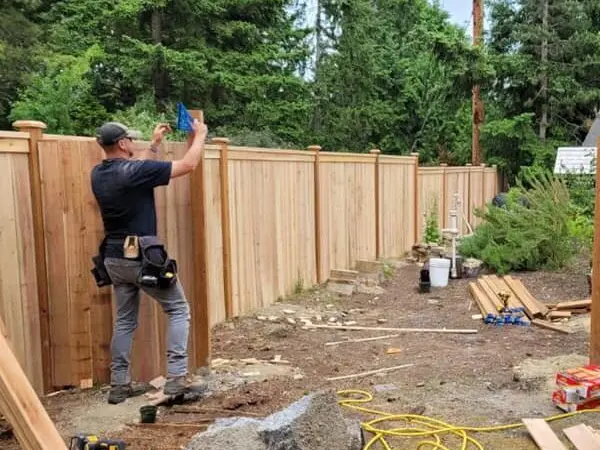 We start building your new fence.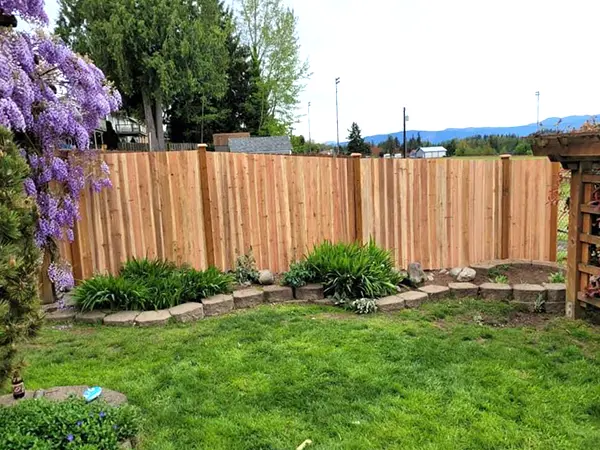 Enjoy more privacy and security with your brand-new fence!
Frequently Asked Questions
The cost of a fence installation in Bothell will depend on the size and materials you choose. A 120-foot cedar fence can start as low $6,000, while longer fences with additional features like upgraded materials or wrapped posts can go as high as $20,000. Once we take a look at your property and discuss your wants, we'll be able to give you an accurate quote.
Although most fences only take three days or less to install, the time it will take for your specific project may differ. Once we come and assess your site, we will provide you with a more accurate estimate of how long the installation process will take.
Fence installation in Bothell is relatively easy as long as your fence does not exceed 8 feet high. In some cases, depending on the type of fence you're installing, a permit may be required from the city. If this is needed, Burgess Construction will gladly help obtain one for you so that everything goes smoothly.
The type of fence you choose will depend on what you want to use it for. If you only need a fence that keeps pets inside, a hog-wire fence will do the job. If you want more privacy, there are many other options available.
Wood fences are a common pick for homeowners in Bothell due to various reasons. Some of the more dependable types of wood you can opt from are cedar, teak, and redwood – all with a lifespan of upwards of 30 years.
Vinyl and aluminum fences are among the strongest and most long-lasting, able to withstand any climate or terrain. Plus, they come in a range of styles, colors, and designs – meaning we can find one to complement almost any home or building's existing architecture.
We'll walk you through all the possible options, so you'll make an informed decision!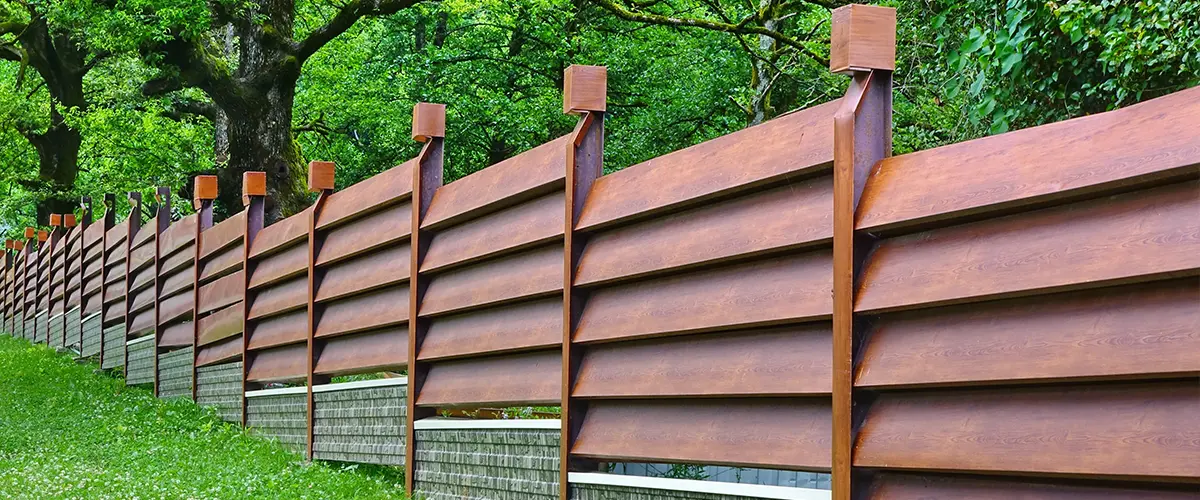 Boost Your Backyard's Comfort And Privacy With A New Fence
Fences are often an afterthought for many homeowners until something happens. We suddenly realize the importance of a fence when our dog runs away chasing a squirrel or when they find someone unknown looking into their backyard.
From that moment on, fences don't seem so useless anymore.
At Burgess Construction, we understand that your concerns are important and need to be addressed quickly and efficiently. We believe that the quickest and most inexpensive way to do so is by installing a high-quality fence.
The extra safety will give you more peace of mind, and the added privacy will make you feel more comfortable spending time outdoors.
With us, you're getting:
Ready To Get The Best Fencing Deal In Town?