Fences have been a staple of home security for centuries, offering both physical protection and clear boundaries. But with so many types, styles, and designs to choose from, selecting the perfect fence for your home can feel overwhelming.
We've got you covered with a comprehensive guide to all the different types of fences available, and expert tips on choosing the best one for your home. 
Get ready to take your home's security to the next level with a fence that perfectly suits your style and needs.
Types Of Fences To Consider
Are you ready to hire a professional installation service for your new fence but unsure about what are the best types of fences? At Burgess Construction, we help homeowners like you choose the best fence for their needs and budgets.
But if you want to know more about the different fences and their properties, here is a comprehensive guide to set you on track.
Looking for a classic and durable fencing option that can be customized to match your home's aesthetic? Look no further than wood fences!
With a variety of styles to choose from, including picket, split rail, and stockade, and different wood types like cedar, pine, and redwood, wood fences offer an abundance of options for any homeowner.
While they do require some upkeep, their unbeatable blend of privacy, style, and resilience make them a smart choice for any property. Wood is one of the most popular types of fences, so you'll definitely make a great choice with it!
If you're looking for a practical and stylish fence, vinyl fencing is the way to go. These fences are all the rage among homeowners because they're super strong and require little maintenance.
And with so many colors and styles available, you're sure to find one that fits your home's vibe. Plus, out of all types of fences, vinyl ones are some of the most resistant to all sorts of weather, so you don't have to worry about them losing their color or shape over time. 
And let's face it, who wants to spend all their time maintaining a fence?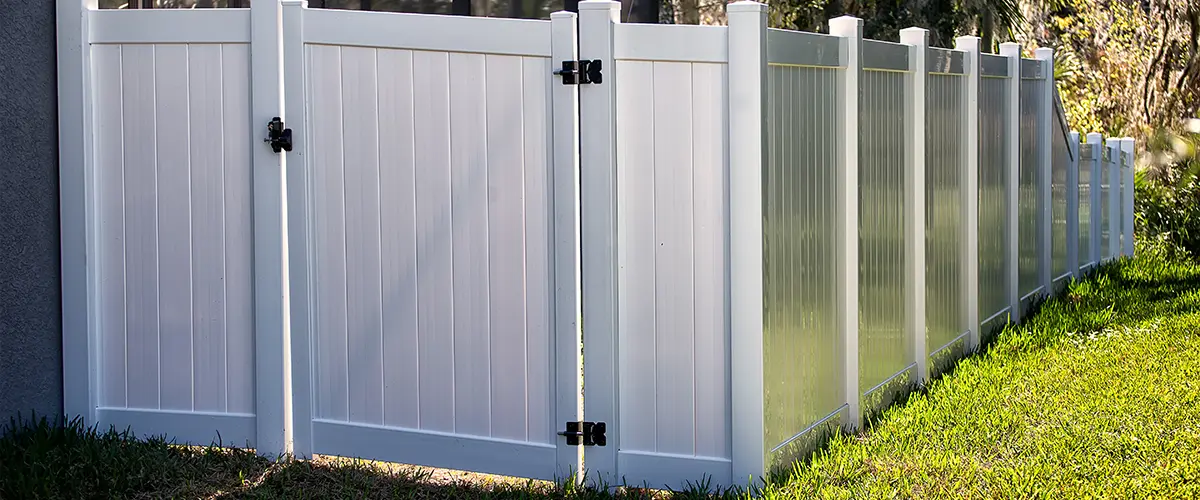 Say goodbye to rusty, warped, and faded fences because aluminum fencing is here to save the day. It's the perfect choice for homeowners who want to add a touch of elegance to their property line without dealing with constant upkeep.
With various styles like picket or ornamental, you can customize your backyard oasis to fit your unique style. And the best part? You can match the color of your aluminum fence to your home's exterior.
Some of the best aluminum or steel fences come from Fortress Building Products, but we work with many manufacturers to offer you the most cost-effective fencing option.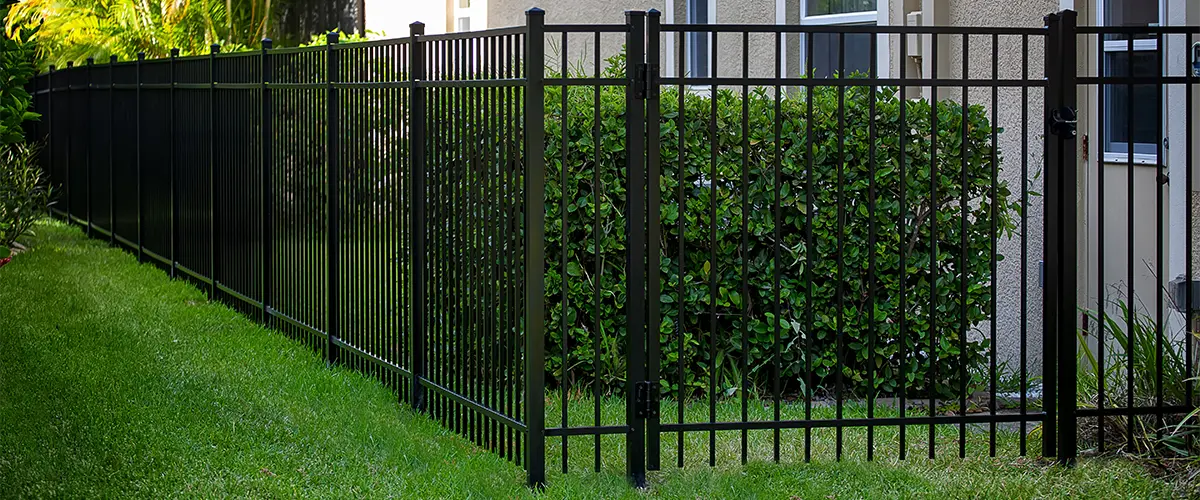 Chain link fencing is cost-effective but also incredibly durable and low-maintenance. With a range of heights and gauges, you can customize your fence to fit your needs and your personal style.
Plus, did we mention that chain link fences now come in various colors? Give your property the protection it deserves while still maintaining your unique aesthetic with a stylish and functional chain link fence.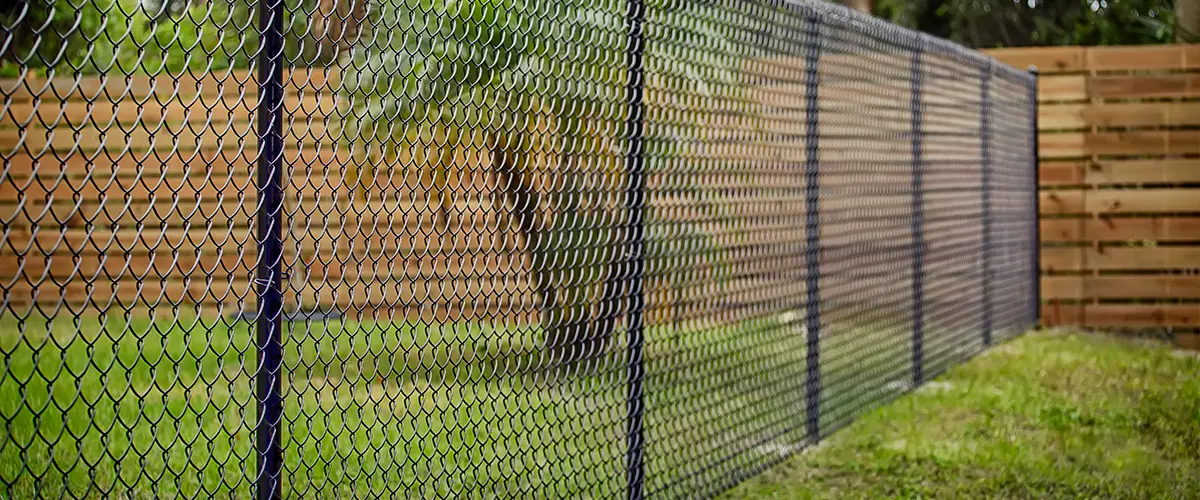 Are you looking for a fence that combines both functionality and elegance? Look no further than wrought iron fencing! Being the toughest among fencing materials, wrought iron also adds a touch of sophistication to any property.
Enjoy the peace of mind that comes with increased security offered by wrought iron fences while also improving your home's curb appeal. With various styles available, you can design a fence that perfectly complements your unique taste and home's aesthetic.
Say goodbye to worrying about weather damage, as wrought iron fences are built to withstand the elements and stand the test of time.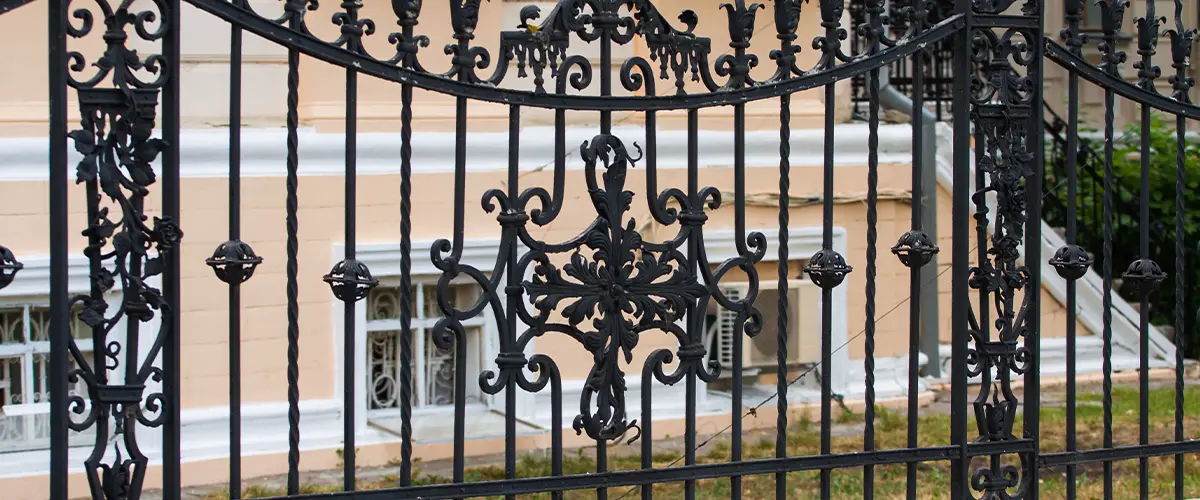 Steel fences are the perfect compromise between chain-link and wrought iron fences. They are known for being durable without breaking the bank (a reputation wrought iron fences have gained over the years).
However, remember that their sturdy structure comes at a cost: they offer little privacy. If you're looking for a fence that keeps your nosy neighbors at bay, you may want to consider other options.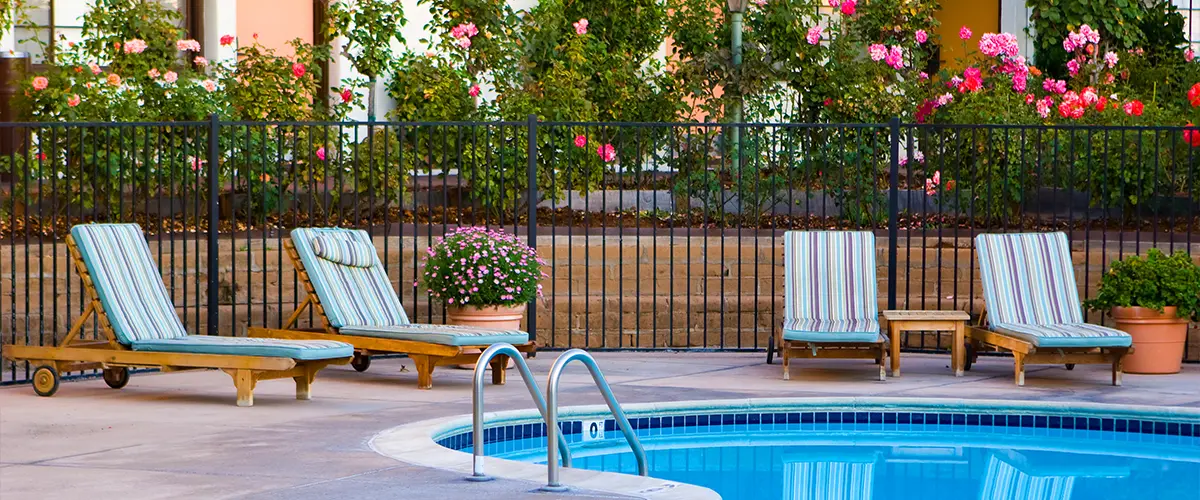 When it comes to privacy and durability, few things can beat a masonry fence. Masonry fences are the way to go for those who want a long-lasting, secure, and stylish addition to their property.
These fences are made from solid materials like brick, stone, or concrete and can be designed to fit any style, from simple and functional to ornate and eye-catching.
But what sets masonry fences apart from the rest is their durability. Unlike wooden fences that can rot or vinyl ones that can crack, masonry fences are weather-resistant, bug-proof, and built to last.
Lattice fencing is perfect for all plant lovers who want to mark their property's borders. And when aesthetics matter, a lattice fence is the way to go. Not only does it serve as a property marker, but it also doubles as a trellis for your beloved plants.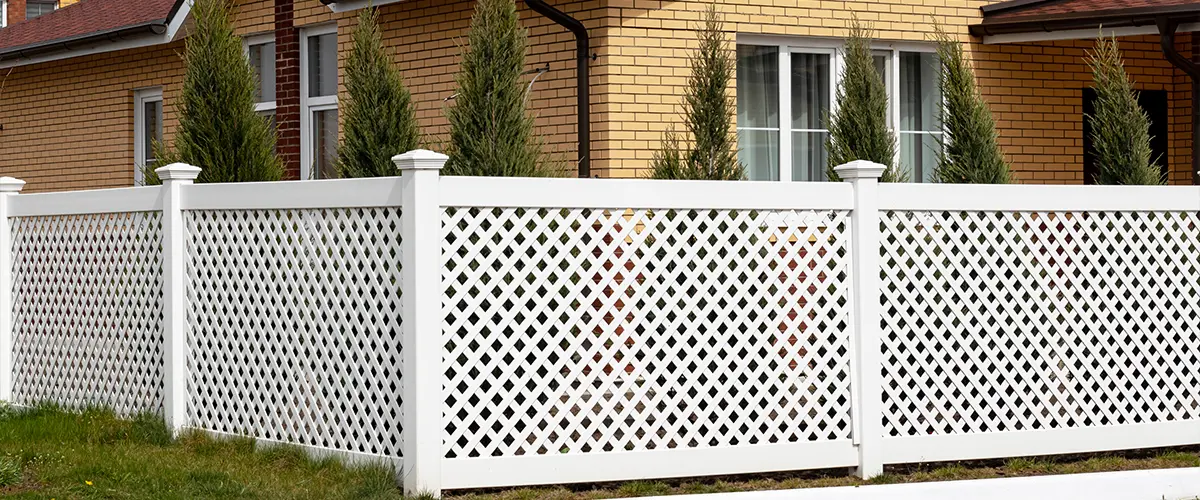 A barbed wire fence isn't just any ordinary fence – it's specially designed to keep intruders out by using a sharp, pointy wire that can cause serious injury.
Typically used in rural settings to corral livestock and protect crops, barbed wire fencing is also popular for commercial and industrial areas where security is a top priority. So next time you see a fence with some serious spikes, you'll know it's not just for show.
Made from a blend of wood fibers and recycled plastic, composite fencing is a durable and low-maintenance option that can give your yard a whole new look. With a range of styles and colors, including options that look just like wood, you're sure to find something that suits your taste.
And thanks to the easy-to-install post-and-rail system, you won't have to worry about professional installation services taking forever to have your fence ready. Plus, with matching gates and hardware available, you can have a complete fencing solution that looks great and lasts for years.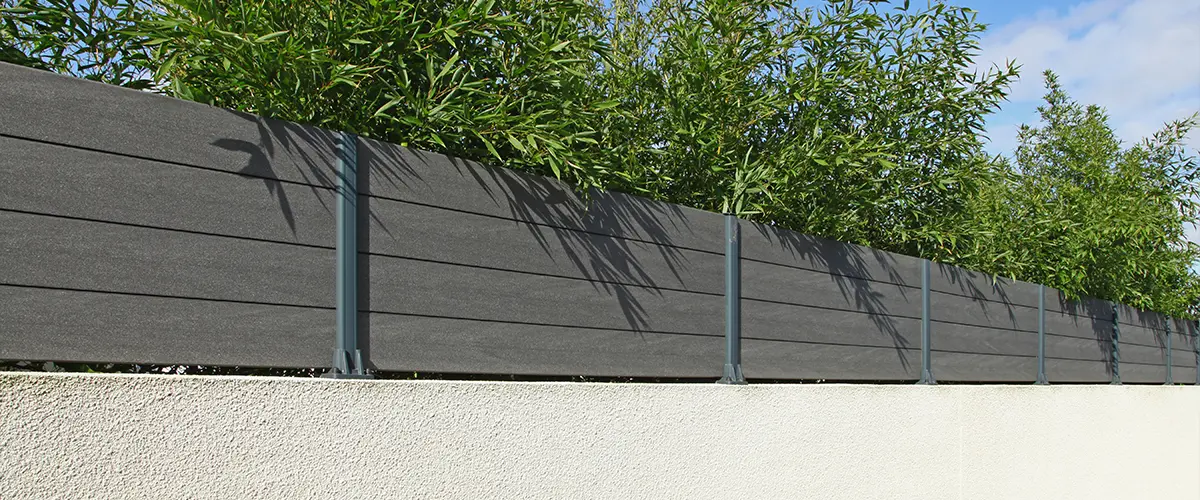 These decorative fences are made from classic wood materials and boast a stylish profile of evenly spaced vertical "pickets" attached to horizontal rails. From rustic simplicity to intricate ornamentation, a picket fence can be designed to suit any aesthetic preference.
Add a touch of elegance to your property with customizable styles featuring different types of wood, finishes, and decorative detailing like finials or scalloped tops.
Not just visually appealing, picket fences are practical too. Create a clear-cut boundary for your garden or lawn while increasing curb appeal and property value.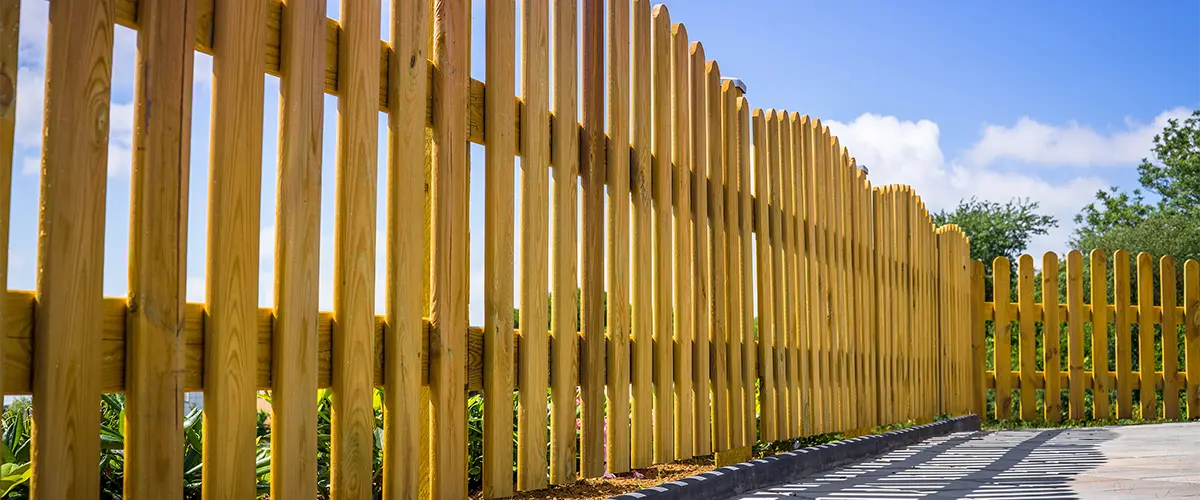 Made from fast-growing and renewable bamboo, this natural option is perfect for any homeowner who wants to be environmentally conscious. 
Whether you prefer a simple rolled design or a complex woven pattern, a bamboo fence is highly versatile and can be customized to suit any style.
Install it using a post-and-rail system or mount it on existing structures, such as walls or chain link fences.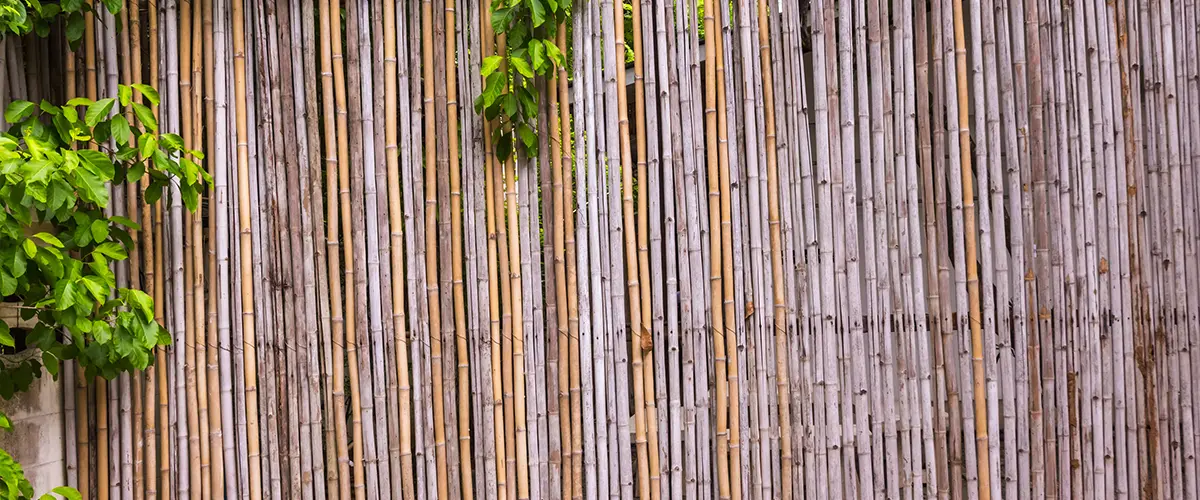 Engage With The Vest Fence Installation Service In WA
Once you've chosen the perfect fence for your property, it's time to start looking into companies to install your fence.
When selecting a contractor, look for professional certifications and customer reviews. Make sure you are working with experienced professionals in the area, who will meet all of your expectations.
No matter what type of fence you choose, certain steps can ensure that it is the perfect choice for durability and safety on your property. With the proper guidance and precautions, you can find the ideal solution to protecting your property while creating an aesthetic appeal.
We here at Burgess Construction offer all types of fence installation, and we stand behind our work. Request a free quote today and see how we can help create an ideal outdoor environment for your home or business.