The 5 Best Deck Building Companies In Snohomish, WA
Here are the best deck builders in Snohomish! Choose the best fit for your project now!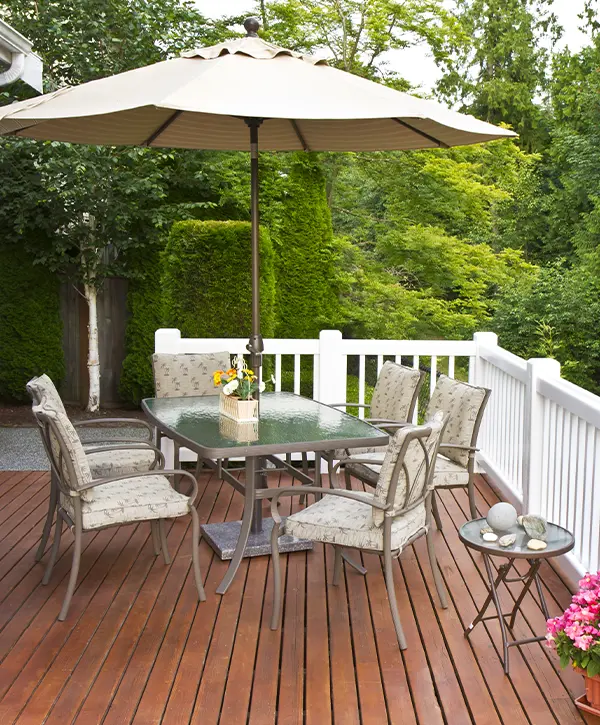 There are many deck building companies in Snohomish, WA, but few of them will deliver the superior product you deserve.
Here at Burgess Construction, we're well accustomed to how our competition works. We've seen some of them build amazing decks, but we've also seen decks built with no sense of responsibility.
Finding the best deck building companies in Snohomish takes a lot of time and research, but we're hoping to make your decision easier.
Here's our take on the best 5 deck building companies in Snohomish, Washington!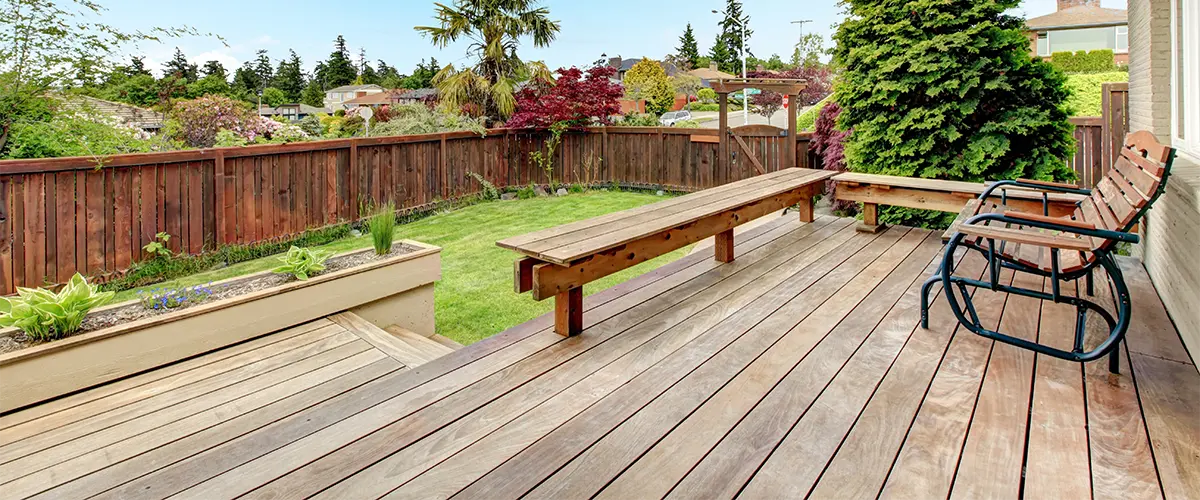 1. Starting With Burgess Construction
Burgess Construction strives to make positive changes in the deck building industry.
We're offering you a superior deck addition that's built to last. We do it quickly, efficiently, and at a reasonable and honest price. After an in-depth inspection of your backyard, you'll get an accurate pricing and time frame estimate, and it's up to you if you want to start your project.
We've made starting your project extremely easy!
Our process was designed with your comfort and well-being in mind. Our builders are polite, reliable, and always ready to jump in and help you with anything. You'll be kept in the loop at all times, and you have our guarantee that we'll execute your vision to perfection!
Many of your neighbors have already worked with us! Here's what they're saying about having a professional on their project!
With Burgess Construction, you're getting:
Snohomish Homeowners Love Their New Upgrades!
Owner cares about reputation and goes above and beyond to make it right if something is not up to code.
The crew came in and did my front entrance entire deck quickly and on time.
Will definitely use them again when we do our kitchen deck. Thank you.
Love the quality of craftsmanship with our brand new deck Blaine and his crew just built for us.
They were on time and hardworking even with such rainy weather. Highly recommend!! Also, really loved working with Stephanie. Super responsive and professional.
Looking forward to our next project to be completed for our fence.
2. M&M Green Outdoor Services
M&M Green Outdoor Services is a local deck and fence builder operating in Snohomish and surrounding areas.
Their goal is to give homeowners a finished product that they will enjoy year after year. They're doing it all from the ground up, one step at a time, from design to fitting in with the existing style.
They're doing a great job taking your surroundings into consideration when planning your deck. So whether we're talking about mud, trees, or pets, they'll make sure everything goes according to plan.
They offer composite decking, PVC decking, and cedar decks.
David and his team were incredible!! They built our new 2nd story deck and were so intentional about making it perfect for us! We were thrilled with how quickly they were able to get it done with such great quality! It was even better than we hoped for! We asked for a bar top along the railing, too and it turned out perfect. Very impressed!
3. Outdoor Living Spaces NW
Outdoor Living Spaces NW has served the Eastside and North Seattle area with quality decks and outdoor living spaces since 1990.
They love designing and creating quality outdoor living spaces that give off a peaceful atmosphere to your backyard and property.
They take pride in providing quality decks through careful listening, attention to detail, proactive communication, a clear focus on clients' vision and perspectives, and proven building practices.
They serve customers on the Eastside and the North Seattle area, including Woodinville, Redmond, Kirkland, Bellevue, Newcastle, Issaquah, Mercer Island, Bothell, Sammamish & Renton Highlands.
Wonderful experience from start to finish. Chris kept in contact with us through the whole bidding process. He continued doing that during the construction. His entire crew was easy to get along with and friendly. The deck looks great and we are so happy with the finished product. We would highly recommend his business to anyone who is looking to improve or build a new deck.
NW Custom Deck is a family-owned and operated deck building company that serves Seattle, Greater Eastside, Snohomish, and South King County areas. It was founded in 1988 with a single goal, to build you, the customer, the best possible deck at an affordable price.
They incorporate engineering practices along with artistic flair and structural design.
NW Custom Deck specializes in year-round outdoor deck construction, but they're also familiar with hot tub surrounds, patio covers, gazebos and trellis, privacy screens and benches, concrete patios, fences, additions, and remodels.
While you may want to look for a specialized deck builder, this is one of the best deck building companies in Snohomish that also takes care of other upgrades.
I will recommend NW Custom Deck Company to anyone looking to hire a knowledgeable, honest, skilled, top quality professional deck company. From the bid to the final walk through of the work completed I was impressed and not disappointed. My new deck is good looking and built to last.
5. American Dream Builders
American Dream Builders is a to-go deck builder for many homeowners in Snohomish. They're a local and family-owned business looking to provide value to anyone that gets their service.
They specialize in decks, porches, and outdoor living.
Probably the best part about American Dream Builders is that they offer a 6-year installation warranty on their deck building products, something very few contractors do.
David was very responsive and professional. He and his employees worked fast and did a fantastic job on my deck. I'd definitely refer him and would use him again if needed!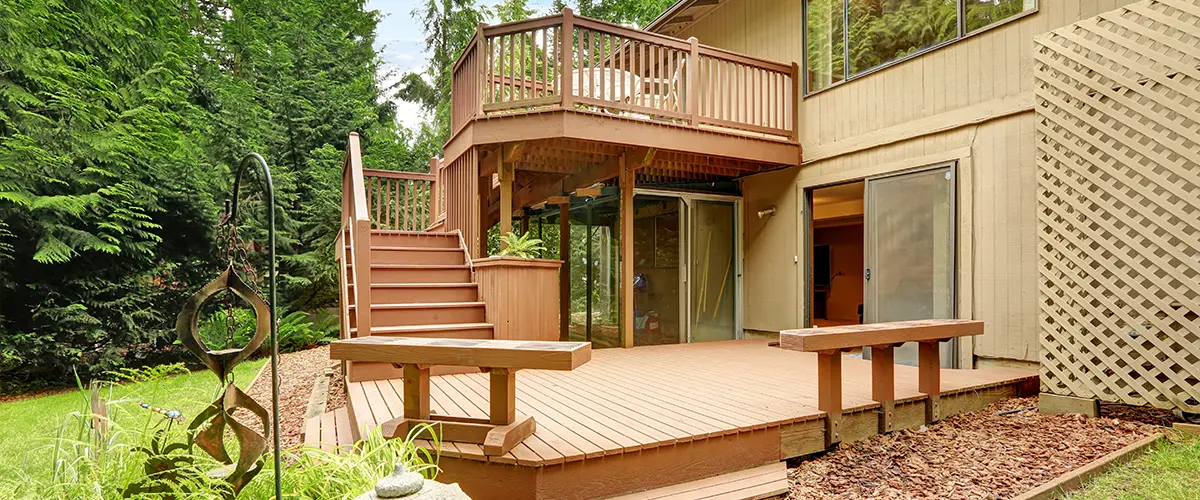 These 5 deck building companies in Snohomish are some of our top picks for your upcoming deck construction.
Our best recommendation is to get multiple quotes from some of these deck building companies, compare them, and choose whichever suits your needs best.
If you're ready to start your deck with a safe option, Burgess Construction is just the right deck builder to do so. We're respectful of your home, time, and money, and we can guarantee that you'll love having us on your project!
Get The Fastest Deck Construction In Snohomish Today!