The Best Deck Building You Can Get In Snohomish
Looking to get a superior deck addition that's sure to uplift your backyard and boost your home's value?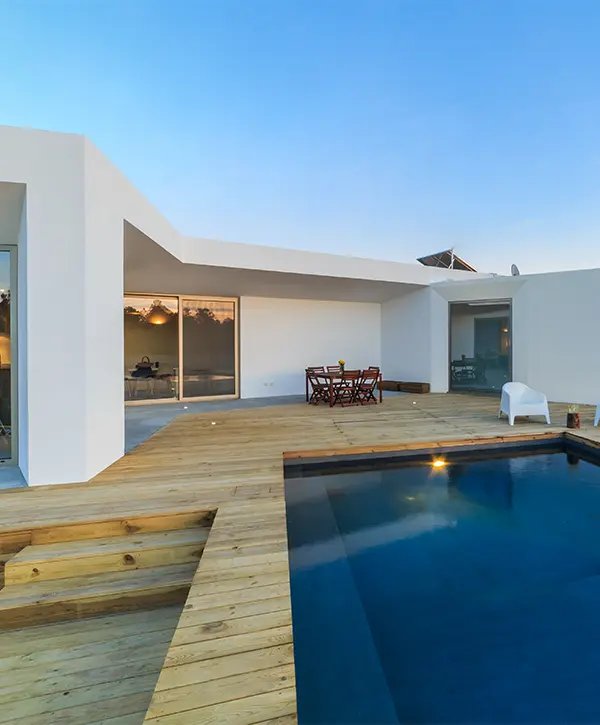 Burgess Construction has been the go-to deck builder of every Snohomish homeowner looking to get a premium and complete deck building service that guarantees a life-long investment. We're experts in our field and we know everything that makes a deck look and function great.
With decades of deck building and remodeling experience amongst our team, we pride ourselves on quality craftsmanship, detail-oriented work, and professional communication throughout the process.
A Deck Building Project That Brings Extra Perks!
We strive to raise the deck building industry's standards, and we're starting from our hometown. With us, you're getting what no other deck builder in the area offers.
Let The Pros Lead Your Project To Success
We're aware that home improvements projects like a new deck building can be stressful. Not all contractors are passionate about their work, and not all of them truly care about their customers.
Our mission is to give you a high-quality end-product that'll leave you speechless. We do our best to reduce the anxiety and stress that such a big project can bring, and we're creating a smooth building experience, with you in the driver's seat.
At Burgess Construction, we value your well-being and happiness at every stage of the project. From start to finish, our experts will give you guidance, insights, tips, and any information you need to be on top of the whole project. By the end of your project, you'll be completely satisfied with our work.
Snohomish Homeowners Love Their New Decks!
We've helped hundreds of homeowners in and around Snohomish get their dream addition or reimagine their existing one. Here's what they say about working with us!
Love the quality of craftsmanship with our brand new deck Blaine and his crew just built for us. 
They were on time and hardworking even with such rainy weather. Highly recommend!! 
Also, really loved working with Stephanie. Super responsive and professional. Looking forward to our next project to be completed for our fence.
Owner cares about reputation and goes above and beyond to make it right if something is not up to code. 
The crew came in and did my front entrance entire deck quickly and on time . 
Will definitely use them again when we do our kitchen deck . Thank you
Type Of Upgrades And Materials
In recent years, a slew of new technologies have started gaining traction in the deck building industry and beyond. During our on-site consultation, we'll go over all your material options in greater detail. In the meantime, here are some of the most common options.
Because your deck's frame is what ensures the structure's stability, you'll want it to be strong, reliable, and long-lasting.
Pressure-treated wood (particularly grade one and two) are still the most popular choice for deck framing. However, even grade one pressure treated wood starts to decay, and termites begin to eat it from the inside.
Steel is the superior option to wood. It's stronger, more durable, and won't let you down like wood might. Furthermore, steel doesn't need as much upkeep as wood does, so it will save you money in the long run. The best steel framing product on the market comes from Fortress Building Products.
The mood of your outdoor space is defined by your decking. However, you don't want it to just appear attractive; you need a deck material that is also functional.
More aesthetic wood species such as Ipe, mahogany, tigerwood, or redwood make your deck look more up-scale, but they come with a heftier price tag and still require upkeep.
If you're looking for a material that will help you spend more time enjoying your deck instead of cleaning it, we recommend composite decking. This is a low-maintenance material that won't need any staining or sealing, and a quick pressure wash once a year it's all it takes for it to look great.
With Burgess Construction, you'll get decking from the biggest composite decking brands in the deck building industry at competitive prices. Trex, TimberTech, and Fiberon are just three decking brands that we're fans of.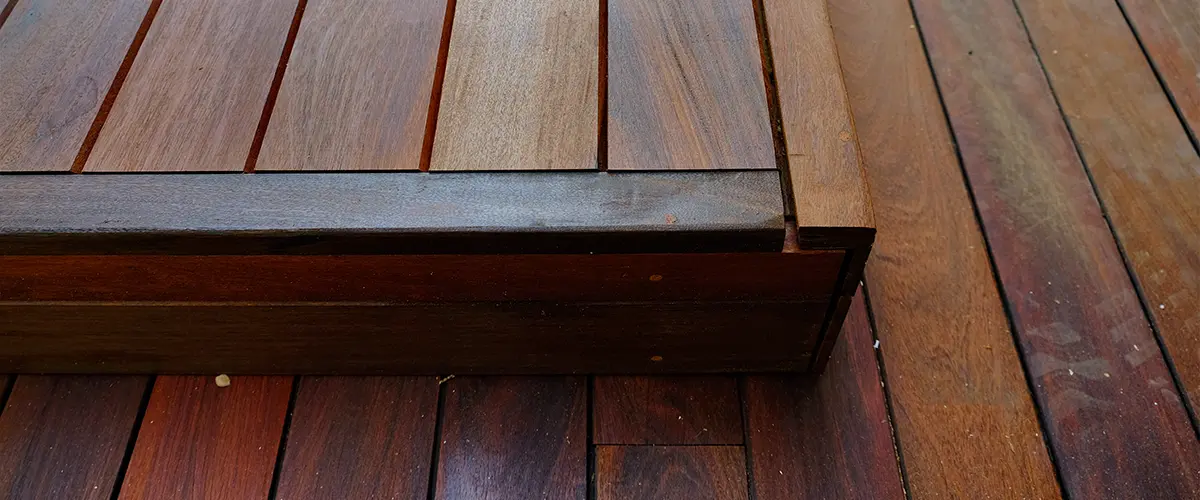 Not only are railings required for most deck building projects, but we also recommend them to our customers. They create a sense of comfort and security while on your deck, especially when you're hosting a barbecue or a family gathering.
Wood railings are the standard, but we tell most of our customers to choose composite or aluminum instead. Composite railings last longer than wood ones, but aluminum is even better.
Aluminum railings from brands like Westbury give your deck an upscale look and make it look way more expensive than it actually was.
Not only do lights make your deck more comfortable, but they also improve safety, which is especially important at night. Stairs lights for elevated decks are also required by building codes.
You have complete control over your lighting options. We recommend warm, comfortable low-voltage lights with a long lifespan. You don't want your electricity expenses to go up, and you don't want to have to replace them in a few years' time.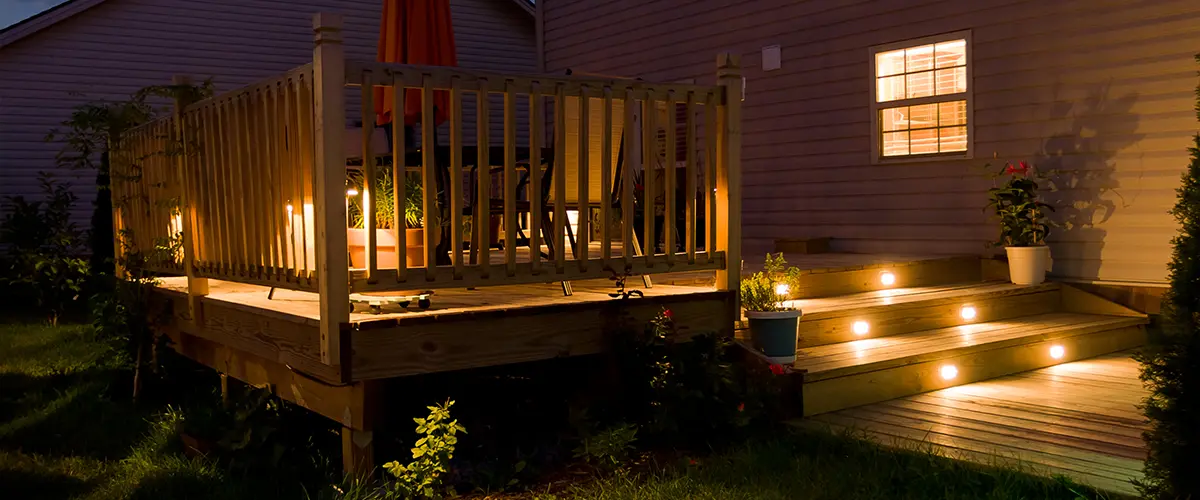 Here's Some Inspiration For Your Deck Building In Snohomish
We've built hundreds of decks already, so you're getting a team that's fully prepared to see your project through, no matter the scope of work. Here's what your deck can look like:
The Best Deck Building Process
Go through a process designed exclusively for your convenience and well-being. At Burgess Construction, your time and comfort are our top priorities, and our process reflects that.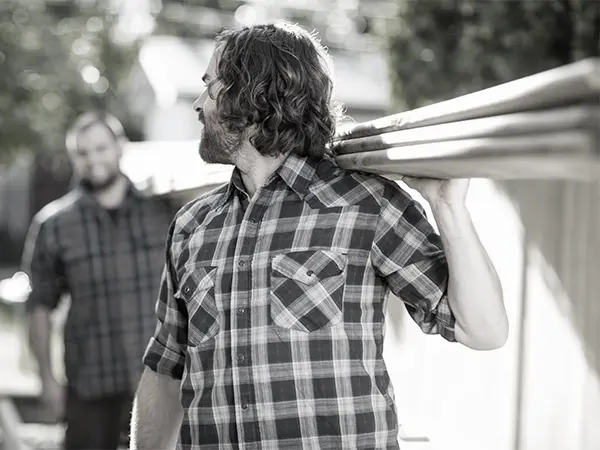 You're already doing this! Get your quote and we'll get back to you.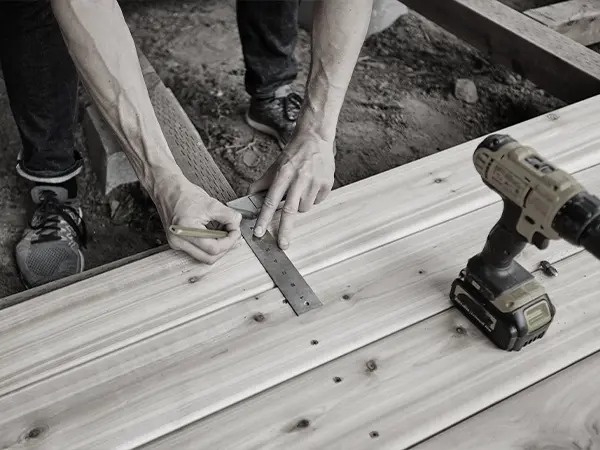 You'll be part of an incredible deck building journey – yours!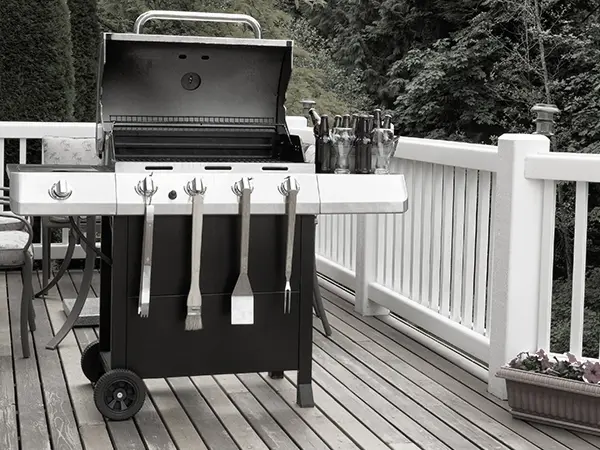 Start planning your next barbecue and invite people on your new deck!
Let Burgess Construction Take Care Of You
Your deck building in Snohomish is in the best hands possible with your local experts from Burgess Construction.
We perfected our craft to deliver a premium product, and we learned that understanding your changing needs guarantees a project that runs smoothly and finishes with a deck that matches your lifestyle and exceeds your expectations.
You'll get:
Get The Fastest Deck Construction In Snohomish Today!