The Best Deck Repair Cost In Monroe, WA
No time to read this guideline? Get accurate pricing on your upcoming deck repair right now!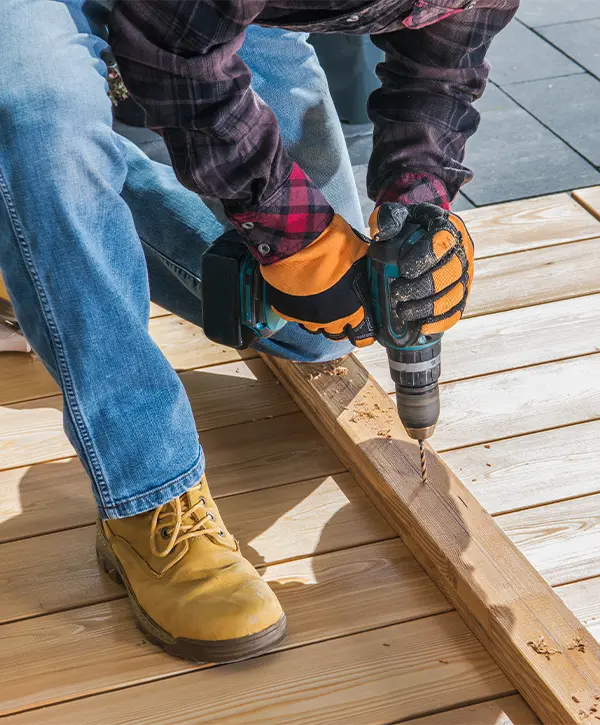 Are you considering a deck repair project but concerned about the expenses? Don't worry, Burgess Construction can assist you with affordable options and quality repairs.
In Monroe, WA, we offer affordable deck repair services with a focus on your needs and satisfaction. Our pricing is transparent, and we will stick to the quoted price, keeping you informed of any changes during the job. You can trust us to provide a high-quality deck repair that fits your budget.
Generally, the deck repair cost in Monroe, WA, and surrounding areas varies significantly depending on the scope of work. We've repaired decks for a mere $1,000 to more extensive repairs of up to $5,000. If it costs more than $5k, repairing it might not be the best option.
A Deck Repair Cost That Makes You Start Your Project Today
We want to assure you that our deck repair crew is committed to providing you with the best quality workmanship possible. We put your needs first and strive to make the repair process as seamless as possible.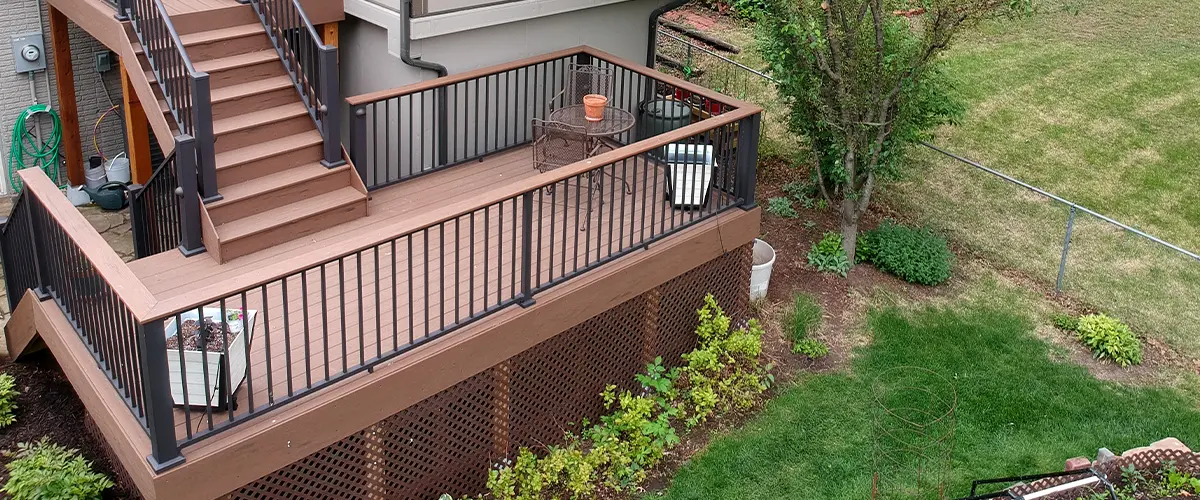 This is what makes Burgess Construction your best choice:
Get A Reasonable Deck Repair Cost With Burgess Construction
At Burgess Construction, your deck and your family's safety and security are our top priorities. We are extremely cautious and will provide comprehensive deck repair services where no detail is overlooked.
By joining forces with us, you can be assured of receiving a long-lasting and top-notch deck that is hard to find from other deck builders in Monroe.
Our process is designed to be simple and tailored to your individual requirements, and we make sure to keep you informed throughout so you can quickly go back to enjoying your deck with a complete understanding of our work.
Burgess Construction offers professional deck building and deck repair services for all Monroe, WA, homeowners. Check out our offer and get the best deal in town!
Homeowners in Monroe Loved Having Us On Their Repair Project
Check out what our customers say about working with us for their deck repair projects!
Burgess Construction is an incredible team from Stephanie's amazing communication, design process, and updates along the way, to the crew that built two decks in just over a week!
Thank you so much for helping see our vision become a reality!
Blaine did a great job on my deck…was quick, efficient and very fairly priced. waiting to get a streak of warm weather so he can stain.
Typical Deck Repair Cost In Monroe, WA
The cost of replacing wooden deck boards with composite ones can be as high as $10,000. If you choose to also reinforce the railing and stairs and install a new handrail, the total cost may increase to $15,000 or more.
Let's examine some of the most frequent deck repairs and how much they'll cost.
Resurfacing A Wood Deck With Composite
One way to improve the look and feel of your outdoor space is to replace your wooden deck with composite boards. The cost for this project is around $15,000 and includes removing the old deck and installing new composite materials.
There are various options available for homeowners that fit their budget, including both expensive Trex products at $60-$70 per square foot and cheaper alternatives.
Replacing an old pressure-treated deck with a different type of wood can be done. Here are the different costs for each type of lumber: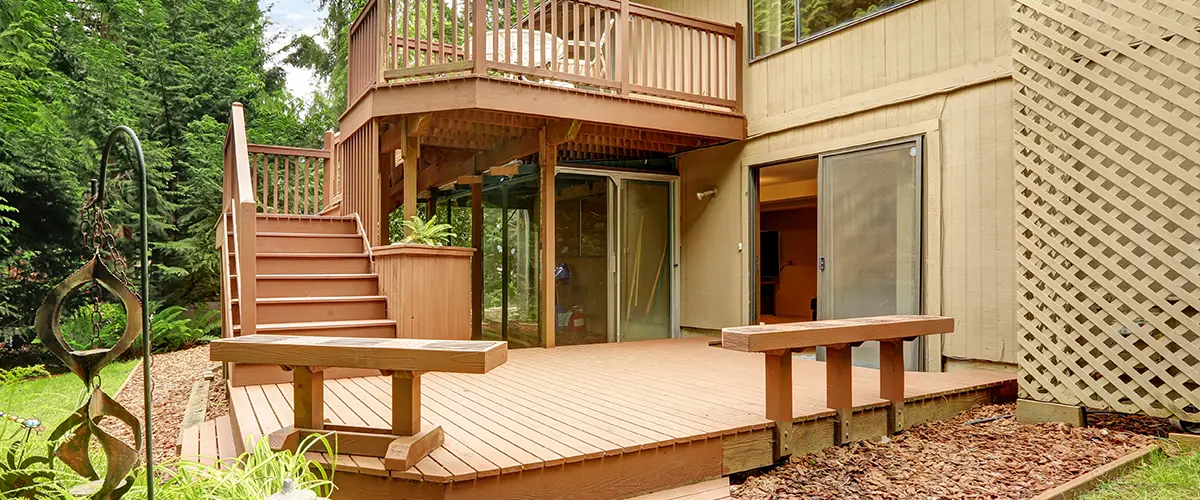 Investing in new railing systems can help to keep your outdoor deck safe and looking good. It will also provide you with a secure leisure space that can withstand the wear and tear caused by the elements throughout the year.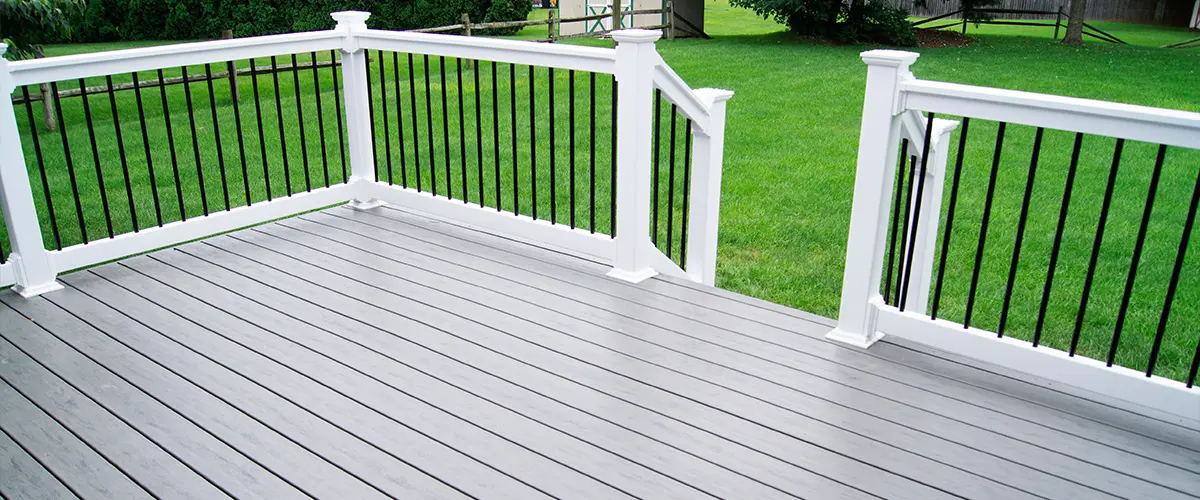 Deck builders now recognize that planting wooden deck posts in the ground, while a common practice in the past, can cause significant structural problems for your deck.
Even though pressure-treated wood is resistant to rot and pests, no wood species can withstand direct contact with wet soil for long periods.
The cost of replacing your deck's posts and installing new concrete footings usually ranges from $200 to $400 per post, depending on the size, shape, and quality of the materials. If you only need new posts, the cost is usually between $100 to $250. Choosing new posts with various design options may be worth it to keep your deck sturdy and attractive for a long time.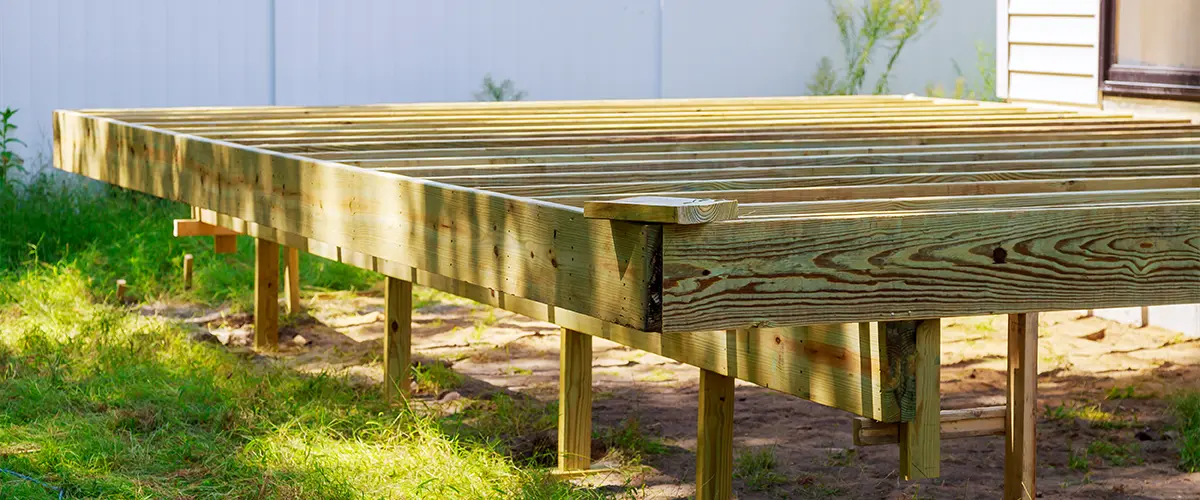 Handrails and wheelchair ramps are useful for individuals with limited mobility and make stairways safer, thus ensuring a secure environment for everyone to enjoy.
If you have a broken or unstable staircase or banister, it's important to act quickly. The cost of replacing the entire set can start at $500 and go up to at least $2,350, depending on the material used. The cost may even exceed this range.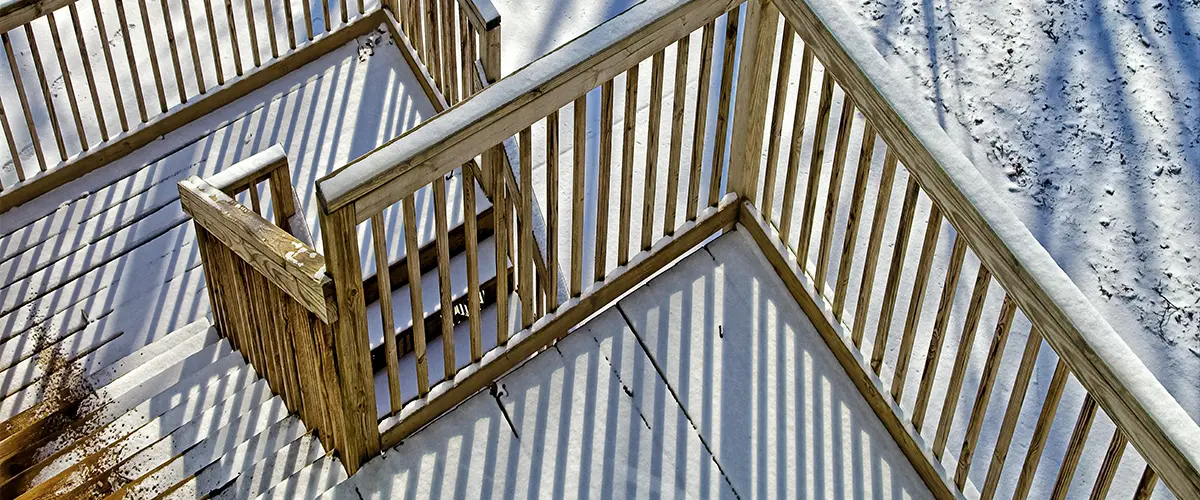 Repairs Of Extra Features
Regularly inspecting your exterior fixtures like awnings and pergolas is crucial to maintaining their longevity, especially if they're made of wood. The elements can cause damage, so frequent checks are necessary. Don't forget that regular maintenance is also essential!
Renewing a wooden pergola can have a wide range of costs. The cost will be much higher, possibly up to $2,000, if the damage is severe. But if only outdoor lighting fixtures need replacing, the cost could be just a few hundred dollars instead of thousands.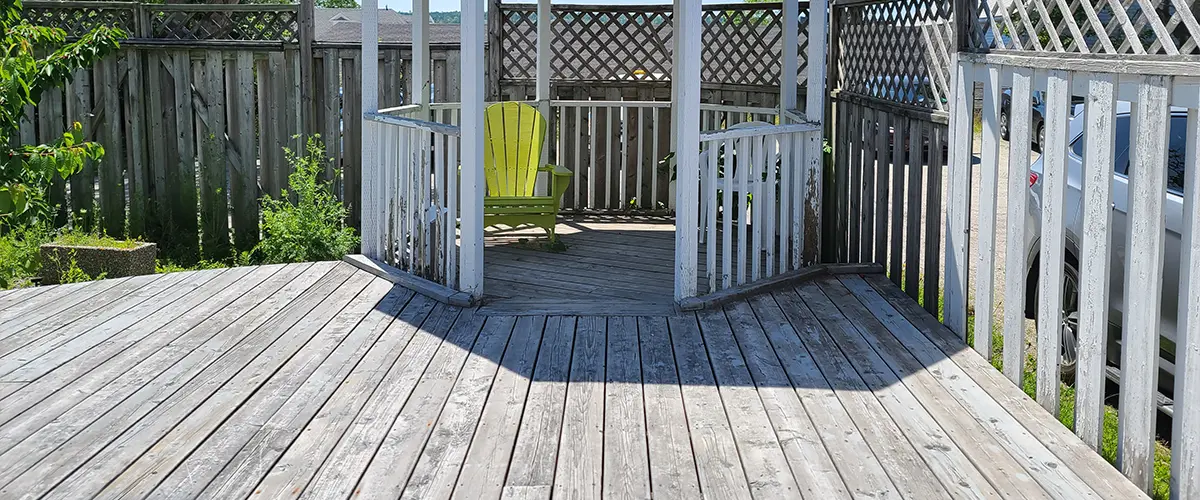 Tips To Follow When Budgeting For Your Deck Repair Cost In Monroe
Be Thorough With Your Repair
Prioritize your family's safety over aesthetics when repairing your deck. Even seemingly small damages can weaken the structure and pose a hazard. Handle all necessary repairs with care to ensure safety.
Having a clear and detailed discussion with your contractor about your deck vision is crucial for achieving the perfect deck. This will ensure that your contractor understands the project's significance and the desired outcome. Asking questions will facilitate better understanding and show your commitment to achieving the ideal finished product.
To prevent unexpected issues during your project, it's important to set aside additional funds in your budget. Even though we provide 20% breakage coverage, unforeseeable problems such as sinking concrete blocks or worn-out railings may arise. Additionally, you may find that you prefer a different type of decking material now. It's wise to be ready for any surprises.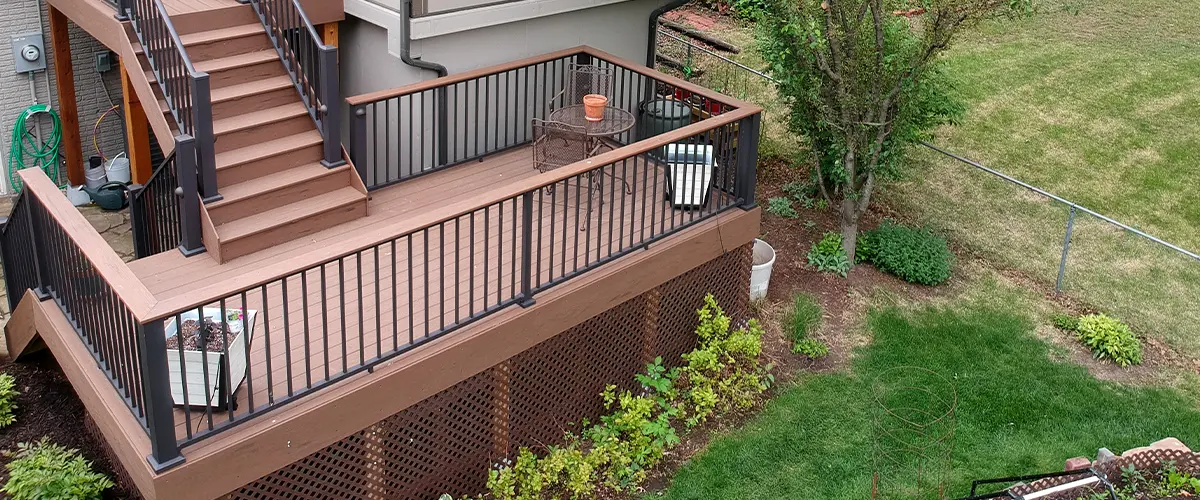 Get Full Transparency On Your Deck Repair Cost In Monroe!
Contractors find it challenging to explain pricing in a way that homeowners can easily understand, mainly because homeowners are often unaware of the necessary details.
Burgess Construction is dedicated to offering top-notch service during your building project. We will keep you updated and offer support at each stage while managing all the particulars.
If you're searching for a high-quality contractor to repair your deck in Monroe, Burgess Construction offers great prices and outstanding benefits. They're an excellent option for enhancing your outdoor area.
Get The Most Advantageous Deck Repair Cost In Monroe!