Winter in Washington state means a lot of rain. And by a lot, we really mean A LOT!
So how should homeowners prepare a deck for winter in Washington? The answer lies with our experts at Burgess Construction.
We've been in the deck building and fence installation industry since day one, so we know the ins and outs and tricks homeowners use to ensure their decks withstand the cold, snowy winter days here in Snohomish.
Let's look at how to prepare a deck for winter in Washington.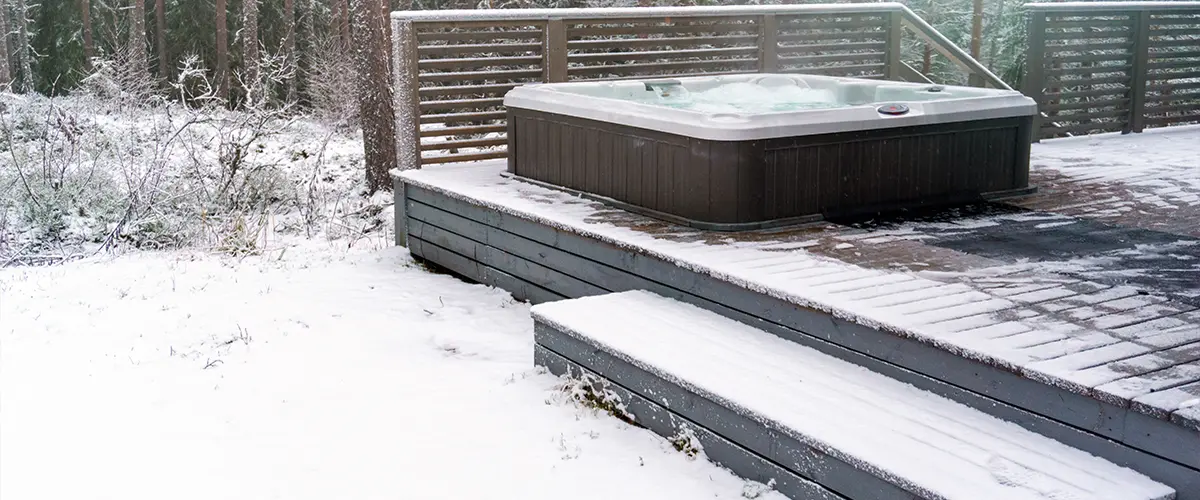 The first step to prepping a deck for the winter is to clean it.
This includes removing any debris, such as leaves and dirt, that accumulated over the summer months. If you have furniture or other items that were left on the deck, it's important to move them out at this time as they could cause mold and mildew to form over the winter if left in place.
Not only that, but if you shovel the snow off of your deck, you want to make sure there's no furniture to damage.
Remove any potted plants, outdoor furniture, chairs, pine needles, and so on.
Once you've done your fall cleaning, it's important to check for any maintenance that needs to be done. This includes looking for loose posts, screws, boards, and other areas that may require repair.
Call a professional for deck repair services if you find any weak spots or rotting wood on your deck, and get everything fixed before the winter season! Get in touch with Burgess Construction to take care of your deck maintenance!
You might not think some rot or a crack is important enough, but here's how the damage will worsen during winter.
When it rains, water seeps into these cracks and deep into the wood. As soon as the temperature drops, that water freezes inside the wood, splitting the wood even harder as frozen water expands. When it thaws, the water remains there, and rot will eventually develop.
This process repeats during the winter, and by the end of the season, a small crack in a wood post will become huge and cause serious trouble.
Lastly, it's important to seal the entire deck's surface before the temperatures drop too far. Sealing will help protect against moisture and keep the wood from rotting.
You should use a high-quality sealant specifically designed for wood decks for the best results. This will ensure full coverage of the deck surface and prevent water or moisture from seeping through.
If your deck has previously been sealed, it's a good idea to check for areas needing to be resealed before winter. Otherwise, expect spongy deck boards first, and then rot.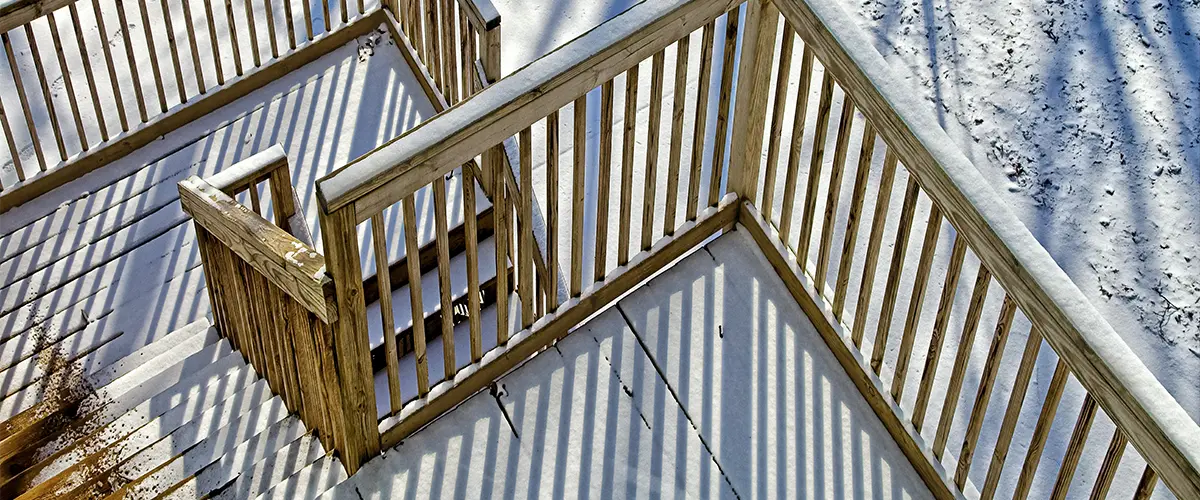 Trim Overhanging Branches
If large branches loom above your outdoor area, check if they can handle the weight of ice and snow.
Cut back any that seem unsafe or dead – a substantial branch crashing down can cause harm to both your deck and house during winter. To be on the safe side, it is best to take preventative steps rather than risk unforeseen consequences in the future.
This is one of the many deck maintenance tips that apply all year round, not just in the winter.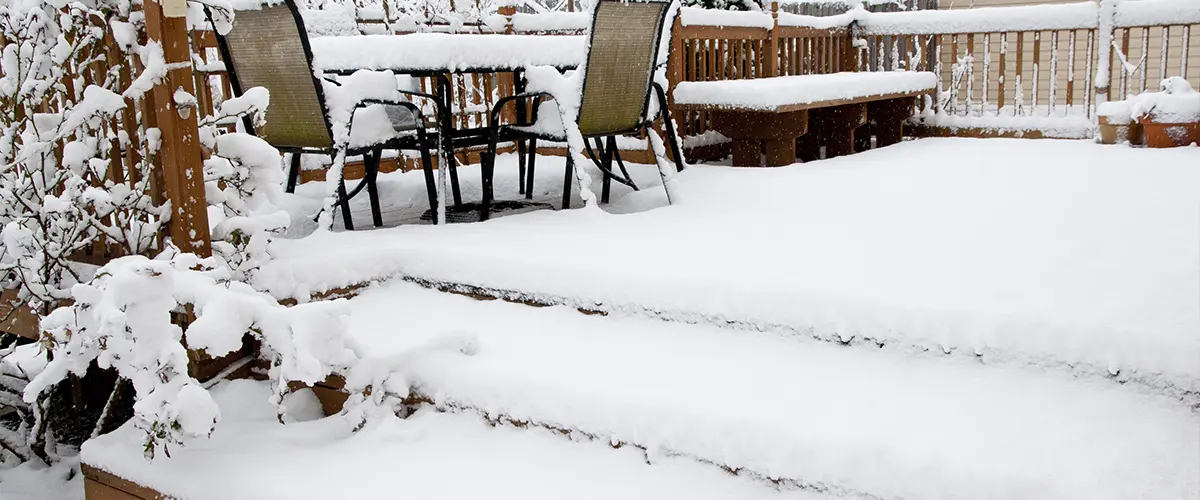 Apply Water Repellant and Sealant
Water tests and discolored patches on a wooden decking indicate water infiltration. As such, it's essential to restore the surface with a sealant to safeguard against moisture damage in winter. Proper precautions will keep your outdoor space looking great even after harsh weather!
After completing the necessary repairs and cleaning your deck, lightly sand it to eliminate any remaining dirt particles. This will enable the sealant to be absorbed into the wood's fibers. Use a shop vac to vacuum off all surfaces once you are finished with sanding for maximum protection from moisture damage.
To protect your entire deck, use a water-resistant sealant specifically designed for the finish of the wood. With an ample brush, apply it generously to all surfaces and edges of your wooden platform. You will be amazed at how much longer this process will sustain its quality! 
Seal-Once Marine Premium Wood Sealer is a great water-repellant sealer.
This step is very important, at least for decks in Snohomish, WA. As we said before, water repellant is of utmost importance for the harsh winter weather and the cold weather in Snohomish.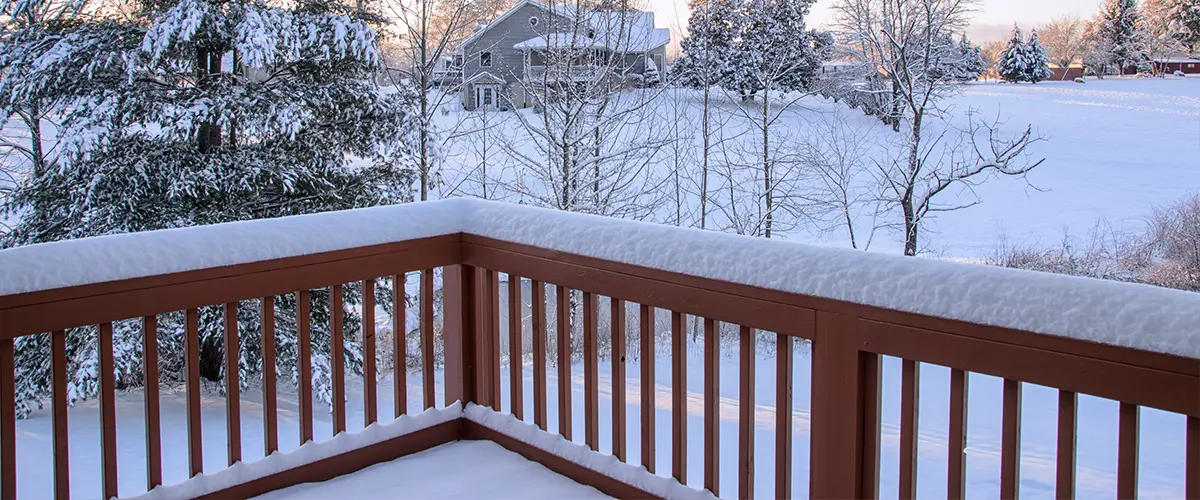 Shoveling snow off a deck is an important task for homeowners during winter.
Not only does it help keep the deck clear and safe, but it also helps to protect the wood from water damage and rot. To do this properly, you'll need to regularly shovel the snow off of your deck as soon as possible after each snowfall.
This is especially important if you have a large area of the deck to shovel or if it's been sitting with snow on it for too long. Also, avoid using deicing chemicals on your deck, as these can damage the wood finish.
You'll also have to shovel snow off because your deck can only withstand so much weight. If the snow is fresh, you'll have an easier time shoveling it, but as soon as it melts, it gets heavier and harder to shovel.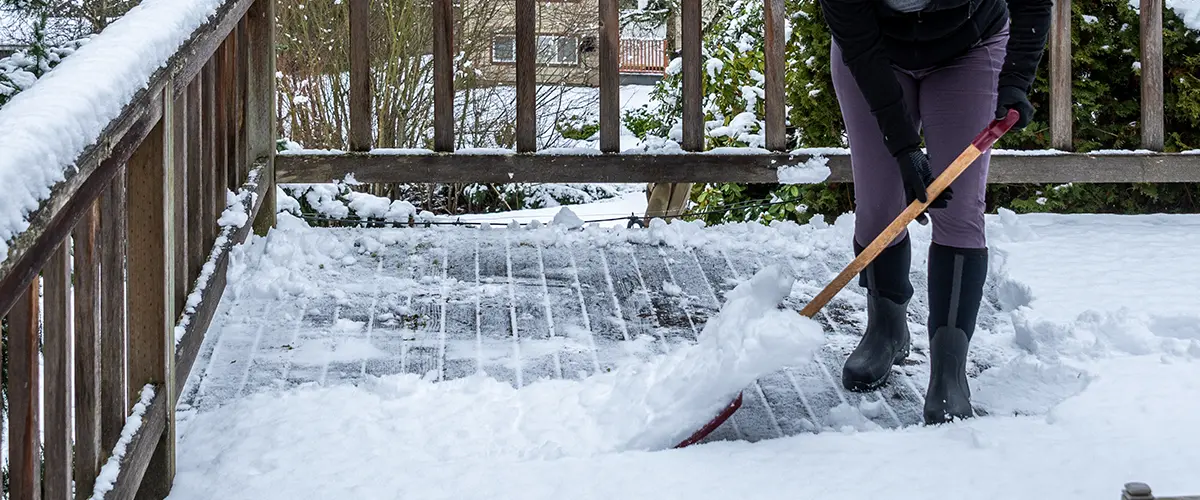 Preparing a deck for winter is actually an on-going task that you'll have to do during winter.
This is especially true if you have a wood deck, like a pressure-treated wood deck or a cedar deck. These materials require the most care and attention and are easily damaged by water.
If you're one of the lucky homeowners that own a composite deck, that's great. Just be careful with shoveling, so you don't damage the boards.
The most important things to remember are to treat your deck boards before the winter with a strong water sealant and to shovel snow regularly.
If you want us to prepare your deck for winter, give us a ring at (425) 791-5281! We'll do an in-depth deck inspection to determine the most urgent fixes and professionally seal and stain your deck for the winter weather.