The Best Deck Building In Everett, WA
Looking to get a new deck addition in Everett? Work together with your local carpenters to see your vision through!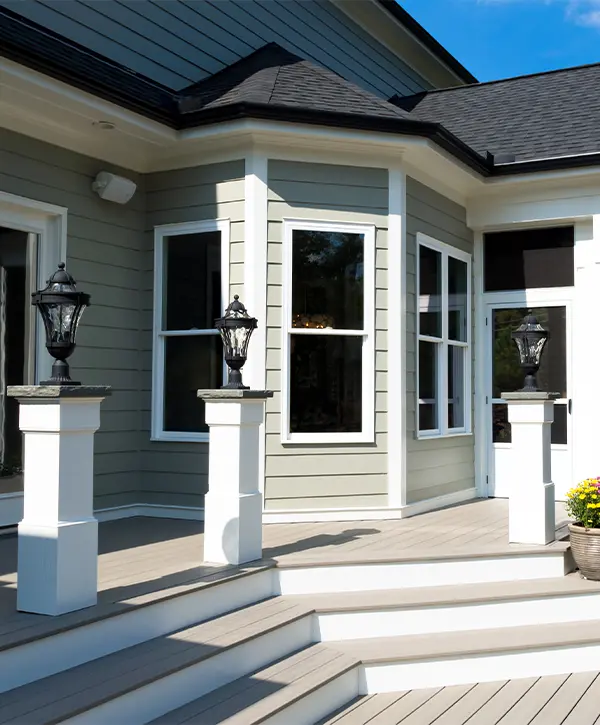 Are you interested in starting a deck building project in Everett, WA? If so, Burgess Construction is the perfect company for you! We offer quick and easy solutions so that you can enjoy your new deck as soon as possible!
We are dedicated to providing our clients with high-quality decks at a fair and affordable price. You'll get a team of carpenters, all experts in the decking industry and dedicated to seeing your vision through.
Our goal is to improve the deck building industry as a whole and change how homeowners see contractors by proving professionalism, transparency, and fairness.
Get Yourself A Deck With Additional Perks!
We're over the moon to see our clients satisfied with their new deck addition. This happens because we go above and beyond what is required of us, and we over-deliver on every project we undertake.
Enjoy A Pristine Backyard With A Premium Service
At Burgess Construction, we're building decks that are not only aesthetically pleasing but also safe and practical. We take everything into account with every single one of our designs so that you can be confident in your invested value – both property-wise and emotionally.
You're receiving a premium deck from us that will leave all of your guests and potential buyers speechless. During the construction process, we'll make sure to clean the site and keep your loved ones away from any harm.
You'll enjoy a team of reliable and polite workers that will always put you in the driver's seat and execute your vision to perfection.
Homeowners In Everett Love Their New Decks!
If there's one thing we're proud of, it's our craftsmanship. Homeowners in Everett love their new decks, and it's all because we're dedicated to making them happy. See what they say about working with us!
Burgess Construction is an incredible team from Stephanie's amazing communication, design process, and updates along the way, to the crew that built two decks in just over a week!
Thank you so much for helping see our vision become a reality!
Love the quality of craftsmanship with our brand new deck Blaine and his crew just built for us. 
They were on time and hardworking even with such rainy weather. Highly recommend!! Also, really loved working with Stephanie. 
Super responsive and professional. Looking forward to our next project to be completed for our fence.
Type Of Deck Upgrades And Materials
The deck building industry has changed a lot in recent years, with low-maintenance composite materials becoming more popular than ever before. Aluminum features are also becoming increasingly common, as they can help to extend the lifetime of your deck.
However, there are still a lot of different materials to choose from – so it's important to do your research before making any decisions.
The number one reason that decks fail is due to the frame. Even though pressure-treated wood is a popular choice for homeowners, it's not the best option. Grade 1 pressure-treated wood can still rot and develop mold and mildew, which ruins both the safety and aesthetics of your deck.
If you're looking for a steel or aluminum frame from a reputable brand, Fortress Building Products is the way to go. Not only do their products pair well with all types of decking, but they're also built to last. Metal frames may cost more upfront, but they'll definitely save you money in the long run.
If you're sick of maintaining your wooden deck, then consider replacing it with composite material. This will save you money on expensive upkeep while still giving you a beautiful outdoor area to enjoy. Composite decking is an excellent alternative that requires hardly any work to keep it looking great.
If you want to stick with a wood deck, we recommend choosing hardwood. Mahogany, ipe, or teak are just some hardwoods that make great decking materials.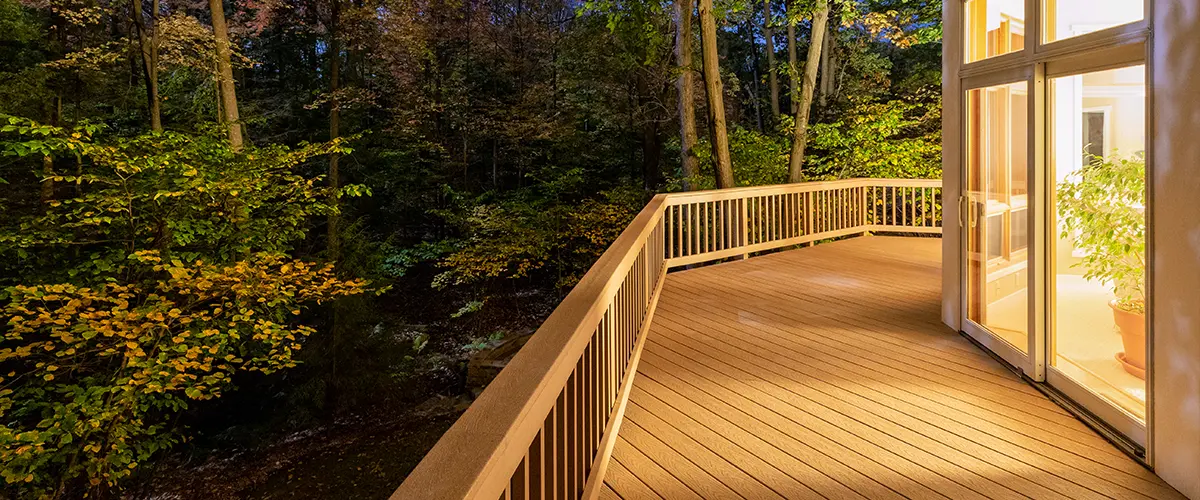 Railings will add to the look of your deck and help it seem complete. Railings, on the other hand, will not only make your deck safer for you and your family but also improve how safe it feels.
With railings, your decision will be easy.
Believe it or not, some states and cities mandate that decks have lighting. Here in Everett, WA we love our deck lights! Some of the most popular options are stairs and railing lights because they provide a warm ambiance while also giving your guests guidance at night.
As a general rule, low-voltage lights are the best option as they won't368 break the bank but still offer high quality.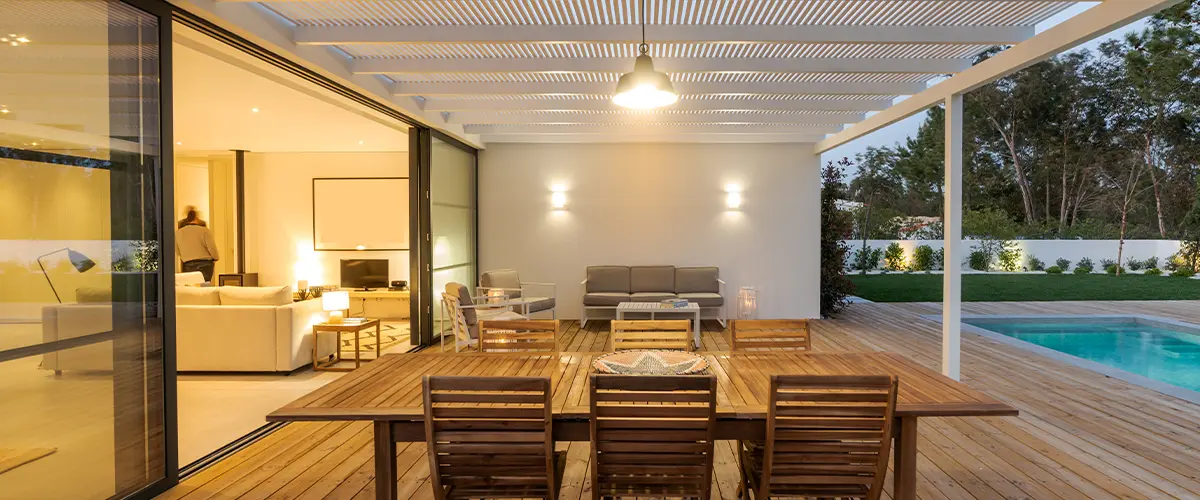 Ideas For Your Deck Building In Everett WA
If you're not sure where to start with your deck building in Everett check out our gallery! Discover what you'd like your addition to look like and let's make it happen together!
Deck Building In Everett Has Never Been Easier
You'll go through a process designed exclusively to make your deck-building project a whole lot easier!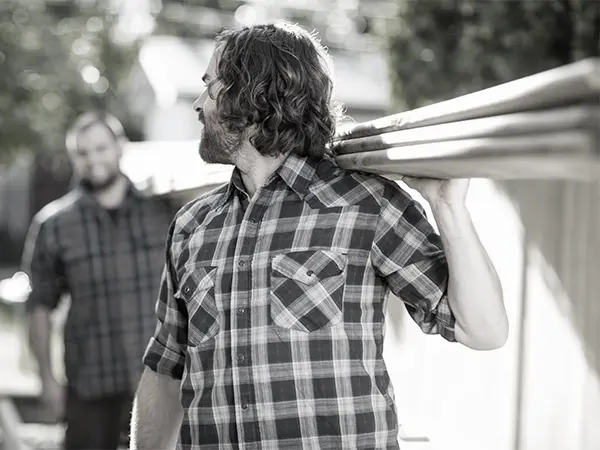 You're already doing this! Get your quote and we'll get back to you.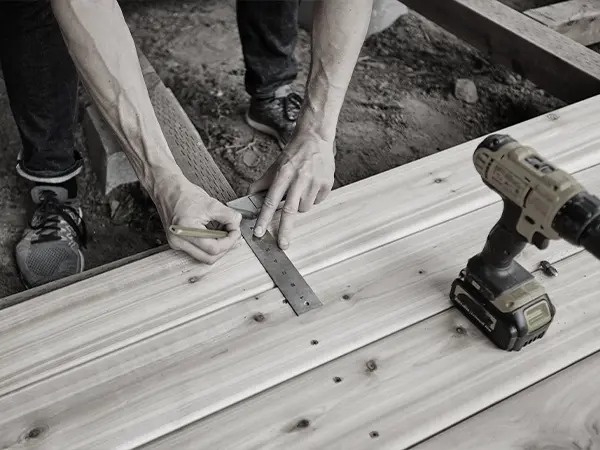 You'll be part of an incredible deck-building journey – yours!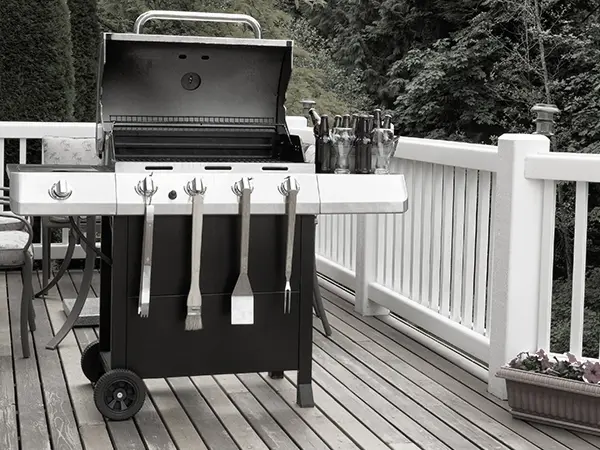 Start planning your next barbecue and invite people over!
Frequently Asked Questions
Several things will affect the final cost of your deck, such as its size, how high off the ground it is, what materials you want to use, and whether or not it needs stairs or other features.
For example, a basic 12×12 cedar deck would only cost around $15 thousand dollars, while something more complex like a 20×12 composite deck with aluminum railings and fascia wrapping as well as a set of stairs could reach up to $35 thousand.
At our initial on-site consultation, we help determine the scope of work that needs to be done. Afterward, you'll have no trouble budgeting for the project because you'll know exactly what's involved and which materials would suit your taste best.
The majority of our projects take three days. For more complex tasks, such as a larger deck elevated from the ground with all kinds of enhancements and added features, we allocate a week. We'll provide you with a time frame that's beneficial to you and your family, depending on your demands. You'll receive a more precise timetable at our on-site visit so you can plan ahead.
Yes! We provide a 5-year workmanship warranty, which guarantees that your deck will last for as long as you live in your house. You'll also get a limited-to-lifetime materials warranty from the manufacturer.
A permit is often required for a new deck build, with some exceptions. At Burgess Construction, we can take care of all the paperwork for you, from getting the permits to scheduling the inspections. We're well accustomed with the deck building codes in Everett, so you're ensured the highest construction standards.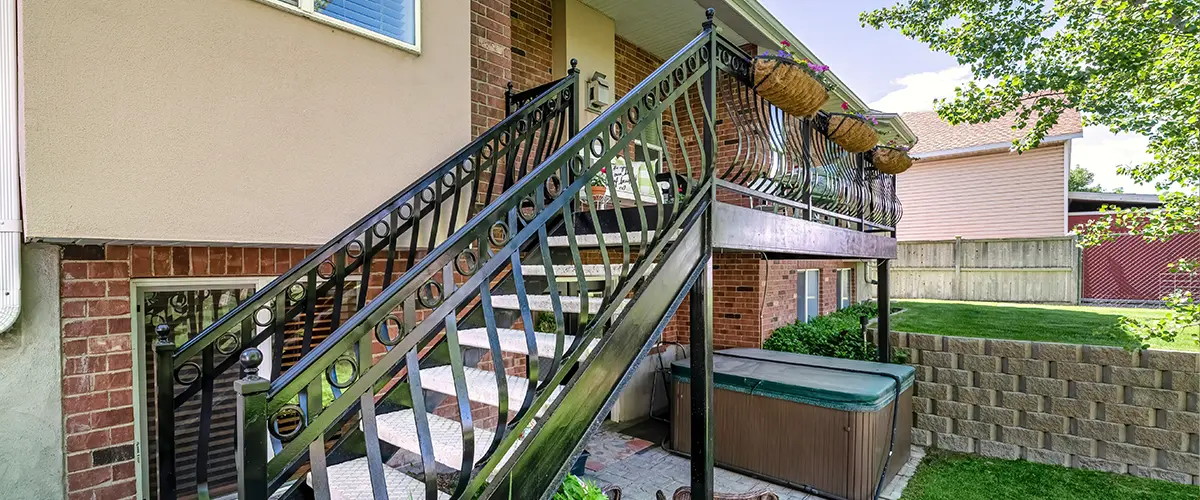 Have The Best Deck Builders In Everett On Your Project!
Locating a reputable and honest contractor may be difficult, but not in Everett. If you're looking for one of the top deck builders in your city, look no further than Burgess Construction!
Your requirements, tastes, and lifestyle will become our #1 priority, and you'll see your dream come to life by the hand of the best carpenters in town.
We tend to over-deliver, so besides a beautiful, safe, and long-lasting deck, you'll also get:
Get A New, Quality Deck Building In Everett Today!