Deck tiles are a new type of decking material that's rapidly growing in popularity because of their design and ease of installation.
All in all, deck tiles are not a bad choice for your outdoor space, but they're nothing compared to the natural look of a cedar deck.
In this article, we'll go over the most important aspects of deck tiles, so you can find out if this material is what your outdoor space needs.
Let's begin.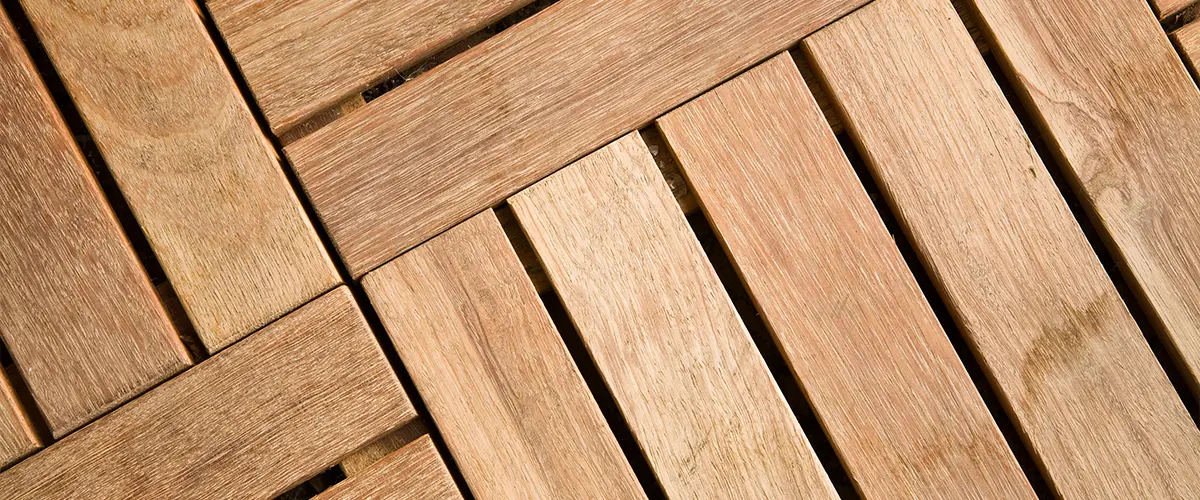 What Are Deck Tiles Made Of?
Deck tiles are typically made of composite materials, such as a mix of recycled plastic and wood fibers. In terms of materials, they're very similar to composite decking boards from Trex or TimberTech, but their design is different.
This type of material is chosen over traditional wood for its durability, low-maintenance properties, and because it's more eco-friendly than pressure-treated or cedar wood decks.
Deck tiles are often marketed as resistant to fading but can also withstand harsh weather conditions without warping or splintering, something natural wood is prone to. Deck tiles are also mold and mildew resistant, but it's not impossible for them to develop mildew when left unattended for longer periods of time in harsh weather and nasty conditions.
Some of the best deck tile brands on the market these days are: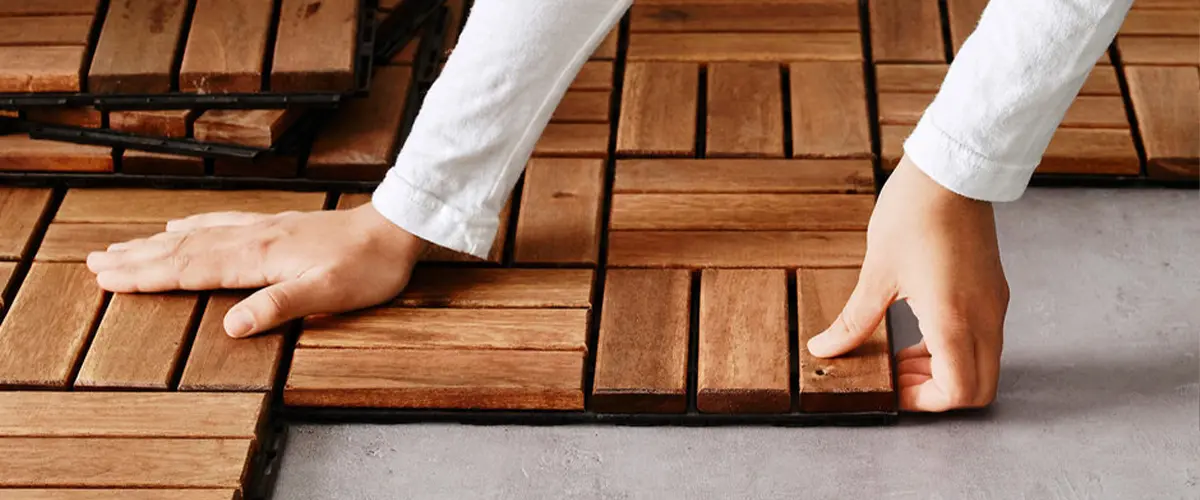 The best part about deck tiles is that their installation is much easier and faster than traditional wood decking or composite.
All you need to do is lay down the tiles, connect them with clips, and then secure them in place with screws or special adhesives that are designed for outdoor use. With deck tiles, there's no cutting required, and all you need to do is measure your space and determine the number of tiles you'll need.
Then, you'll just have to worry about their cost.
Deck tiles are affordable, at least compared to a high-quality composite decking board. Besides, they come in various styles and colors, so you can customize your outdoor space without breaking the bank.
Depending on the size and material, most deck tiles range in price from $3 to $10 per square foot.
Deck tiles are definitely a material worth looking into. Let's see some of its benefits so you know for sure if they match your needs and lifestyle.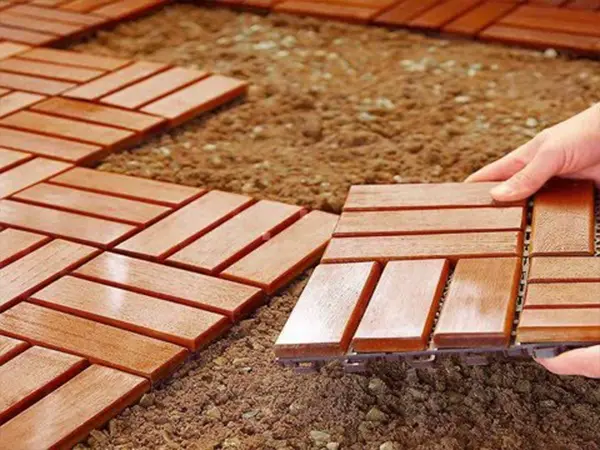 Deck Tiles Are Quick & Easy To Install
There are two ways to install these systems. One involves snapping interlocking deck tiles together and the other involves using a screw-and-washer fastening system on pedestals. 
Both methods are designed to be simple and logical and can be completed quickly by both experienced professionals and DIY enthusiasts.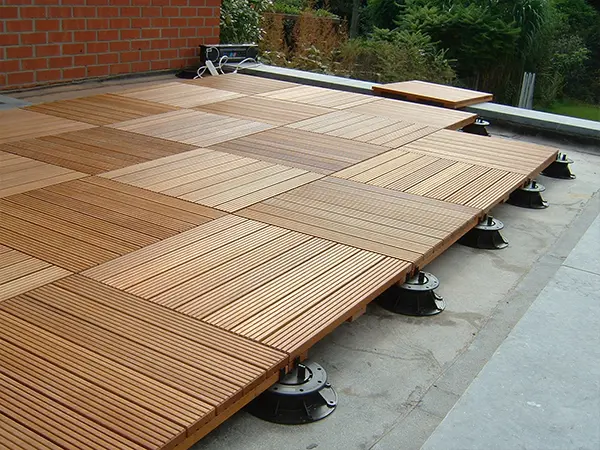 Deck Tiles Dont Require A Flat Surface
Pedestal systems allow you to make a level patio surface even on uneven ground so you can install outdoor tiles without a worry. 
You can expand your patio area to any desired location using adjustable supports. 
These supports can be installed on concrete, stone, or brick surfaces, whether it's on the ground or on a rooftop.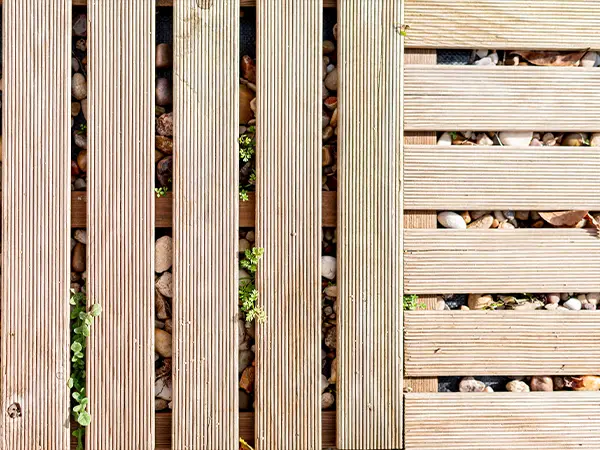 Decking Tiles Are Low-Maintenance
With deck tiles, you won't need to spend long hours on routine maintenance and they will last a long time. 
If you're the type of homeowner that would rather enjoy his outdoor space and not maintain it, decking tile might be the perfect solution for your particular lifestyle.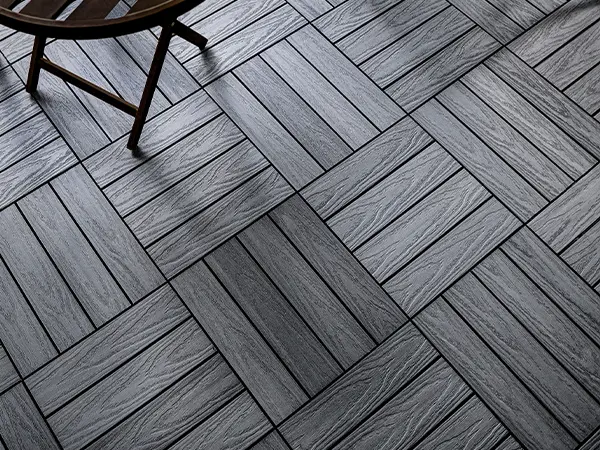 There Are Plenty Of Deck Tile Style
Big box stores like Lowe's, Home Depot, and more, offer a variety of options for deck tiles. 
Deck tiles can mimic the natural look of many hardwood species, like cumaru, ipe, tigerwood, etc. 
You can find different sizes, designs, and layouts, all to help you create the perfect outdoor space for you and your family, but on a budget.
Frequently Asked Questions
Let's see some of the most popular questions that homeowners ask us about deck tiles.
Deck tiles are definitely going to be a big player in the deck building industry. These materials are affordable, easy to install, and can make a deck or a patio look great.
Sure, there will always be homeowners that prefer natural wood on their decks, but this is yet another alternative that you can use for various other purposes, not just decks.
If you want to learn more about what it takes to build a deck, or you want more information about deck tiles and where you can get them, request a free quote or call us directly at (425) 791-5281!