Deck Repair Cost In Snohomish, WA
No time to read this guideline? Get accurate pricing on your upcoming project right now!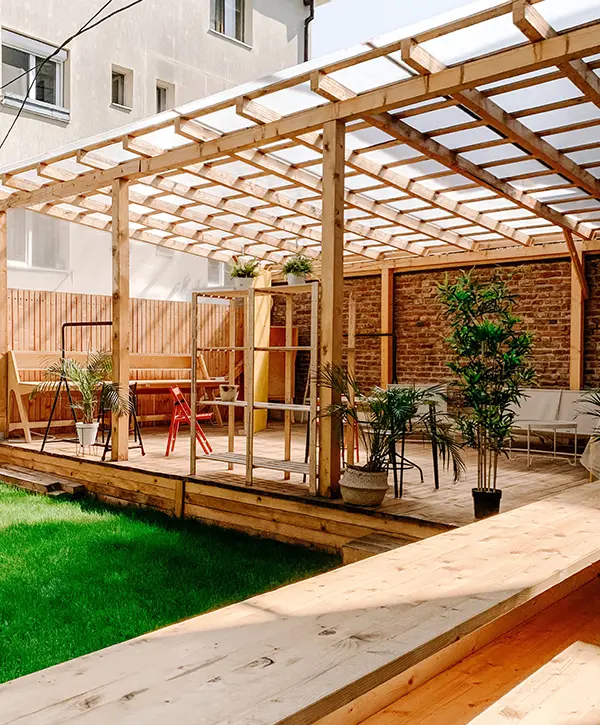 More and more, homeowners are becoming increasingly suspicious of contractors as they offer overpriced estimates that make the job feel like a struggle.
At Burgess Construction, we're revolutionizing the industry by delivering top-tier deck repair costs in Snohomish, WA. We are committed to providing straightforward and honest services for a budget-friendly price that most homeowners can manage!
Transform your outdoor area into something that looks brand new without investing in costly construction by taking full advantage of our complete deck repair service.
A Deck Repair Cost That's Well Worth It!
We never compromise on quality, ensuring that every detail is taken care of so you can be fully satisfied with your deck repair project! Our commitment means that no shortcuts or corners will ever be cut in order to provide you with an outstanding experience.
A Sensible Deck Repair Cost That Won't Break The Bank
At Burgess Construction, we understand the importance of a safe and sturdy deck for you and your family. That's why our team will collaborate to ensure that your deck repair is efficient and aesthetically pleasing. You can count on us to create a beautiful outdoor space while providing superior-quality workmanship!
Our approach is straightforward and tailored to your specific needs – we'll identify the primary flaws in your deck as well as contemplate what you expect from it eventually. We're here to provide our expert advice, but of course, you will have the last word.
With Burgess Construction, you can be in the sun on your new deck faster than ever! We understand how important time is to our customers and proudly offer a quick and thorough repair experience that no other Snohomish contractor can match.
Here at Burgess Construction, we offer professional deck repair services for all homeowners in Snohomish, WA. Check out our offer and get the best deal in town!
Homeowners In Snohomish Love Their Freshened-up Decks!
Check out what our customers say about working with us for their deck repair projects!
We hired Burgess again for our deck rebuild. The crew did an amazing job, again!
They showed up on time and completed the tear down and complete rebuild of our deck in 4 days.
It looks beautiful and we can't wait to enjoy it this summer. 5/5 would recommend for any fence and/or deck projects.
Blaine and his crew replaced my deck and fence this week and they did a fantastic job!
They were on time, in budget, and super communicative.
I will use Burgess for all my deck & fence needs in the future, and recommend to any who ask.
I wish I had this experience with every contractor I worked with thank you for everything, Blaine!
Typical Deck Repair Cost In Snohomish, WA
When it comes to restoring your Snohomish deck, the total cost will depend on how extensive the damage is and what needs to be done for repairs.
Typically, a wood deck renovation with composite materials will cost you around $12,000. However, if you also decide to install new railings and resurface the stairs at the same time, then the total of your project may soar up to an estimated $17,000.
Let's examine some of the most frequent deck repairs and how much they'll cost.
Resurfacing A Wood Deck With Composite
If you are looking to replace your old wood decking with composite materials, it is estimated that this project will cost around $15,000. The existing surface must be discarded, and new boards purchased, and a professional installer should be enlisted for such an undertaking.
Taking into account these elements will guarantee that your project runs smoothly and effortlessly, with no unwelcome surprises!
For most of our decking replacements we use medium-to-high quality TimberTech and Trex products conveniently priced at $60-$70 per square foot. Nevertheless, if this range does not satisfy your budget or desires, don't worry! We've got plenty of alternatives for you to consider.
Building a deck with wood materials is an excellent option, and the following table provides average costs per square foot. However, it is important to bear in mind that the price of lumber may vary depending on where you get it from; however, installation fees usually remain constant.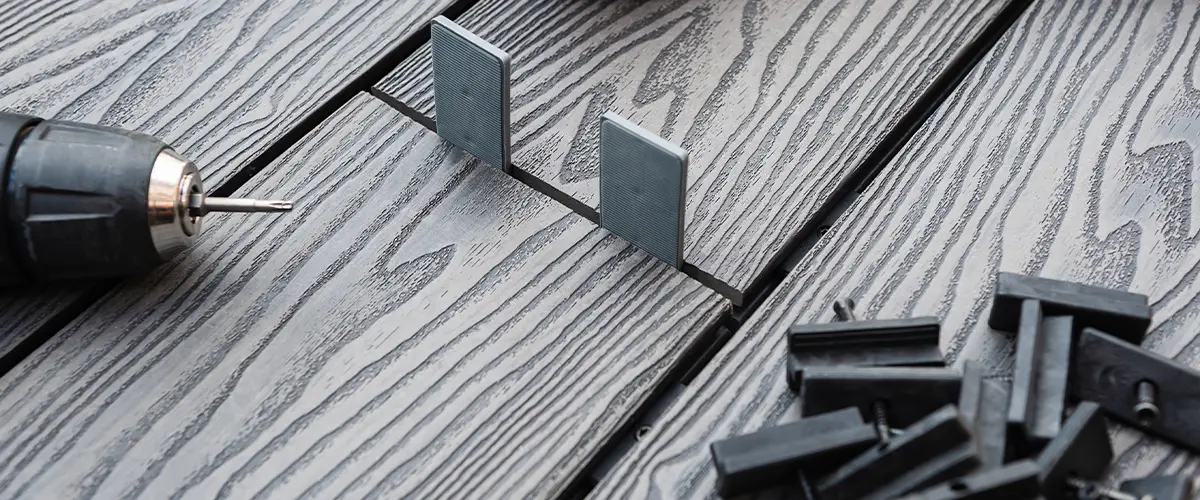 Years of weathering can weaken and damage your outdoor deck's wood railings, resulting in an outdated and potentially hazardous experience for you and your family. To make sure that your outside space is secure to enjoy all year round, nothing beats new railing systems!
With their strength, style, and safety features – replacing them is the most sensible choice.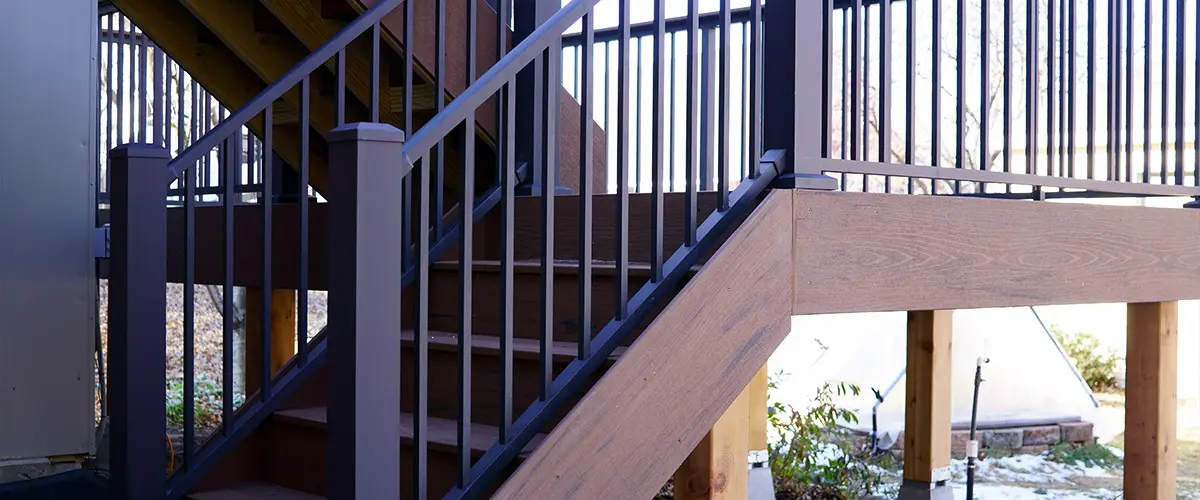 As we have noticed, wooden deck posts are oftentimes placed in the ground, which can be damaging to them. Pressure-treated wood is designed to endure a number of components, such as decay and water or bug damage, but it simply cannot survive when buried underground.
Neglecting even one part of your deck puts its stability and the safety of you and others who use it in jeopardy.
If you're looking to upgrade your deck, the cost of replacing posts and pouring concrete footings can range anywhere from $200-$400 per post. This fee can differ depending on the size and shape of your deck – individual posts average around $100-$250 based on measurements and quality.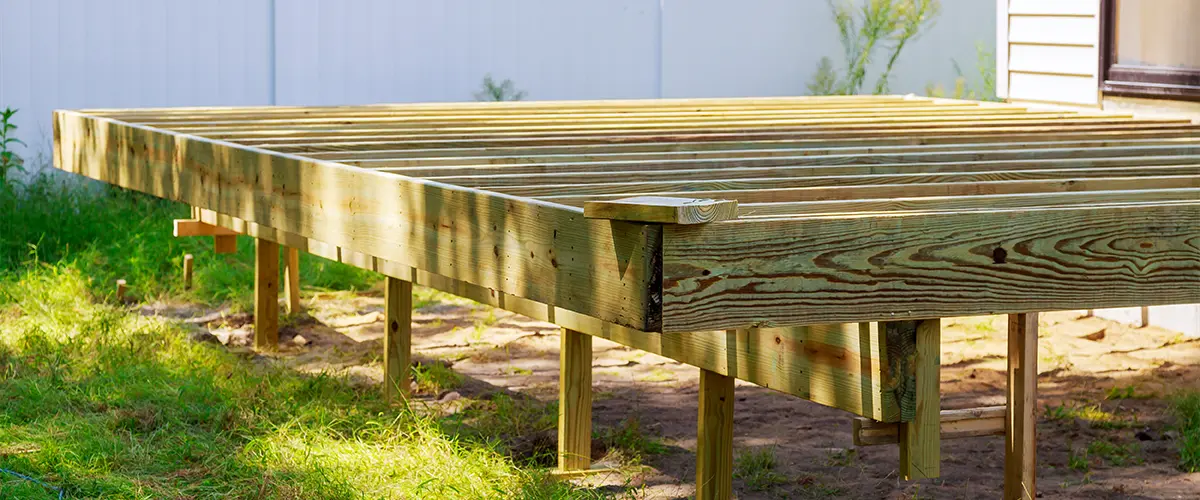 Handrails and wheelchair ramps provide more than help for those with limited mobility; they also ensure that stairways meet safety requirements, providing a safe environment for everyone to enjoy.
If your stairs or handrails are unsteady, it is important to take action quickly. The cost of replacement depends on the type of material used; generally, repairs can range from $500 up to a full set that costs an average of $2,350 and above.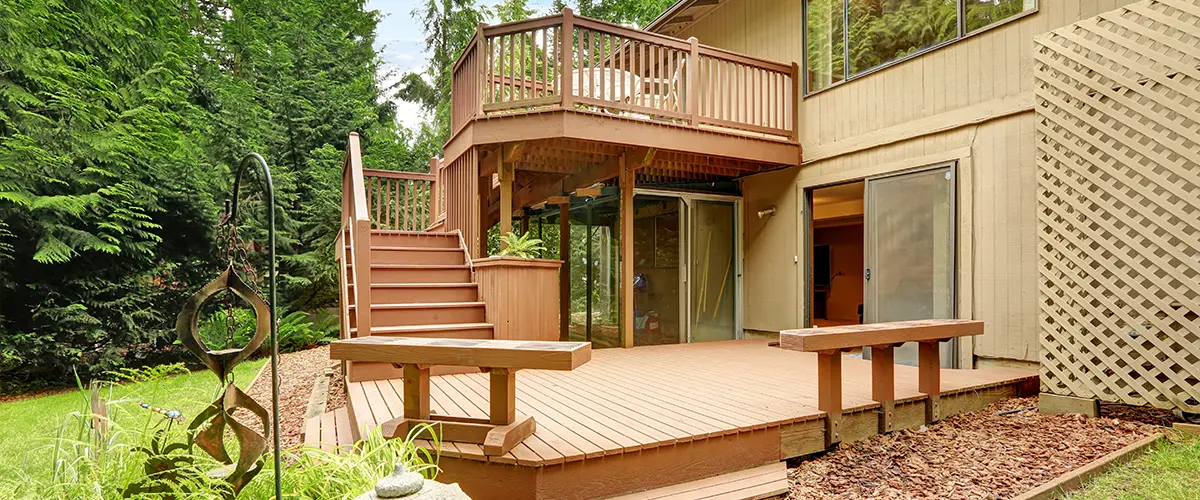 Repairs Of Extra Features
Ensuring your pergola, awning, deck lights, and other outdoor fixtures are regularly inspected is absolutely essential for optimal maintenance. Wooden pergolas especially need to be closely monitored since they're exposed to changing weather conditions throughout the year. By frequently checking on them and taking preventative measures, you can preserve their longevity for years of use!
Wood pergola repairs can range in cost, depending on the degree of damage; some fixing may even reach up to $2,000. On the other hand, replacing a few deck lights might cost only a couple hundred dollars.
Tips To Follow When Budgeting For Your Deck Repair Cost In Snohomish
Be Thorough With Your Repair
It can be tricky for customers trying to decide which smaller deck damages to fix. Though minor flaws may not necessarily cause an issue, a decrepit and unsteady frame could spell trouble. Although aesthetics are nice, safety should be your priority when it comes to your deck.
If you are determined to acquire the deck of your dreams, it is imperative that you ask detailed questions of your contractor. Doing this will ensure they comprehend exactly what type of outcome you envision and make them cognizant of how earnestly important a successful result is for all parties involved. Asking queries not only benefits each individual tied to this venture but also underscores just how devoted you are in obtaining a flawless final product.
Expect the unexpected. Even with our 20% breakage coverage, there may still be issues—like finding that railings have deteriorated or concrete blocks have sunken. Maybe you've changed your mind about decking material and would like to switch it out. It's always wise to set aside extra funds for whatever might come up to safeguard your project against any potential problems.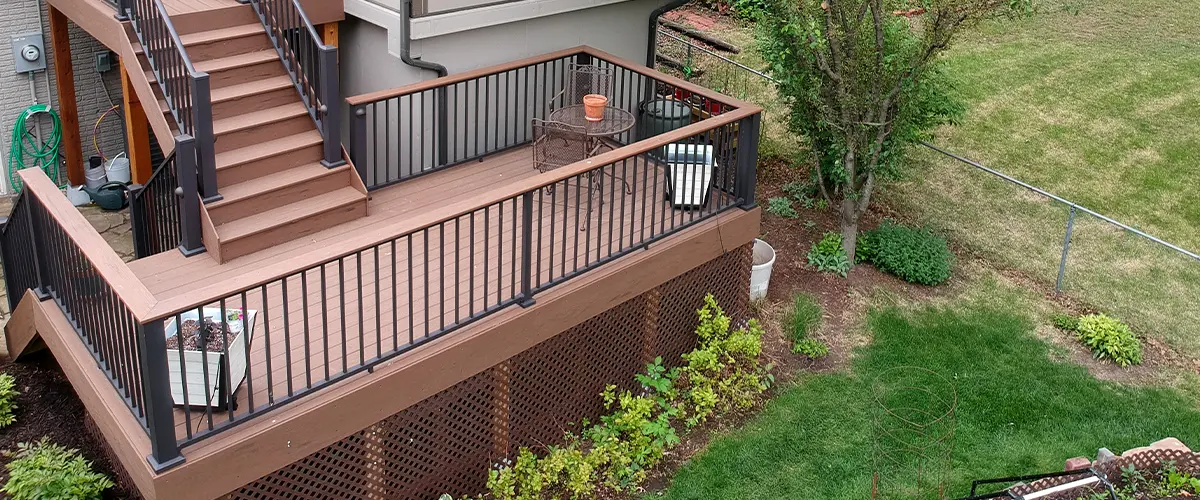 Get Full Transparency On Your Deck Repair Cost In Snohomish!
Homeowners may have inadequate details, and it is difficult for the contractors to explain their prices in easily understandable terms.
At Burgess Construction, we prioritize giving our customers the best possible service – from start to finish. We are dedicated to making sure you stay informed and comfortable every step of the way; rest assured that any details will always be taken care of!
For the most budget-friendly price in Snohomish, our deck repair service is straightforward and efficient. Plus, we offer a range of extra benefits:
Get The Most Advantageous Deck Repair Cost In Snohomish!