Deck Repair Cost In North Creek, WA
No time to read this guideline? Get accurate pricing on your upcoming project right now!
As the cost of lumber and labor continues to climb, homeowners are concerning themselves with the deck repair cost in North Creek, WA.
To help deck owners in North Creek revitalize their outdoor space and make their projects financially feasible, we come to their help with cost-effective solutions, each personalized to your particular needs and preferences.
With Burgess Construction, you're getting a top-tier deck repair at a reasonable price, and a thorough service that's sure to uplift your outdoor space and make it functional and safe again.
A Thorough Deck Repair That Leaves Nothing Behind
We've seen many contractors in North Creek and surroundings compromising the quality of their service to finish the job quicker and go to the next. Burgess Constructions wants to set the bar higher for all decking projects in the area, so we go the extra mile to see you fully satisfied and your deck fully functional.
A Sensible Deck Repair Cost That Won't Break The Bank
At Burgess Construction, safety and reliability are our top priorities for any deck repair we work on. You'll get a team of experienced professionals that guarantee maximum efficiency for your deck and a beautiful outcome overall.
We take a customized approach to inspecting and refining your structure to ensure we tackle the most important issues on your deck. We'll pinpoint any potential issues with the structure and map out how everything will go. From that point, it's your call if you want to fix your deck or not.
If you dream of lounging in the sun on a deck that looks like new, you're closer than ever! Don't overspend on a brand new deck and hurry up with a repair to what you already have, and enjoy a new, fully functional deck at a fraction of the price!
Here at Burgess Construction, we offer professional deck repair services for all homeowners in North Creek, WA. Check out our offer and get the best deal in town!
Homeowners In North Creek Love Their Freshened-up Decks!
Check out what our customers say about working with us for their deck repair projects!
We hired Burgess again for our deck rebuild. The crew did an amazing job, again!
They showed up on time and completed the tear down and complete rebuild of our deck in 4 days.
It looks beautiful and we can't wait to enjoy it this summer. 5/5 would recommend for any fence and/or deck projects.
Blaine and his crew replaced my deck and fence this week and they did a fantastic job!
They were on time, in budget, and super communicative.
I will use Burgess for all my deck & fence needs in the future, and recommend to any who ask.
I wish I had this experience with every contractor I worked with thank you for everything, Blaine!
Typical Deck Repair Cost In North Creek, WA
Most of our deck repairs are replacing old, unsecured wood decking with new composite materials. For most decks, this project costs about $12k. If, however, you want new stairs and railings as well, the cost can rise up to $20k or more.
Let's examine some other frequent deck repairs and how much they'll cost.
Resurfacing A Wood Deck With Composite
For most of our decking replacement projects, we utilize medium-to-high quality TimberTech products conveniently priced at $60-$70 per square foot. Nevertheless, if this range does not satisfy your budget or desires, don't worry! We've got plenty of alternatives for you to consider.
If, however, you want to stick with wood decking, but better, there are many options to look at. We recommend hardwoods as they are much more resistant to weathering and the elements.
They're more expensive, but 100% worth it.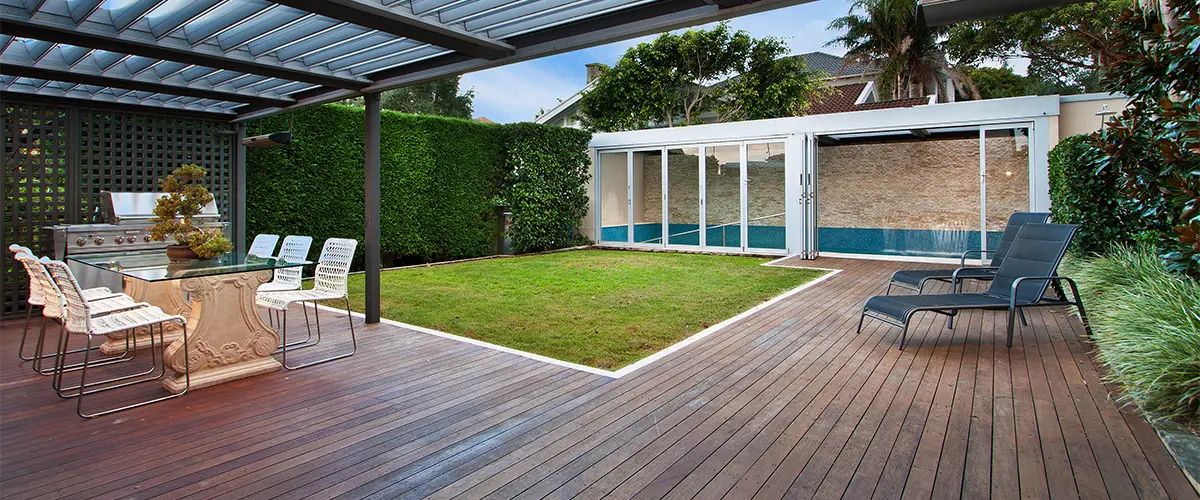 Over time, the weather can take its toll on your deck's wooden railings, leading to an unpleasant and potentially dangerous environment for you and your family. For most of our deck repairs in North Creek, railings are definitely an aspect worth looking into.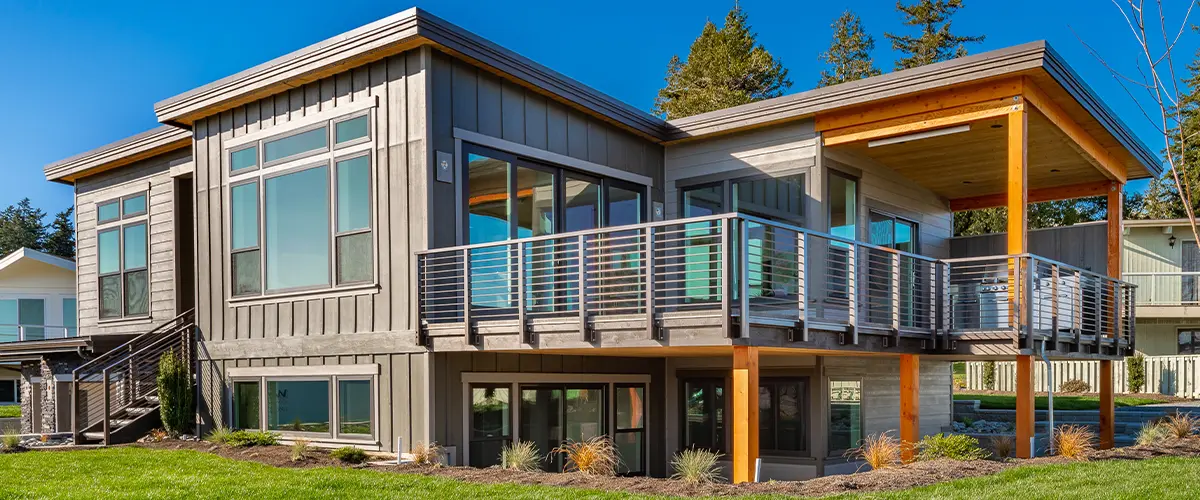 Wood posts placed directly in the ground is a deck building mistake that carpenters used to make back in the day. Obviously, all wood species would succumb to rot, water damage, and pest damage much quicker.
We still see old decks with posts buried in the ground and we know for a fact that the posts are most likely rotten.
The cost of replacing posts and pouring concrete footings can range anywhere from $200-$400 per post. This fee can differ depending on the size and shape of your deck – individual posts average around $100-$250 based on measurements and quality.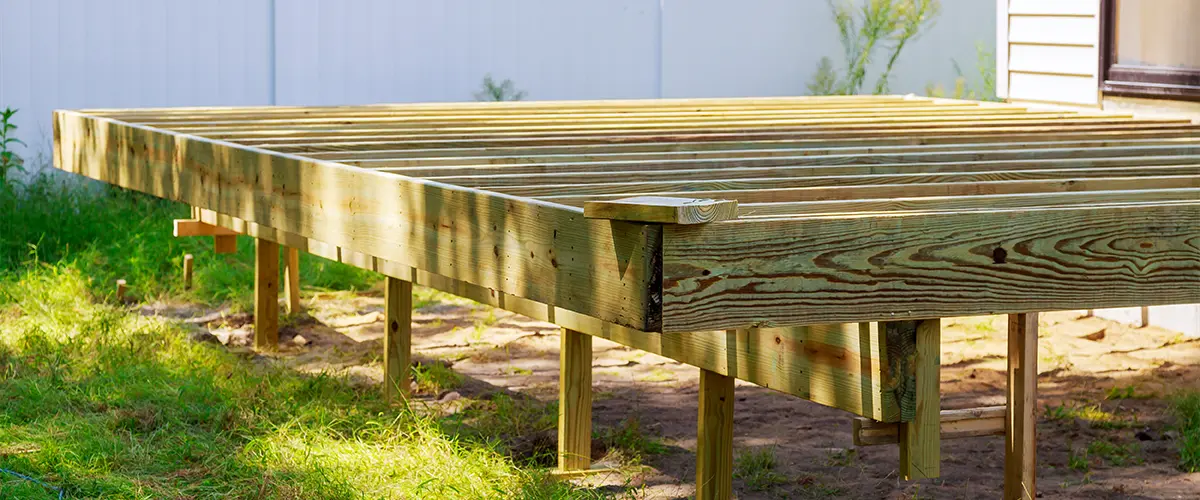 Handrails and wheelchair ramps are not only beneficial for those with limited mobility; they also help make stairways safer, making premises a secure space for all to enjoy.
If your stairs or handrails are unsteady, it is important to take action quickly. The replacement cost depends on the type of material used; generally, repairs can range from $500 to a full set which costs an average of $2,350 and above.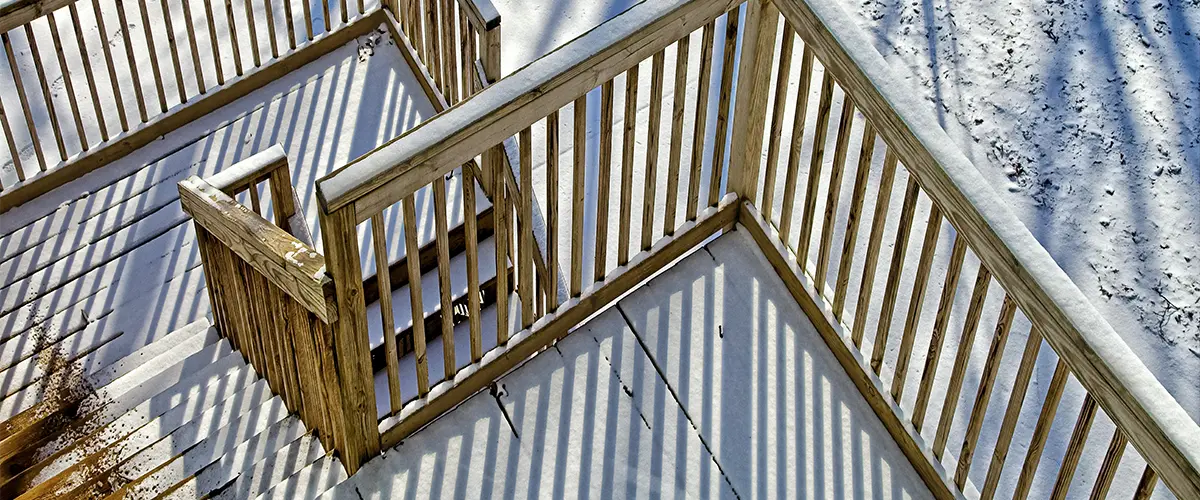 Tips To Follow When Budgeting For Your Deck Repair Cost In North Creek
Be Thorough With Your Repair
Making a decision on how to address minor deck wear and tear can be confusing for customers. Although it may seem like only a cosmetic issue if the frame of your deck is unsteady or in disrepair, you should prioritize safety before aesthetics. When dealing with your home's outdoor space, security ought to take precedence over style!
If you're dedicated to attaining the deck of your dreams, it is essential that you pose thorough inquiries to your contractor. Doing this will guarantee they understand precisely what kind of result you aspire for and make them aware of how crucial a successful outcome is for everyone involved. Questioning not only benefits each person tied to this task but also highlights just how committed you are to obtaining an impeccable final product.
Prepare for the unexpected. Even with our extensive 20% breakage coverage, certain issues may arise–like discovering that railings have become weakened or concrete blocks immobile. You might even alter your mind regarding decking material and decide to exchange it out afterwards. To ensure a successful project, setting aside additional funds is always prudent should any unanticipated roadblocks occur along the way!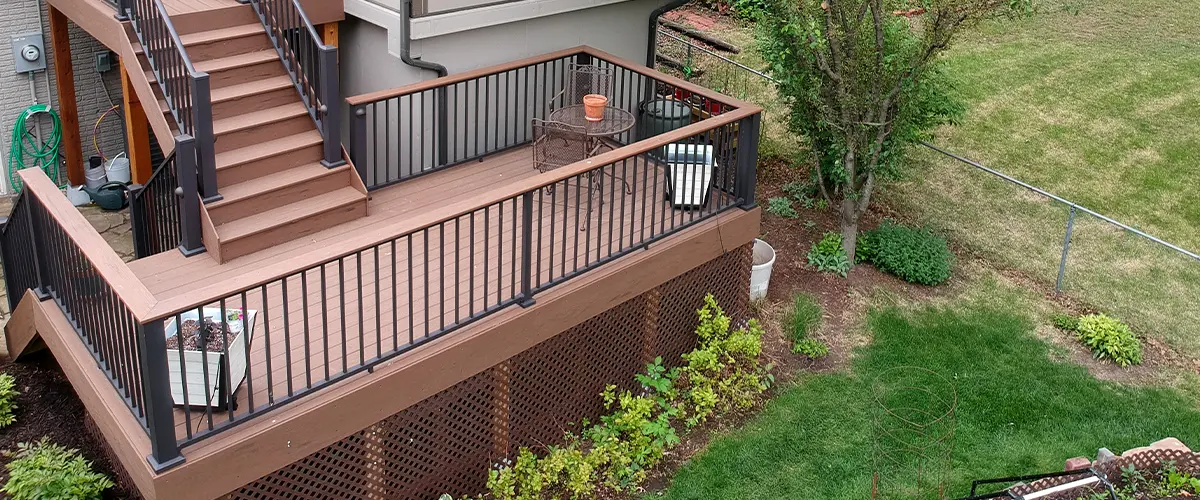 Get Full Transparency On Your Deck Repair Cost In North Creek!
Homeowners may be uninformed about a project, making it hard for contractors to express the associated costs in an accessible and straightforward manner.
At Burgess Construction, we are committed to providing our clients with the highest quality service from beginning to end. We understand that communication is paramount throughout any project and strive to keep you informed and comfortable every step of the way – no detail will ever be neglected!
For the most budget-friendly price in North Creek, our deck repair service is straightforward and efficient. Plus, we offer a range of extra benefits:
Get The Most Advantageous Deck Repair Cost In North Creek!