Deck Repair Cost In Everett, WA
No time to read this guideline? Get accurate pricing on your upcoming project right now!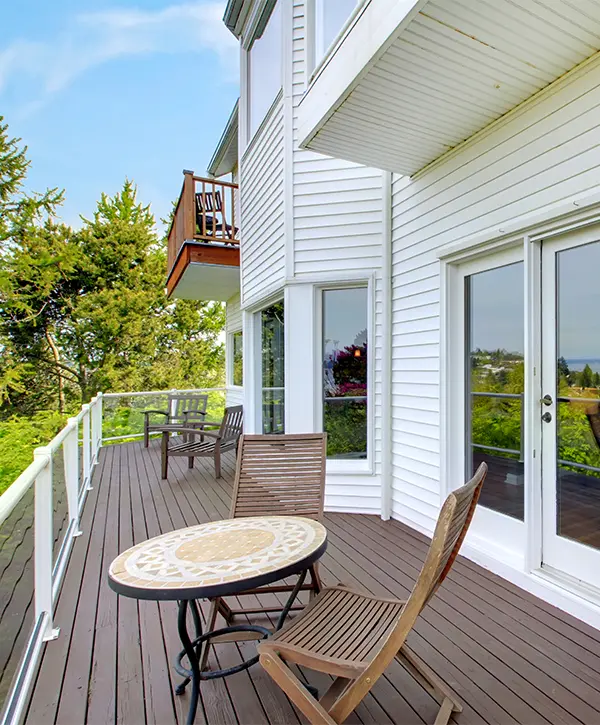 Are you looking to start a deck repair project, but you're worrying about the cost of going through with the idea? Here at Burgess Construction, we've got you covered!
With us, you're getting a fair and reasonable deck repair cost in Everett, WA! We put your needs and concerns first, and we aim to deliver a high-quality deck repair that doesn't break the bank. You'll enjoy a transparent pricing quote that we'll respect throughout the job, and we'll let you know about any changes.
What you'll get will be nothing short of exceptional, and your deck repair cost will actually be your best investment this year!
A Deck Repair Cost That Makes You Start Your Project Today
We can reassure you that you'll get the highest quality craftsmanship and a reliable deck repair crew that puts you at the front and center of your project. We truly care about your project and we want to deliver a smooth repair that gives you comfort and makes you proud of your outdoor space again!
Get A Reasonable Deck Repair Cost With Burgess Construction
At Burgess Construction, we prioritize the safety and security of your deck and family. We take no risks regarding our craft, and we'll go above and beyond to offer a thorough deck repair where nothing remains unattended.
Teaming up with us ensures you get a durable and superior product that few other deck builders in Everett can offer. We value your time, property, and investment, so we want you to feel fully comfortable and confident that you're about to receive the best deck repair service.
Our process is easy to follow, customized to meet your specific needs, and focused on keeping you in the loop at all times. This lets you return to your deck as soon as possible with full knowledge of what we've done.
Burgess Construction offers professional deck repair services for all Everett, WA, homeowners. Check out our offer and get the best deal in town!
Homeowners In Everett Love Working With Burgess!
Check out what our customers say about working with us for their deck repair projects!
We hired Burgess again for our deck rebuild. The crew did an amazing job, again!
They showed up on time and completed the tear down and complete rebuild of our deck in 4 days.
It looks beautiful and we can't wait to enjoy it this summer. 5/5 would recommend for any fence and/or deck projects.
Blaine and his crew replaced my deck and fence this week and they did a fantastic job!
They were on time, in budget, and super communicative.
I will use Burgess for all my deck & fence needs in the future, and recommend to any who ask.
I wish I had this experience with every contractor I worked with thank you for everything, Blaine!
Typical Deck Repair Cost In Everett, WA
Replacing wooden deck boards with composite ones can cost up to $12,000. Adding reinforcement to the railing and stairs and installing a new handrail can increase the cost to $18,000 or more.
Let's examine some of the most frequent deck repairs and how much they'll cost.
Resurfacing A Wood Deck With Composite
Consider upgrading your wooden deck with composite boards to enhance the appearance and atmosphere of your outdoor area. The estimated cost for this project is around $15,000, which covers the removal of the existing deck and the installation of new composite components.
Homeowners can find a wide range of options that suit their budget, from high-end Trex products at $60-$70 per square foot to more economical alternatives.
Replacing an old pressure-treated deck with a different type of wood can be done. Here are the different costs for each type of lumber: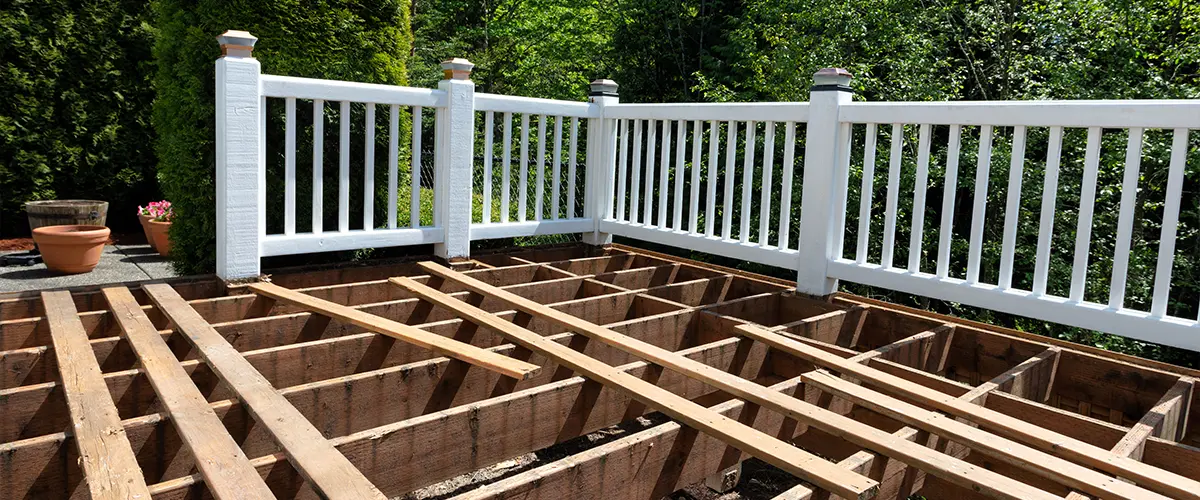 To ensure your outdoor deck remains safe and visually appealing, consider investing in new railing systems that can withstand the wear and tear caused by the elements. This will provide you with a secure and safe leisure space all year round.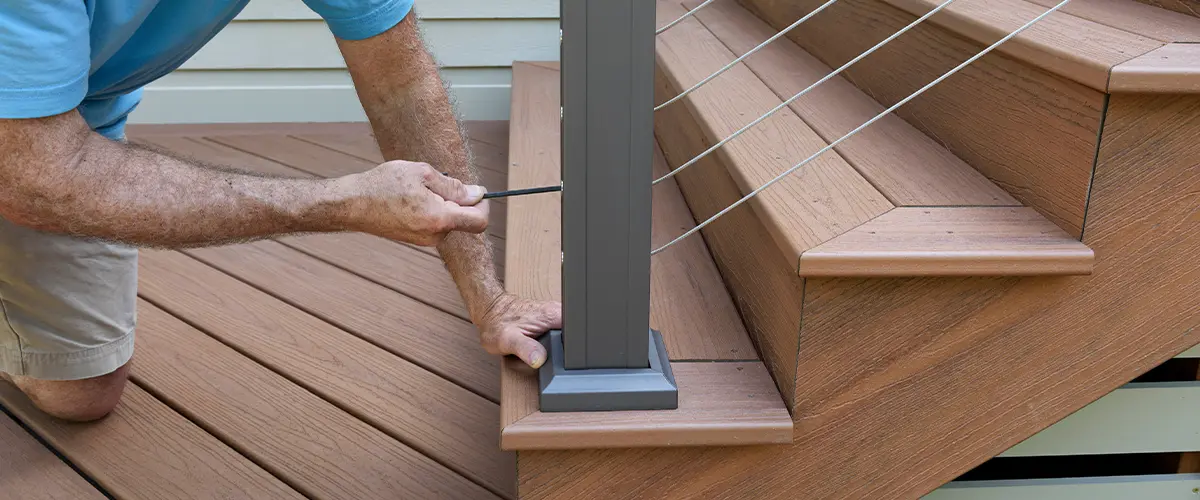 Planting wooden deck posts in the ground was common a few years ago, but now, deck builders realize they can lead to serious structural issues with your deck.
Even though pressure-treated wood is resistant to rot and pests, no wood species can withstand direct contact with wet soil for long periods.
To replace posts and pour concrete footings for your deck, the cost per post typically ranges between $200 to $400, depending on the materials' size, shape, and quality. The cost for posts alone usually falls between $100 to $250. Consider investing in new posts offering different design options to ensure your deck remains beautiful and sturdy for years.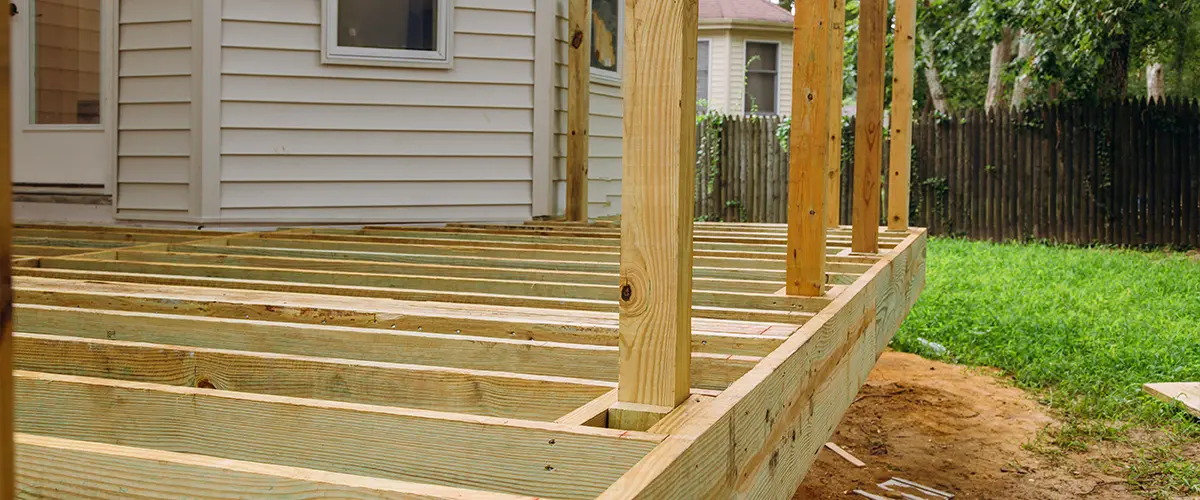 Handrails and wheelchair ramps benefit those with limited mobility and make stairways safe, creating a secure environment for everyone to enjoy.
It is crucial to take action promptly if you have a staircase or banister that is broken or unstable.
Replacing the whole set can cost at least $2,350, starting at $500 depending on the material used. It is even possible for the cost to go beyond that range.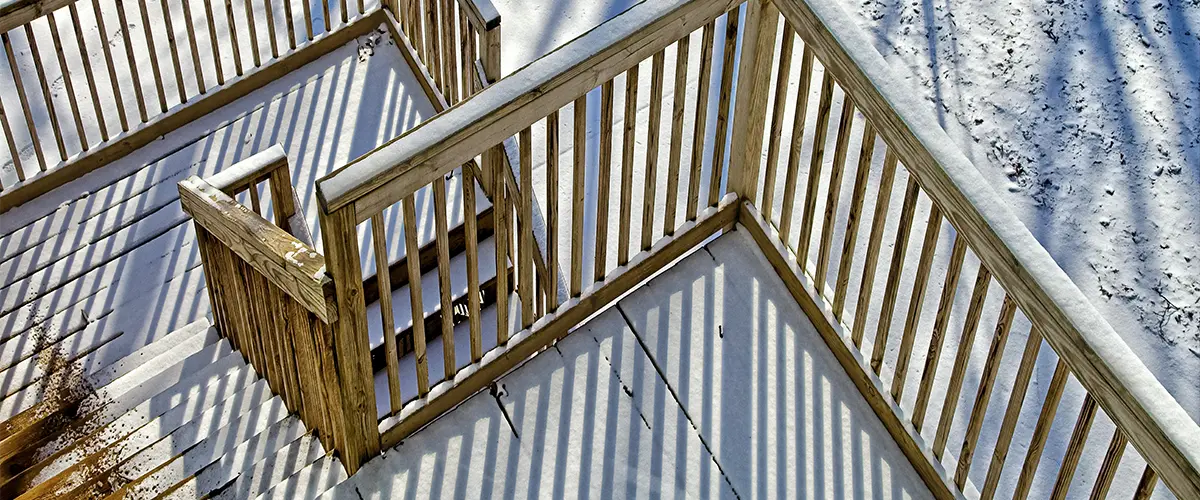 Repairs Of Extra Features
It is important to regularly inspect your exterior fixtures, such as awnings and pergolas to keep them in good condition. Wooden structures are particularly susceptible to damage from the elements, so frequent checks will help ensure their longevity. Also, remember that regular maintenance is crucial!
The cost of renewing a wooden pergola can vary greatly. If the damage is severe, it could cost up to $2,000. However, if only the outdoor lighting fixtures need to be replaced, the cost could be just a few hundred dollars instead of thousands.
Tips To Follow When Budgeting For Your Deck Repair Cost In Everett
Be Thorough With Your Repair
When it comes to repairing your deck, it's important to prioritize your family's safety over aesthetics. Even small damages may seem insignificant, but a weak structure can be hazardous and lead to disaster if ignored. Make sure to handle any necessary repairs with care to ensure safety.
To get the perfect deck, it is important to have a thorough conversation with your contractor about your vision. This will help them understand the importance of the project and the desired outcome. Asking questions will improve understanding and demonstrate your dedication to achieving the ideal finished product.
To avoid any unforeseen problems during your project, it's important to allocate some extra funds within your budget. Even though we offer a 20% breakage coverage, unexpected issues like sinking concrete blocks or deteriorating railings may still occur. You may also find that a different type of decking material is more appealing to you now. It's always better to be prepared for the unexpected.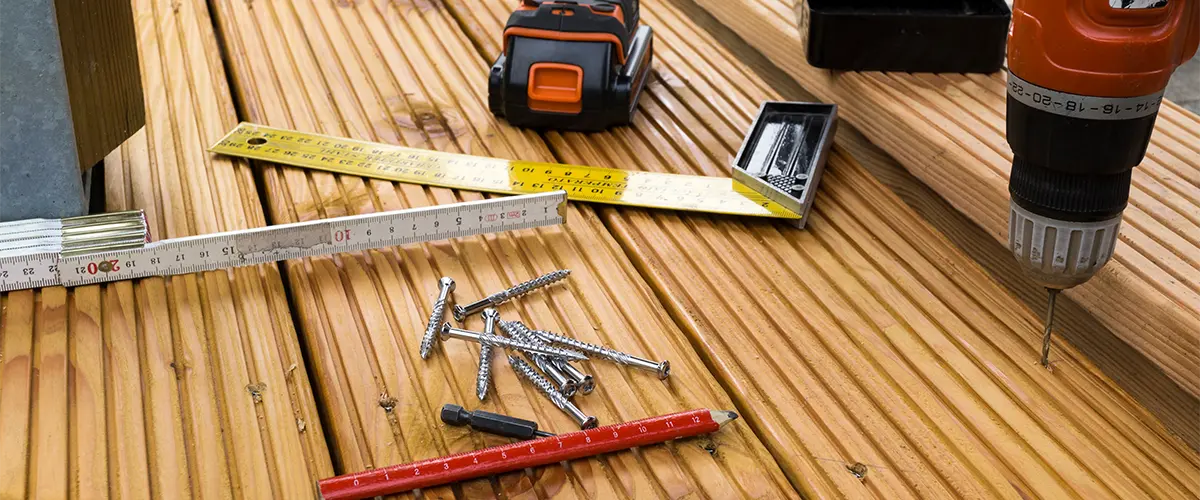 Get Full Transparency On Your Deck Repair Cost In Everett!
Contractors find it challenging to explain pricing in a way that homeowners can easily understand, mainly because homeowners are often unaware of the necessary details.
At Burgess Construction, we are committed to providing excellent service throughout your building process. Our team will keep you informed and provide reassurance at every step while overseeing all the details.
Burgess Construction provides the best deck repair cost in Everett and offers exceptional perks. If you're looking for a top-tier contractor for your outdoor space, they are a great choice.
Get The Most Advantageous Deck Repair Cost In Everett!