Deck Repair Cost In Eastmont, WA
No time to read this guideline? Get accurate pricing on your upcoming project right now!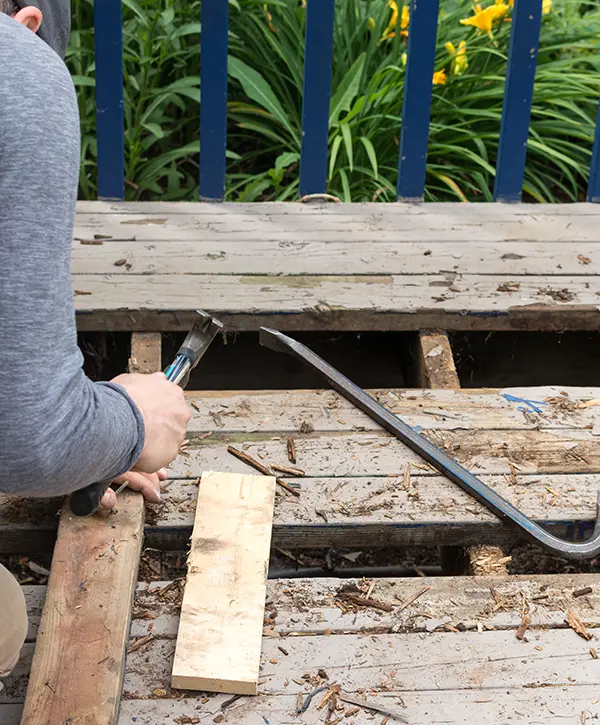 An increasingly large number of homeowners are growing wary of contractors who overcharge for their services, including the deck repair cost in Eastmont, WA. 
Burgess Construction aims to transform the industry with exceptional deck repair service that comes at a fair and honest price.
The deck repair cost depends on the scope of work and the issues with your deck. A typical deck repair in Eastmont, WA, ranges from $1,500 to $5,000. If we have to replace the decking and repair/replace the framing, railing, or stairs, the price can go up to $8,500.
A Complete Service That Makes Your Deck Repair Worthwhile!
At Burgess Construction in Eastmont, WA, we uphold an unwavering dedication to quality. We leave no stone unturned in ensuring that every detail is meticulously taken care of. After all, your safety is our priority.
This is what makes Burgess Construction your best choice:
A Sensible Deck Repair Cost That Won't Break The Bank
At Burgess Construction, we recognize the significance of a secure and robust deck for you and your family. That's why our dedicated team works together to guarantee that your deck repair is not only efficient but also visually appealing.
We will identify the main shortcomings in your deck, offer our expert advice, and listen to your final saying.
Enjoy a fair and honest deck repair cost that gives you the peace of mind you need to enjoy your outdoor space on the first day.
| Type of repair | Typical cost |
| --- | --- |
| Board replacement | $10 – $35 / square foot |
| Insect damage | $250 – $2,350 |
| Joist replacement | $150 – $350 |
| Mold/mildew remediation | $215 – $515 |
| Replacing nails | $150 – $200 |
| Railing repairs | $465 – $4,335 |
| Sealing/Staining | $1.15 – $4.70 / square foot |
| Stairs | $115 – $300 |
Check out our professional deck repair offer in Eastmont, WA. Enjoy a safe and fully functional deck that's meant to give you some of the best outdoor experiences you'll ever get!
Typical Deck Repair Cost In Eastmont, WA
On average, a wood deck renovation using composite materials can come with a price tag of approximately $12,000. However, if you opt to include the installation of new railings and resurfacing of the stairs simultaneously, the overall cost of your project may rise to an estimated $17,000.
Before
After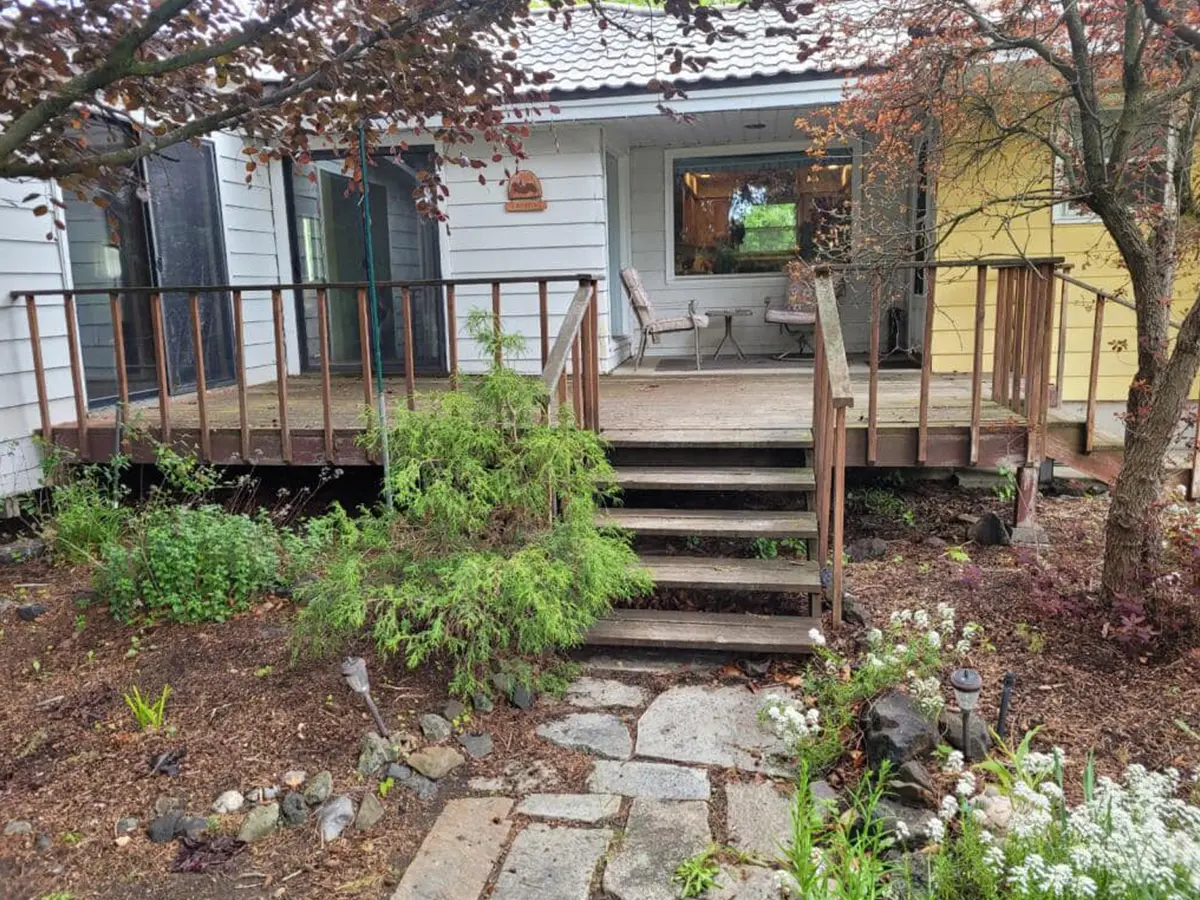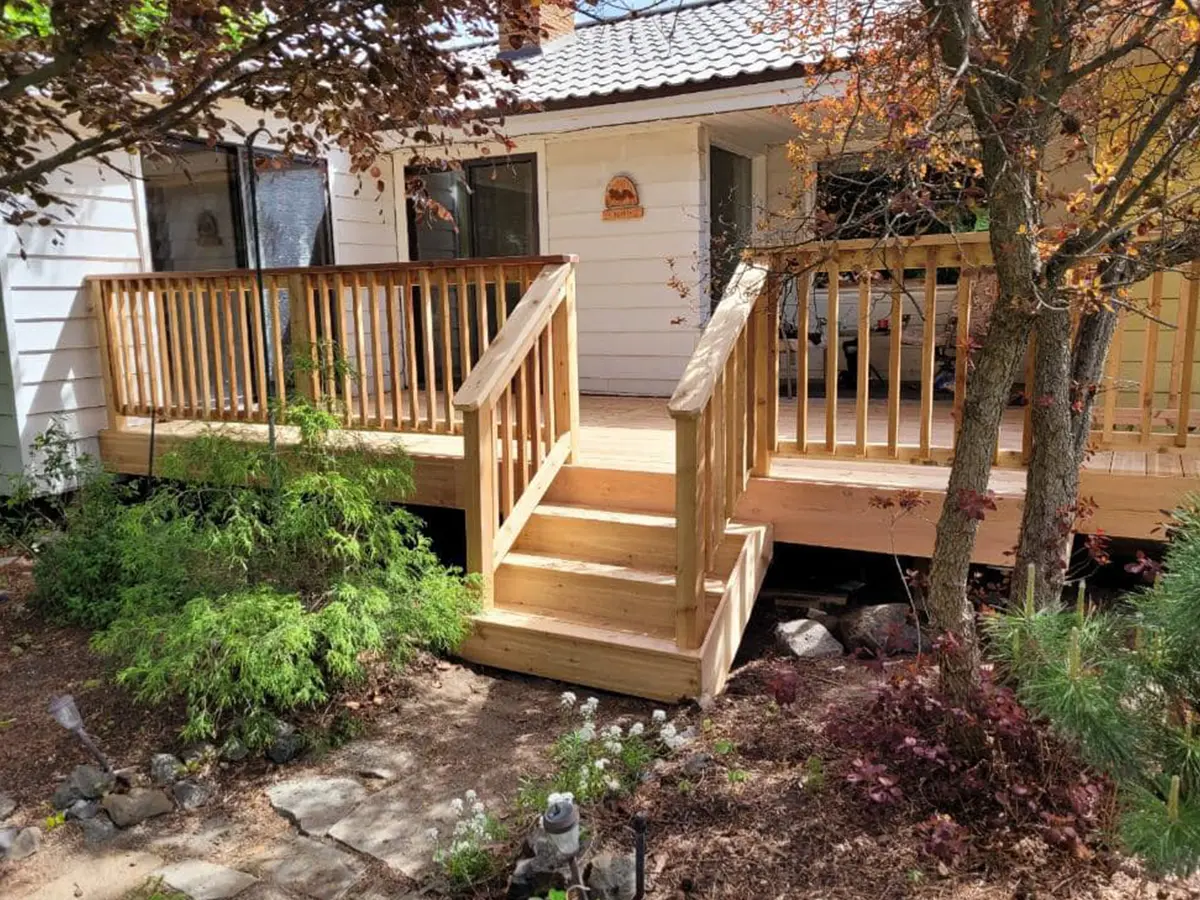 Cedar Deck Repair In Eastmont, WA
This 20'x12' cedar deck included:
The project was quoted at $21,200, where the most expensive item was the custom cedar railing, at $4,400.
Let's examine some of the most frequent deck repairs and how much they'll cost.
Resurfacing A Wood Deck With Composite
Resurfacing a wood deck with pressure-treated wood is a popular option for homeowners looking for an affordable upgrade. The cost to resurface a deck with pressure-treated wood can range from $15 to $20 per square foot installed. For a standard 500-square-foot deck, you can expect to pay between $2,500 and $7,500.
Composite decking is an excellent decision for homeowners seeking longer-lasting and more durable decking surfaces. The cost for this kind of deck resurfacing often ranges from $20 to $38 per square foot installed. For the same 500-square-foot deck, you will potentially be spending anywhere between $10,000 and $19,000 to add composite decking to it.
Here's the cost of other decking materials.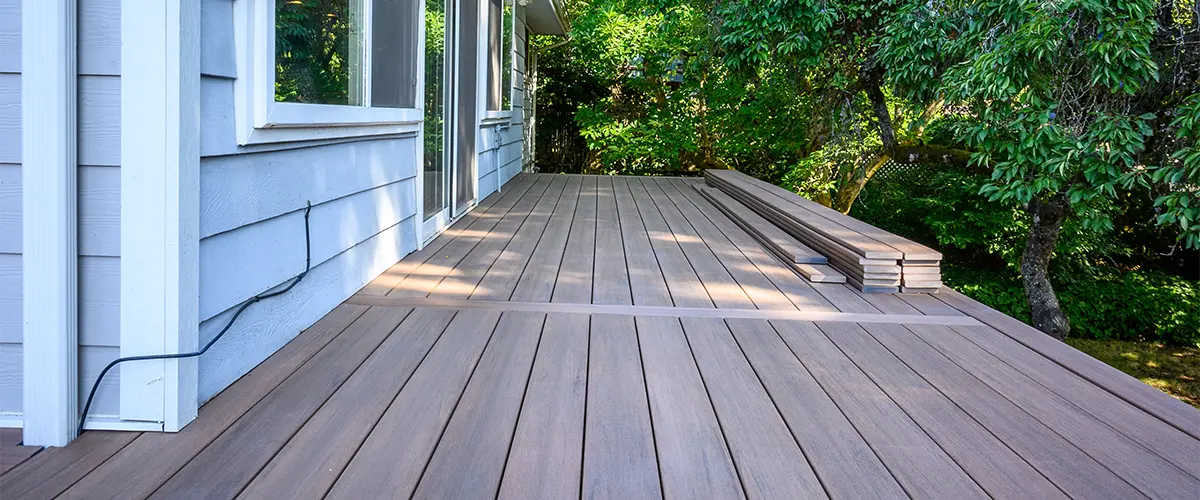 Aluminum railings are a popular choice due to their durability and rust resistance; they typically cost between $40 and $70 per linear foot installed. 
Steel railings, while sturdy, are prone to rust and require more maintenance; their cost ranges from $50 to $100 per linear foot installed. 
Stainless steel offers the best of both worlds in terms of durability and rust resistance, but it comes at a premium cost of $80 to $150 per linear foot installed.
Composite railing typically falls in the range of $60 to $100 per linear foot installed, while wood railings are the cheapest and also least functional, costing between $20 and $40 per linear foot installed.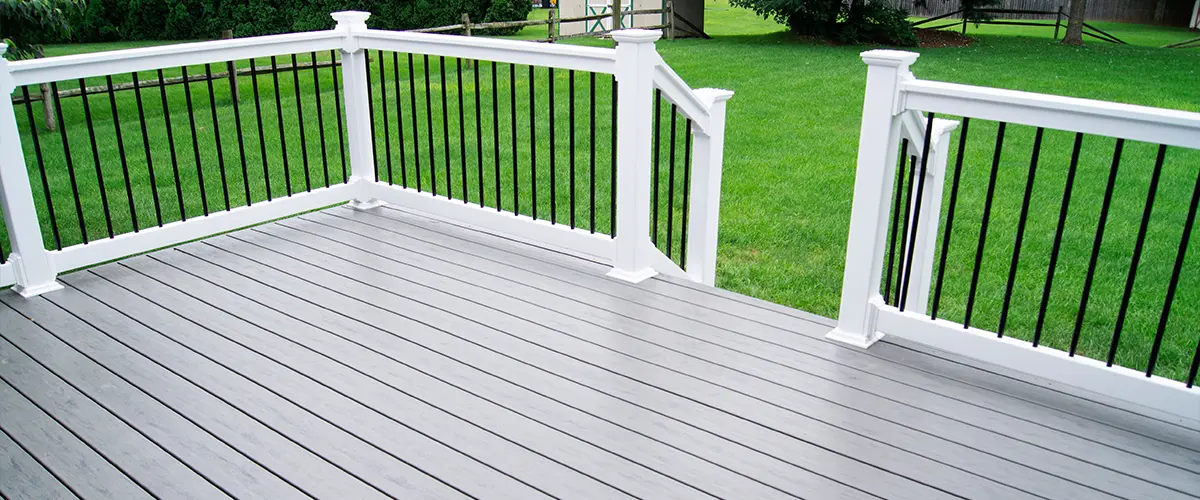 If you're considering enhancing your deck, the expenses for post replacements and concrete footings can vary between $200 and $400 per post. The specific cost depends on the dimensions and design of your deck, with individual posts averaging around $100 to $250 based on measurements and quality.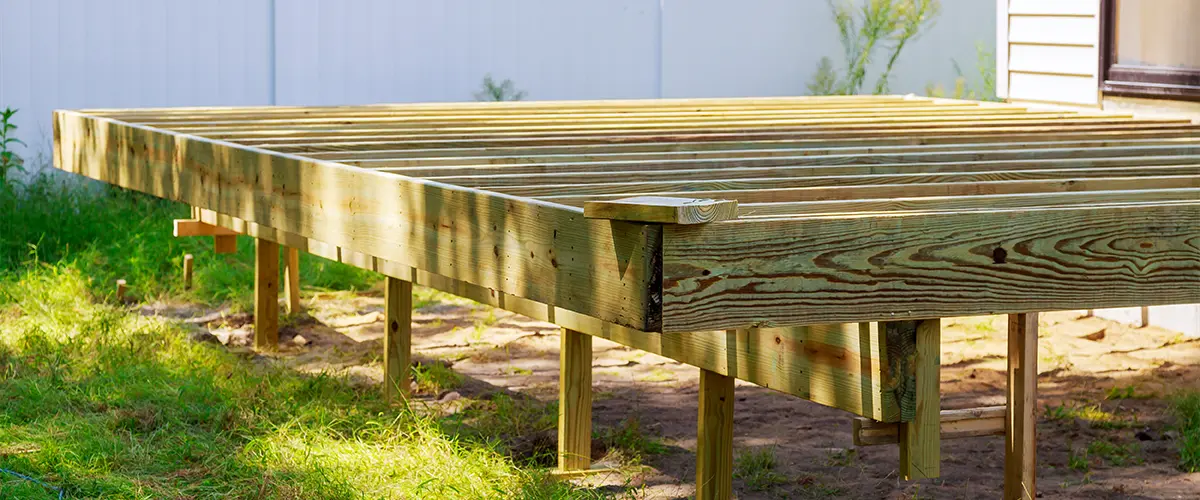 Prompt action is crucial if your stairs or handrails are unstable. The cost of replacement varies based on the material used, with repairs typically ranging from $500 to an average of $2,350 or more for a complete set. It is imperative to address this issue swiftly to ensure safety and avoid further expenses.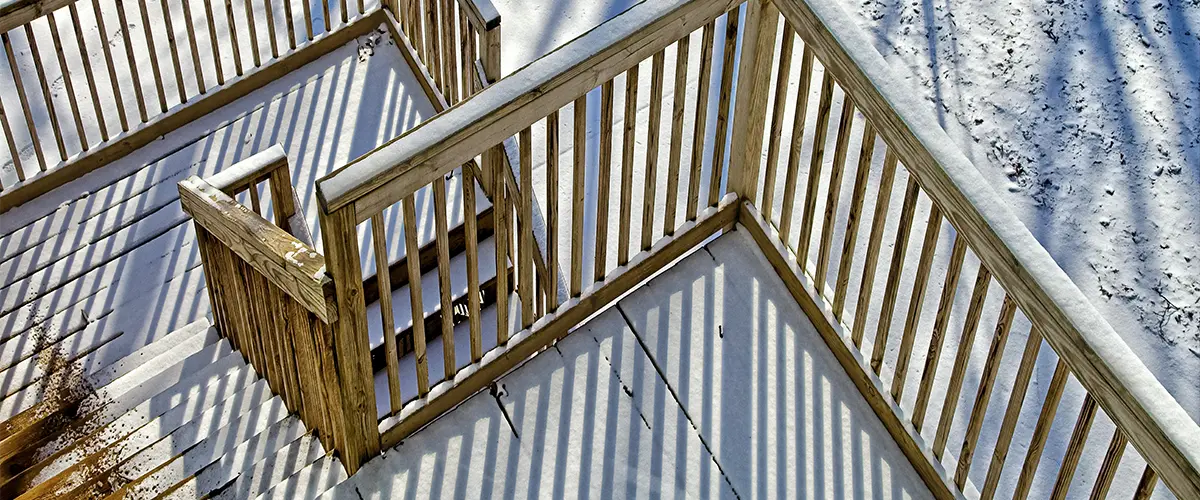 Repairs Of Extra Features
Wood pergola repairs can range in cost, depending on the degree of damage; some fixing may even reach up to $2,000. On the other hand, replacing a few deck lights might cost only a couple hundred dollars.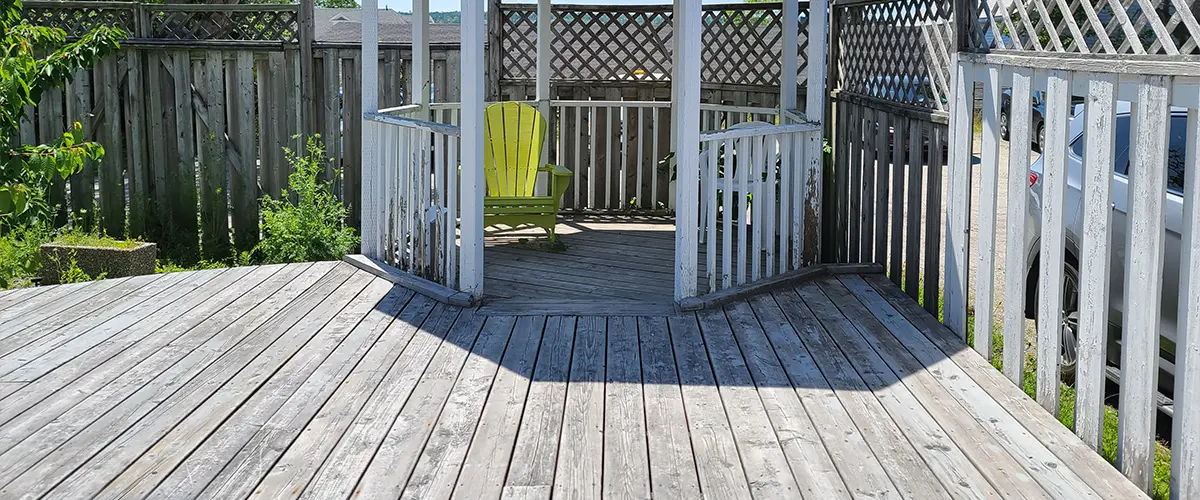 Tips To Follow When Budgeting For Your Deck Repair Cost In Eastmont
Be Thorough With Your Repair
Customers often face a dilemma when deciding which smaller deck damages to repair. While minor flaws may not seem problematic, a deteriorated and unstable frame can lead to trouble. While aesthetics hold their appeal, prioritizing safety is paramount when it comes to your deck.
To achieve the deck of your dreams, it's crucial to ask your contractor detailed questions. This ensures they understand your vision and the significance of a successful outcome for everyone involved. Asking queries benefits all parties and demonstrates your dedication to obtaining a flawless final product.
Prepare for the unexpected. Even with our 20% breakage coverage, there may still be unforeseen issues, such as deteriorated railings or sunken concrete blocks. You might even decide to change the decking material. It is prudent to allocate extra funds to safeguard your project against any potential problems that may arise.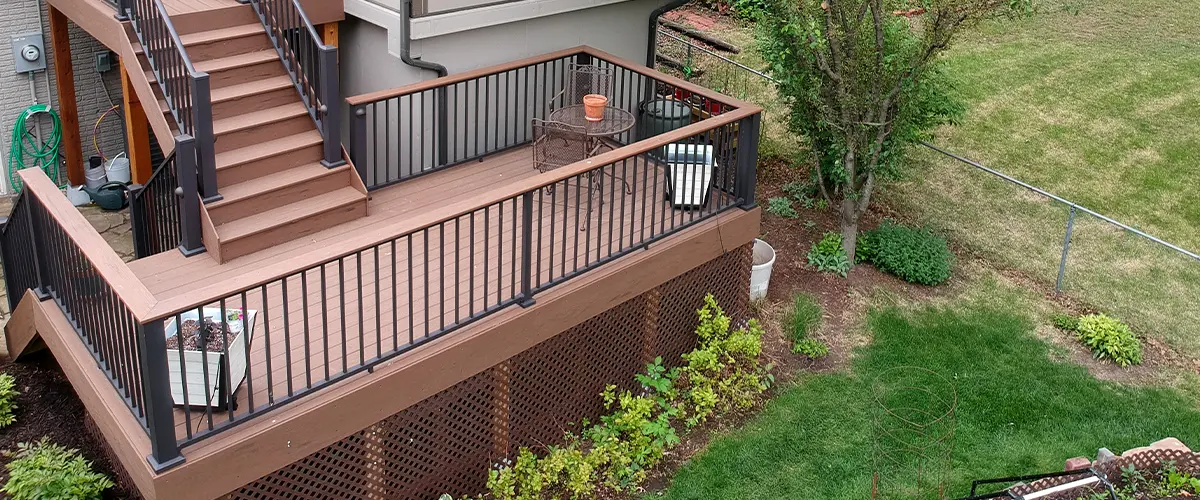 A Fair And Honest Deck Repair Cost In Eastmont!
A typical deck repair in Eastmont, WA, ranges from $1,500 to $5,000. If you want a decking replacement, framing replace or repair, and new railing or stairs, the price can go up to $8,500.
After our in-depth deck inspection, you'll get an accurate pricing quote.
At Burgess Construction, our utmost priority is to provide our customers with the highest level of service from the very beginning till the end. We are fully committed to ensuring that you'll get a quality repair at a fair price that keeps your finances in control.
Get The Most Advantageous Deck Repair Cost In Eastmont!