Deck Installation Cost In North Creek, WA
Curious about the cost of deck installation in North Creek, WA?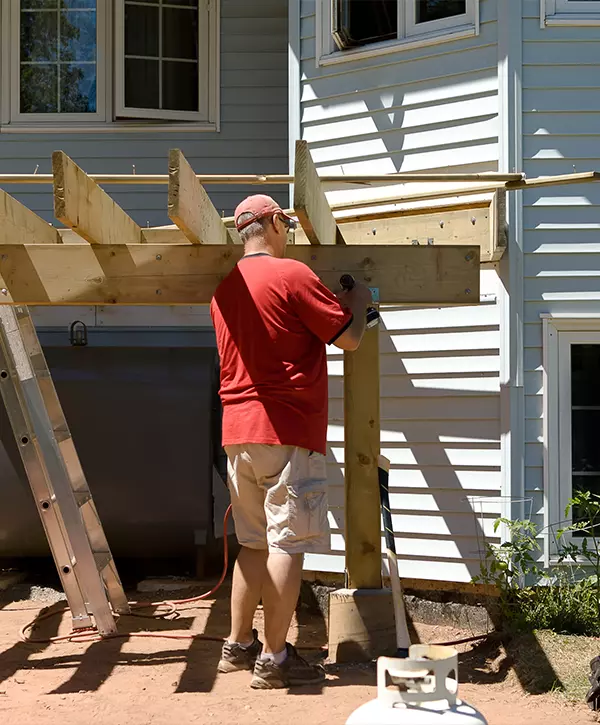 Installing composite decking for a 25 x 10 ft. deck typically costs around $10k. However, if you choose pressure-treated wood decking instead, the cost can be lower, around $5k. The average cost of wood decking installation ranges from $9.74 to $12.43 per square foot.
This is a guide to deck installation costs in North Creek, WA, so you know exactly what to expect from this project in terms of costs. Below, you'll find a comprehensive cost breakdown of various decks, materials, and features.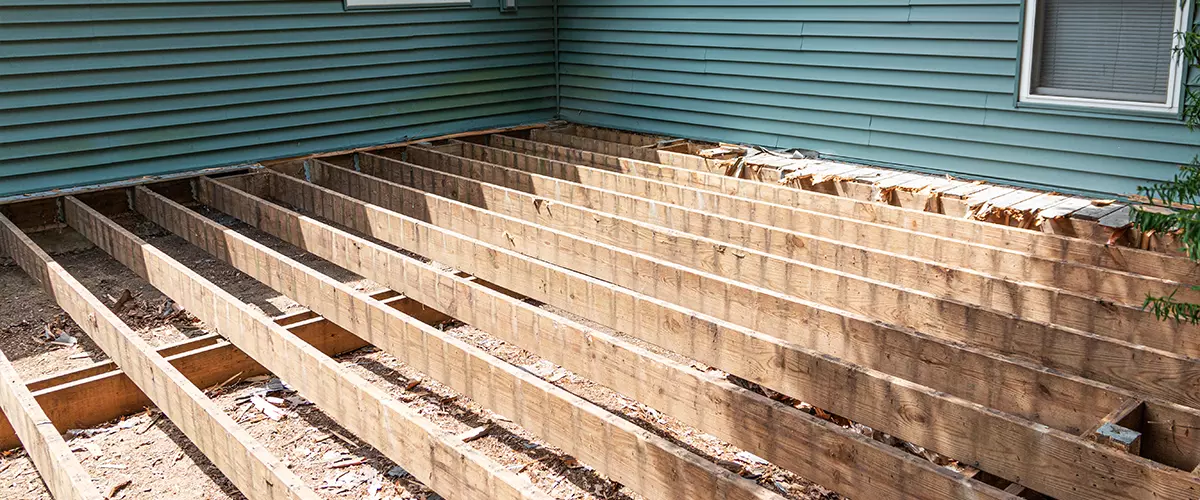 Typical Deck Installation Cost In North Creek, WA
The cost of your deck increases with the size and quality of the materials chosen. For a budget-friendly option, consider pressure-treated wood. If you're willing to invest more, go for exotic hardwoods, aluminum railings, and extra features like built-in seating or a pergola.
| Deck Size | Square Footage | Average Cost Range |
| --- | --- | --- |
| 8' x 10' | 80 | $1,600 – $4,000 |
| 10' x 10' | 100 | $2,000 – $5,000 |
| 12' x 12' | 144 | $2,880 – $7,200 |
| 10' x 20' | 200 | $4,000 – $10,000 |
| 12' x 20' | 240 | $4,800 – $12,000 |
| 16' x 16' | 256 | $5,120 – $12,800 |
| 16' x 20' | 320 | $6,400 – $16,000 |
| 20' x 20' | 400 | $8,000 – $20,000 |
At Burgess Construction, we offer a complimentary phone estimate, but please note that a comprehensive site inspection is required for an accurate quote. Be assured that our objective is to enhance your experience by delivering impeccable craftsmanship and exceptional service.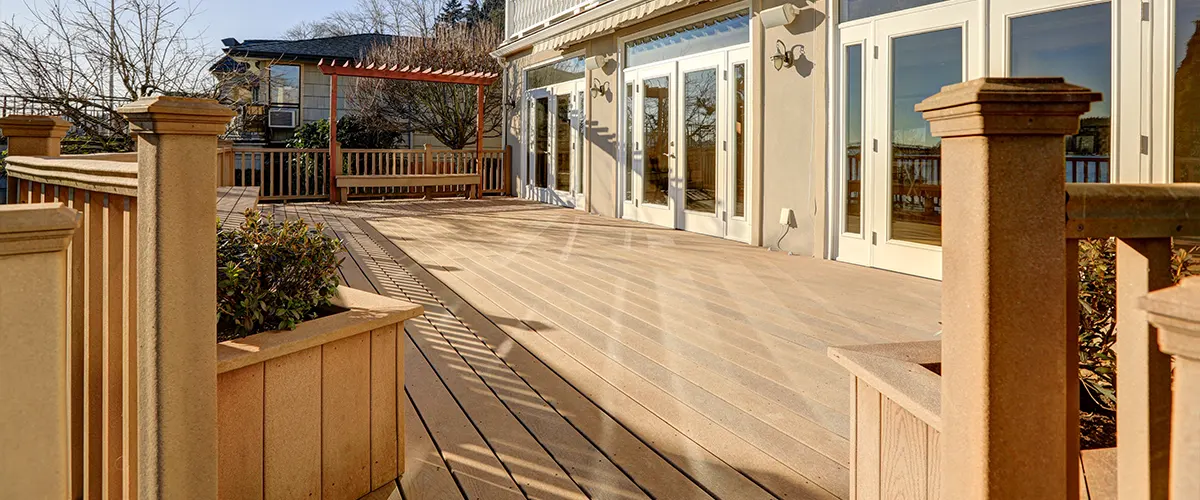 Labor Costs For Deck Installation In North Creek, WA
You can easily refresh your outdoor space by replacing the decking boards, no architects or designers are needed. Simply hire professional installers to effortlessly transform your deck and give it a whole new look.
Deck builders are highly skilled professionals who utilize specialized tools to construct and install decks. With precision and expertise, they follow blueprints and instructions to ensure the successful completion of their projects.
In North Creek, seasoned deck installers and builders charge between $30 to $35, but if you're okay with sacrificing some quality or process, you can also find contractors that'll work for cheaper, at around $25.
Deck Installation Materials Cost
Explore the cost comparison between natural wood decking, which requires regular maintenance, and low-maintenance composite or PVC decking, known for its durability of over 50 years. These are the main options to consider when choosing decking materials.
Low-Maintenance Materials
Let's start with the low-maintenance materials, which are the most popular decking materials nowadays.
Trex composite decking offers customers a captivating blend of durable floorboards, appealing designs, and an impressive warranty. Their products not only offer affordability but also exemplify unparalleled quality. Because of that, plenty of homeowners in North Creek go for Trex.
The pricing of Trex boards varies depending on their type. Trex Select and Enhance range from $5 to $9 per square foot, while Trex Transcend falls between $10 and $12 per square foot.
TimberTech Composite Decking
When it comes to composite decking, TimberTech stands out as the ultimate choice. Its polymer capping offers unparalleled protection against water damage, guaranteeing both reliability and longevity. It comes at a slightly higher price than Trex, but it's definitely worth it if you're after top quality.
| TimberTech Decking | Prices | Cost/linear ft. | Cost/square ft. |
| --- | --- | --- | --- |
| Edge Prime | $2.40 – $2.65 | $5.70 – $6.50 | $8.75 – $9.35 |
| Edge Premier | $3.10 – $3.25 | $6.85 – $7.50 | $11.15 – $12.00 |
| Pro Terrain | $3.35 – $4.05 | $8.75 – $9.35 | $12.35 – $13.50 |
| Pro Tropical | $4.90 – $5.35 | $11.15 – $12.00 | $15.75 – $16.50 |
| Pro Legacy | $5.80 – $6.35 | $12.35 – $13.50 | $17.75 – $19.25 |
After acquiring AZEK, TimberTech has solidified its position as the undisputed leader in the PVC decking market. Renowned for its unmatched quality, TimberTech's PVC decking sets the benchmark for excellence.
Although PVC is known for its durability and resistance, composite decking excels in its ability to replicate the natural beauty of wood. It is worth noting that AZEK PVC decking is considered one of the finest materials on the market, albeit at a higher price point.
| Azek Decking | Prices | Cost/linear ft. | Cost/square ft. |
| --- | --- | --- | --- |
| Harvest | $4.75 – $5.25 | $9.45 – $12.70 | $16.95 – $23.10 |
| Arbor | $5.80 – $6.35 | $12.00 – $14.00 | $21.60 – $25.20 |
| Vintage | $6.50 – $7.00 | $11.90 – $14.50 | $21.45 – $26.25 |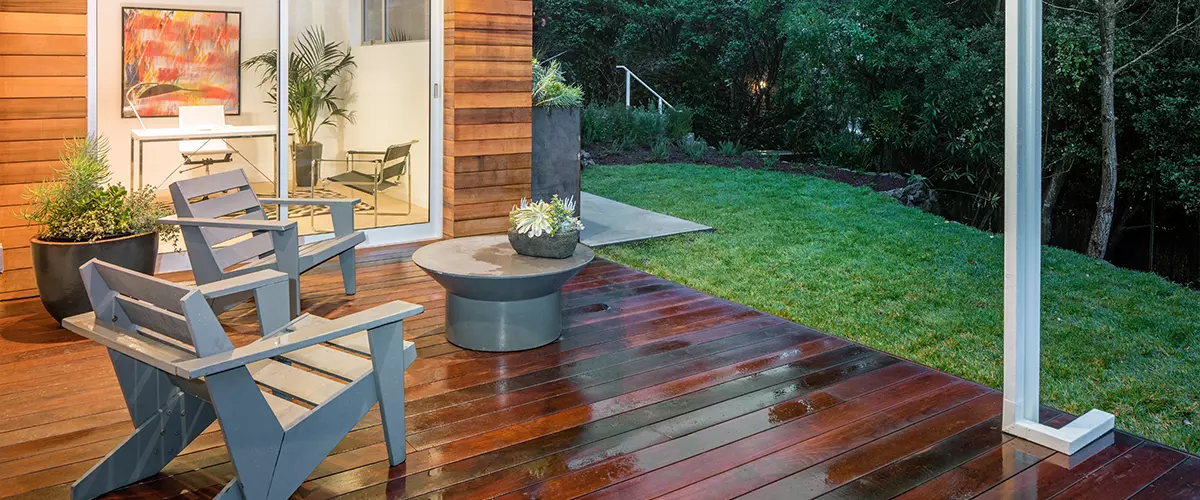 Despite the requirement for routine upkeep, numerous customers opt for natural wood when installing decks because of its visual charm and capacity to elevate outdoor areas.
Pressure-Treated Wood Decks
Pressure-treated wood is the most affordable decking material on the market but also one that requires the most maintenance. Regular sealing and staining are required to ensure your deck remains fully functional for the longest time possible.
The price range for pressure-treated pine decking varies from $15.00 to $25.00 per square foot for materials, with an additional $20.00 to $30.00 for installation.
Cedar is commonly considered the second most favored option for decking material. Although it possesses a natural resistance to rot and pests, regular maintenance is necessary once it is installed on the deck.
Cedar, a popular option for decking, typically ranges in price from $5 to $10 per linear foot. Although it is often deemed cost-effective, it generally carries a higher price tag compared to pressure-treated wood.
While redwood decking may come with a higher price tag and is less commonly selected, its unique reddish hue has the potential to enhance the overall visual appeal of the deck greatly.
Redwood comes at a higher cost compared to cedar and pressure-treated wood, ranging from $1.50 to $5.40 per square foot.
Opt for hardwoods like Ipe, Tigerwood, or Teak to lend your deck an opulent and unique appearance. Keep in mind, though, that they can come with a hefty price tag. To maintain their durability, be sure to apply sealant and stain, even though they naturally have long-lasting qualities.
Let's see some other types of wood and their cost of installation.
Bamboo deck: $19.00 to $22.00 per square foot installed.
Cumaru deck: $34.00 to $36.00 per square foot installed.
Massaranduba deck: $35.00 to $38.00 per square foot installed.
Garapa deck: $33.00 to $35.00 per square foot installed.
Tigerwood deck: $39.00 to $42.00 per square foot installed.
Ipe deck: $47.00 to $49.00 per square foot installed.
Teak deck: $49.00 to $51.00 per square foot installed.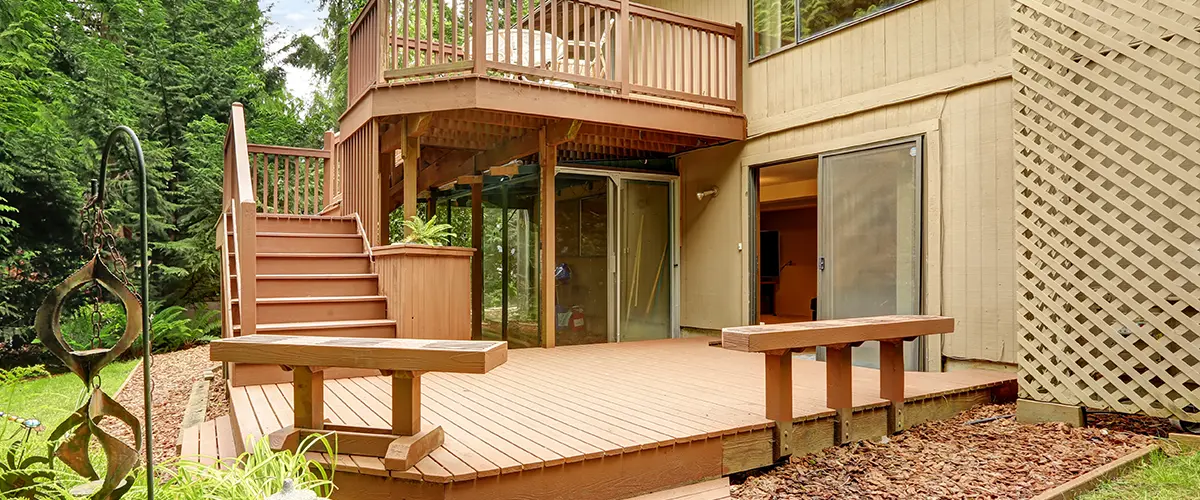 3 Things You Want To Consider When Choosing A New Decking Material
Mature customers often prefer composite or PVC decking due to its low-maintenance qualities. On the other hand, younger homeowners tend to opt for pressure-treated wood to save on upfront costs. However, as time goes by, they come to realize that the expenses associated with maintenance make it less cost-effective compared to composite decking.
For decks that anticipate a substantial amount of foot traffic, it is advisable to opt for composite decking materials. Softwood is not a viable option due to its limited lifespan and potential long-term costs.
To achieve cost savings on deck installation, it's crucial to consider the long-term expenses associated with wood decking. Over a two-year period, you could end up spending an additional $1,000 to $2,000 on maintenance and repairs. On the other hand, while composite decking may have a higher initial cost, it ultimately proves to be more economical in the long run. This is primarily due to its low-maintenance nature, requiring less upkeep such as staining and sealing, as well as fewer repairs compared to traditional wood decks.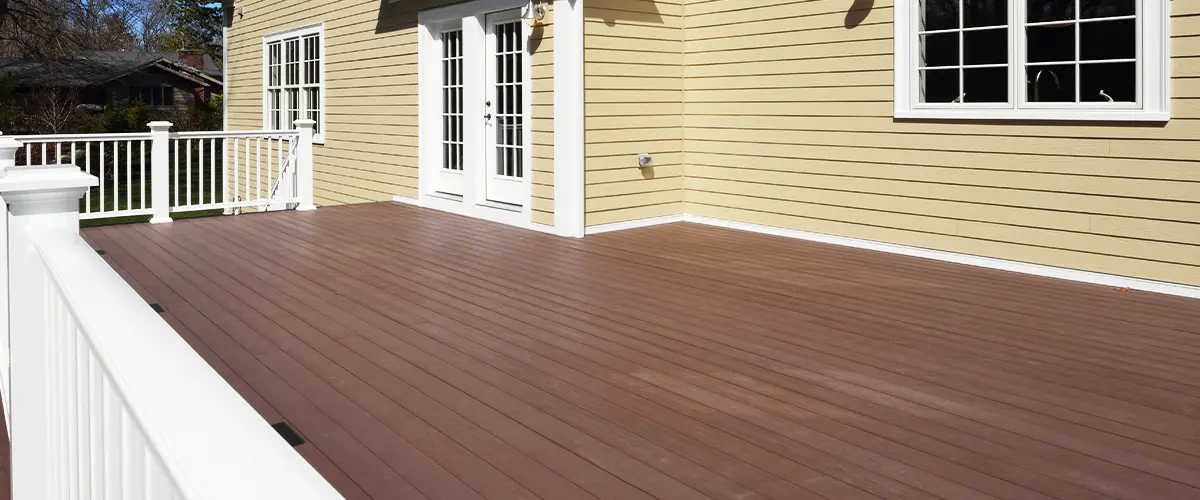 Frequently Asked Questions
Ensure Your Money Is Well-Invested With Burgess Construction
Get a company specialized in delivering affordable and high-quality decking installation in North Creek, WA. We prioritize your utmost satisfaction, striving to create beautiful and reliable outdoor spaces that you don't need to worry about for decades.
With us, you'll get:
Advantageous decking solutions at the best price possible.
Honest and transparent pricing where you'll see where every penny goes.
Experts that'll work within your budget without sacrificing anything from the quality of your deck.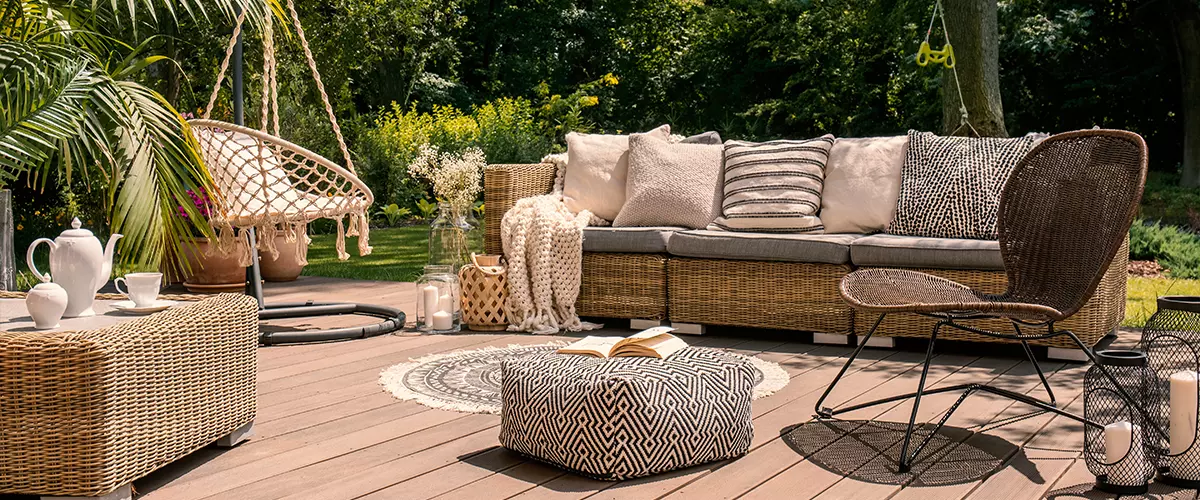 Get The Best Decking Solutions In North Creek, WA, Right Now!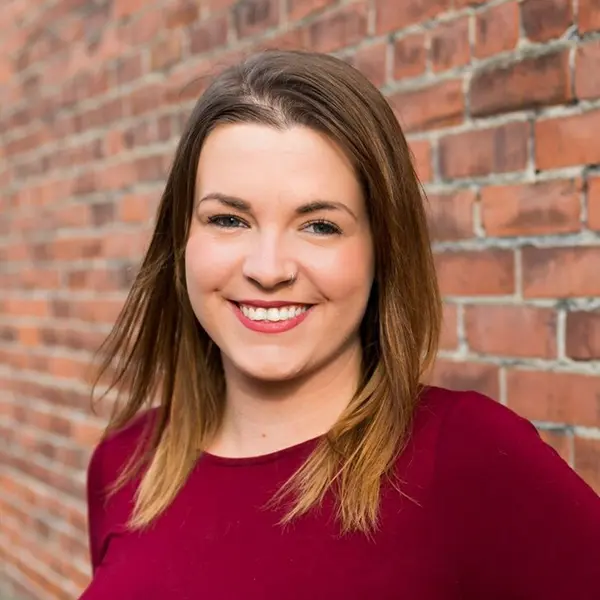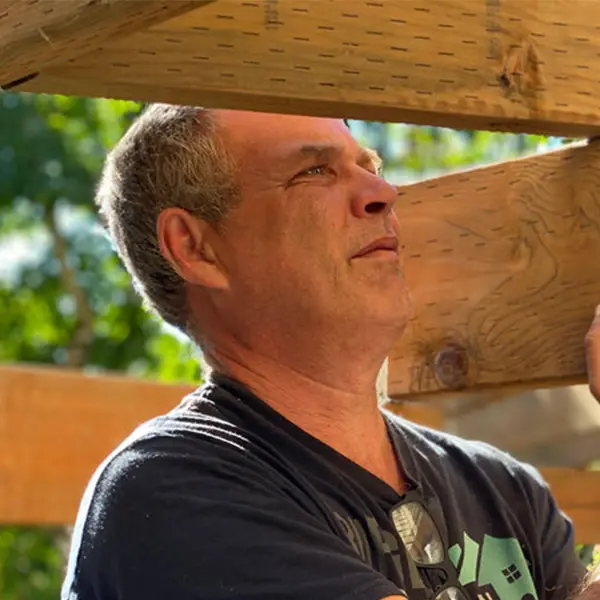 Request a free quote for your home additions in North Creek, WA, today! Or talk directly to us at (425) 791-5281 to kick-start your project.