Deck Building Cost Guide In Eastmont, WA
No time to read this guideline? Get accurate pricing on your upcoming project right now!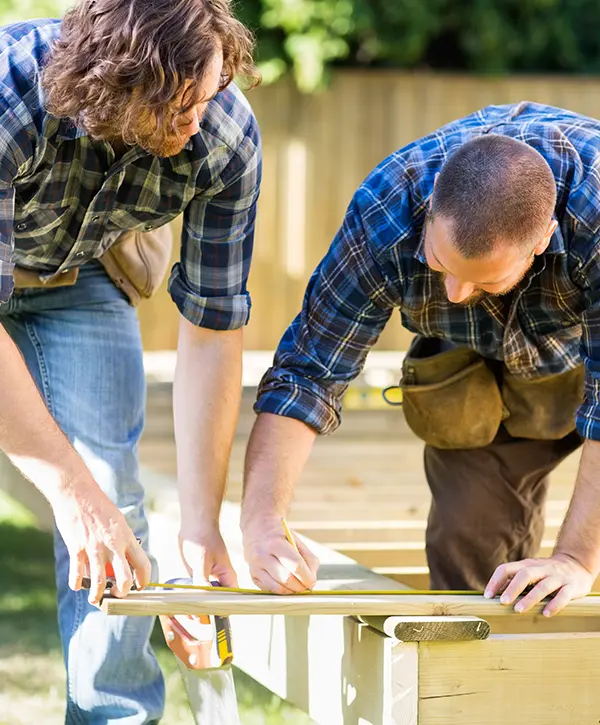 Adding a deck to your backyard will create a perfect setting for entertaining guests, throwing parties, or spending quality time with your loved ones. But deck building cost in Eastmont, WA, is one of the most common concerns that homeowners have.
With our team at Burgess Construction, you'll know what you're paying for, and you'll get the best bang for your buck.
A 12'x12' ground-level cedar deck could be close to $14,000, whereas a second-story 20'x12' composite deck starts around $25,000.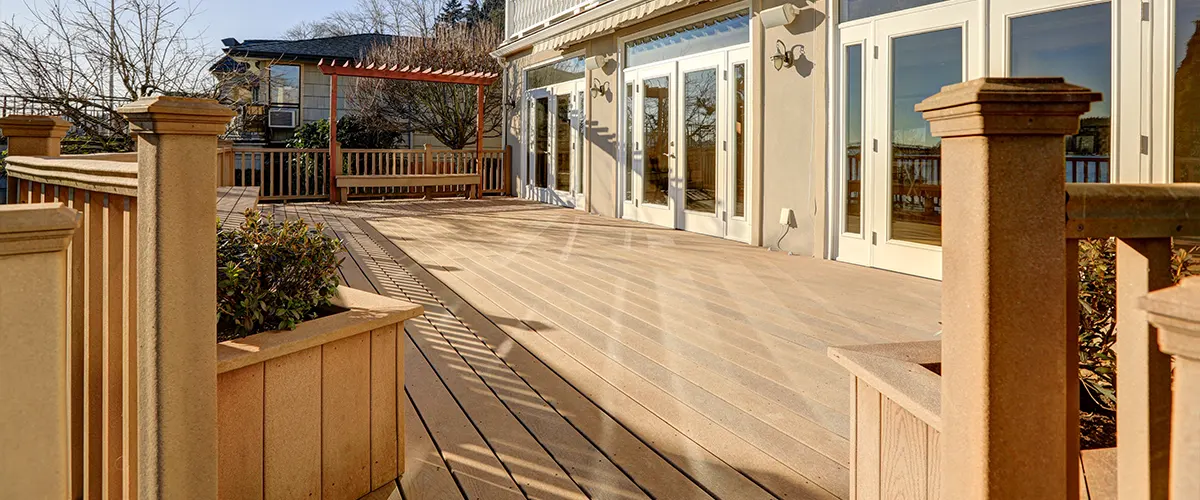 Typical Deck Building Cost In Eastmont, WA
The size of your deck heavily influences its overall cost. A bigger deck requires more materials and labor, which ultimately leads to a larger bill. 
Additionally, the shape, materials, height, and any added features will also affect the total cost. We will cover these factors in more detail later.
| Size | Square Feet | Average Cost |
| --- | --- | --- |
| Small Deck | 200 square feet | $15k |
| Medium Deck | 600 square feet | $25k |
| Large Deck | 1,000 square feet | $45k |
Burgess Construction offers a complete decking service with top-notch quality and affordable rates. We provide phone estimates and furnish a detailed pricing quote after an on-site visit. We will guide you through the most budget-friendly choices for your deck and stay within your budget to deliver a quality product.
Before
After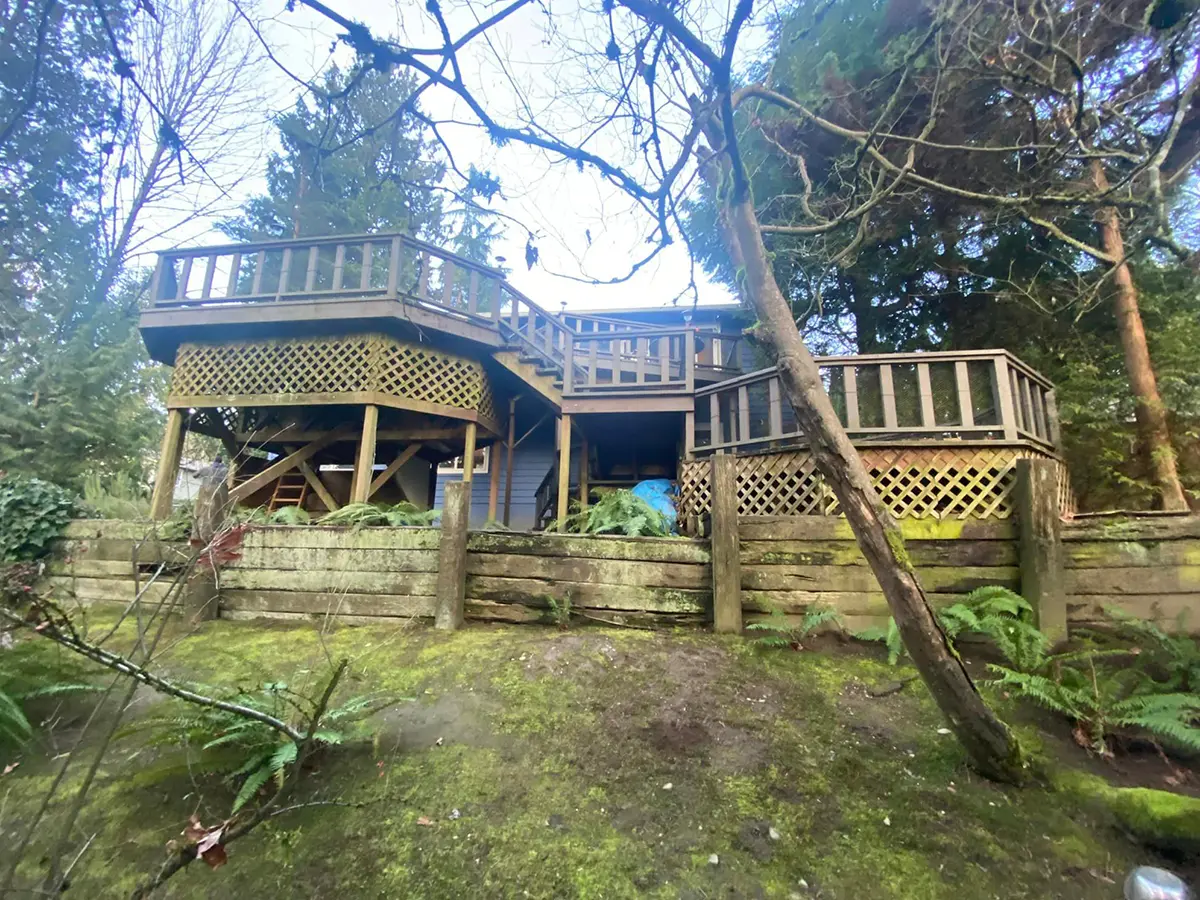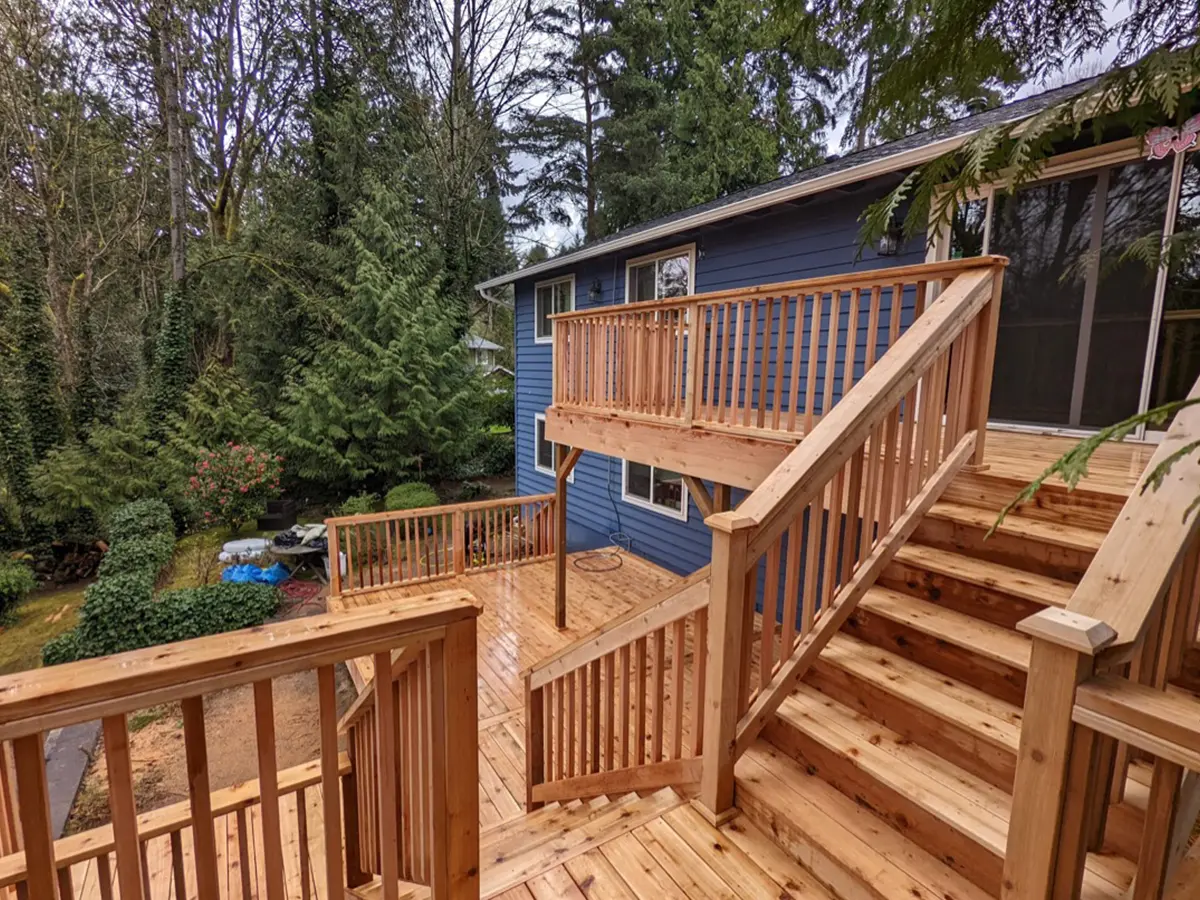 Tri Level Cedar Deck in Eastmont, WA
This deck project included:
The project was quoted at $95,800, where the most expensive item was the custom routed undermount lighting, at $17,800.
Labor Costs For Your Deck Building In Eastmont
Building a deck involves significant effort, with labor costs making up the bulk of the final expenses. While the cost of materials remains fairly consistent, the fees charged by various professionals for their labor will differ depending on their rates.
You'll want a deck architect to ensure that your addition is safe and reliable. They'll also help you get the building permits faster. Good architects charge between $125 to $250 per hour.
Get a deck designer to ensure your design is both functional and safe without sacrificing structural integrity. Top-ranked deck designer charges between $100-$200 an hour.
The deck builders are the contractors who carry out the construction of the deck according to its blueprint. High-quality deck builders in Eastmont, WA charge $45 to $60 an hour.
Get All-In-One With Your Local Deck Builder
We're using top-of-the-line technology and machinery to build you a deck that's 100% reliable and safe. With us, you're getting top-quality deck builders that are committed to delivering you a high-quality end product.
Burgess Construction guarantees a smooth process by handling your deck-building project from start to finish. You'll get dedicated on-site designers, architects, and a reliable team focused on seeing your vision through.
We'll make sure you'll love not only the final product but also the entire deck-building journey!
Our Customers Love Their New Deck Additions!
Check out what our customers say about working with us for their deck building projects!
We hired Burgess again for our deck rebuild. The crew did an amazing job, again!
They showed up on time and completed the tear down and complete rebuild of our deck in 4 days.
It looks beautiful and we can't wait to enjoy it this summer. 5/5 would recommend for any fence and/or deck projects.
Blaine and his crew replaced my deck and fence this week and they did a fantastic job!
They were on time, in budget, and super communicative.
I will use Burgess for all my deck & fence needs in the future, and recommend to any who ask.
I wish I had this experience with every contractor I worked with thank you for everything, Blaine!
Materials Cost In Relation To Deck Size
Decks are mostly split into two categories: wood decks and composite decks.
One of the most popular choices for wood decking is pressure-treated wood. This material is highly affordable, easy to procure, and lasts a fair amount of time before it needs to be replaced.
Pressure-treated pine decking cost ranges from $15.00 to $25.00 per square foot for materials, and between $20 to $30 for installation.
Hardwoods may be more expensive, but Ipe, Tigerwood, or Teak for your deck will give it a luxurious and distinctive appearance. However, like all materials, they need regular maintenance to keep them in good condition.
Let's see some other types of wood and their cost of installation.
| Deck Material | Cost per Square Foot Installed |
| --- | --- |
| Pressure-treated pine deck | $15.00 to $18.00 |
| Bamboo deck | $19.00 to $22.00 |
| Cedar deck | $25.00 to $28.00 |
| Composite deck | $29.00 to $31.00 |
| Redwood deck | $33.00 to $35.00 |
| Cumaru deck | $34.00 to $36.00 |
| Massaranduba deck | $35.00 to $38.00 |
| Garapa deck | $33.00 to $35.00 |
| Tigerwood deck | $39.00 to $42.00 |
| Ipe deck | $47.00 to $49.00 |
| Teak deck | $49.00 to $51.00 |
TimberTech is one of our preferred decking suppliers because they have a consistent supply, and their delivery is always on time. This predictability helps us to avoid any delays or surprises that could interrupt the smooth progress of our projects.
For customers looking for the perfect decking boards, we suggest TimberTech or Trex, as they offer a great balance of functionality, appearance, and affordability. You can't make a wrong choice with either of these options.
They typically cost between $60.00 to $70.00 per square foot. However, depending on your needs and budget, we can choose a different product.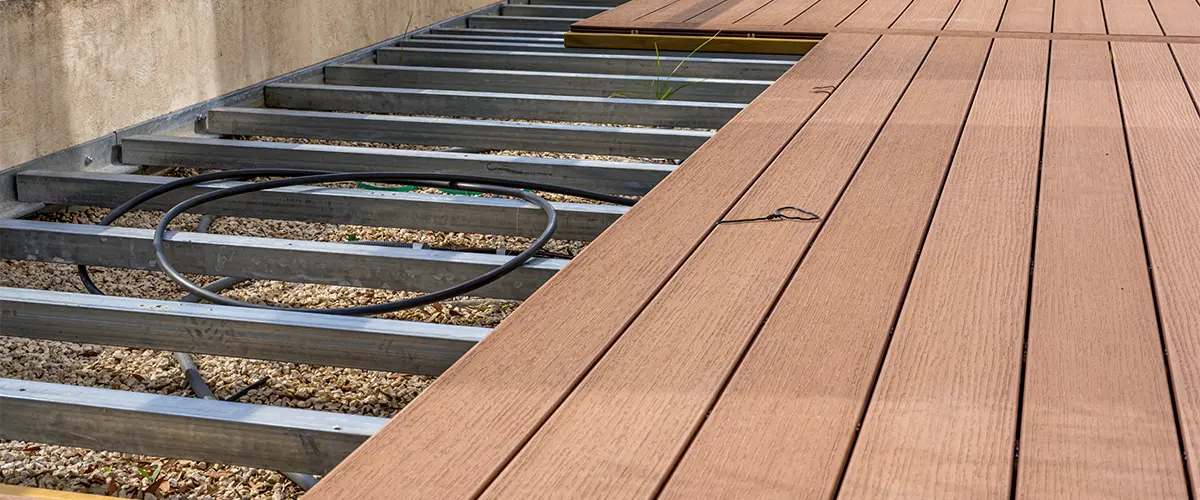 Metal railings are currently the safest on the market, and we believe they'll stay that way for a while. They're durable and resistant to damage, ensuring your new deck will be safe for you and your family. Plus, metal won't rot or be damaged by pests. 
The average cost of Westbury railings, the best aluminum railing on the market, is around $60.00 per linear foot for materials.
TimberTech has a good composite railing that comes at the same price as the best metal railing in the market. That should get you thinking, wouldn't you rather get a better quality railing at the same price? The average cost to install composite deck railing is around $30-$60 per linear foot, and the 6-foot long railing from TimberTech costs around $180.
Wooden railings are not a practical choice because they need frequent upkeep and are unstable and hazardous after some time, even if treated. This can pose a risk for people using the deck. The average cost of wood deck railings is around $20 to $35 per linear foot. However, add to this the cost of actually building the railings from scratch.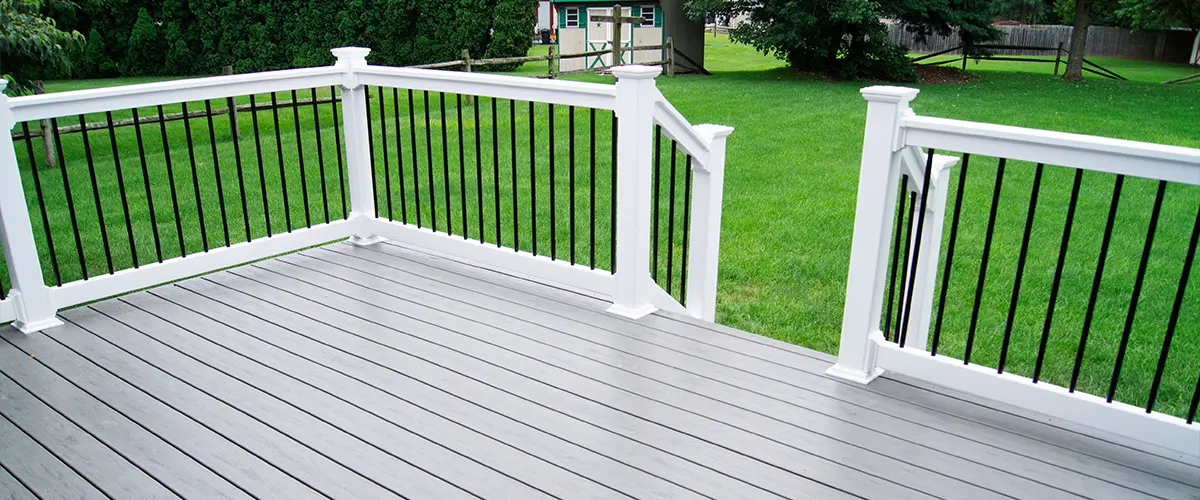 Aside from making your deck look more stylish, accessories also make it more functional. For instance, an awning can protect you from the harsh rays of the sun, while anti-slip boards are ideal for pool decks.
Let's look at some of the most common upgrades.
| Upgrade | Average Cost |
| --- | --- |
| Awning | Between $1,200 and $4,000 |
| Pergola | Between $2,500 and $10,000 |
| Drinking Rail | As low as $100 |
| Deck built-in bench | Between $2,000 and $3,000 |
| Deck lighting | Between $40 to $300 |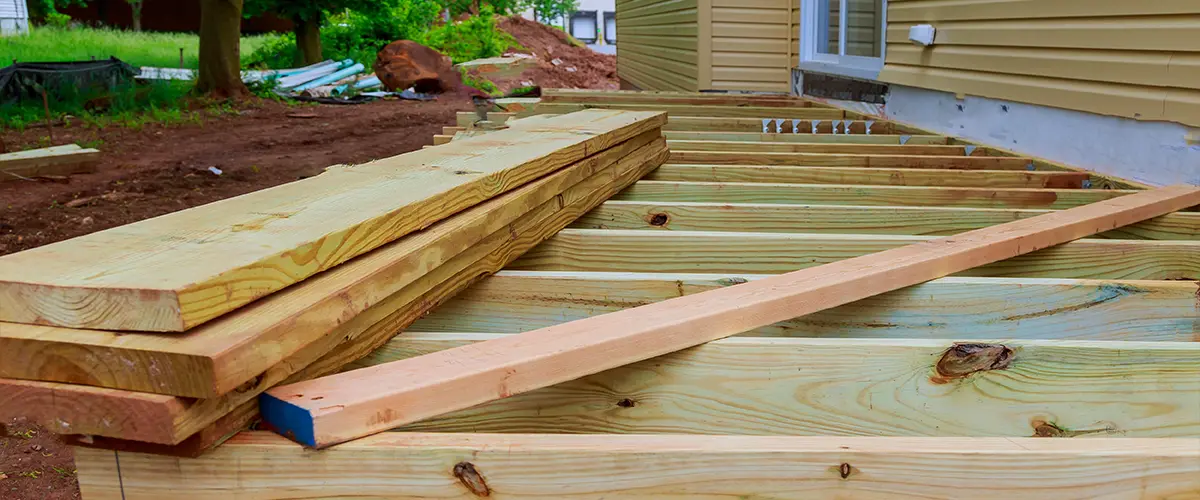 3 Quick Tips When Budgeting For A Deck Building Project
Don't Underspend Or Overspend
Homeowners often choose wood decking or railing due to its lower price, but they may overlook the required maintenance. We suggest avoiding the cheapest and most expensive options. Instead, we offer decking solutions tailored to your preferences, requirements, and budget.
Know What You're Paying For
To ensure successful collaboration, please ask questions regarding the materials, advantages, disadvantages, processes, contracts, and permits before committing to work with us. We appreciate customers who are thorough and committed to doing things properly.
It's a good idea to allocate some extra funds in your budget when starting a project in case unexpected issues occur. Besides, having some extras on hand is never bad, even if nothing goes wrong with the boards. For example, you can use extra boards to replace or repair your deck when the time comes.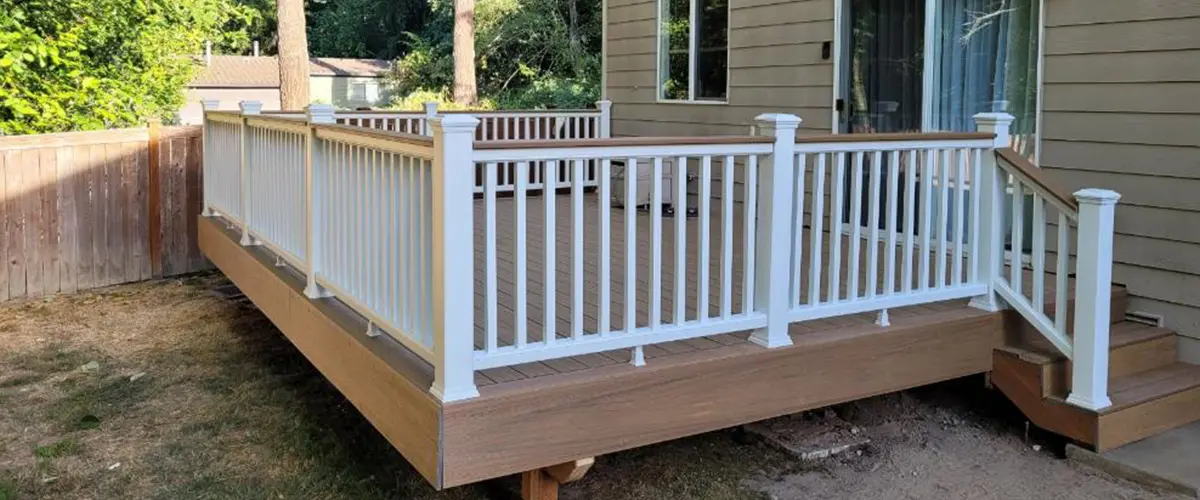 Get Your Trusted Deck Builders On Your Eastmont Deck Today!
We understand that homeowners may have concerns about pricing for deck construction. You may wonder if your contractor is being honest about the cost and whether there are any hidden fees.
At Burgess Construction, we pride ourselves on being open and honest with our clients. That means that you'll always know how much every material for your deck costs. We believe that this transparency is key to building strong relationships with our clients.
With us, you'll get:
Upgrade Your Outdoors Comfort With The Best Deck In Eastmont, WA