If you're tired of sealing, staining, and cleaning a wood deck, your best alternative would be composite decks. These are increasing in popularity, as more and more homeowners value their functionality and low-maintenance properties.
However, you might not be entirely sure about what composite decks are, how they function, what are their cost, and what options are available on the market.
In this article, you'll get the answer to all of your questions about composite decks, so you'll be fully prepared to start your project!
Let's begin.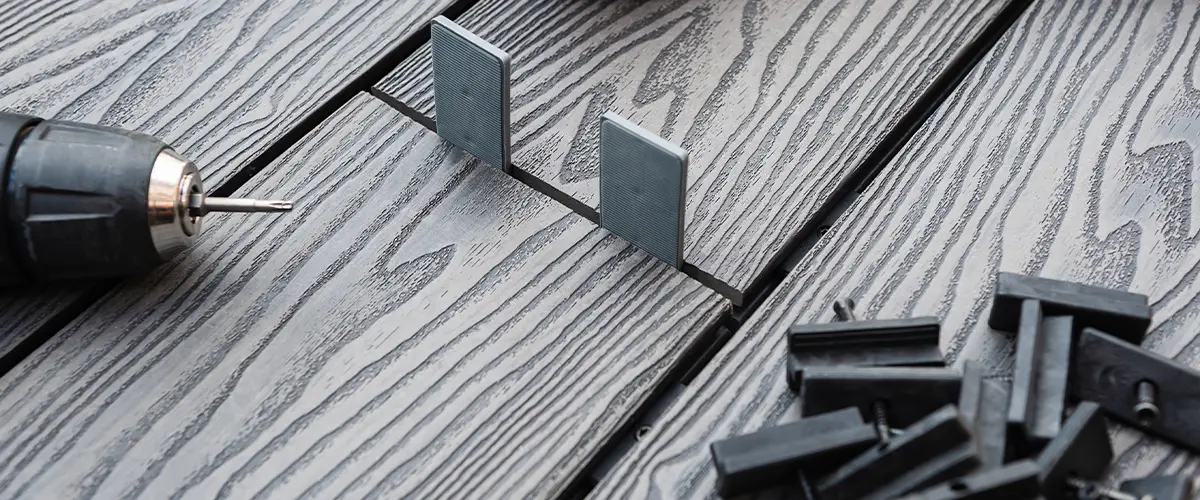 Composite decks are decks that have composite deck boards installed on their surface. This is a manufactured material and it comes from recycled plastic and wood fibers, pressed together under extreme heat.
Composite decks are increasingly popular for our senior customers simply because they won't have to constantly maintain them.
There are dozens of composite decking brands on the market, and all of them bring innovative solutions and a high-quality board. However, the leading composite decking manufacturers are Trex and TimberTech.
Trex® decking was built to offer you the stunning look of natural wood without any strain. Trex composite boards are made from recycled materials, including 95% reclaimed wood and plastic film. Plus, every purchase is backed by our 25-year limited residential fade and stain warranty.
Depending on the retailer of your Trex decking materials, the average cost runs between $9-$16/sq.ft. Use the Trex deck cost calculator to find out a more accurate estimate for your materials.
As of 2014, Trex no longer manufactures any early-generation composite decking, like Trex Origins®, Trex Accents®, Trex Profiles®, Trex Brasilia®, and Trex Contours®.
Today's Trex decks (Trex Transcend®, Trex Enhance®, Trex Select®, Trex Contour®) resist blemishes with an innovative, high-performance shell that wraps around three sides of our deck boards.
Trex offers: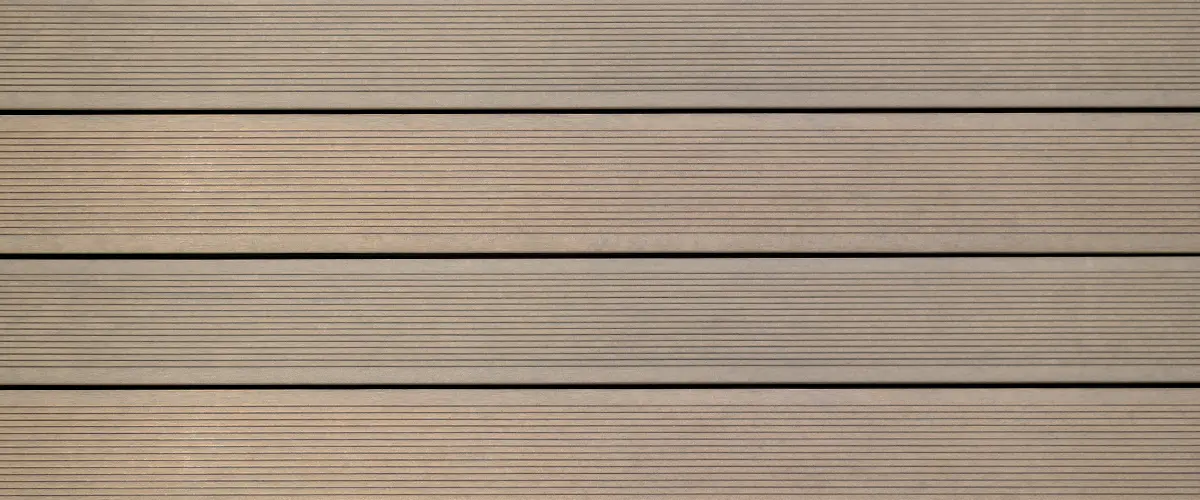 TimberTech Composite Decking
TimberTech is one of the best composite materials for many reasons. It's a sustainable wood alternative that looks just as good as traditional decking, but with none of the drawbacks.
TimberTech decking is sold in over 55 countries and used for standard deck construction, above-ground pool decks, gazebos, and more.
The company makes three lines: TimberTech Pro, TimberTech Edge, and TimberTech AZEK. Edge and Pro are wood composite decking in "basic and better" grades, but AZEK is full PVC and is considered the most expensive, but also their best product.
| TimberTech Decking | Cost/linear ft. | Cost/square ft. |
| --- | --- | --- |
| Edge Prime | $2.40 – $2.65 | $5.70 – $6.50 |
| Edge Premier | $3.10 – $3.25 | $6.85 – $7.50 |
| Pro Terrain | $3.35 – $4.05 | $8.75 – $9.35 |
| Pro Tropical | $4.90 – $5.35 | $11.15 – $12.00 |
| Pro Legacy | $5.80 – $6.35 | $12.35 – $13.50 |
The best part about these capped composite deck boards is that they have a more advantageous warranty than Trex does, including a lifetime warranty and a 50-year warranty. Even their standard warranty offers an extra 5-years for staining and fading.
Advantages Of Composite Decks
There are a lot more benefits than downsides when it comes to composite decks. Let's start with all the pros.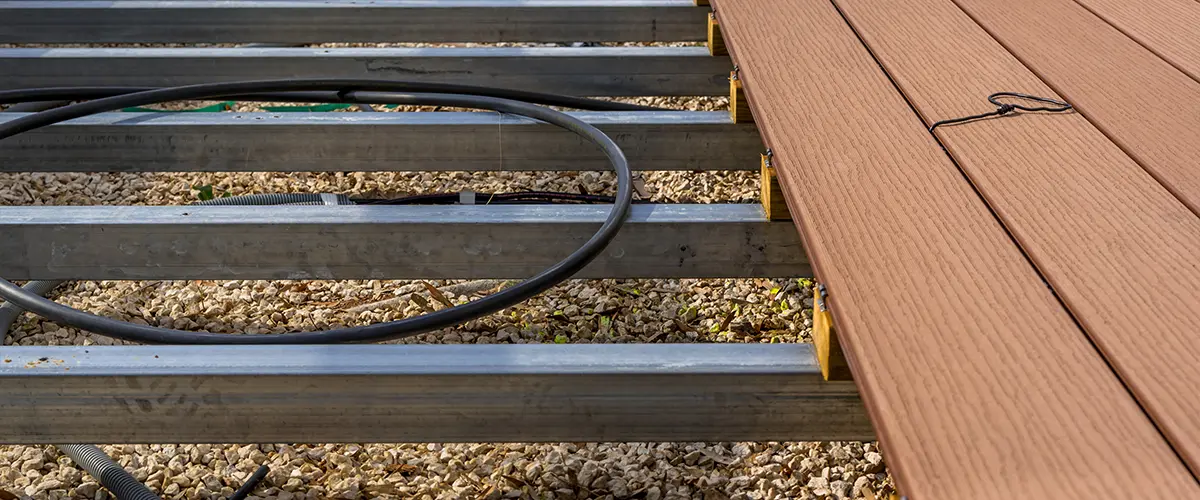 They're Sustainable Materials
Composite decks are made of a combination of wood fibers and recycled plastic. The treatment they go through gives them a natural look, as well as high durability and low-maintenance properties.
Both TimberTech and Trex are made of over 90% recycled plastics, and TimberTech even states that they saved 3 million trees since 2001, 500 million lbs. of scrap and waste was diverted from landfills in 2021 alone, and they save up to 97% water with their closed-loop water filtration system.
They come in a variety of colors and styles, so you can find the perfect one for your home.
They can look like natural wood decking, they can have a deeper embossing pattern, grooves, and various colors that will match the color scheme of your home.
For TimberTech, there are dozens of colors and styles you can check out on their product page.
Trex offers even more outdoor products, like lighting, pergolas, deck hardware, and other outdoor living space features. Check them out here.
Composite decks are also resistant to fading, staining, and scratching, making them a great choice for busy families. In fact, many composite decking brands offer advantageous warranties against these things.
TimberTech offers a lifetime warranty and a 50-year warranty for some of their quality boards, while Trex offers a 25-year warranty on all boards, regardless of their quality.
And since composite decks are made of plastic and wood, they are not susceptible to termites or other pests. This makes them a more reliable choice than traditional wood decks.
As we mentioned already, composite decks are low-maintenance because this material doesn't rot, is not a victim of pest damage, and will rarely develop mold and mildew.
In fact, a pressure wash once a year is all it takes for your composite deck to make sure it looks great even after a lifetime!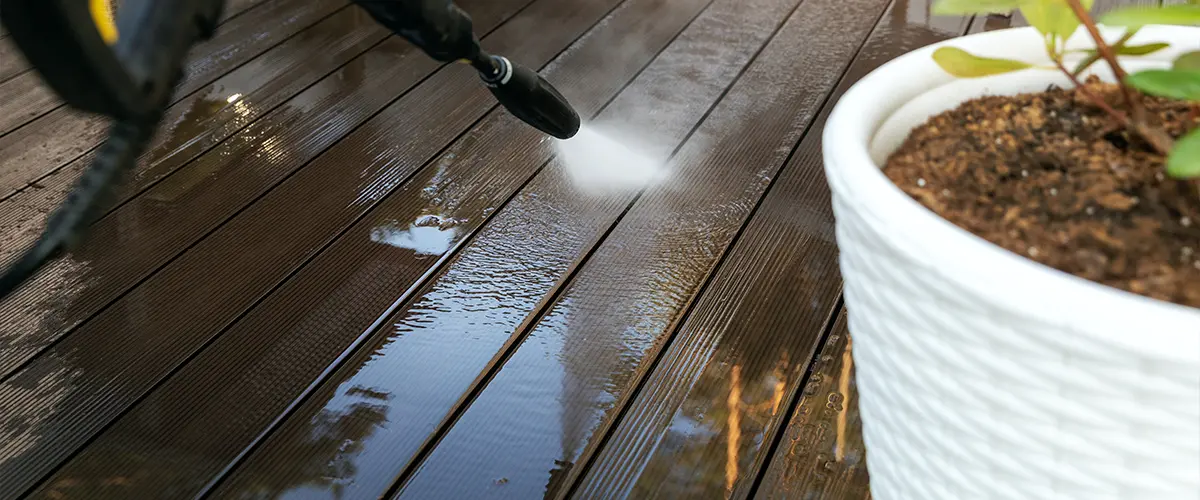 Disadvantages Of Composite
Of course, all materials on the market have some disadvantages and composite is no different. Let's see some of the most serious downsides of composite.
It's true that composite decking materials come with a higher price than wood decks, but there's a catch. Think of all the sealing, staining, and repairs that a wood deck will need.
On average, it costs around $2k every two to three years to maintain a wood deck, and over the lifespan of your deck, these costs will pile up. Ongoing maintenance will also use a lot of your free time, and not everyone is thinking of this chore as relaxing and easy.
Composite, although it costs more upfront, it'll actually save you more money in the long run, so you can invest elsewhere in your home.
Composite Can't Be Refinished
Unlike wood decks, composite decking boards can't be refinished. Sanding them down, resealing them, or restaining them will result in an ugly look for different reasons.
To combat this, most composite decking boards on the market offer a variety of boards, all with different styles, different patterns, embossing, grooves, scalloped or not. If you make your decision carefully, there's no reason to refinish the boards and give them a new look.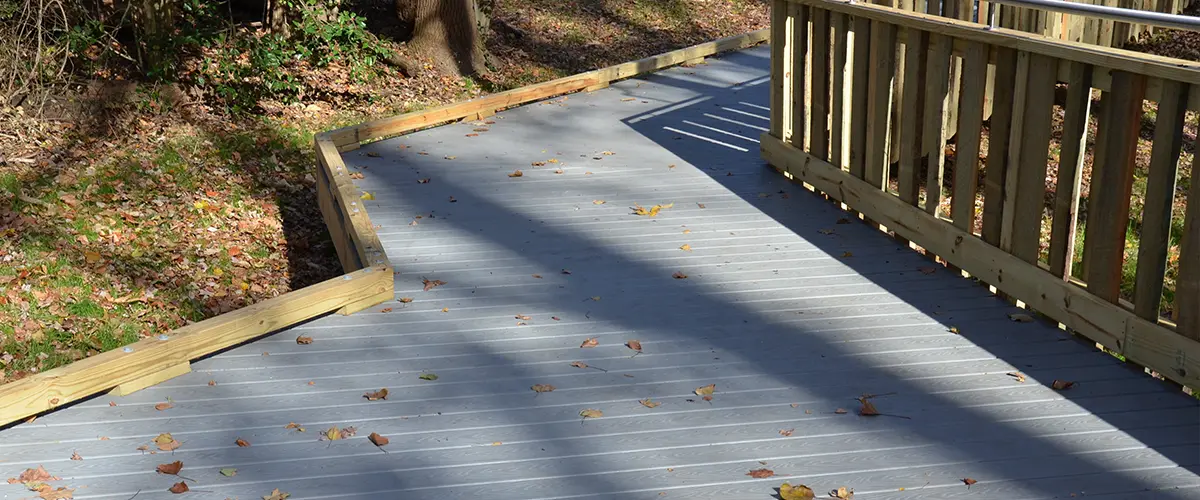 Composite decks are one of the best alternatives to traditional wood decks for a multitude of reasons.
However, what usually tips the balance for our customers is the fact that composite takes little to no attention. Of course, it's more resistant, more durable, looks great, and it lasts for a lifetime. These are also great things to keep in mind.
Here at Burgess, we offer professional deck building services for all homeowners in Snohomish, Bothell, Woodinville, North Creek, and more of WA state. Be it a composite deck or a wood deck, with us, you're ensured a beautiful deck addition that'll make all your neighbors want one themselves!
Request your free quote today, or call us directly at (425) 791-5281 to talk more about your upcoming deck building project!