The Best Deck Repair In Bothell, WA
Looking to give a quick uplift to your outdoor space?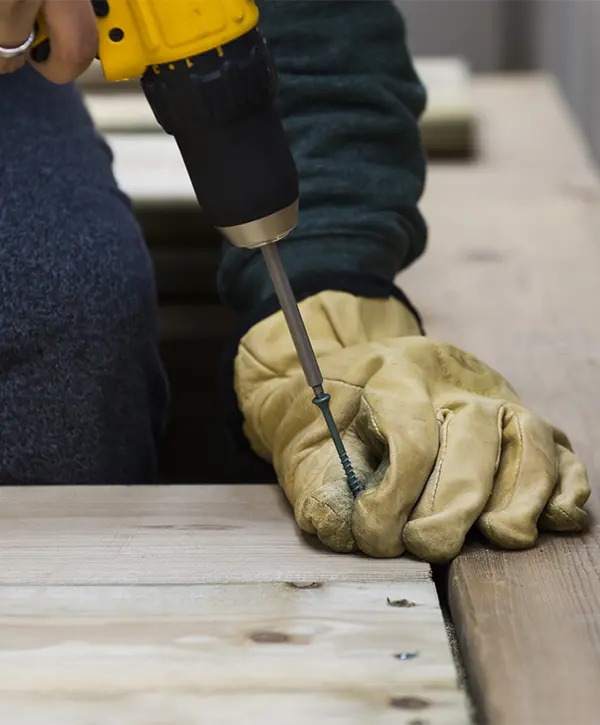 If you're ready to revamp your outdoor area with a fresh and beautiful addition, this is it!
When it comes to deck repairs, Burgess Construction is your go-to service provider in and around Bothell, WA.
We have successfully restored hundreds of decks with the guarantee that they'll last longer and offer you an outdoor space that'll entertain your guests for many years to come.
We're the go-to deck builder for homeowners around here for a few good reasons.
A Deck Repair Project That Makes You Proud Of Your Outdoors!
Outdoor areas are constantly exposed to the elements and need a little sprucing up from time to time. Our team is highly knowledgeable in deck repair techniques, ensuring us we're delivering a one-of-a-kind deck along with some extra perks that few other contractors offer.
Get A Deck Repair That You Know You Can Trust
We're here to support you throughout your entire deck repair in Bothell, ensuring that every detail is taken care of and nothing slips through the cracks.
No matter the current state of your current deck, our experienced craftsmen and builders will provide superior quality work to make it look new again. With us, you can rest assured knowing your deck will return to its former glory and will host the best barbecue parties ever!
At Burgess Construction, our main goal is to make your deck safe and secure for your family and loved ones – but at a reasonable price and without all the hassle!
Discover what you'll get with our too-good-to-say-no-to deal on deck repair in Bothell. Work with the best pros in Bothell to get your outdoor space back up and running!
Our Customers Love Their Burgess Construction Decks Repairs
Our commitment to impeccable craftsmanship is evident in our projects, and our satisfied customers are proof of a complete service, dedicated truly and fully to you, the homeowner. Here's what your neighbors say about working with us:
Burgess Construction replaced my front porch with composite decking. I am very pleased with the results. 
The porch is beautiful and really added to my curb appeal. The crew was super nice and professional. 
Great company and I will use them again when I decide to replace my backyard deck.
Burgess Construction is an incredible team from Stephanie's amazing communication, design process, and updates along the way, to the crew that built two decks in just over a week!
Thank you so much for helping see our vision become a reality!
Types Of Deck Repair Upgrades
After our on-site visit, you'll receive a detailed quote and a breakdown of all upgrades, repairs, and materials you can get for your project. Until then, let's look at some of the most common upgrades:
Homeowners in their prime may find staining, sealing, and pressure washing their deck to be calming. Senior homeowners, however, would rather have someone else on the job.
While wood decks are still the most popular decking material out there, they lack the durability and functionality that composite decking boards offer.
Compared to wood, composite materials don't need nearly as much maintenance. They don't rot as quickly and are much more durable and resistant. On top of all this, composite decking can also be made to look very similar to wood decks but without all the downsides.
In our opinion, PVC decking from AZEK or composite decking from Trex or TimberTech is a great choice, especially for the wet environment of Washington state.
Not only can wood decking and railing succumb to rot, but they are also vulnerable to damage caused by insects – both of these factors can diminish your deck's structural stability and pose a serious risk for you and your family.
Whether you're looking to enhance the appearance of your wood rail or want an upgrade with a more durable option, our deck repair projects can get the job done.
Metal railings, such as aluminum or wrought iron, are fast becoming the go-to choice for homeowners who prioritize their security and realize how hazardous a poorly built wood railing can be. Furthermore, metal railings won't rot or succumb to pest damage; they will always remain structurally sound and dependable.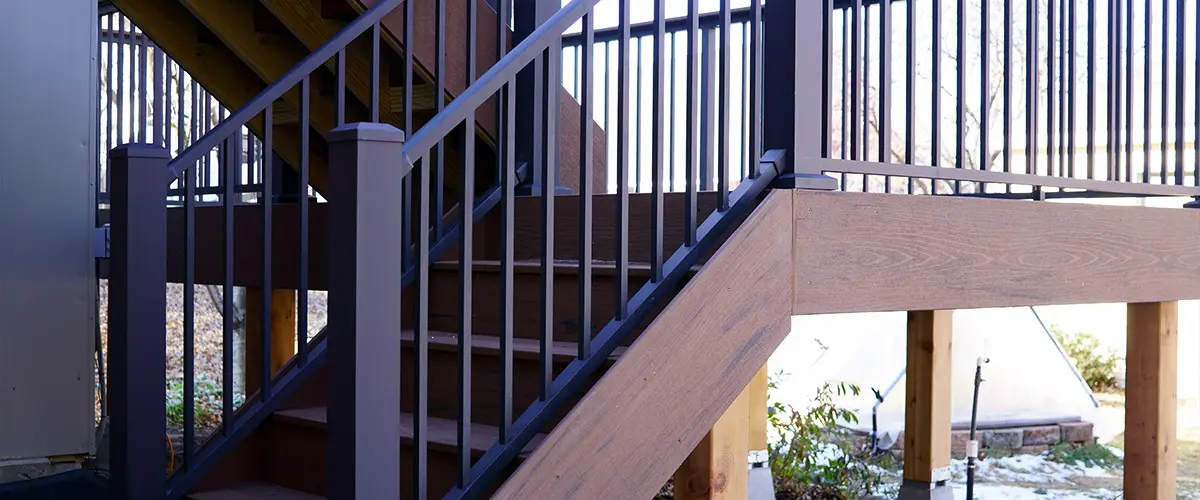 Oftentimes, outdated decks are riddled with numerous issues because of the structure.
Historically, deck posts were set directly into the ground, and since the posts were made of lumber, the entire structure was bound to weaken and pose a serious risk for homeowners.
Homeowners are making the smart choice to equip their outdoor areas with metal frames because of their unparalleled resilience in almost any weather. Fortress Building Products offers impressive deck metal frame kits that make setup a breeze and guarantee you dependable results regardless of the climate.
For a more budget-friendly alternative, Grade 1 pressure-treated lumber is still a decent option that will guarantee your deck is safe for the next few years.
Your Deck Repair Can Turn Out Like These!
Check out some of the projects we've worked on and how they turned out!
Deck Repair In Bothell Couldn't Get Any Easier
To provide both convenience and security, we crafted our process to ensure that you are never taken by surprise or without control. You'll be kept up-to-date as your project moves forward while preserving full authority over it!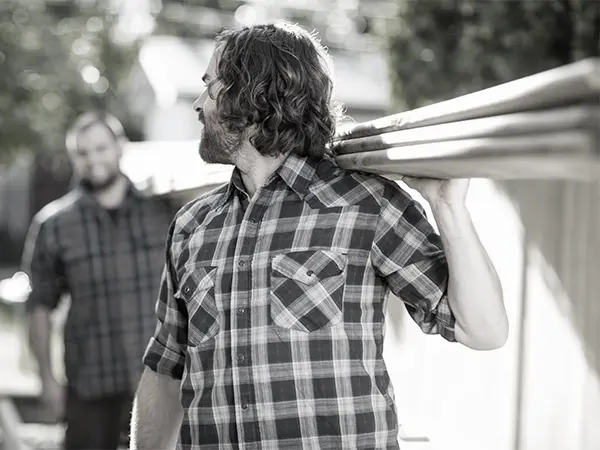 We'll discuss which aspects of your deck you're not happy with.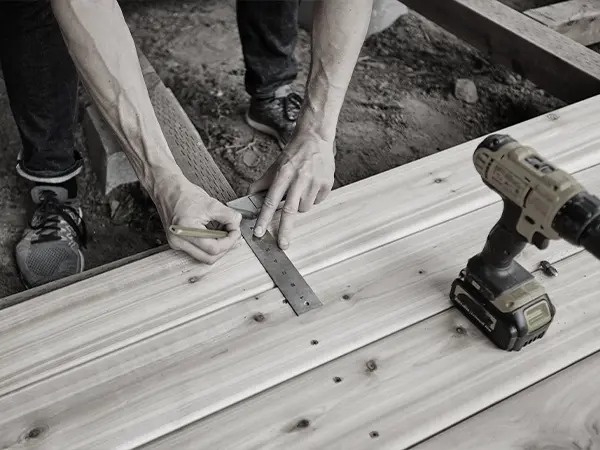 You'll witness your outdoor space come back to life.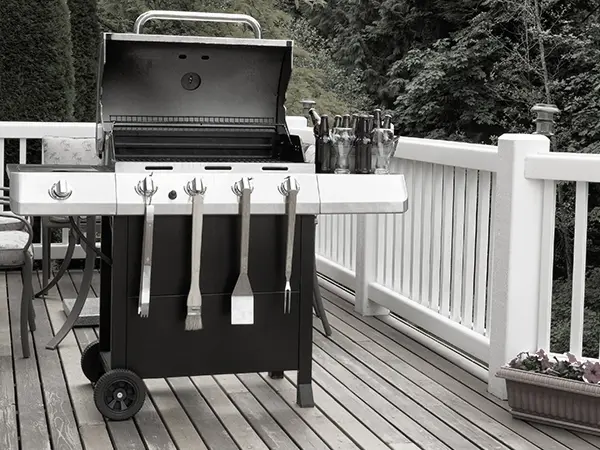 Your deck is not fully repaired and ready to entertain your guests!
Frequently Asked Questions
If your deck is still sturdy, a bit of stain can go a long way in revitalizing its look. Even replacing some of the boards with new ones will give you an impressive aesthetic upgrade for minimal effort.
To maintain your deck's structural integrity and ensure safety, rebuilding it is the safest course of action if any damage occurs to its posts or framing. Attempting repairs can be dangerous as this could compromise its solidity.
The deck repair cost in Bothell varies depending on the extent of the damage.
For instance, refurbishing old stairways may cost around $5k, while replacing a 12×12 wooden deck can be roughly priced at $14k. If you want to add extra amenities such as pergolas, custom furniture pieces, wrapped columns, wood fascia wrapping, and so on; the expenditure will likely climb substantially.
At to the total cost of the building permit fee for deck constructions in Bothell, and any possible demolishing or grading that you might need.
Once we assess your deck's condition, we'll be able to give you an accurate time estimate.
At Burgess Construction, we understand that repairing your deck is as important to you as building a new one. That's why every job we take on has the same sense of urgency and attention to detail – ensuring that whatever time it takes us, your safety and satisfaction are always our top priority!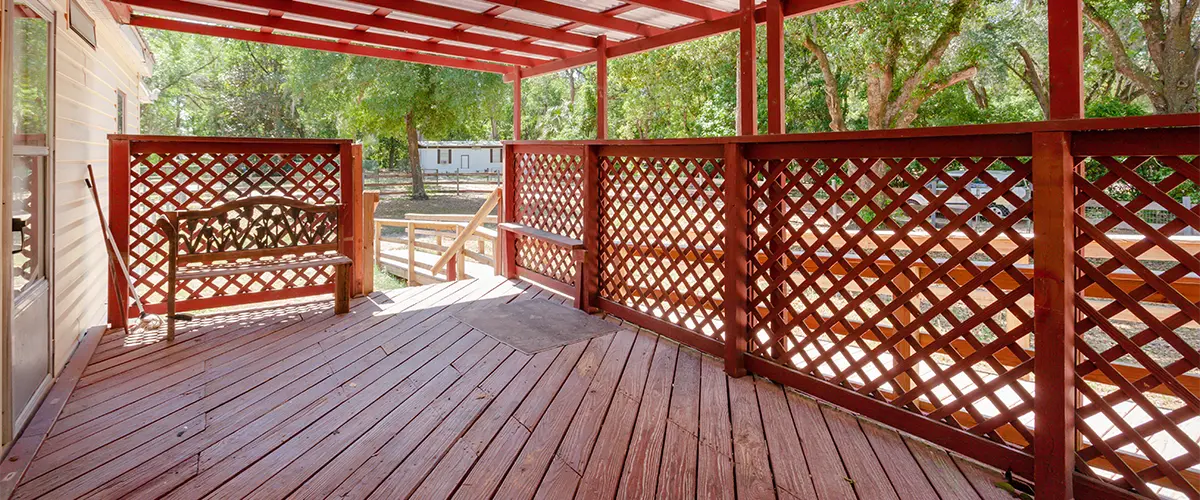 It's Time To Regain Trust In Your Deck
When your deck's surface starts squeaking, when the railing & posts become wobbly, or it just looks worn down and decayed, you know that a deck repair is in order.
At Burgess Construction, our team is experienced in foreseeing and preemptively avoiding potential problems with decks. We guarantee a secure deck that can withstand the elements and accommodates all your guests.
With our top-tier deck repair service, you'll have peace of mind knowing that you're getting 100% structural safety for your outdoor space!
With us, you'll get:
Your Deck Repair Project Can Start Today!