The Best Deck Building In Bothell
Ready to upgrade your backyard in Bothell, WA?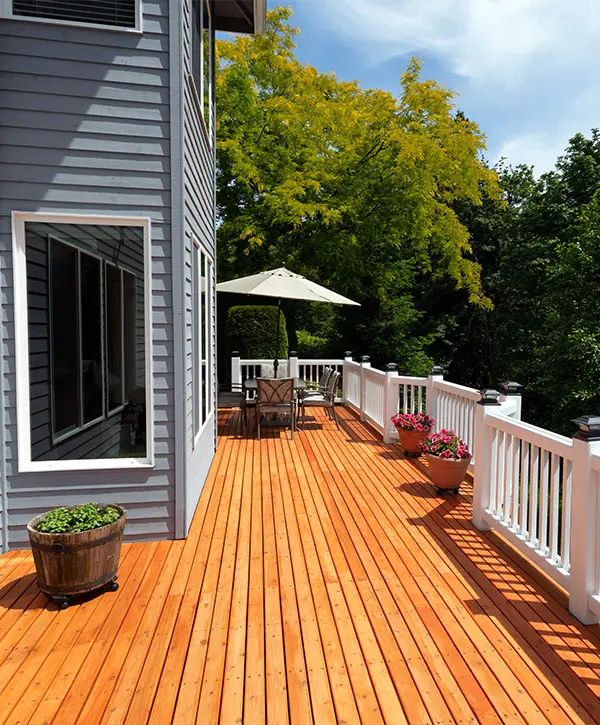 If you're searching for a high-quality deck addition that will raise the value of your home and uplift your yard, you're one step away from getting it!
Burgess Construction has been the deck builder of choice for every Bothell homeowner searching for a high-quality, long-lasting deck construction. We're industry specialists with a lot of knowledge on what makes a deck look and function well.
We strive to raise the deck building standards, which is why we're bringing to the table what no other deck builder offers.
A Deck Building Service That Keeps On Giving!
Get a complete deck building service in Bothell with the best deck builders in the area! Here at Burgess Construction, we've been building decks and fences for decades, so we know what it takes to build the perfect deck.
Let The Pros Lead Your Project To Success
We're aware that home improvements projects like a new deck building can be stressful. Couple this with the average contractor and your deck building experience can quickly become a nightmare.
We take great pride in providing high-quality craftsmanship throughout our collaboration. We're detail-oriented and focus on keeping our communication lines open during the entire building phase.
Our goal is to provide you with a premium end result that will leave you speechless. We try to alleviate the anxiety and stress that comes with such a large project, and we're aiming to give you a smooth construction process where you're on top of everything.
Check out our deck building offer in Bothell and get the best deal in your area! Start your project with Burgess Construction and enjoy having pros uplift your backyard.
Bothell Homeowners Love Their New Decks!
We've helped hundreds of people in Bothell and the surrounding areas revamp their outdoors with a new deck addition. Here's what they have to say about our team!
Burgess Construction is an incredible team from Stephanie's amazing communication, design process, and updates along the way, to the crew that built two decks in just over a week!
Thank you so much for helping see our vision become a reality!
Love the quality of craftsmanship with our brand new deck Blaine and his crew just built for us. 
They were on time and hardworking even with such rainy weather. Highly recommend!! Also, really loved working with Stephanie. 
Super responsive and professional. Looking forward to our next project to be completed for our fence.
Type Of Deck Upgrades And Materials
A number of new technologies have emerged in recent years and are rapidly gaining popularity in the deck construction field and beyond. During our on-site meeting, we'll go through all of your material choices in detail. In the meantime, here are a few of the most popular alternatives.
Your deck's frame is the key to a stable structure, so you'll want to make sure it's strong, reliable, and long-lasting.
While pressure-treated wood (particularly grades one and two) is still the most popular choice for deck framing, it still decays with time and loses its reliability. Termites also eat away at pressure-treated wood from the inside, causing even more damage.
Steel is a better option than wood because it's stronger, more durable, and won't rot or warp like wood. Steel also doesn't need to be painted or stained as often as wood does, so it will save you money over time. The best steel framing product available comes from Fortress Building Products.
Your decking is the centerpiece of your outdoor area's aesthetic. However, you don't want it to simply appeal; you need a decking material that is both practical and attractive.
A more expensive, but luxurious and up-scale deck can be achieved by using Ipe, mahogany, tigerwood or redwood decking. These wood species require significant investment, but also constant maintenance and on-going costs.
We recommend composite decking if you're searching for a material that will allow you to spend more time enjoying your deck rather than cleaning it. This is a low-maintenance, non-staining, and easy-to-clean material that won't require any staining or sealing.
You'll find decking from the biggest composite decking suppliers in the business at reasonable costs when you choose Burgess Construction. We're using brands like Trex, TimberTech, and Fiberon, but we can adjust according to your needs and budget.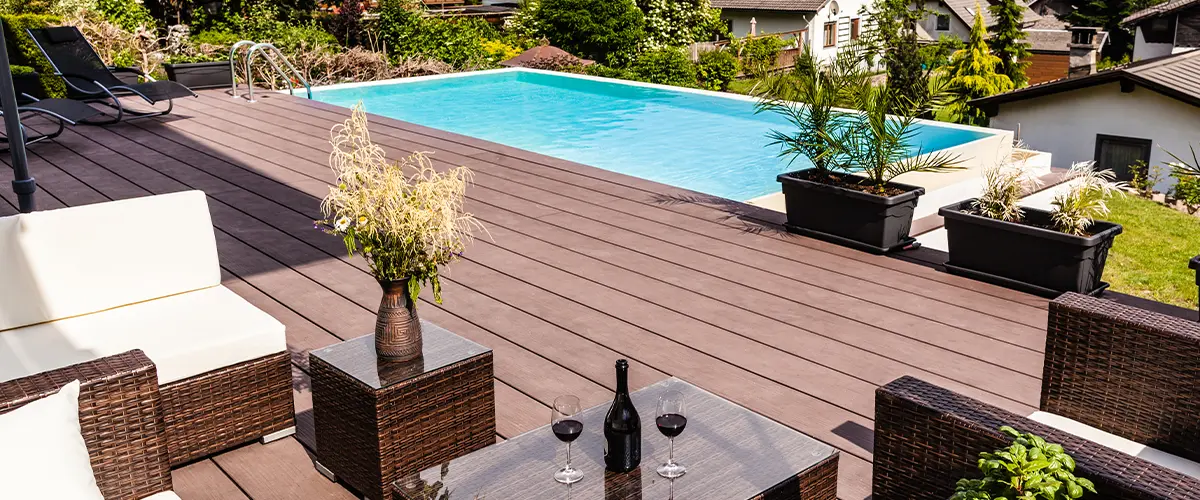 In addition to being required for most deck building projects, railings will also complement your deck and make it appear finished. They provide a sense of comfort and security, especially when hosting a barbecue or family gathering.
The most popular choice is hardwood, but we advise most of our customers to go with composite or aluminum. Composite railings last longer than wood railings, but aluminum is even more durable.
By incorporating aluminum railings from companies such as Westbury, your deck will have a luxurious look while still being budget-friendly.
Lights not only make your deck more pleasant, but they also enhance safety. Building codes call for steps lights for elevated decks.
You have complete control over your lighting choices, and we'll provide you the most cost-effective solutions on the market. We recommend warm, comfy low-voltage lights with a long lifespan. You don't want your power costs to rise, and you don't want to have to replace them in a few years' time.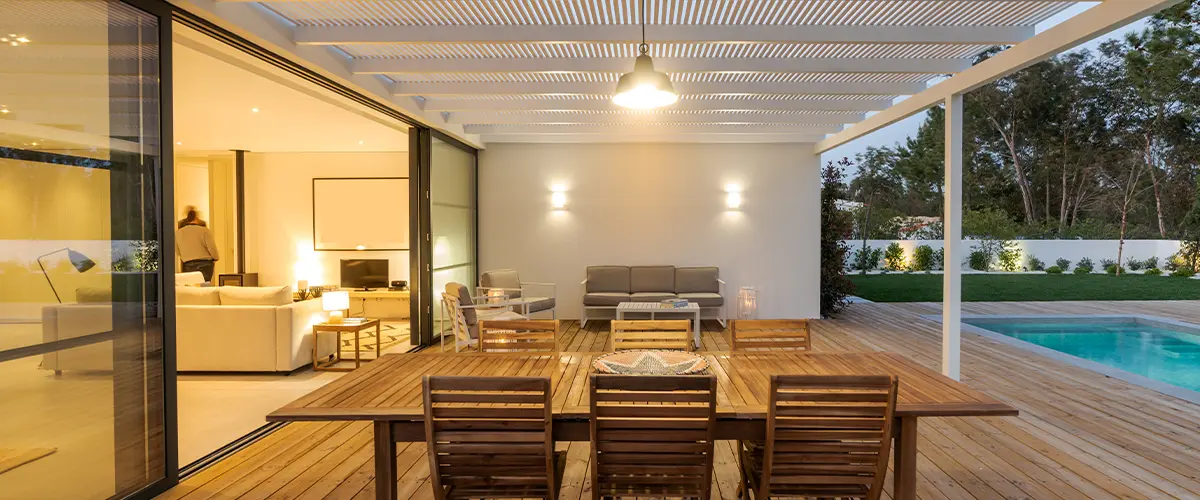 A Deck Building In Bothell Worthy Of Remodeling Magazines
We've already constructed hundreds of decks, so you'll be working with a team that's fully prepared to see your project through, no matter how big or little the task is. This is what your deck may look like:
A Deck Building Process Designed For Your Comfort
Take advantage of an experience designed specifically for your convenience and wellbeing. Our top priorities at Burgess Construction are your time and comfort, and our process reflects that.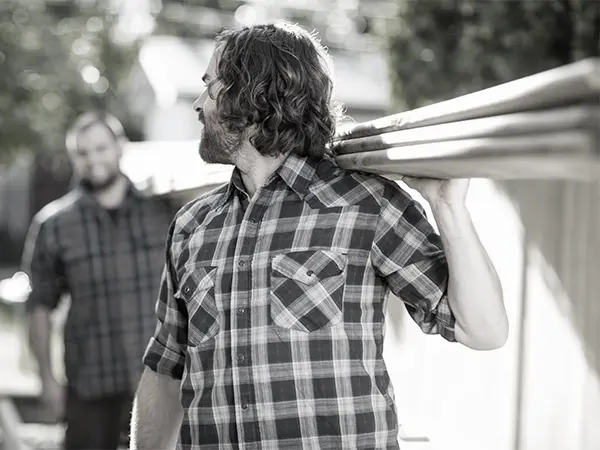 You're already doing this! Get your quote and we'll get back to you.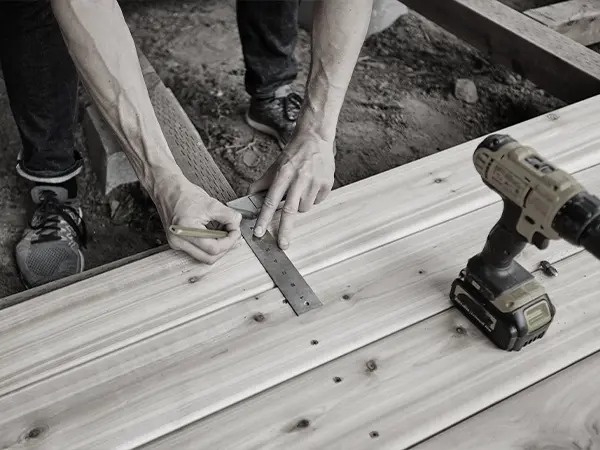 You'll be part of an incredible deck-building journey – yours!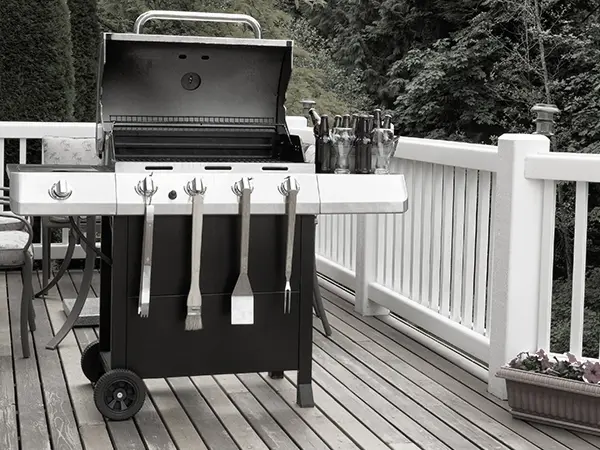 Start planning your next barbecue and invite people over!
Frequently Asked Questions
The three primary factors that affect the cost of your project are size, elevation, and materials.
A 12×12 cedar deck with no extra features will cost around $15k, but a 20×12 composite deck with aluminum railings, fascia wrapping, and a set of stairs, will cost around $30k.
We'll build your deck to meet all of your specifications while still providing excellent value. We'll work within your budget to provide you with a high-quality deck that is both useful and attractive.
Most of our decks take 3 days or less to build from start to finish, but this obviously varies depending on the project.
For example, if you're looking to get premium Trex boards that need to be shipped, that will, of course, add time onto your project.
Rest assured we'll finish your project according to the timeframe we'll provide you with.
We only work with the most professional and qualified carpenters and deck builders in Bothell. They're all licensed, insured, and have been highly trained to adhere to our core values of craftsmanship, dedication, and reliability.
Here at Burgess Construction, we've been building decks for decades now! With us, you're getting the most cost-efficient solutions and a highly-efficient deck that'll make all your neighbors want one themselves.
We love homeowners in Bothell, and we can't wait to get to know you.
A permit is often required for a new deck build, with some exceptions. At Burgess Construction, we can take care of all the paperwork for you, from getting the permits to scheduling the inspections. We're well accustomed with the deck building codes in Bothell, so you're ensured the highest construction standards.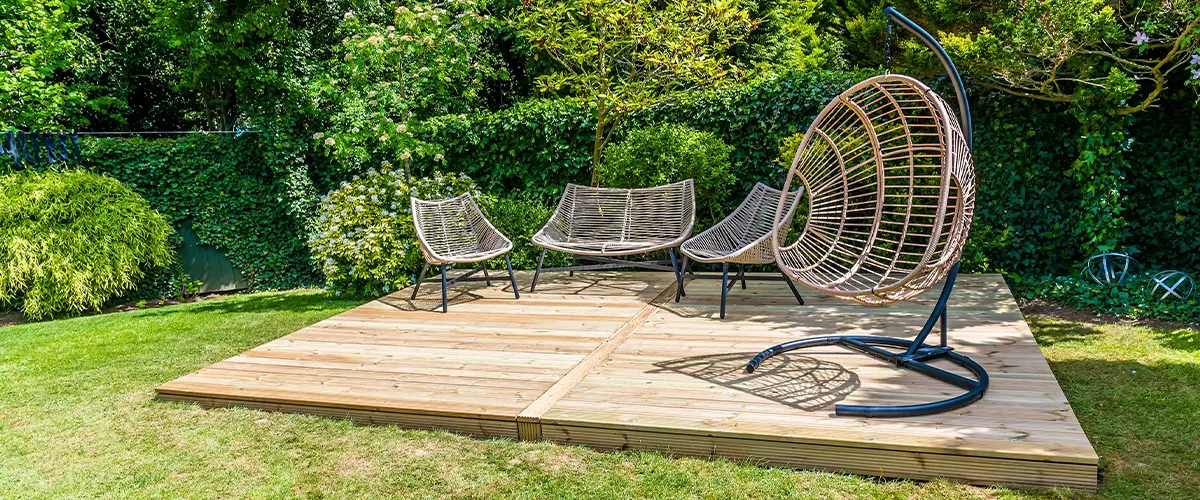 Let Burgess Construction Take Care Of You
With your local Burgess Construction pros, you can be certain that your deck building in Bothell is in excellent hands.
We take pride in our work, and we only deliver a final product that we know you will love. We also understand that your needs may change over time, so we guarantee to always be there for you and make sure any changes are made smoothly and efficiently.
In the end, you will have a deck that not only meets but exceeds all of your expectations!
You'll get:
Get A New, Quality Deck Building In Bothell Today!