Upgrading your outdoor space with the best deck railings not only enhances its aesthetic appeal but also ensures safety for you and your loved ones.
With a variety of materials all available in different styles and designs, choosing the perfect railing for your deck may seem overwhelming.
In this blog post, we will discuss the best deck railings, their pros and cons, along with factors to consider when selecting one that suits your unique needs.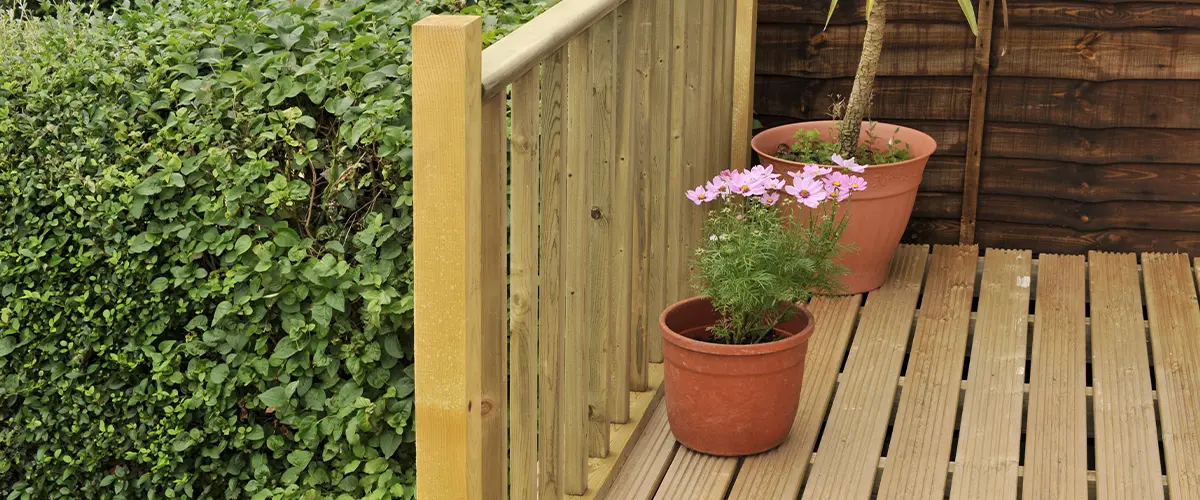 Top Types Of Deck Railings
Let's look at the top types of deck railings that you'll want to consider for your outdoor space in Snohomish, WA, and surrounding areas.
Aluminum railings have become a popular choice among homeowners for their decks due to their unique combination of strength, durability, and lightweight properties.
This material offers the advantage of being easy to install while providing the necessary support and safety features that every deck requires.
Homeowners also appreciate the versatility in design options available with aluminum railings. From traditional pickets to modern cable or glass infills, there's a style that will complement your outdoor space perfectly and give it a high-end vibe without breaking the bank.
Aluminum can also be powder-coated in various colors for further customization.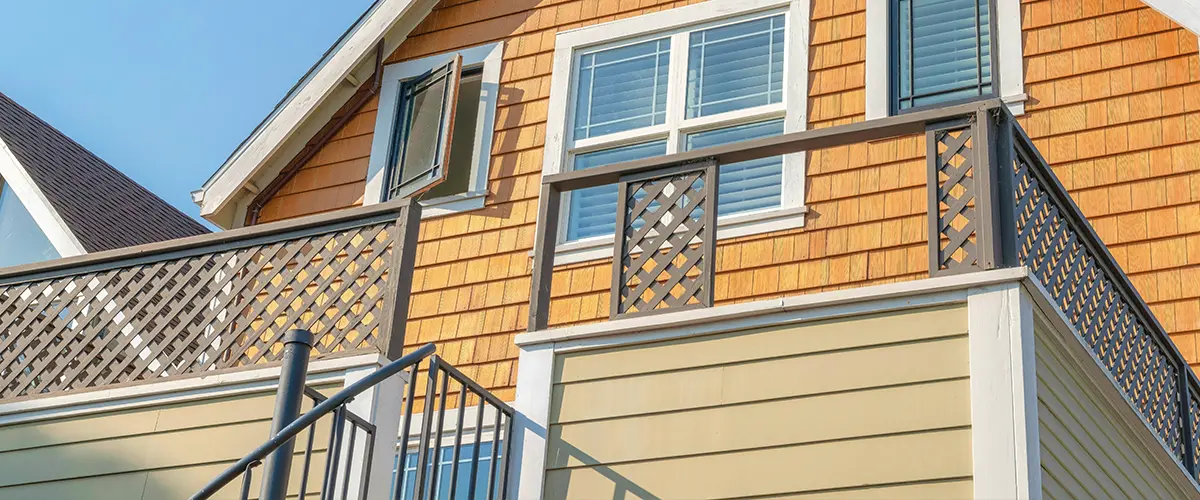 Cable railings are an excellent option for homeowners seeking a modern and sleek design for their deck. This innovative railing type features stainless steel cables that run horizontally between posts, offering an unobstructed view of your outdoor space.
One major advantage of cable railings is their low maintenance requirements – they don't require painting or staining like wood railings, nor do they corrode like some metal railing options do.
The stainless steel cables used ensure durability and longevity under various weather conditions. Additionally, cable railings provide an unparalleled level of safety due to their resistance to bending and breaking under pressure.
However, it's worth noting that installation can be somewhat challenging since proper tensioning of the cables is crucial for optimal performance and safety.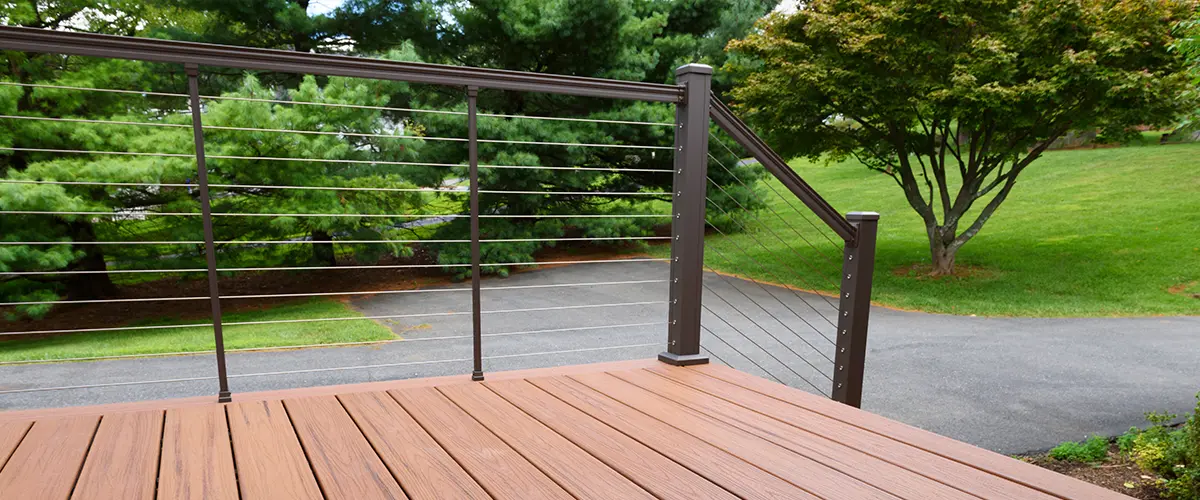 Wood railings offer a classic and traditional look that complements many home styles, making them a popular choice among homeowners. They are available in a variety of wood types such as pine, cedar, mahogany, and redwood, allowing you to select the perfect aesthetic for your outdoor space.
Although this material has its charm and versatility on its side, it's important to remember that wood railings require more maintenance compared to other options.
To keep them looking their best over time while preventing rot and insect damage, they will need regular sealing or painting every two to three years.
It is also worth noting that wood railings will need replacement due to wear and tear much quicker than other options. In the long term, wood railings are much less efficient than aluminum ones.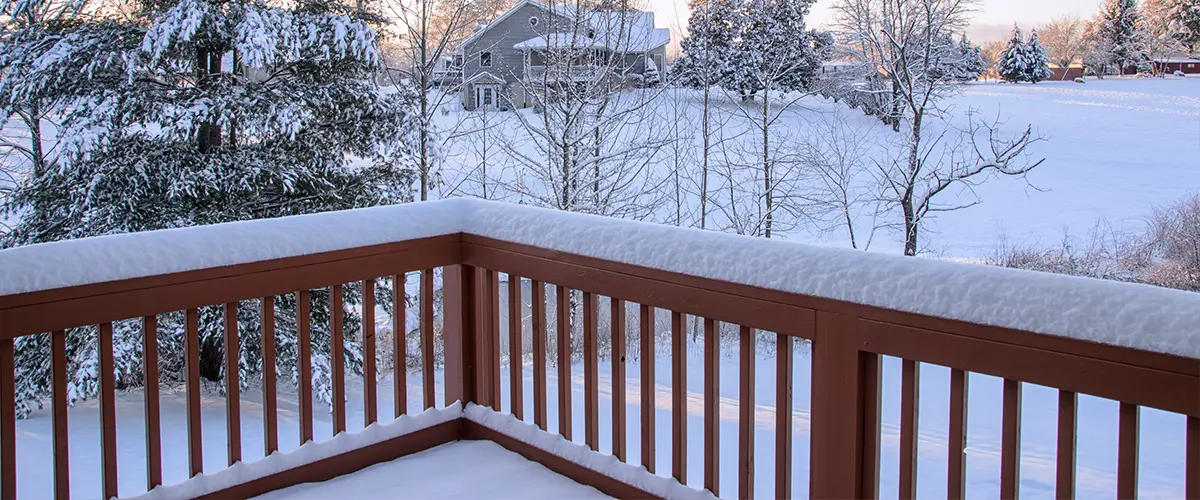 Composite railings are a great option for homeowners who want a low-maintenance and durable railing system. Made of a combination of wood fibers and plastic, composite railings are resistant to rot, insects, and weathering.
They offer the same natural look as wood railings but without the high maintenance that comes with it.
They may have limited style options than some other materials, but they make up for it in durability and easy installation than metal one.
While composite railings are affordable, they cost just as much as a quality metal railing, which is simply a much better investment for your outdoor space.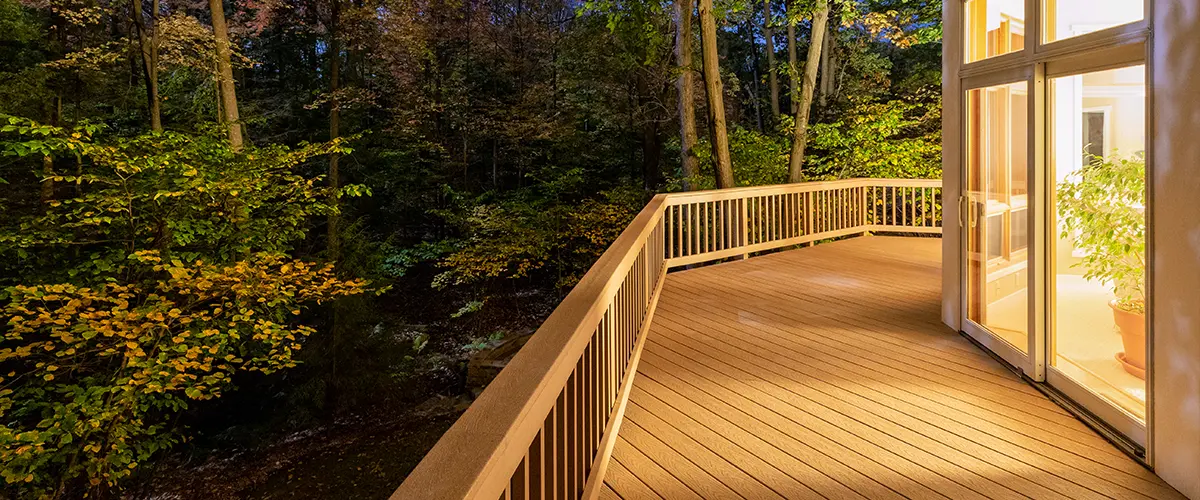 Pros And Cons Of Each Type Of Deck Railing
Each type of deck railing has its own set of advantages and disadvantages. From the lightweight and affordable aluminum railings to the traditional wood railings, it's essential to consider each material's durability, maintenance requirements, and style options.
Aluminum Railings: Lightweight, Durable, And Affordable
Aluminum deck railings are a popular choice among homeowners due to their lightweight and easy installation. These railings are also known for being durable and affordable, making them a great option for those on a budget.
Not only do they provide safety for your outdoor space, but aluminum railings also come in different styles, allowing you to customize the look of your deck to fit your preferences.
In addition, these metal railing systems require minimal maintenance compared to other materials like wood or wrought iron.
Cable Railings: Minimalist, Affordable, Low Maintenance, And Difficult Installation
If you're looking for a sleek and modern style for your deck railing, cable railings may be the right choice for you. – Cable deck railings are minimalist in design, often consisting of thin stainless-steel wires stretched horizontally across vertical posts.
However, installation can be tricky due to the precise measurements required for each wire and post placement. It's best to hire a professional installer who has experience with cable railings to ensure it's done correctly.
Wood Railings: Traditional, Versatile, Affordable, High Maintenance, And Prone To Rotting
Wood railings are popular for their traditional and versatile look, as they can easily match the style of any deck. They're also affordable, making them a practical choice for homeowners on a budget.
However, wood railings require high maintenance and are prone to rotting, especially in damp or humid climates. Regular cleaning and sealing is necessary to prevent decay and ensure longevity.
Additionally, if not adequately maintained, wood railings can become a safety hazard over time. It's essential to weigh the pros and cons of each railing type before making a decision.
Composite Railings: Durable, Affordable, Low Maintenance, Limited Style Options
Composite railings are a popular choice for homeowners who want a durable, affordable, and low-maintenance option. Made from a blend of wood fibers and plastics, composite railings do not rot or splinter like traditional, wood railing options.
They also resist fading and staining, making them ideal for outdoor spaces that receive a lot of sun exposure.
If you're looking for an easy-to-install railing system that doesn't require much upkeep, then composite railings could be the right choice for your deck.
Key Factors To Consider When Choosing Deck Railings
Consider the material options and their durability, as well as how much maintenance they require. Think about the style of your deck and what type of railing would enhance it.
Consider each material's pros and cons based on your needs before making a final decision on what type of railing is right for you.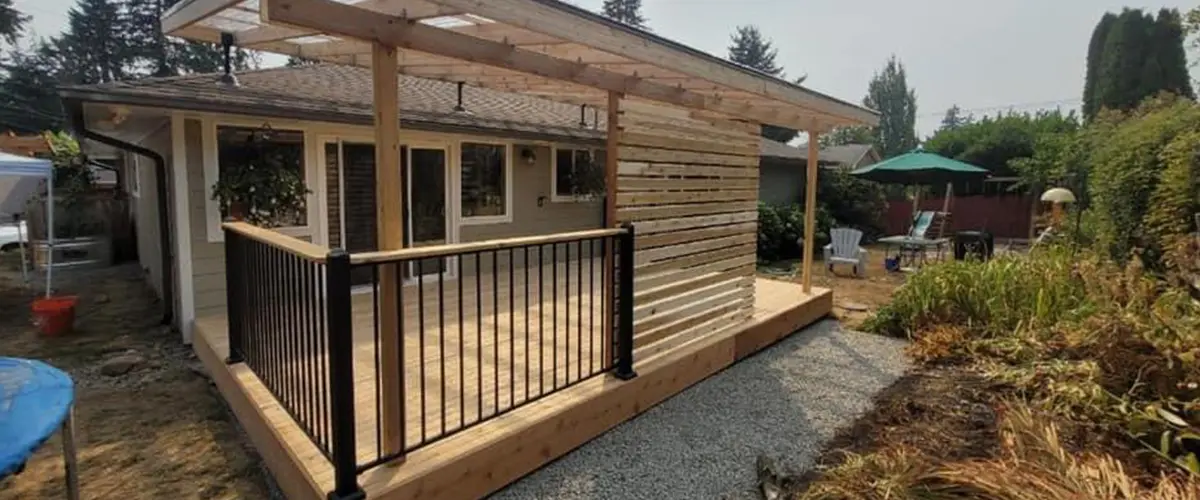 Durability And Maintenance
One of the key factors to consider when choosing deck railings is durability and maintenance. Different materials have different levels of durability, so it's important to choose one that fits your needs.
For example, wood railings are prone to rotting and require frequent sealing or staining to maintain their appearance. Even with regular maintenance (once every 2 – 3 years), wood will still show signs of wear and tear much quicker than composite or metal.
Maintenance is also an essential consideration as you want to ensure your investment lasts for a long time. Regular cleaning can prevent dirt buildup on railing surfaces, especially if you live in a humid environment where mold tends to grow rapidly.
Some deck railing materials like glass panels require less maintenance than others since they do not rust or rot.
It's crucial always to assess both durability and maintenance when deciding which type of deck railing works best for your outdoor space – failing adequately scrutinizing these elements could lead to costly replacements down the road!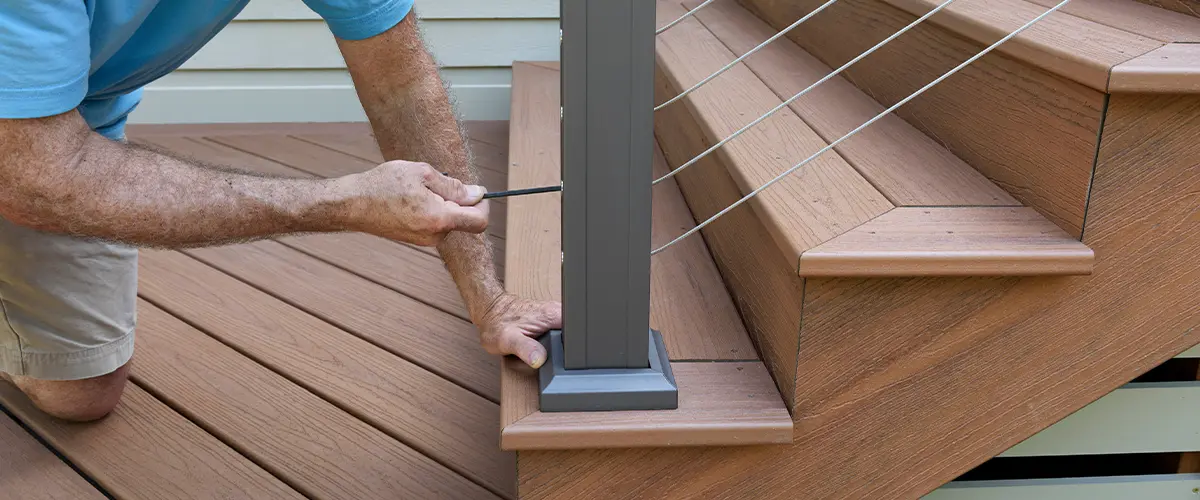 Choosing The Best Deck Railing For Your Home
Choosing the best deck railing for your home can be a daunting task, considering the number of materials and various railing designs available in the market. However, making this decision doesn't have to be difficult if you consider a few essential factors.
First off, think about the style or theme of your home and outdoor space.
Secondly, ensure that you choose a material that is suitable for your climate's weather conditions. Wood railings are popular, but here in Washington State, the humid and wet environment will pose a serious threat for them.
Consider the safety aspect when choosing deck railings as well since falling from elevated platforms may result in injuries or fatalities. Metal is more resistant, holds more weight, and is overall a great investment in the long term.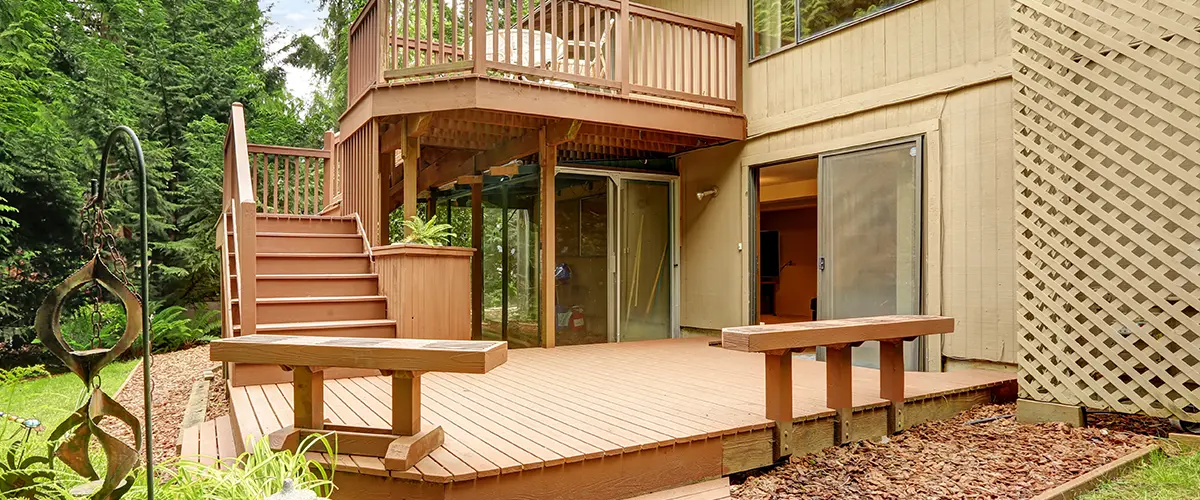 When it comes to choosing the best deck railings, there are plenty of options available that can fit your style and budget.
Our personal favorite remain aluminum railings or cable railings. These are highly safe, durable, resistant, and won't require your constant attention. They're a bit more pricier than wood or composite, but they'll pay off in the long run.
If you're ready to upgrade your deck with the best deck railings on the market, we're here for you!
At Burgess Construction, we've built and repaired dozens of decks, all equipped with a reliable railing system that's always there to maximize your deck's safety.