The Best Fence Installation In Monroe, WA
Boost the privacy of your backyard with a quality fence installation from a real pro!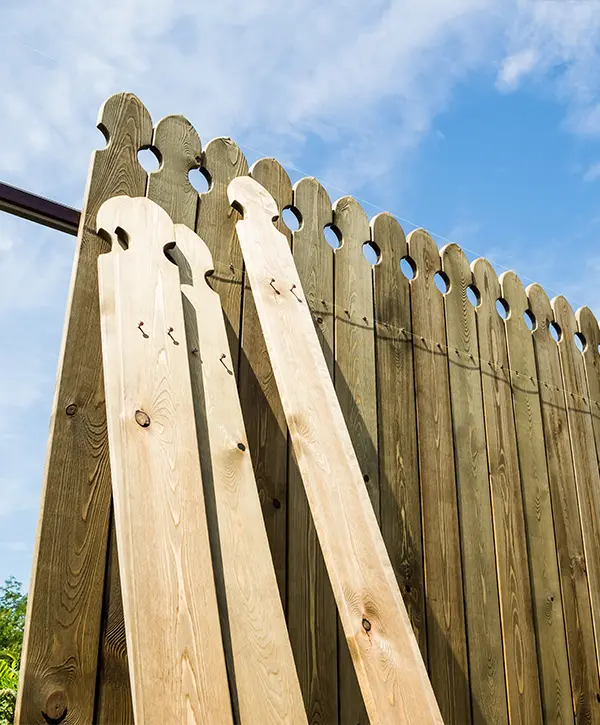 Thinking of enhancing the security and privacy of your backyard by installing a durable and long-lasting fence? With Burgess, you're getting cost-effective fencing solutions meant to fit any budget, need, or preference!
We specialize in building fences and decks for homeowners in Monroe, WA, and surrounding areas. Our focus is on providing top-notch craftsmanship and exceptional customer service to help you finish this project in record time – without any major setbacks.
Quick, Reliable, And Quality Fence Installation!
We take our fence installation service a step further and offer you, the homeowner, a quality fence and a long-lasting investment. With Burgess Construction, you're enjoying perks that no other fence builder in Monroe, WA, offers you!
Upgrade Your Property's Safety With A Quality Deck Built Fast
Installing a fence is crucial for protecting any property. Whether it's a privacy fence or a large hog wire fence for the hens, these additions can potentially save lives!
Whether you're installing a new fence for protection or in response to an event, we guarantee it will be durable, robust, and visually appealing. It will enhance the safety of your yard and provide you with a greater sense of security, but it'll also tie everything together and make your backyard seem more put together.
As experienced deck builders and fence installers, we have a deep understanding of our industry. With a lifetime of knowledge and expertise, we can provide you with a high-quality guarantee for your fence.
Your Neighbors In Monroe Love Their New Fences!
We have helped hundreds of families in and around Monroe create safer and more private backyards. Don't just take our word for it – here's what our satisfied customers have to say about working with the professionals at Burgess!
We are extremely pleased with our fences from Burgess Construction LLC. 
The crew showed up on time, was very friendly, efficient, and professional. Stephanie and the crew were great at communicating throughout the whole process. 
Overall it was a 5-star experience- I would recommend them to anyone and plan on working with them again for a new deck!
The Burgess team recently installed deck stairs and a hog wire fence in our back yard and they did a great job. 
It took a solid week to get them done and the work turned out great. They communicated with us regularly and keep us apprised of the work throughout the job. 
We would highly recommend this team.
We offer a variety of fence options for your home in Monroe, WA. Whether you want a basic cedar fence or an elaborate stone fence with metal pickets, we have options to meet your needs. Discover our extensive offer below.
Customers find cedar fences appealing because of their natural wood look. These fences can last a lifetime and offer the same security level with the right maintenance, even after many years.
When getting a wood fence, be mindful of several things:
This type of fencing has some drawbacks that need to be taken into account before making an investment, but overall it's a great choice for many of our customers.
Many homeowners and businesses are choosing vinyl fence panels because they are durable, long-lasting, and have a beautiful appearance.
The plastic material made from durable PVC requires very little upkeep as it does not crack, splinter, fade, or need refinishing.
You can choose from a variety of colors and styles, such as picket fences and privacy fencing, to find one that matches your garden's aesthetic.
Because it is a man-made material, its initial price is higher than other materials (but you'll save more later because it doesn't require continual upkeep).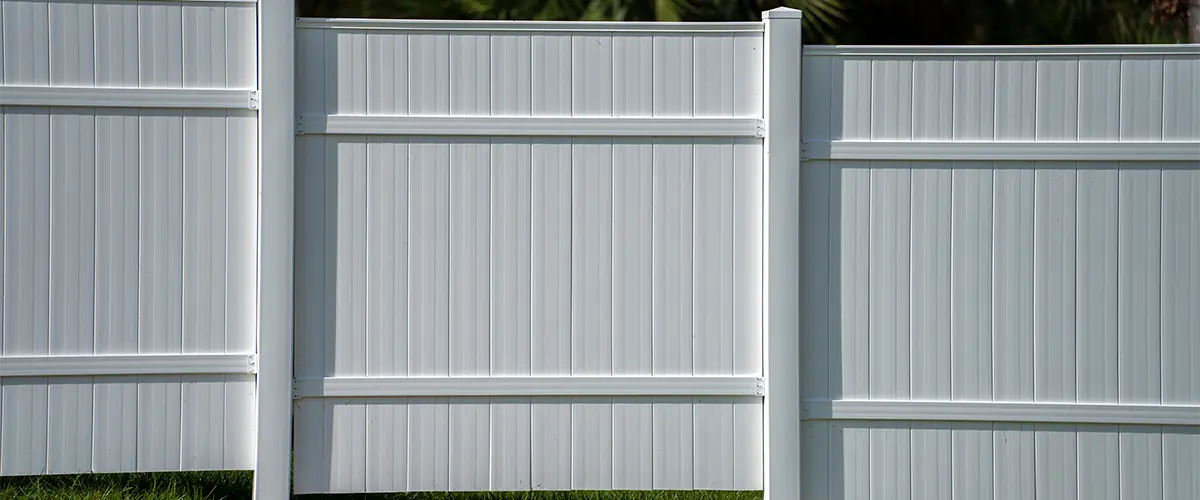 Although chain link fences are less expensive than other types of fences, they are not commonly used in residential areas since they are less visually appealing than a wooden fence.
Chain-link fences may not be aesthetically pleasing, but they offer numerous advantages that should not be ignored.
Due to their low cost, they are commonly employed to enclose large properties such as school grounds, parks, and other public spaces. Additionally, they are utilized to encircle animal pens, basketball or tennis courts, as well as more expansive areas such as farms or estates.
Metal fences such as wrought iron, aluminum, and other types are good choices if budget is not a concern.
They are more expensive, but the advantages they boast make them totally worth it.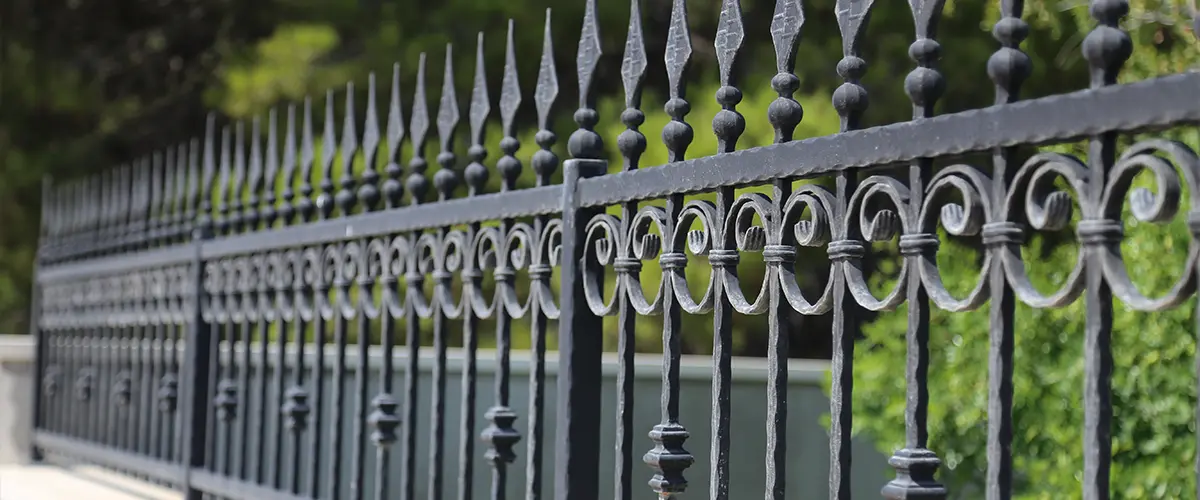 Using masonry fences with metal details can enhance the visual appeal of your property, giving it a more luxurious appearance. Additionally, such a fence can help increase the value of your home.
If you have extra money to spend, it's worth investing in this more expensive fence material instead of cedar. It will give your property a unique and upscale feel that other types of fences can't provide.
This fence has two drawbacks: it is expensive and takes longer to build compared to a vinyl or cedar fence.
Fencing Projects In Monroe Are Now So Much Easier!
At Burgess, we ensure a stress-free fence installation experience for you. You won't have to worry about any hidden fees or unexpected hassle. Sit back and enjoy the beauty of your new fence!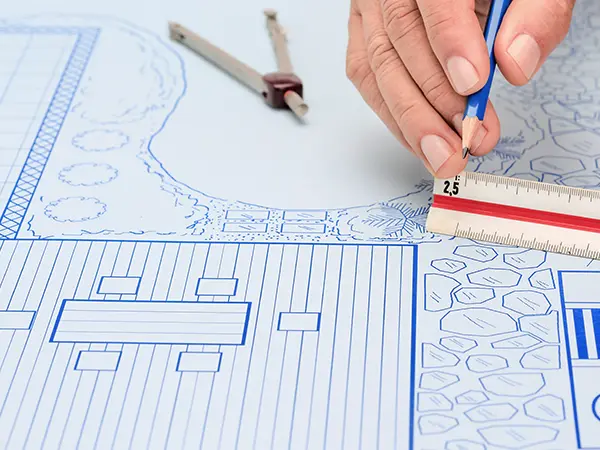 Contact us and let's discuss your project!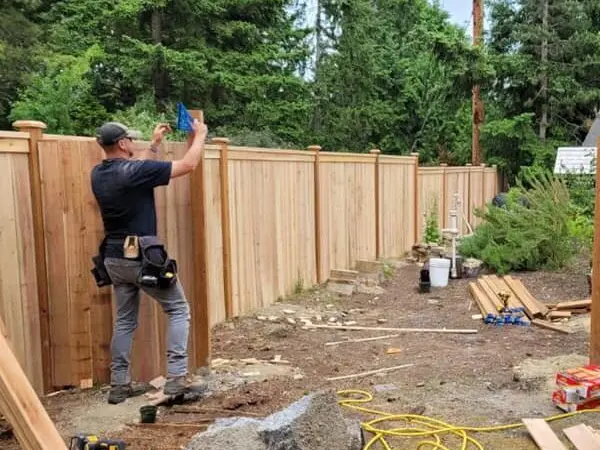 We start building your new fence.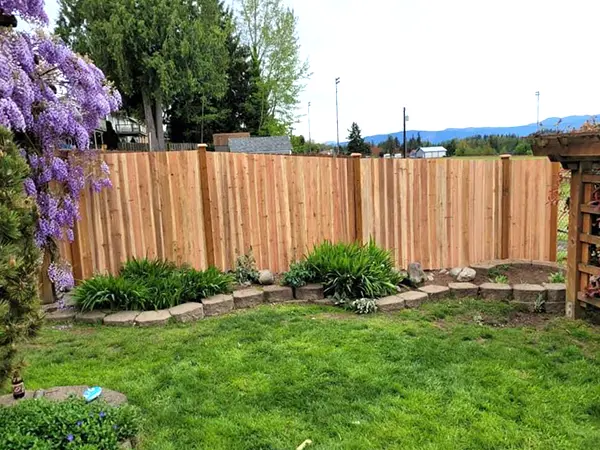 Enjoy more privacy and security with your brand-new fence!
Frequently Asked Questions
We typically finish installing fences within three days, but the duration may vary for your project. We need to evaluate the location first before giving you an accurate installation timeline. This way, you can plan and prepare accordingly.
The cost of installing a fence in Monroe depends on its size and materials. For instance, a cedar fence that spans 120 feet may cost about $6,000, but fancier fences with upgraded components or wrapped posts could cost as much as $20,000. We will provide you with an accurate quote based on your property's specifications and the features you want for your fencing system.
Fence installation in Monroe is relatively easy as long as your fence does not exceed 8 feet high. In some cases, depending on the type of fence you're installing, a permit may be required from the city. If this is needed, Burgess Construction will gladly help obtain one for you so that everything goes smoothly.
The type of fence you choose can vary greatly depending on your specific needs. For example, if you only need it to keep your pets contained, a hog-wire fence would be sufficient.
Many homeowners in Monroe are opting for wood fences due to their durability, which can last up to 30 years with options like cedar, teak, and redwood among the popular choices.
Vinyl and aluminum fences are among the most robust and long-lasting. They're great to withstand the wet climate in Washington state.
We'll walk you through all the possible options, so you'll make an informed decision!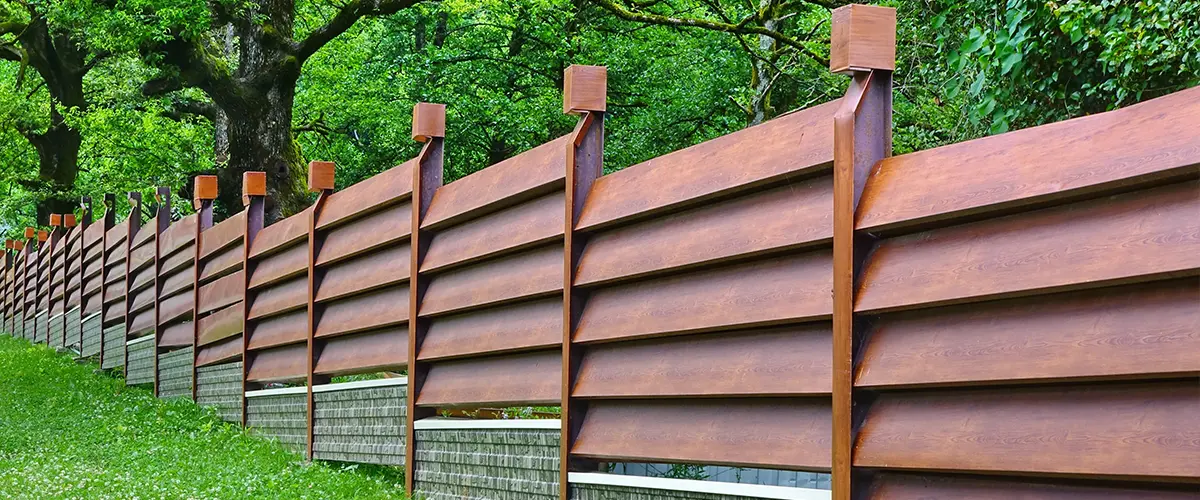 Boost Your Backyard's Safety With A New Fence
Homeowners may not think about installing a fence until a situation arises. For instance, when their pet chases after a squirrel or when someone tries to look into their backyard, the need for a fence becomes apparent.
From that moment on, fences don't seem so useless anymore.
Burgess Construction prioritizes your needs and strives to address them efficiently and affordably. We are confident that a durable fence is the most effective solution.
You deserve to feel secure and safe outdoors; additional safety measures can help you maximize your privacy and serenity.
With us, you're getting:
Ready To Get The Best Fencing Deal In Town?