The Best Fence Installation In Everett, WA
Starting your fence building project In Everett? Get your free quote with Burgess Construction!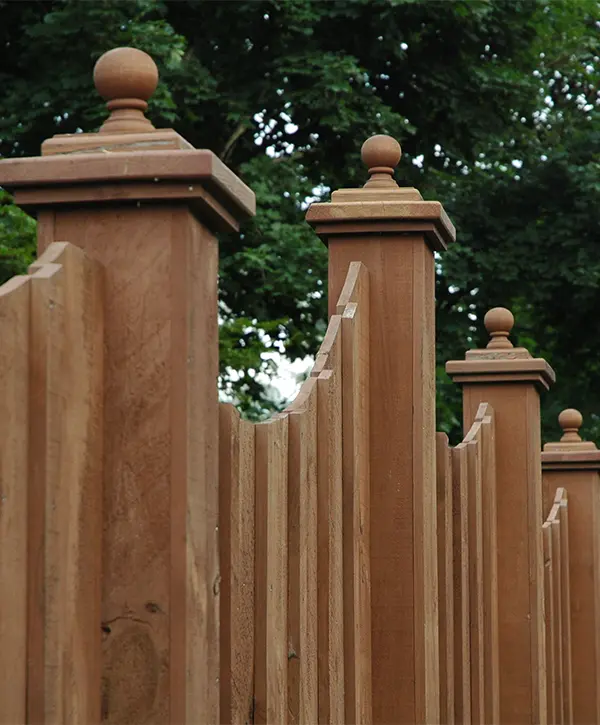 Are you ready to improve the security and seclusion of your backyard with a sturdy, enduring fence?
We have fencing solutions to fit every budget, need, or preference!
Burgess Construction is a reliable fencing contractor for Everett homeowners. With us, you'll get a sturdy and beautiful fence that will make all your neighbors jealous! We focus on high-quality craftsmanship and excellent customer service, and we guarantee an enjoyable journey with us!
Get Your Quick, Reliable, And Quality Fence Installation!
Whether you're looking for a simple privacy fence or an ornamental fence that boosts your property's aesthetics, we have you covered! With us, you're getting a complete service that focuses on your satisfaction.
Upgrade Your Property's Safety With A Quality Deck Built Fast
Fences are the first line of defense for all properties. Be it a privacy fence or a large hog wire fence, these upgrades can be life-saving!
No matter if you're building your new fence as a precaution or because of something that's already happened, we'll make sure it'll stand the test of time, strength, and beauty. It'll boost your sense of security in your backyard and will make you feel safer in your own home.
We're expert deck builders and fence installers, and we've been doing it for a lifetime. We know the ins and outs of our industry, which is why it's safe to say you have the guarantee of a high-quality fence.
Your Neighbors In Everett Love Their New Fences!
Hundreds of families in and around Everett are now enjoying a safer, more private backyard because of us! Here's what they say about working with the pros at Burgess!
We had Burgess build a fence for our backyard. They showed up on time each day and were such a pleasure to be around. 
They were very professional, hard working, and I could tell they really cared about the project. Blaine made a couple suggestions while building that fit our needs better than what we originally planned and I am SO glad he did! We thought we wanted the doors to swing either direction, but that would only allow them to open 90 degrees in either direction. 
He asked if we instead would want them to swing one direction so they would open flush against the fence so we made the change). The fence looks beautiful and I can't wait to them them out to build our covered deck!
Love the quality of craftsmanship with our brand new deck Blaine and his crew just built for us. 
They were on time and hardworking even with such rainy weather. Highly recommend!! Also, really loved working with Stephanie. 
Super responsive and professional. Looking forward to our next project to be completed for our fence.
No matter what kind of fence you're looking to get for your home in Everett, WA, we've got you! From a simple cedar fence to a beautiful stone fence with metal pickets, we're doing anything!
Discover our extensive offer below.
There are a few cons that must be considered before investing in this type of fencing, but all in all, this is a great option for many of our customers.
Cedar fences are an attractive option for customers due to their natural wood appearance. With proper treatment, they can last a lifetime and provide the same level of security even after decades.
When getting a wood fence, be mindful of several things:
Vinyl fence panels are quickly becoming the preferred choice among home and business owners due to their remarkable durability, lasting longevity, and of course – stunning aesthetic!
Constructed from long-lasting PVC, this plastic material is incredibly low-maintenance—no cracking, splintering, or fading – and does not need refinishing.
With a wide range of colors and styles to choose from like picket fences and privacy fencing – you're sure to find something that will match your garden aesthetic!
Because it is a man-made material, its initial price is higher than other materials (but you'll save more later because it doesn't require continual upkeep).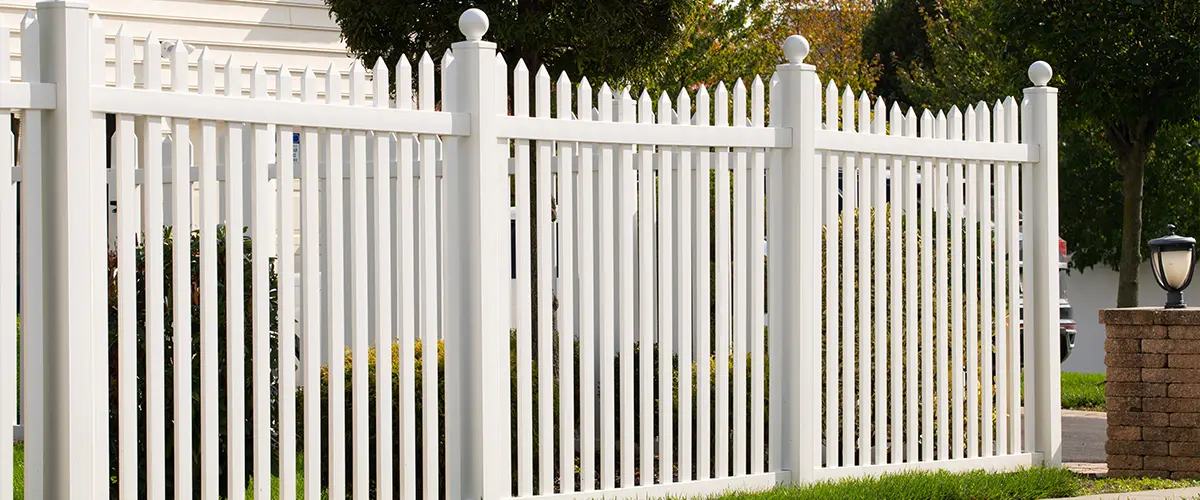 Chain link fences are much less expensive than any other type of fence, but they're rarely used in residential settings. Compared to a more attractive wooden fence, a chain-link fence is no match.
Although they aren't the prettiest, chain-link fences boast an array of advantages that should not be overlooked.
Because of their affordability, they're used to mark the perimeter of large estates, such as around schools, parks, and other public areas. They can also be found enclosing basketball or tennis courts, animal pens, and more significant properties like estates or farms.
Metal fences, whether they're wrought iron, aluminum, or another metal, these fences are great options if you're not on a budget.
They are more expensive, but the advantages they boast make them totally worth it.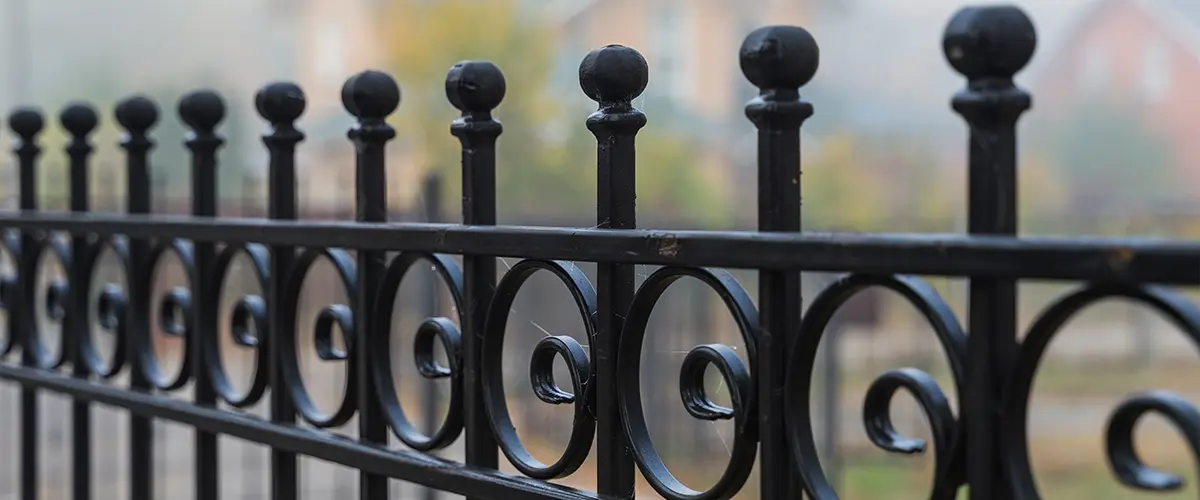 Masonry fences are the perfect way to make your property look more luxurious. Not only that, but with some metal details included in the design, it will create an eye-catching fence that's sure to turn heads and increase your home's value!
Although this type of fence is decidedly pricier than a cedar one, it's worth the extra cost if you have access to additional funds. After all, it will provide your property with an elevated atmosphere that won't be possible with any other kind of fencing.
The downside of this fence is its cost and the fact that building it will take longer than a vinyl or cedar fence.
Crazy Beautiful Fences - A Display Of Our Talent
Our commitment to excellence and our sheer enthusiasm for each of our projects is evident in the final product. This could be what your new fence looks like when we're finished with it!
Your Fencing Project Just Got 10x Easier!
When you choose Burgess for your fence installation, we make it a hassle-free experience. We don't have any surprise fees or unexpected stress – just relax and bask in the glory of your brand-new fence!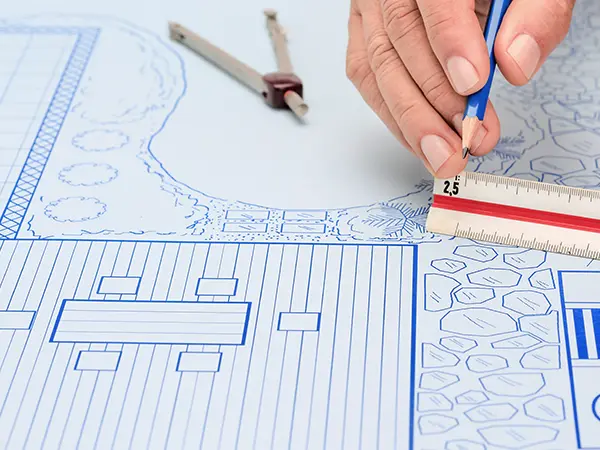 Contact us and let's discuss your project!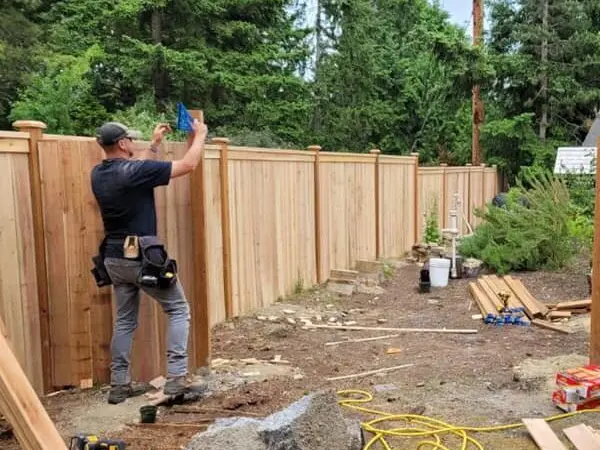 We start building your new fence.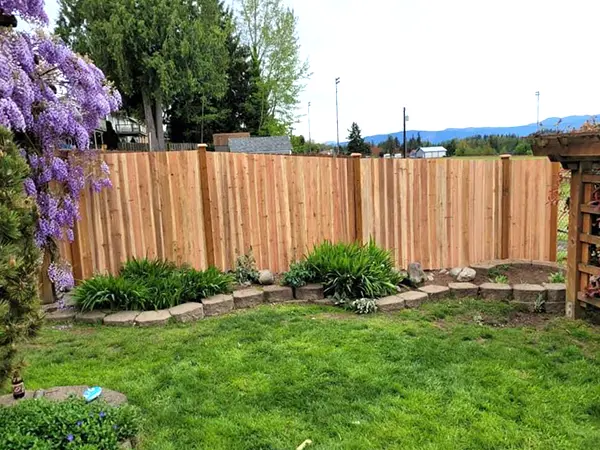 Enjoy more privacy and security with your brand-new fence!
Frequently Asked Questions
Generally speaking, fence installations are completed in three days or less. However, the timeline for your specific project may be different – that is why we assess each site before providing an exact timeframe estimate for installation. With this information at hand, you can prepare accordingly!
When it comes to installing a fence in Everett, the price can vary significantly depending on its size and materials. A 120-foot cedar fence could start at an estimated $6,000 while more elaborate fences with upgraded components or wrapped posts may reach up to $20,000. We guarantee you a precise quote after taking into account your property's specifics as well as what features you'd like for your fencing system.
Depending on your specific needs, the type of fence you choose can vary greatly. For instance, if it's simply for keeping pets in check, a hog-wire fence will suffice.
Homeowners in Everett are increasingly drawn to wood fences for a variety of reasons, like their extreme longevity. Cedar, teak, and redwood all have lifespans of up to 30 years.
Vinyl and aluminum fences are among the most robust and long-lasting. They're great to withstand the wet climate in Washington state.
We'll walk you through all the possible options, so you'll make an informed decision!
As long as your fence does not exceed 8 feet high, you won't need a building permit. In some cases, depending on the type of fence you're installing, a permit may be required from the city. If this is needed, Burgess Construction will gladly help obtain one for you so that everything goes smoothly.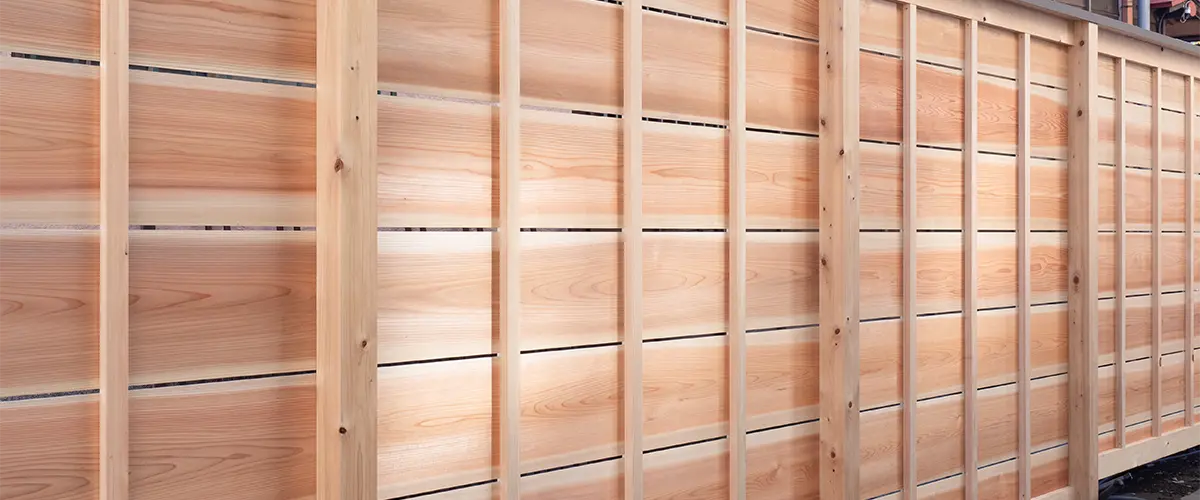 Boost Your Backyard's Comfort And Privacy With A New Fence
Homeowners may not give fences much thought until an unforeseen event. But, when their beloved four-legged friend takes off after a squirrel or when they catch someone peering into their backyard, the thought of having a fence is at its peak.
From that moment on, fences don't seem so useless anymore.
At Burgess Construction, we recognize that your needs are of utmost importance and should be taken care of as quickly and cost-effectively as possible. We firmly believe investing in a high-quality fence is the best way to accomplish this.
Maximize your serenity and privacy while outdoors with additional safety measures – you deserve to feel safe and secure.
With us, you're getting:
Create A Safer Environment For Your Loved Ones