The Best Fence Installation Cost In North Creek, WA
Want to get an accurate pricing quote? Click the button below and talk to us!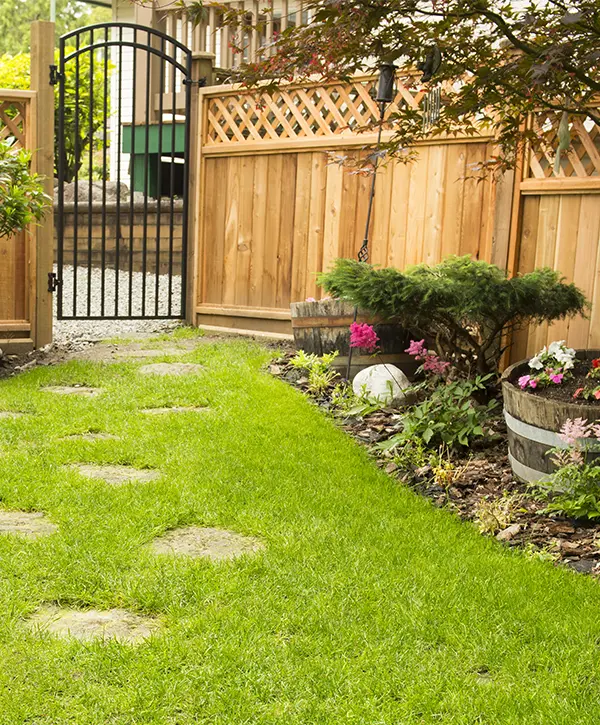 Here at North Creek, WA, homeowners often ask, "what's the fence installation cost?"
Our team at Burgess Constructions plans to provide cost-effective and affordable fencing solutions for all homeowners looking to boost their backyard's safety and privacy.
With us, you're getting a sensible price for a high-quality fence that'll last for years. We're also taking your project a step further and offering you the extra perks of working with a fencing pro — 100% dedicated to your needs!
Get The Best Price On Your Fence Installation With Us!
The fence installation industry in North Creek doesn't do you enough justice. We want to raise the standards of the fencing trade in North Creek, and we won't stop until our fences are all over WA!
Typical Fence Installation Cost In North Creek, WA
When it comes to the cost of your fence, size matters—both length and height will have a significant impact on the price. Additionally, opting for higher quality materials such as wrought iron is likely to be more expensive than pressure-treated lumber; hence, selecting wisely can make all the difference!
Let's look at the average cost to build a 100 linear feet cedar fence.
| | Basic | Better | Best |
| --- | --- | --- | --- |
| Cedar Fence Materials | $1850.00 - $2190.00 | $2240.00 - $2490.00 | $2835.00 - $3500.00 |
| Cedar Fence Installation | $700.00 - $750.00 | $800.00 - $900.00 | $950.00 - $1200.00 |
| Total | $2550.00 - $2940.00 | $3040.00 - $3390.00 | $3785.00 - $4700.00 |
| Average Cost Per Linear Ft. | $27.45 | $32.15 | $42.42 |
Your Neighbors In North Creek Love Their New Fences!
The residents of North Creek and surrounding areas now have the opportunity to experience improved privacy in their backyards, thanks to us! Our past customers have expressed appreciation regarding working with us – here's what they had to say!
The Burgess team recently installed deck stairs and a hog wire fence in our back yard and they did a great job. 
 It took a solid week to get them done and the work turned out great. 
 They communicated with us regularly and keep us apprized of the work throughout the job. 
 We would highly recommend this team.
We are extremely pleased with our fences from Burgess Construction LLC. 
The crew showed up on time, was very friendly, efficient and professional. Stephanie and the crew were great at communicating throughout the whole process. 
Overall it was a 5 star experience- I would recommend them to anyone and plan on working with them again for a new deck!
Cost Of Different Fence Materials
With size as a major contributor to the cost of your fencing project, the fence materials you choose will also significantly impact its timeline and expense. Now let's explore how much different types of fencing materials cost.
You can choose various wood species according to your personal desires (color, texture, cost, or maintenance).
Pressure-treated wood is the most economical option, yet if you are searching for an exquisite ambiance outdoors without breaking the bank, exotic hardwoods may be worth considering.
Whether you're looking to save or splurge, a variety of lumbers on the market come with their own unique sets of benefits and drawbacks. 
Check out this list outlining some of the most common woods available today – prices for material and installation included!
| Type Of Wood | Cost Per Linear Foot |
| --- | --- |
| Spruce | $25 |
| Pine | $28 |
| Cedar | $33 |
| Western Red Cedar | $33 |
| Redwood | $48 |
| Tropical Hardwoods | $50 |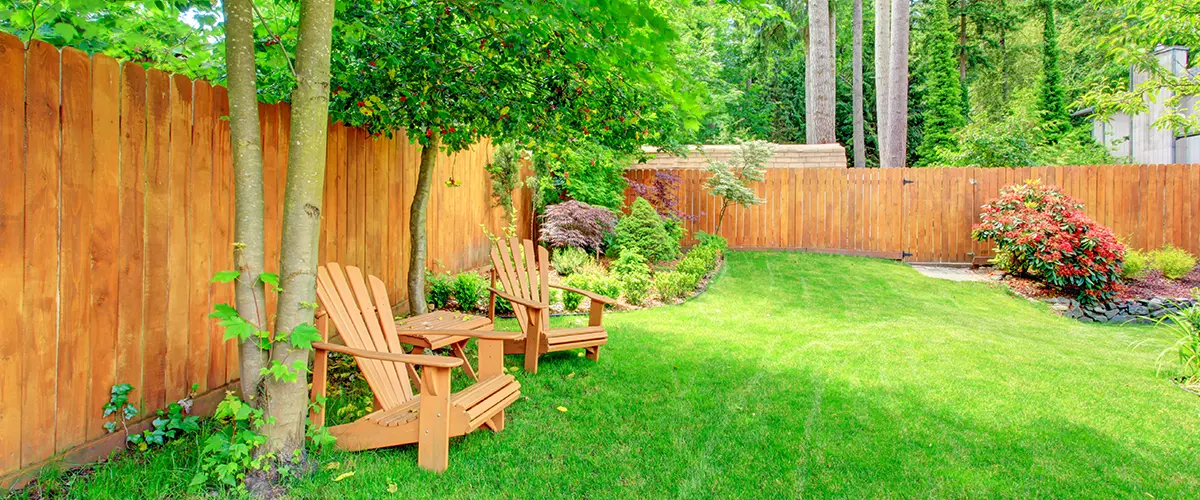 Homeowners everywhere are increasingly choosing vinyl fence panels due to their exceptional strength and durability, impressive longevity, beautiful design, and stylish versatility.
Despite their higher starting cost, artificial materials offer low upkeep, which translates to long-term savings – making them a smart investment.
The total cost for a vinyl fence installation typically ranges from $17 to $38 per linear foot. In other words, if you plan on constructing 150 linear feet of this type of fencing, you should expect to pay around $4,500 – assuming an average price of approximately $30/linear foot.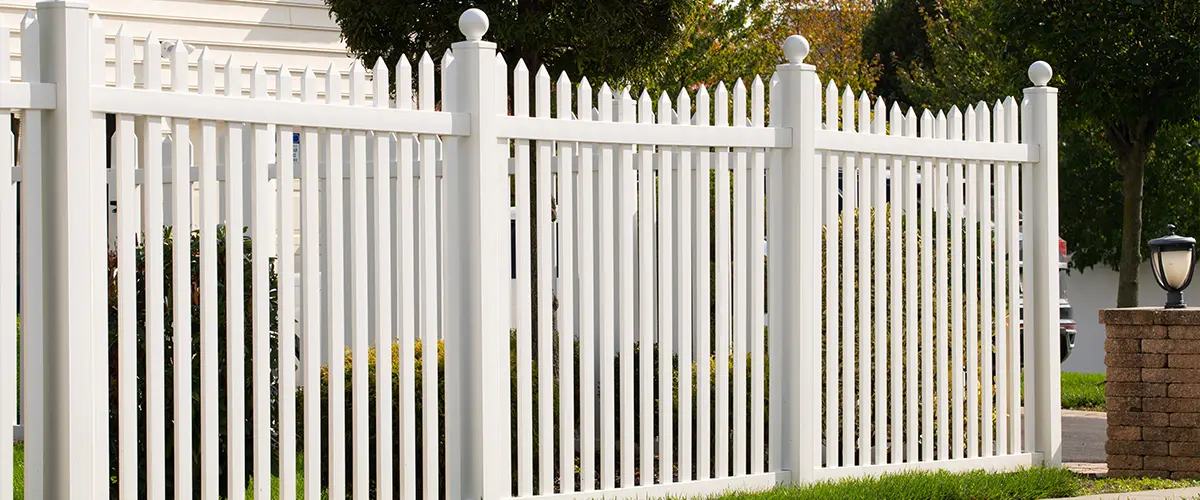 Chain link fences are a great way to save money while providing excellent security. Not only do they act as a boundary marker for large commercial properties and public areas, such as schools and parks, but their many advantages should not be overlooked either.
They provide an effective barrier that can't easily be tampered with or infiltrated through the traditional methods used by burglars. They can also be found enclosing basketball or tennis courts, animal pens, and more significant properties like estates or farms.
The chain link fence cost would be around $1,587 for a small backyard of 500 square feet, about $3,105 for a mid-sized yard of 2,000 square feet, and about $4,140 for 3,500 square feet.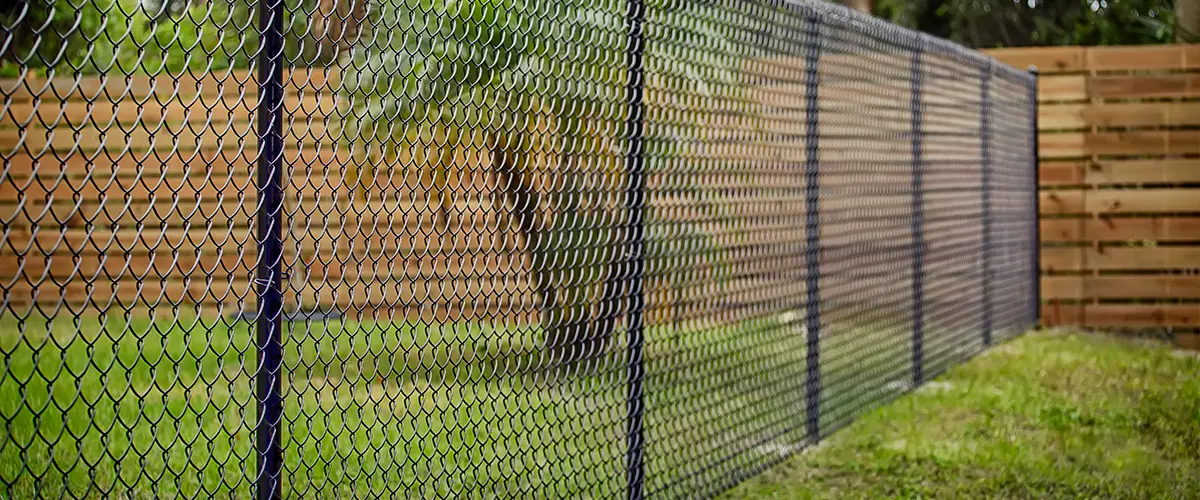 If you have the financial means, metal fences are an excellent choice for your property. Whether it be wrought iron, aluminum or another metal – these types of fences provide a unique look and feel that is sure to elevate any area they grace!
While aluminum fences may cost more than wood or vinyl, their amazing aesthetic will leave your backyard looking extraordinary. Plus, you don't have to worry about the hassles of staining, painting or resealing them – they are low maintenance and can bring an eye-catching flair with minimal effort.
Metal Fence Installation - by linear foot for a 4-foot tall fence
| Material | Unit Cost |
| --- | --- |
| Aluminum | $8 - $12 per linear foot |
| Steel | $7 - $10 per linear foot |
| Wrought Iron | $25 - $30 per linear foot |
Metal Fence Installation - 200 linear foot for a 4-foot tall fence
| Item | Unit Cost | Quantity | Line cost |
| --- | --- | --- | --- |
| Fencing material: aluminum | $8 - $12 per linear foot | 200 | $1,600 - $2,400 |
| Gate | $150 - $700 per unit | 1 | $150 - $700 |
| Fence posts installed in concrete | $2 - $4 per linear foot | 200 | $400 - $800 |
| Material Cost | $10.75 - $19.50 per linear foot | 200 | $2,150 - $3,900 |
| Labor Cost | $20 - $25 per linear foot | 200 | $4,000 - $5,000 |
| Total Cost | $30.75 - $44.50 | 200 | $6,150 - $8,900 |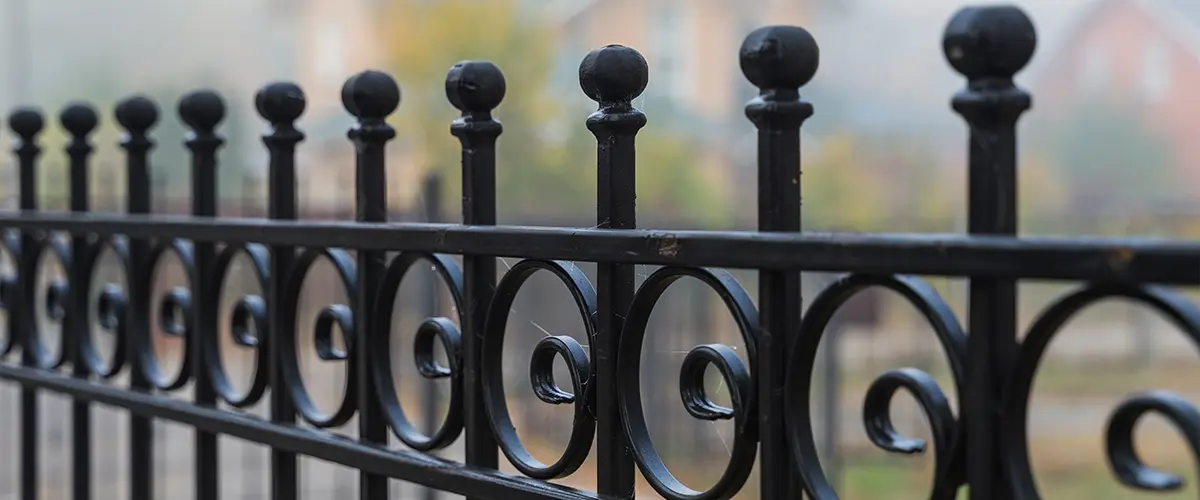 Transform your outdoor space and draw the admiration of all passers-by with a unique fence composed of metal and masonry.
Although more expensive than wooden or vinyl fences, masonry fences are a luxurious upgrade that few can afford. The installation process is slightly intricate, so it's best to hire an experienced professional. Not only will they provide beautiful and long-lasting results, but they also save you time and energy!
Generally, construction costs may vary from $10-$45 per square foot, depending on your specific type of brickwork choice.
| Type of Brick Material | Cost Range Per Square Foot |
| --- | --- |
| Traditional Brick | $35 |
| Hallow Brick | $20 - $30 |
| Brick Veneer | $10 – $30 |
| Thin Brick Veneer/Mini Brick Veneer Strips | $5 – $15 |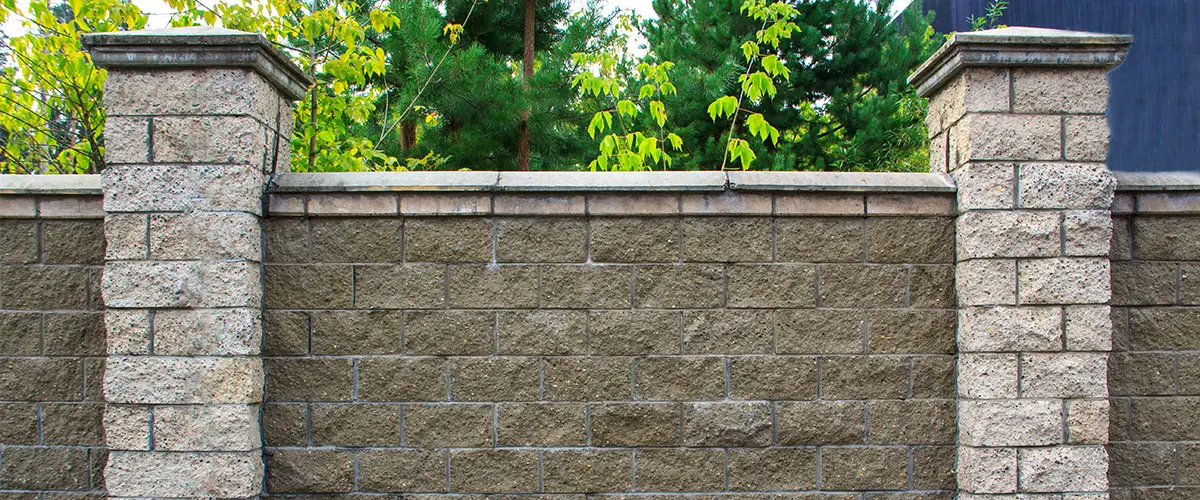 Factors That Will Impact Your Fence Installation Cost
With a vast selection of fencing materials and styles, selecting the perfect fence for your needs can be overwhelming. Furthermore, each installation process may affect the overall price depending on its complexity. Consequently, it is essential to consider the style and cost when making this vital decision.
The rain fence costs between $11 to $29, the picket fence is around $12 and $48, and the privacy fence costs between $20 to $45.
To decide how much lumber you will need for your fencing project, consider the height first. The standard fence measures 6 feet in height, but 8 and 4-foot versions are also available if desired.
For an 8-foot fence, add 20% – 30% to your budget for additional lumber. Subtract 20% – 30% for a 4-foot fence.
You'll need to install a gate to establish a secure exit route from your backyard. The professional gate installation typically requires an additional fee between $175 and $1,200. Use the same material used for your fencing to ensure continuity throughout your fence design.
Demolition Or Removal Services
When it comes to our clients' new fence installations, we provide quality craftsmanship and comprehensive clean—up services. We'll remove old fences and make sure the area is prepped, removing boulders, rocks, trees, and bushes if necessary.
To ensure everything is taken care of with extra accuracy and detail, we advise budgeting around $500 for tree removal services in addition to anywhere from $3-$5 per linear foot of fencing removal costs.
The Best Fence Installation Cost In North Creek Is At Burgess!
If you've exhausted your local BBB for fencing contractors, trust us on this one!
Start enjoying the benefits of a quality fence installation from Burgess Construction! We'll make out of your investment a cost-effective home improvement that'll bring immense value to your life.
Your security and that of your family is invaluable, so why settle for anything less than the best? Burgess Construction will provide you with an honest quote without stretching your budget. We promise to deliver superior service while constructing a safe haven just for you!
You're getting:
Ready To Get The Best Fencing Deal In Town?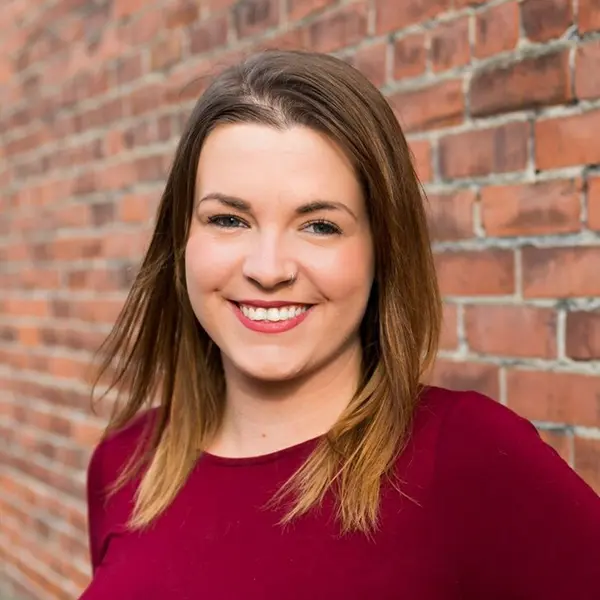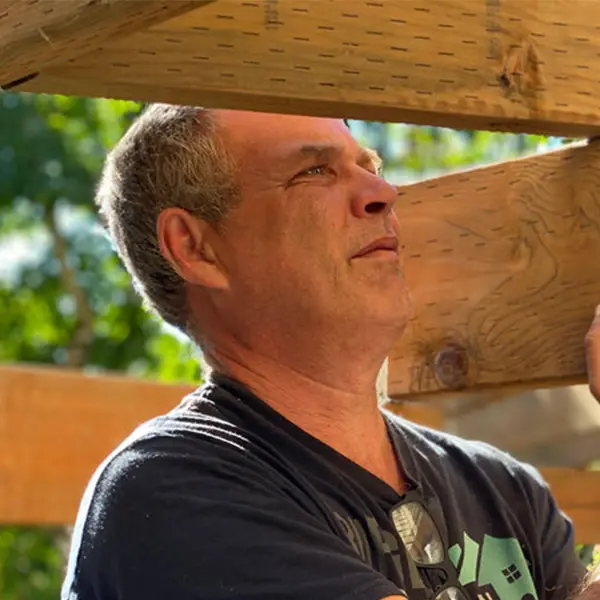 Request a free quote and let's discuss your fence installation cost in North Creek! Or talk directly with Stephanie and Blaine, the owners of Burgess Construction, at (425) 791-5281 and see if we're the right fit.