The Best Fence Installation Cost In Everett, WA
Want to get an accurate pricing quote? Click the button below and talk to us!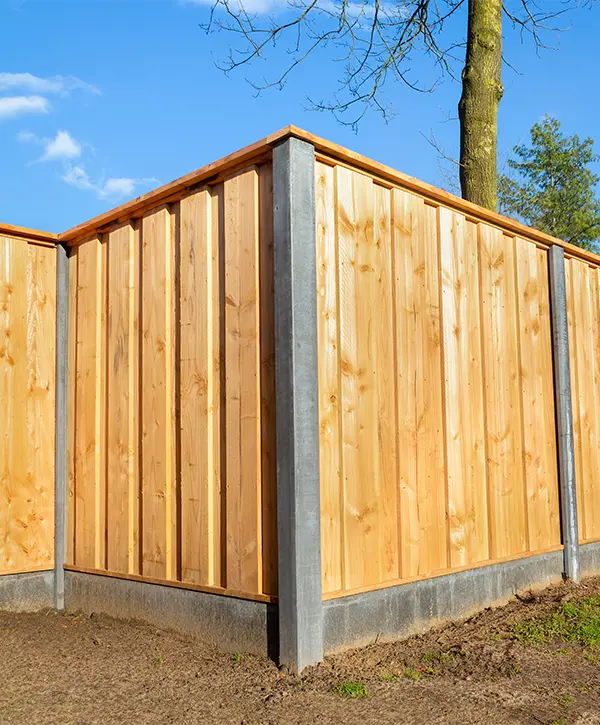 Are you curious about the fence installation cost in Everett, WA? Here at Burgess Construction, we've heard this question countless times before, and now we're planning to answer this question once and for all.
Whether you want to determine your budget for a fencing project or compare quotes with other contractors, we've got you covered with honest and upfront pricing for any fencing project you're doing.
Besides, we offer some of the most cost-effective solutions you can get in Everett, and changes are you'll love our complete service so much that we'll become your #1 option.
Everett's Best Fencing Price With Burgess Construction
Not only do we provide world-class quality services right in your neighborhood, but you'll also gain access to unbeatable perks available exclusively from leading contractors throughout the industry.
Typical Fence Installation Cost In Everett, WA
The size (length and height) of your fence is the main factor that will determine its price. Be sure to select materials wisely, as wrought iron fences are much costlier than pressure-treated lumber ones.
Let's look at the average cost to build a 100 linear feet cedar fence.
| | Basic | Better | Best |
| --- | --- | --- | --- |
| Cedar Fence Materials | $1850.00 - $2190.00 | $2240.00 - $2490.00 | $2835.00 - $3500.00 |
| Cedar Fence Installation | $700.00 - $750.00 | $800.00 - $900.00 | $950.00 - $1200.00 |
| Total | $2550.00 - $2940.00 | $3040.00 - $3390.00 | $3785.00 - $4700.00 |
| Average Cost Per Linear Ft. | $27.45 | $32.15 | $42.42 |
Your Neighbors In Everett Love Their New Fences!
Hundreds of households in and near Everett have added a layer of security to their yards, thanks to the experts at Burgess! Here's what customers are saying about our professional services:
The Burgess team recently installed deck stairs and a hog wire fence in our back yard and they did a great job. 
 It took a solid week to get them done and the work turned out great. 
 They communicated with us regularly and keep us apprized of the work throughout the job. 
 We would highly recommend this team.
We are extremely pleased with our fences from Burgess Construction LLC. 
The crew showed up on time, was very friendly, efficient and professional. Stephanie and the crew were great at communicating throughout the whole process. 
Overall it was a 5 star experience- I would recommend them to anyone and plan on working with them again for a new deck!
Cost Of Different Fence Materials
Size may be the primary factor when it comes to your fencing project's total cost, but don't forget that selecting the right material will also influence how much time and money you'll need. Now let's take a look at the various costs associated with different fencing materials!
When selecting the perfect wood species for your outdoor space, you'll need to consider various factors such as color, texture, maintenance requirements, and price. Pressure-treated wood is often the most affordable option, yet tropical hardwoods provide a stunning look but come at an increased cost.
When deciding on the perfect lumber for your home or business, it's essential to consider the various cost ranges associated with each. Here are some of the best-known woods and their corresponding price points (covering materials and installation).
| Type Of Wood | Cost Per Linear Foot |
| --- | --- |
| Spruce | $25 |
| Pine | $28 |
| Cedar | $33 |
| Western Red Cedar | $33 |
| Redwood | $48 |
| Tropical Hardwoods | $50 |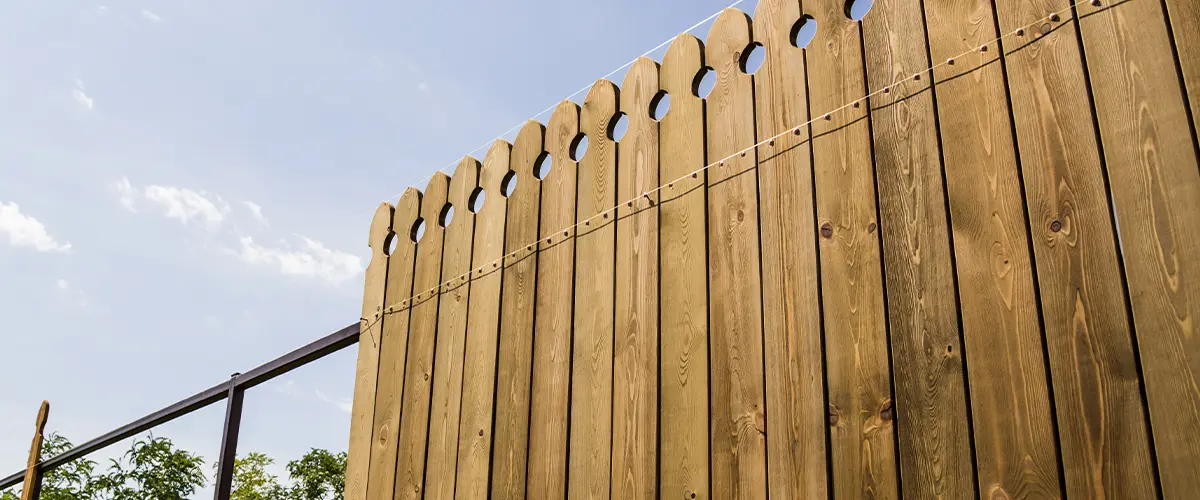 Homeowners are increasingly turning to vinyl fence panels because of their strong sturdiness, longevity, attractive look, and versatility in style options.
Despite its slightly higher cost than other materials, investing in engineered material will pay off immensely as it requires very little upkeep over time.
If you're looking to build a vinyl fence, the average cost is around $30 per linear foot. That means for 150 feet of fencing, your project will set you back roughly $4,500 – quite a steep investment! However, prices range from as little as $17 up to $38 per linear foot depending on style and design choice.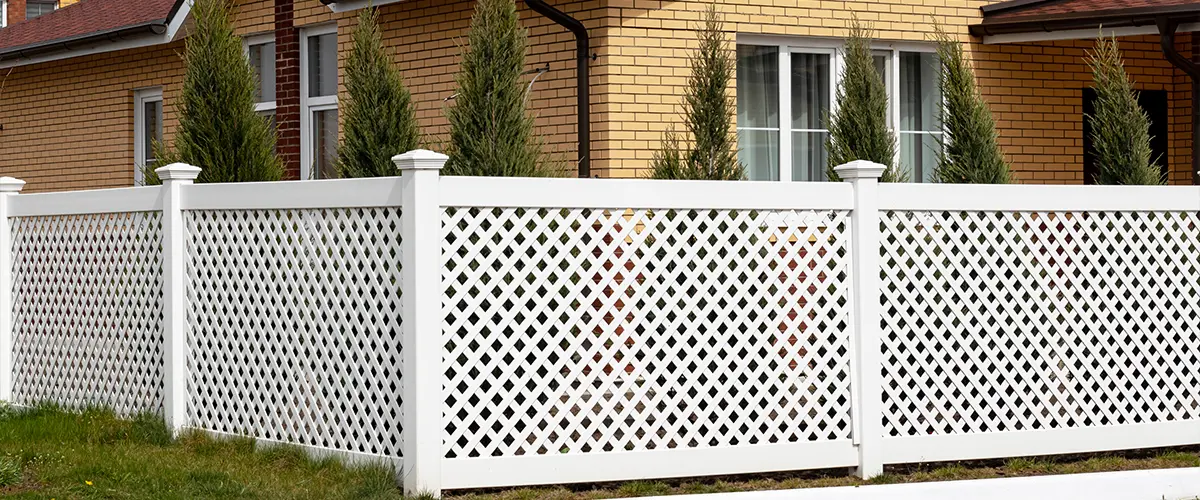 Although chain link fences tend to be less expensive than other types of fencing, they are far from bland. In fact, they come with an abundance of benefits that should not go unnoticed – like outlining the boundaries of large estates such as parks and schools or keeping your property safe.
Chain link fences make it easier to secure public areas while still providing a sense of security for everyone who visits them!
The chain link fence cost would be around $1,587 for a small backyard of 500 square feet, about $3,105 for a mid-sized yard of 2,000 square feet, and about $4,140 for 3,500 square feet.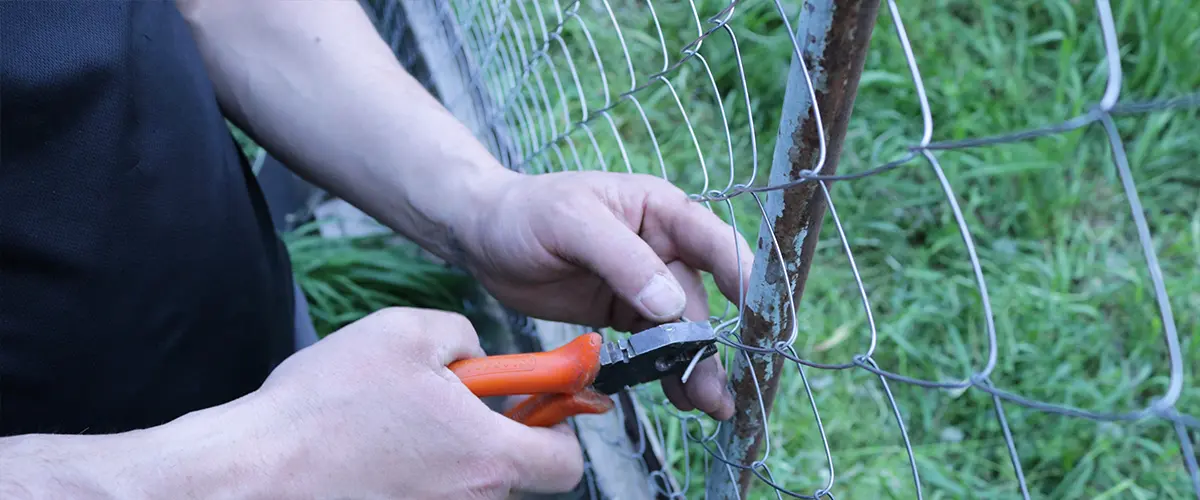 Metal fences, whether wrought iron or aluminum, is an ideal choice if money is not a concern. These are durable, high-quality materials that won't require any of the maintenance a wood fence will.
Yes, they'll cost more than wood or vinyl fences, but the vibe they bring to your backyard is impressive.
Metal Fence Installation - by linear foot for a 4-foot tall fence
| Material | Unit Cost |
| --- | --- |
| Aluminum | $8 - $12 per linear foot |
| Steel | $7 - $10 per linear foot |
| Wrought Iron | $25 - $30 per linear foot |
Metal Fence Installation - 200 linear foot for a 4-foot tall fence
| Item | Unit Cost | Quantity | Line cost |
| --- | --- | --- | --- |
| Fencing material: aluminum | $8 - $12 per linear foot | 200 | $1,600 - $2,400 |
| Gate | $150 - $700 per unit | 1 | $150 - $700 |
| Fence posts installed in concrete | $2 - $4 per linear foot | 200 | $400 - $800 |
| Material Cost | $10.75 - $19.50 per linear foot | 200 | $2,150 - $3,900 |
| Labor Cost | $20 - $25 per linear foot | 200 | $4,000 - $5,000 |
| Total Cost | $30.75 - $44.50 | 200 | $6,150 - $8,900 |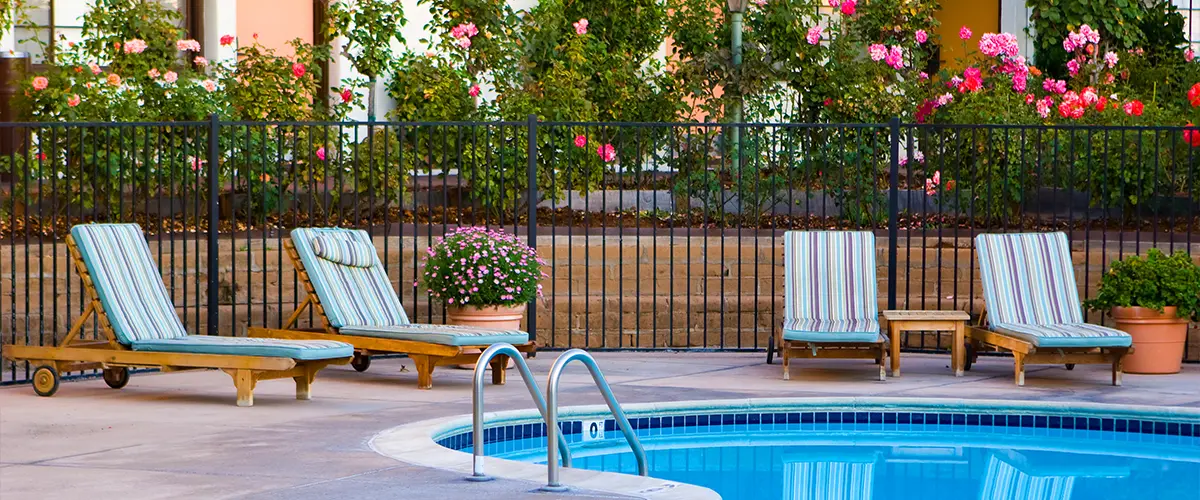 Create a unique and eye-catching fence by mixing metal and masonry – your home will be the envy of all who pass it!
If you're searching for a fence that's gorgeous, resilient, and befitting of your property – masonry fences are the ideal choice. Unfortunately, these types of fences come with a hefty price tag and require professional installation to achieve optimal results. With an expert on board, however, no expense will have been spared in creating an enduring barrier around your home or office space!
Depending on the type of brickwork you choose, generally, construction costs can range from an affordable $10 to a more expensive $45 per square foot.
| Type of Brick Material | Cost Range Per Square Foot |
| --- | --- |
| Traditional Brick | $35 |
| Hallow Brick | $20 - $30 |
| Brick Veneer | $10 – $30 |
| Thin Brick Veneer/Mini Brick Veneer Strips | $5 – $15 |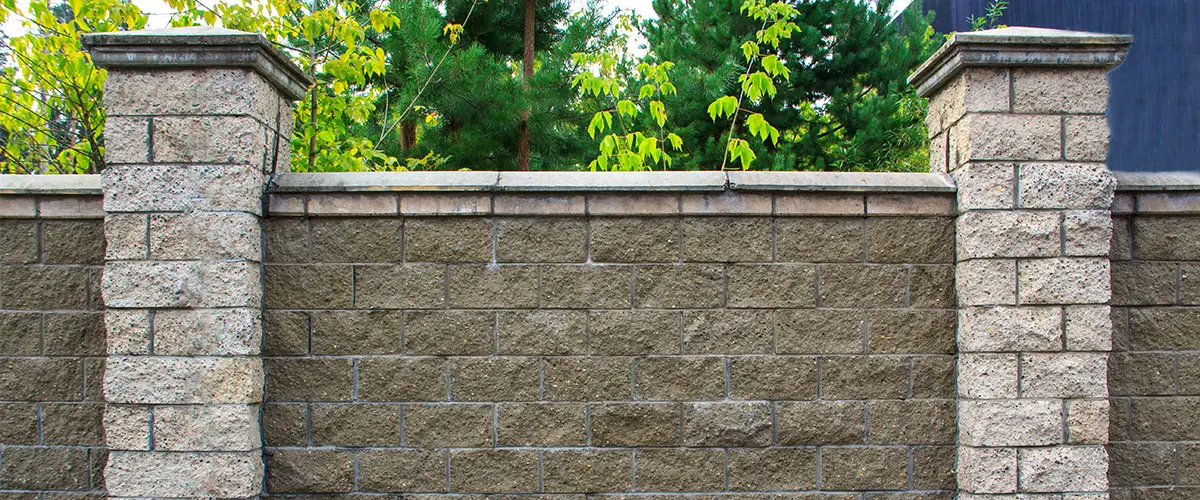 Factors That Will Impact Your Fence Installation Cost
With a variety of fencing materials available, there are many distinct fence styles to choose from. Each style necessitates its installation approach, which can drastically affect the cost. Selecting the right one is essential for your needs and budget!
The rain fence costs between $11 to $29, the picket fence is around $12 and $48, and the privacy fence costs between $20 to $45.
Figuring out the quantity of lumber required for your fencing task depends on its stature. The typical height is 6 feet, however, you may also opt for 8 or 4-foot fences.
For an 8-foot fence, add 20% – 30% to your budget for additional lumber. Subtract 20% – 30% for a 4-foot fence.
You'll need a gate to ensure an exit route from your backyard. In general, expect to add $175 – $1,200 to your total costs for professional gate installation. You'll want to use the same material as the fence, so everything flows right.
Demolition Or Removal Services
If you need to have your outdated fence removed or cleaned to install a new one, our team is here for you. From removing boulders and rocks to trees and shrubs, it's all included with an additional budget of $500 specifically towards tree removal services. You can also expect between $3 – $5 per linear foot when getting rid of the old fencing material. We might also need building permits for some projects, so be sure to check out the building codes in Everett, WA!
Your Unique Fence Installed In A Few Days
At Burgess, we strive to make your fence installation an enjoyable experience. You can trust that there won't be any hidden fees or unnecessary stress – just sit back and enjoy the beauty of your brand-new fence!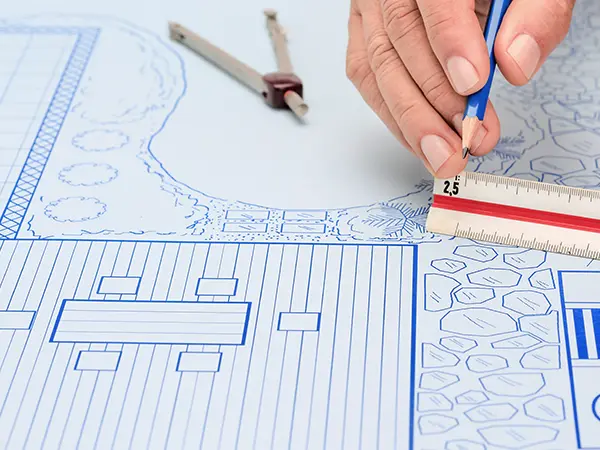 Contact us, and let's discuss your project!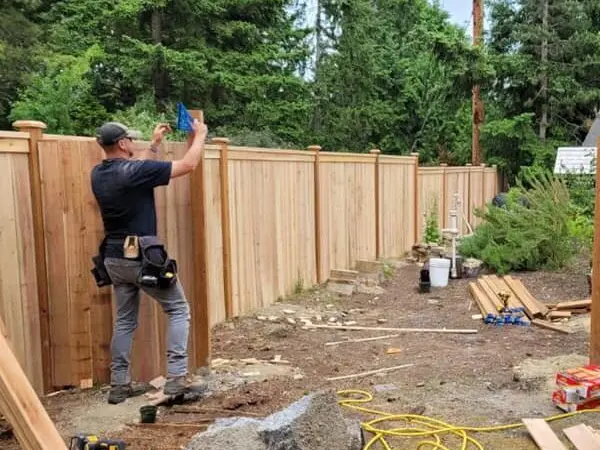 We start building your new fence.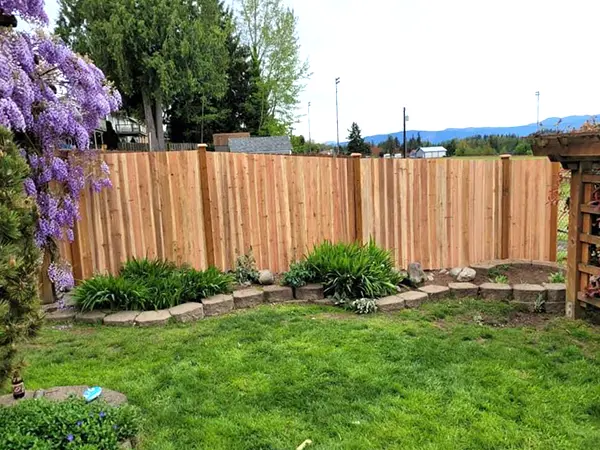 Enjoy more privacy and security with your brand-new fence!
An Invaluable Upgrade At A Sensible Price
Don't let fence installation be a source of stress for you! In fact, it is one of the most cost-effective home improvements that can bring immense value to your life.
Your and your family's safety is invaluable, and that's why we provide a reliable quote for our superior service. With Burgess Construction, you can achieve the peace of mind you're searching for without spending too much money.
Make sure to invest in security today so that your loved ones are protected tomorrow!
Ready To Get The Best Fencing Deal In Town?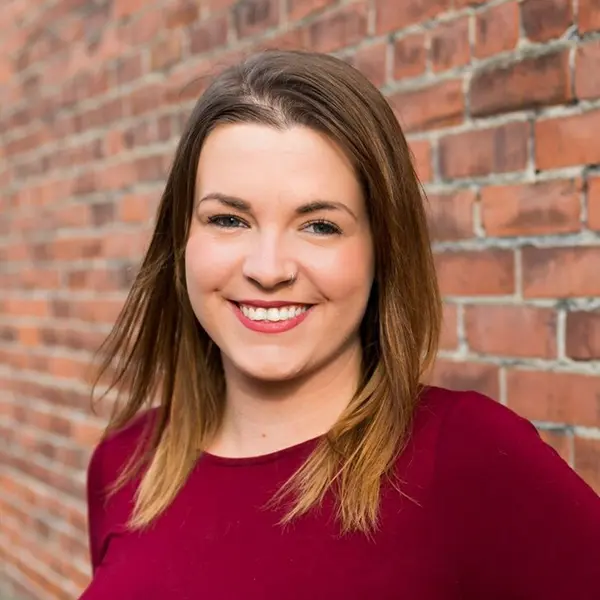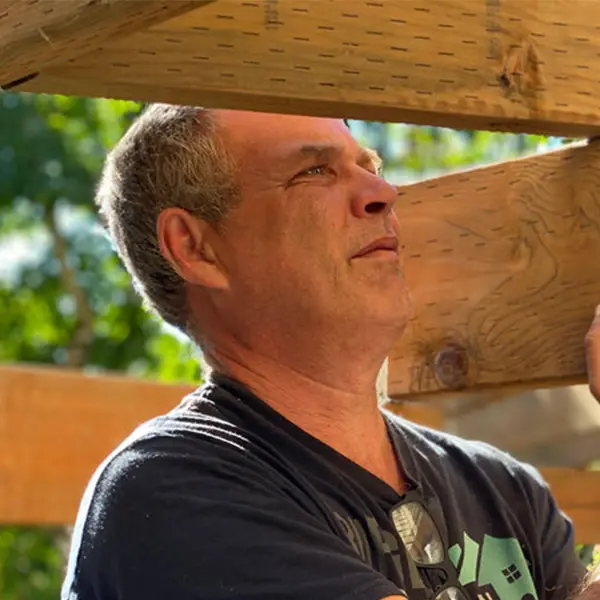 Request a free quote and let's discuss your fence installation cost in Everett! Or talk directly with Stephanie and Blaine, the owners of Burgess Construction, at (425) 791-5281 and see if we're the right fit.