The Best Fence Installation Cost In Bothell, WA
Want to get an accurate pricing quote? Click the button below and talk to us!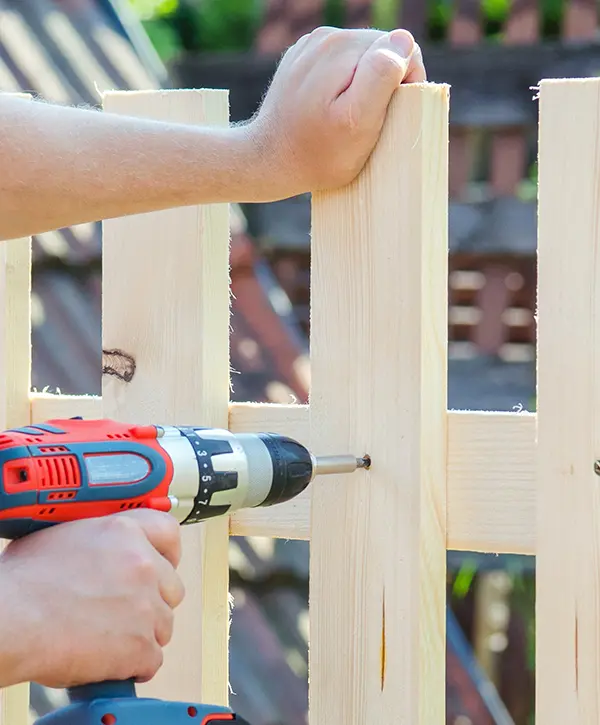 Are you wondering how much it costs to install a fence in Bothell, WA? At Burgess Construction, we have been asked this question many times, so we want to set the record straight and offer
you a thorough fence installation cost in Bothell, WA!
If you need to set a budget for a fencing project or obtain quotes from different contractors, we'll provide transparent and honest pricing for a high-quality fence installation that lasts a lifetime.
Take full advantage of a fencing contractor fully committed to your project and your needs, and watch your property evolve with a beautiful and safe new fence.
Get The Best Price On Your Fence Installation With Us!
We know finding a reasonably priced fence installation service is not easy. And when you do, it often comes with poor craftsmanship and weak customer support. With Burgess Constructions, you can enjoy a fair price for your new fence and superior service throughout our partnership.
Typical Fence Installation Cost In Bothell, WA
The price of your fence depends mostly on its size, including length and height. Remember that the choice of materials is also important, as wrought iron fences are more expensive than pressure-treated lumber fences that'll need constant maintenance and ongoing costs.
Let's look at the average cost to build a 100 linear feet cedar fence.
| | Basic | Better | Best |
| --- | --- | --- | --- |
| Cedar Fence Materials | $1850.00 - $2190.00 | $2240.00 - $2490.00 | $2835.00 - $3500.00 |
| Cedar Fence Installation | $700.00 - $750.00 | $800.00 - $900.00 | $950.00 - $1200.00 |
| Total | $2550.00 - $2940.00 | $3040.00 - $3390.00 | $3785.00 - $4700.00 |
| Average Cost Per Linear Ft. | $27.45 | $32.15 | $42.42 |
Your Neighbors In Bothell Love Their New Fences!
Thanks to Burgess' experts, hundreds of households in and around Bothell, WA, have enhanced their backyard aesthetics and security. See what many of your neighbors say about our professional fencing services.
The Burgess team recently installed deck stairs and a hog wire fence in our back yard and they did a great job. 
 It took a solid week to get them done and the work turned out great. 
 They communicated with us regularly and keep us apprized of the work throughout the job. 
 We would highly recommend this team.
We are extremely pleased with our fences from Burgess Construction LLC. 
The crew showed up on time, was very friendly, efficient and professional. Stephanie and the crew were great at communicating throughout the whole process. 
Overall it was a 5 star experience- I would recommend them to anyone and plan on working with them again for a new deck!
Cost Of Different Fence Materials
In addition to size, choosing the appropriate material for your fencing project can have an impact on the total cost in terms of both time and money. So, let's explore the different expenses linked with various fencing materials!
To choose the right wood for your outdoor area, consider factors like color, texture, maintenance needs, and price.
If you're on a budget, pressure-treated wood might be your best choice. However, tropical hardwoods offer a gorgeous aesthetic if you want to spend more.
To choose the ideal type of wood for your home, consider the different costs involved. Below are some well-known varieties of wood and their corresponding prices (including materials and installation).
| Type Of Wood | Cost Per Linear Foot |
| --- | --- |
| Spruce | $25 |
| Pine | $28 |
| Cedar | $33 |
| Western Red Cedar | $33 |
| Redwood | $48 |
| Tropical Hardwoods | $50 |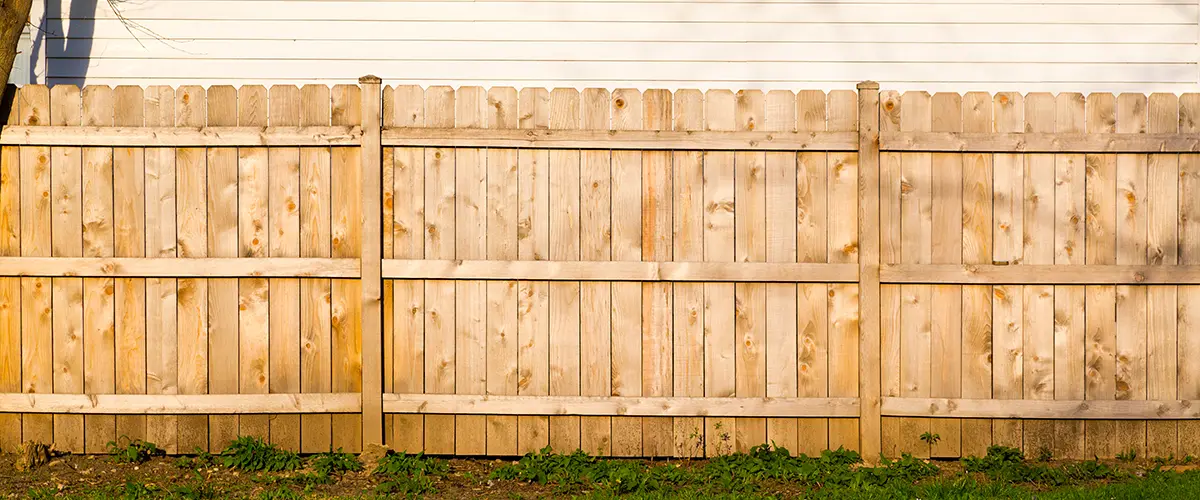 Vinyl fence panels are becoming more popular among homeowners due to their durability, long lifespan, appealing appearance, and various style choices.
Although engineered material might cost more than other materials, it will be a worthwhile investment in the long run as it requires minimal maintenance.
The average cost is around $30 per linear foot if you're looking to build a vinyl fence. That means for 150 feet of fencing, your project will set you back roughly $4,500 – quite a steep investment! However, prices range from as little as $17 up to $38 per linear foot, depending on style and design choice.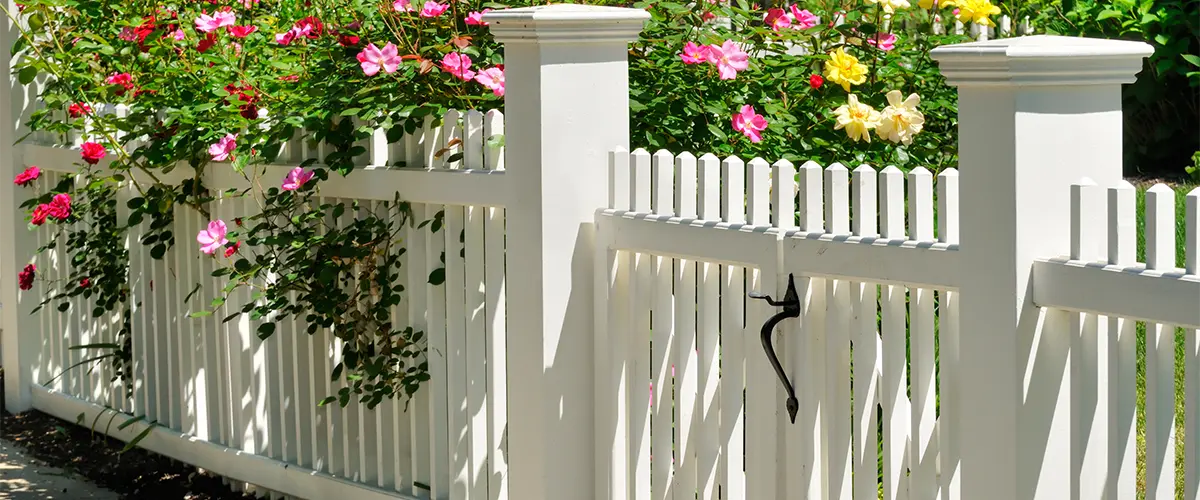 Chain link fences may be budget-friendly, but that does not mean they lack appeal. They actually offer numerous advantages that should not be overlooked, such as clearly marking the perimeters of sprawling properties like schools and parks or providing security for your land.
Chain link fences are a good way to protect public areas and help people feel secure while visiting those areas.
The chain link fence cost would be around $1,587 for a small backyard of 500 square feet, about $3,105 for a mid-sized yard of 2,000 square feet, and about $4,140 for 3,500 square feet.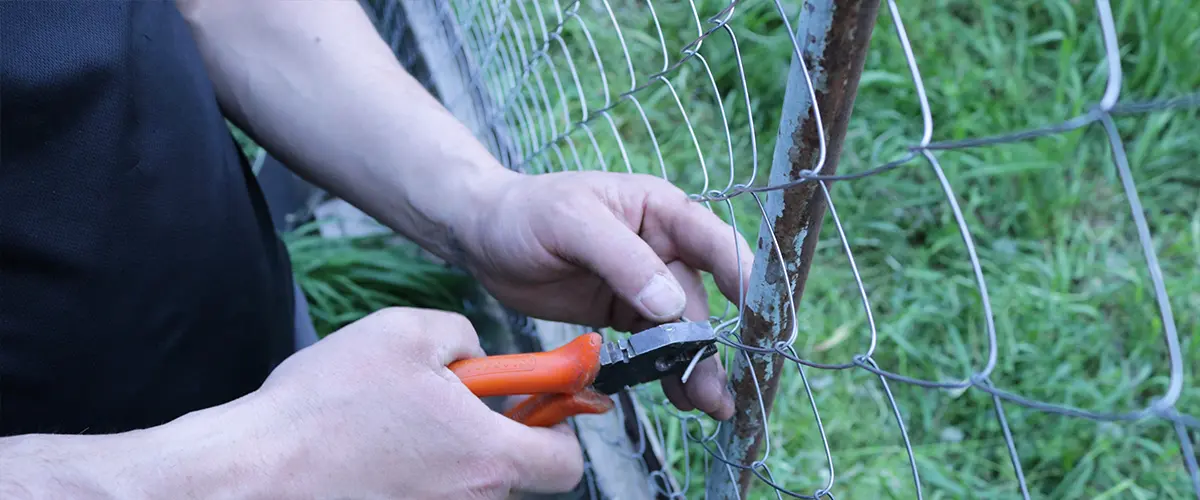 If money is not an issue, choosing a metal fence made of wrought iron or aluminum would be best. These materials are strong, long-lasting, and low maintenance compared to a wooden fence.
Although they may be more expensive than wood or vinyl fences, the aesthetic they bring to your backyard is noteworthy.
Metal Fence Installation - by linear foot for a 4-foot tall fence
| Material | Unit Cost |
| --- | --- |
| Aluminum | $8 - $12 per linear foot |
| Steel | $7 - $10 per linear foot |
| Wrought Iron | $25 - $30 per linear foot |
Metal Fence Installation - 200 linear foot for a 4-foot tall fence
| Item | Unit Cost | Quantity | Line cost |
| --- | --- | --- | --- |
| Fencing material: aluminum | $8 - $12 per linear foot | 200 | $1,600 - $2,400 |
| Gate | $150 - $700 per unit | 1 | $150 - $700 |
| Fence posts installed in concrete | $2 - $4 per linear foot | 200 | $400 - $800 |
| Material Cost | $10.75 - $19.50 per linear foot | 200 | $2,150 - $3,900 |
| Labor Cost | $20 - $25 per linear foot | 200 | $4,000 - $5,000 |
| Total Cost | $30.75 - $44.50 | 200 | $6,150 - $8,900 |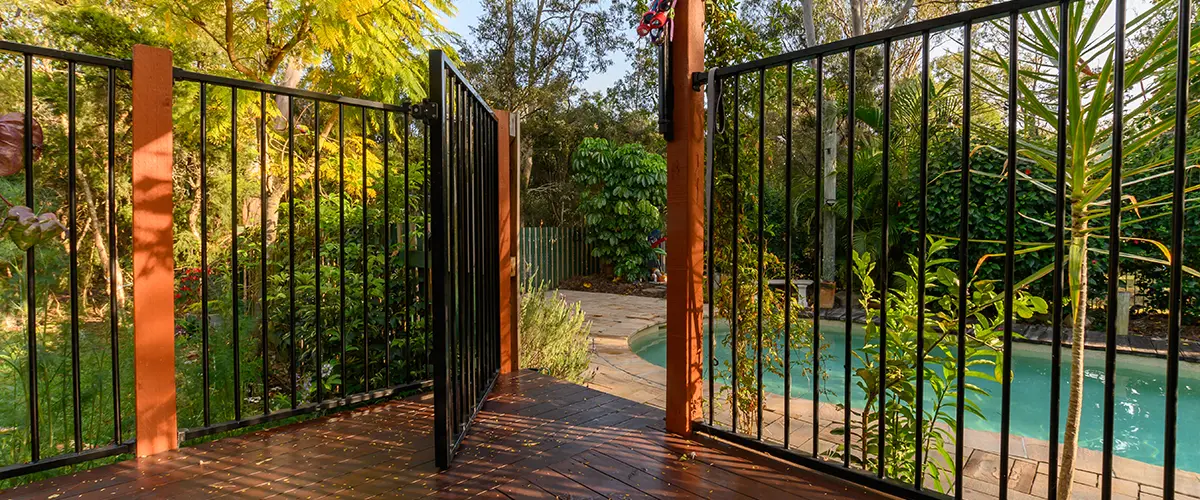 Make your home stand out with a creative and attractive fence design that combines metal and masonry – it's sure to turn heads and impress anyone who sees it!
If you want a beautiful fence that lasts long and complements your property, then masonry fences are the best option. 
However, they can be expensive and require professional installation for the best outcome. Nevertheless, by hiring an expert, you can be assured of a durable fence around your home or office that's worth the investment.
Depending on the type of brickwork you choose, generally, construction costs can range from an affordable $10 to a more expensive $45 per square foot.
| Type of Brick Material | Cost Range Per Square Foot |
| --- | --- |
| Traditional Brick | $35 |
| Hallow Brick | $20 - $30 |
| Brick Veneer | $10 – $30 |
| Thin Brick Veneer/Mini Brick Veneer Strips | $5 – $15 |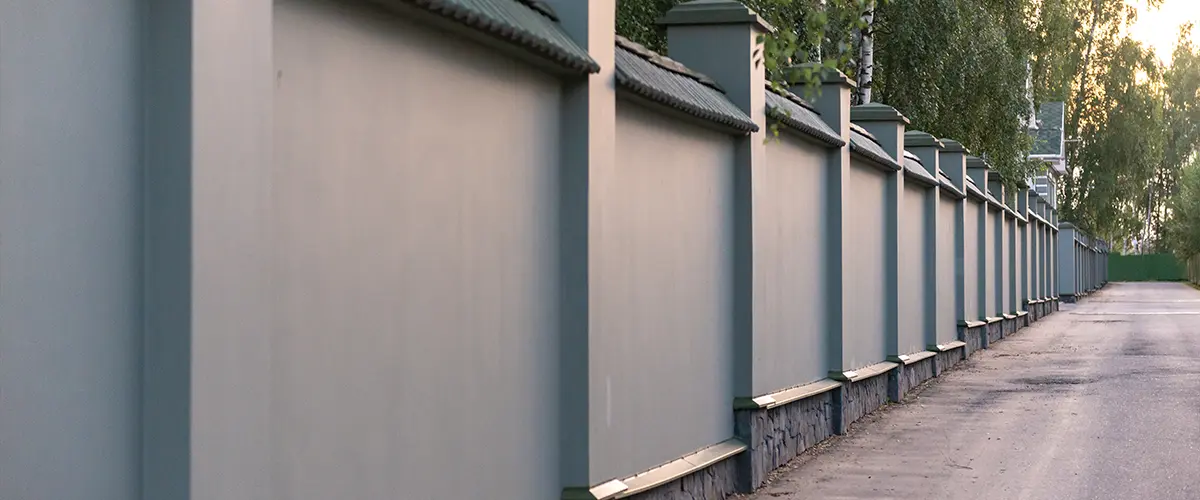 Factors That Will Impact Your Fence Installation Cost
Choosing the right fence style is crucial for your needs and budget as each style requires its own installation approach and can greatly impact the cost. With various fencing materials available, there are numerous styles to choose from.
The rain fence costs between $11 to $29, the picket fence is around $12 and $48, and the privacy fence costs between $20 to $45.
To determine how much lumber you need for your fencing project, consider the fence's height. The most common height is 6 feet, but you can also choose 8 or 4-foot fences.
For an 8-foot fence, add 20% – 30% to your budget for additional lumber. Subtract 20% – 30% for a 4-foot fence.
To provide an exit from your backyard, it's recommended that you install a gate. Professional gate installation typically costs between $175 and $1,200, which should be factored into your total project expenses. Use the same material for the gate to ensure a cohesive look as you did for the fence.
Demolition Or Removal Services
If you need to have your outdated fence removed or cleaned to install a new one, our team is here for you. From removing boulders and rocks to trees and shrubs, it's all included with an additional budget of $500 specifically towards tree removal services. You can also expect between $3 – $5 per linear foot when getting rid of the old fencing material. We might also need building permits for some projects, so be sure to check out the building codes in Bothell, WA!
Your Fencing Project Just Got 10x Easier!
Our goal at Burgess is to ensure that your fence installation is a stress-free and enjoyable experience. Rest assured that there are no hidden fees or unnecessary complications – relax and enjoy the beauty of your new fence!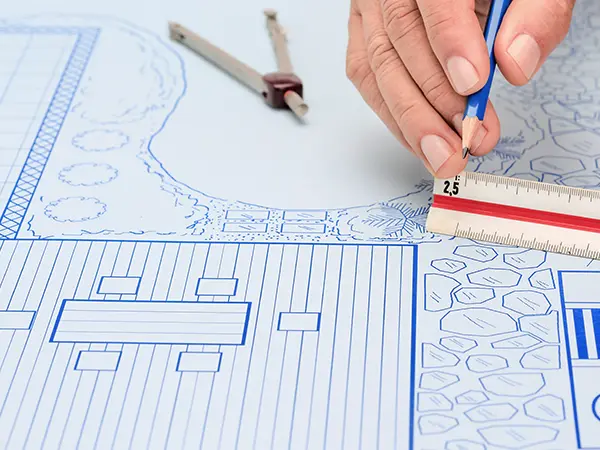 Contact us, and let's discuss your project!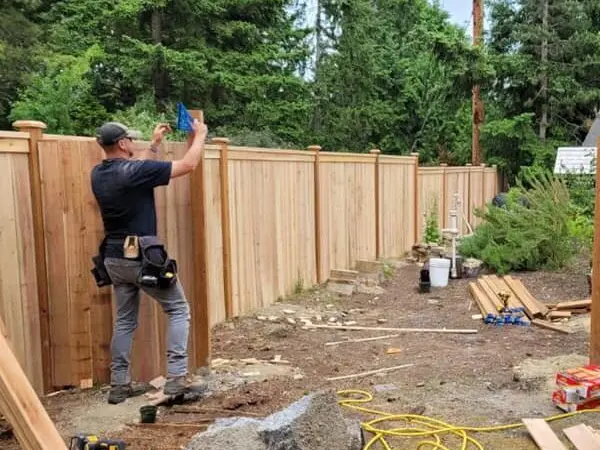 We start building your new fence.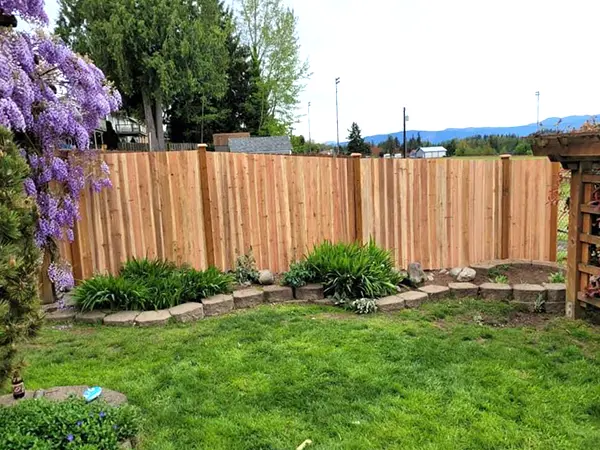 Enjoy more privacy and security with your brand-new fence!
The Best Fence Installation Cost In Bothell Is At Burgess!
Fence installation doesn't have to be stressful. It's actually a cost-effective home improvement that can add significant value to your life.
Your and your family's safety is invaluable, so we provide a reliable quote for our superior service. With Burgess Construction, you can achieve the peace of mind you're searching for without spending too much money.
Make sure to invest in security today so that your loved ones are protected tomorrow!
You're getting:
Ready To Get The Best Fencing Deal In Town?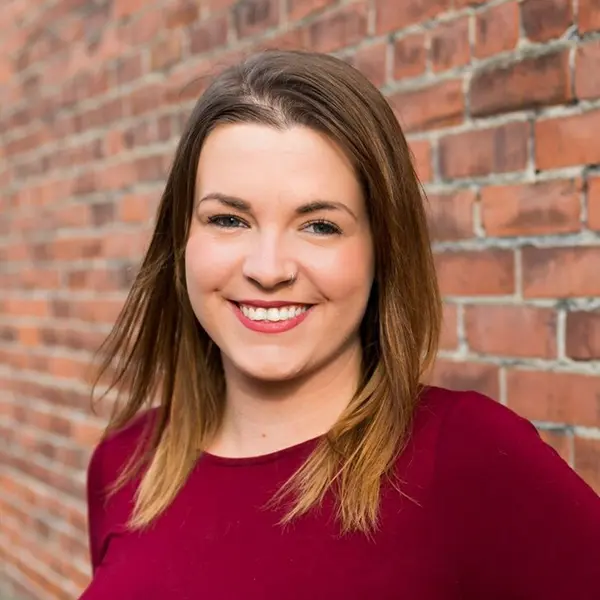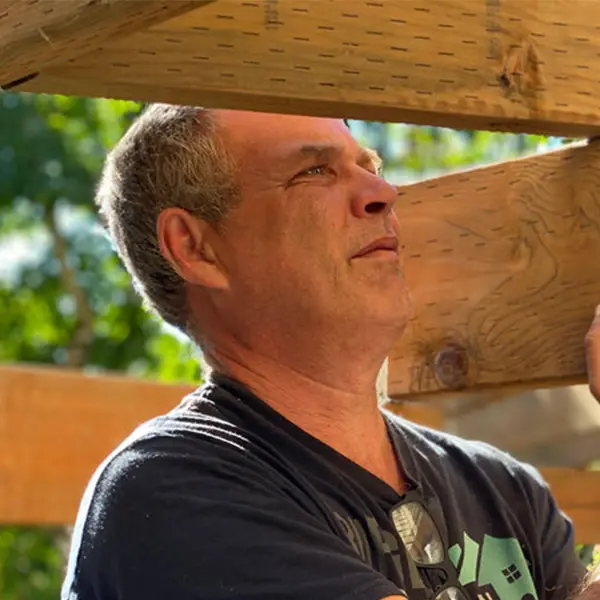 Request a free quote and let's discuss your fence installation cost in Bothell! Or talk directly with Stephanie and Blaine, the owners of Burgess Construction, at (425) 791-5281 and see if we're the right fit.